Try these delicious Recipes Using Pantry Staples whenever you need an easy and healthy meal with ingredients you already have on hand. These ideas are also inexpensive and help you clean out your pantry.
You'll also want to know the best way to Organize Your Pantry to save time and money.
Recipes Using Pantry Staples You Already Have
One of the best things you can do to be organized and efficient in the kitchen is to keep it stocked with pantry essentials. This way, you always have what you need on hand to make quick and easy Recipes Using Pantry Staples whenever you need to.
No running to the store at the last minute or having to abandon a recipe altogether. These pantry basics will help you make a wonderful breakfast, lunch, or dinner any day of the week!
How to Stock Your Pantry for Quick and Easy Recipes
The first thing we encourage you to do is take the time to get your pantry stocked and ready for whatever emergency or last-minute hiccup might come your way.
Our handy printable Checklist of Pantry Essentials does just that. It's got the basics like oils and condiments, everything you need for baking as well as keeping cupboards stocked with canned goods and grains. It also shares freezer and fridge essentials as well.
Tip: Black beans are always a good choice to keep on hand. Make burritos, soups, or throw them on a salad!
Just print the list and tape it to your panty or cupboard door so you can restock it whenever you are going to the store.
We also have you covered if you want to Stock Your Pantry with Healthy Meals. You know, those ingredients that make eating healthy a breeze. We love to make comfort food healthy.
If certain times of the year get you really busy and stressed, like when the kids go back to school, check out How to Stock Your Pantry for Back to School. It's packed with easy meals and awesome shortcuts.
Breakfast Recipes Using Pantry Staples
Easy Oatmeal Bars - This basic recipe has so many delicious variations. It's perfect for breakfast or snack time. Plus, you only use one pan to make it! If you have fresh or frozen fruit on hand, you can also make Blueberry Oatmeal Bars, Raspberry Oatmeal Bars, and even Peanut Butter Oatmeal Bars.
Crockpot Oatmeal - This little recipe is easy and allows the whole family to wake up to a wholesome breakfast. You can make it with apples and cinnamon or leave it plain.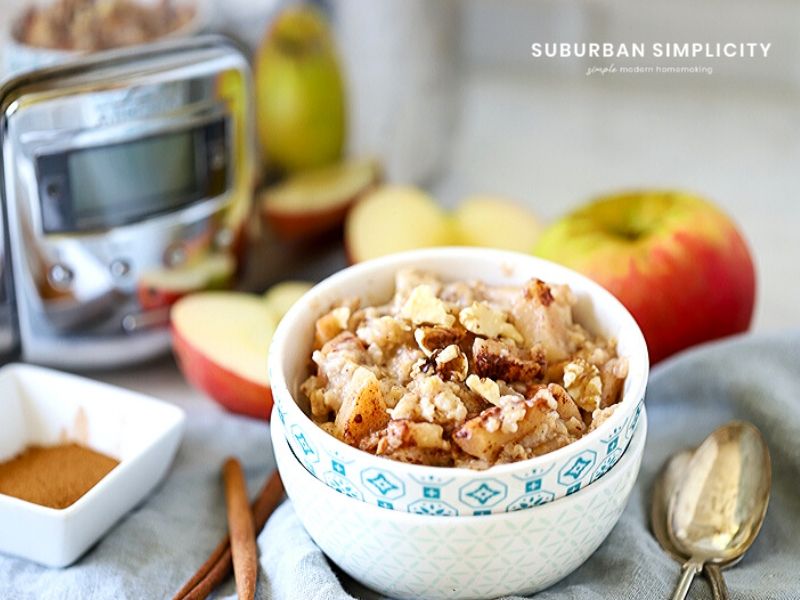 Blueberry Smoothie - Keeping frozen fruit in the freezer lets you make this anytime. It's perfect for a metabolism-boosting breakfast or post-workout pick-me-up. We also love this Blueberry Lemonade Smoothie.
Honey Nut Cheerios Protein Bites - Yep, you can use cereal to make a yummy protein-packed snack. Kids and moms love this recipe.
Baked Blueberry Oatmeal Cups - The perfect recipe to meal prep and eat throughout the week. It's nutritious and tastes incredible!
Dinner Recipes Using Pantry Staples
Sheet Pan Chicken Fajitas - One of the easiest and most flavorful recipes you can whip up using your pantry staples. If you don't have tortillas, serve them with rice or quinoa.
Tater Tot Casserole - You know those tater tots that have been taking up space in the freezer? Now is their time to shine! This recipe is total comfort food and a family favorite. We've got a Freezer Tater Tot Casserole you can make for later too! See below for an easy crockpot version.
Baked Chicken Tenders - This recipe will please everyone at the table. Plus, it's ready in about 30 minutes. We also have a Gluten-Free Chicken Tender Recipe you might like. We love this recipe served with Roasted Brussels Sprouts.
Quinoa Pizza Bites - You've got to try this recipe. It's so easy, and kids love dipping them in marinara. If you want your quinoa to turn out perfectly, with no bitter taste, read our tips.
Chicken Pesto - Although not a staple, keeping a jar of Pesto on hand is a great idea because it's so versatile. This recipe for baking it with chicken is gluten-free and just plain awesome. Great for meal prep.
Sheet Pan Honey Garlic Chicken - You are going to love this recipe so much, you'll put it on your meal plan week after week. It's so tasty but so easy to throw together with one pan. The veggies are cooked right alongside your chicken.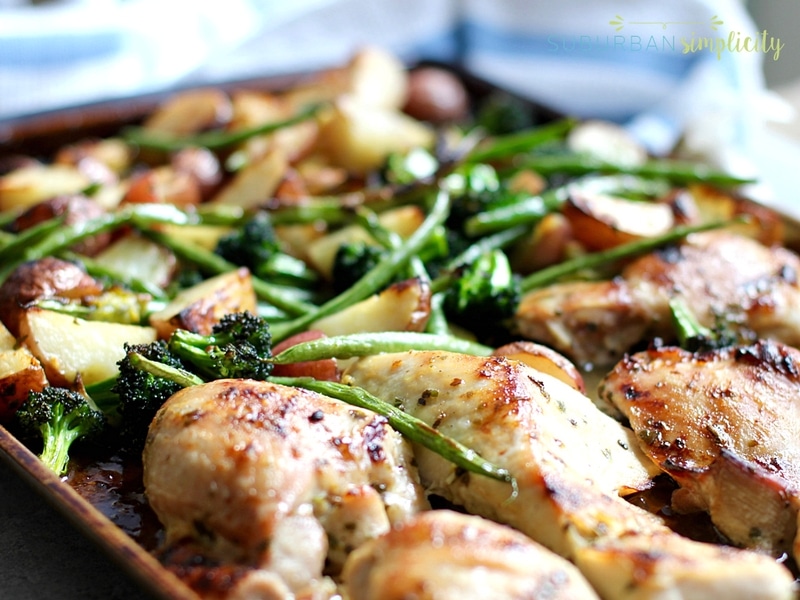 Chicken Enchilada Verde Soup - A 30-minute meal that tastes like it's been simmering for hours. Perfect for serving for lunch the next day as well.
One-Pot Macaroni and Cheese with Veggies - The kids will eat their veggies when paired with pasta and a yummy cheesy sauce!
Crock Pot Recipes Using Pantry Staples
Crockpot Taco Soup - A zesty and flavorful recipe we like to make week after week. If you keep the ingredients on hand, you can throw whatever leftover veggies you have into your slow cooker, and it's always good.
Healthy Crockpot Turkey Chili - Low carb and really, really good! Make a big batch of this chili and eat it all week long.
Crockpot White Chicken Chili - Something a little different from the tradition, but always a crowd-pleaser. You can make it as spicy or mild as you like.
Crock Pot Tater Tot Casserole - This recipe is a winner. Tots smothered in a deliciously meaty, cheesy sauce and cooked to perfection. Pinterest users can't get enough of this recipe!
Crockpot Chicken Noodle Soup - Perfect for when you need a comforting meal for a sick one or if you're craving a traditional meal. There's a secret ingredient that makes it so good. We have the Best Traditional Chicken Soup Recipe you make on the stove that takes only 30-minutes if you're in a hurry.
Instant Pot Recipes Using Pantry Staples
Instant Pot Spaghetti - You can quickly whip up a meal with this traditional recipe. It takes only a few minutes of cook time, and dinner is made!
Instant Pot Mac and Cheese - Yes, you heard that right. Creamy Macaroni and cheese made in your pressure cooker in minutes!
Sweet Recipes Using Pantry Staples
Gluten-Free Peanut Butter Cookies - A recipe that everyone makes again and again. It's that good!
Perfect Chocolate Chip Cookies - The classic recipe, but with a few updates, so your cookies turn out just right! We love Oatmeal Chocolate Chip Cookies almost as much as these!
Cinnamon Bun Flaxseed Muffins - If you happen to have flaxseed on hand, this is a recipe that's packed with nutrition and is keto-friendly.
Chocolate Oatmeal Bars - An easy recipe that includes wholesome oatmeal but tastes like something way more sinful!
We Love To Hear From You
If you try any of these Simple Recipe or any other recipe on Suburban Simplicity, don't forget to rate the recipe and let us know how it went in the comments; we love hearing from you! Better yet, use the hashtag #suburbansimplicity if you make the recipe.
You can also FOLLOW US FACEBOOK, TWITTER, INSTAGRAM, and PINTEREST to see more delicious food, fun crafts, + DIYs!