This Tater Tot Casserole Freezer Meal is classic comfort food you can make and freeze. Tasty ground beef is layered with cheese and tots to create an irresistible family-friendly meal!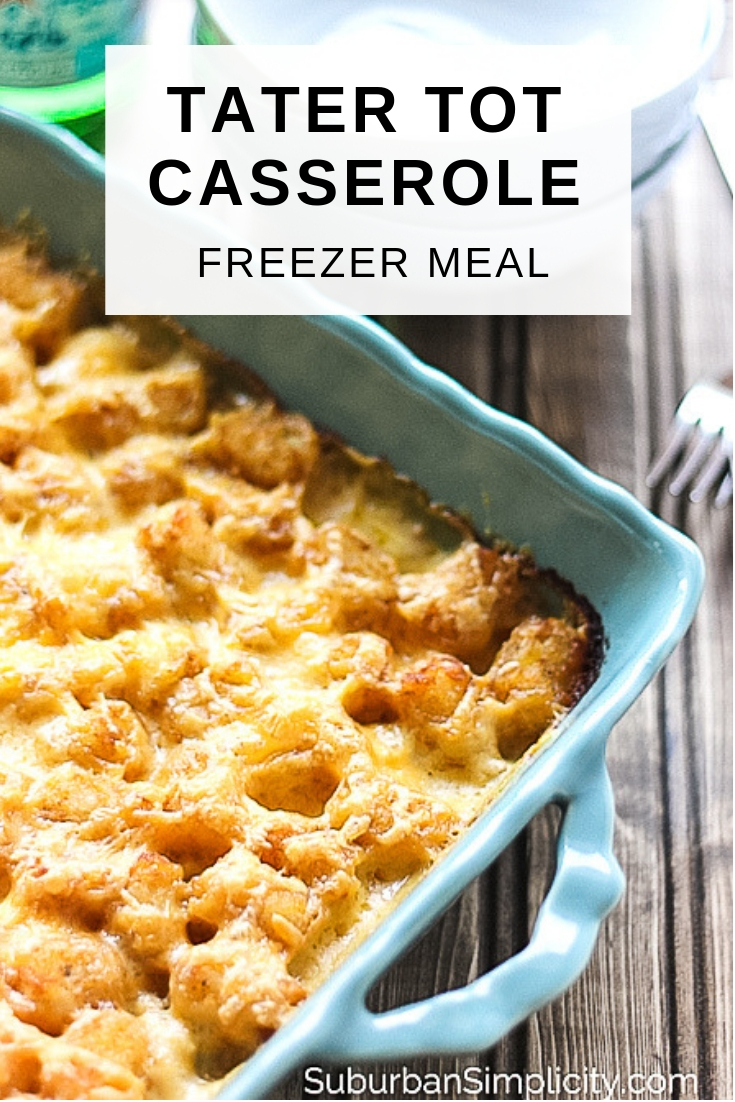 Tater Tot Casserole Freezer Meal
If you have a busy family, you know the virtues of freezer meals, or you need to know them! This is one of our favorite meals from the freezer. I grew up eating this and still LOVE it! Let's make and store a delicious Tater Tot Casserole Freezer Meal, so you grab it when things are a little crazy and dinner needs to get on the table!
This yummy Tater Tot Casserole is one of our favorite freezer meals because it is so easy to mix up a double or triple batch of the meat mixture and layer with tater tots and cheese, so you cook once and eat many times.
Love it!! Total comfort food.
Here is the base recipe for Tater Tot Casserole you will need. we also like this Crock Pot Tater Tot Casserole that's easy and delicious!
Note: For a cleaner version of Tater Tots, use the Cascadian Farms brand. It doesn't seem to have the preservatives as regular versions.
Freezing a Tater Tot Casserole
The way we prefer to store a Tater Tot Casserole in the freezer is as an assembled casserole. However, there are a couple more options below that also work well.
Simply follow the Tater Tot Recipe and before you place it in the oven, cover it with plastic wrap and then foil and place it in the freezer. You always want to make sure you prevent freezer burn, so your casserole tastes great.
You can use disposable aluminum pans or casserole dishes for freezing and simple reheating.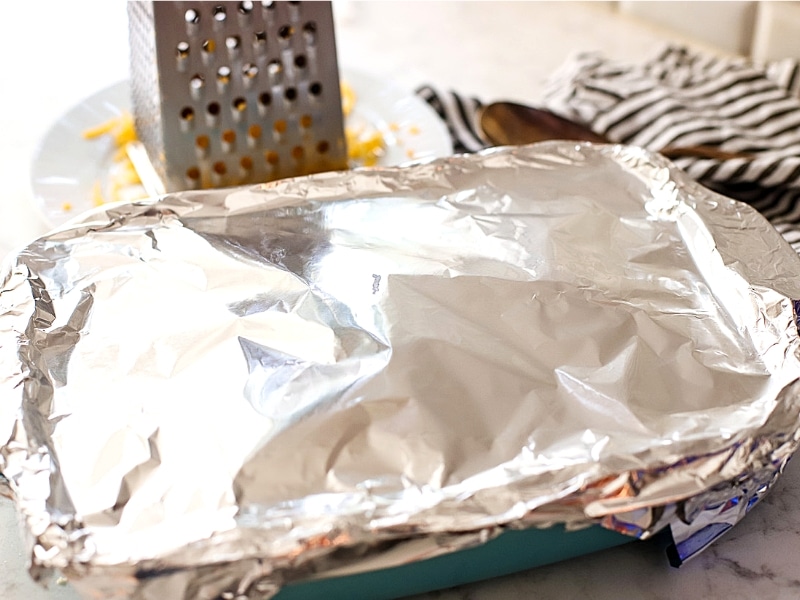 Tips for the Perfect Tater Tot Casserole Freezer Meal
If you freeze this meal for future use, make sure to label it appropriately. If stored in an aluminum pan, cover with plastic wrap and aluminum foil to seal properly and label and date.
Because this recipe contains tater tots that are best when kept frozen, we don't recommend taking the casserole out of the freezer to defrost overnight.
How Long Will A Tater Tot Casserole Last in the Freezer?
This is a common question. If sealed and stored correctly, this Tater Tot Casserole lasts for up to 4 months in the freezer.
It's great. There is always have something in the freezer that's easy to pull out for dinner!
How to Reheat a Freezer Meal
To cook, remove casserole from the freezer, take off plastic wrap/foil/lid, and place in the oven at 350 degrees F. for 45 minutes to 1 hour.
To get a nice crisp on top, you can turn the oven to broil and cook a few minutes longer.
The crispy bits are the best!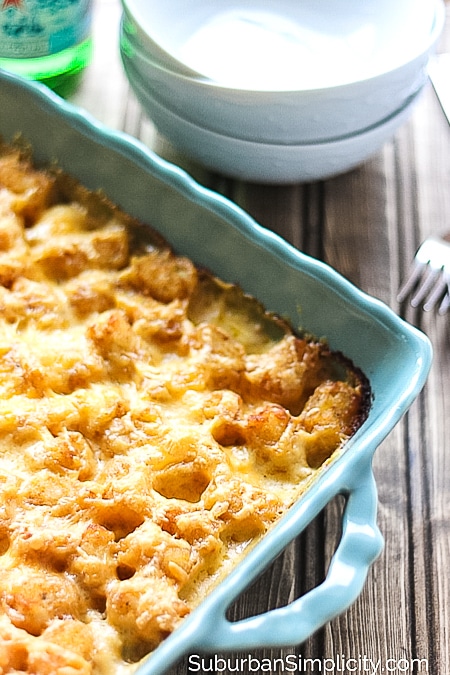 Alternative Ways to Freeze Tater Tot Casserole
These alternatives to making and then freezing Tater Tot Casserole also work well - especially if making more than one batch at a time. Choose the one that best fits your cooking style.
1. How to Store casserole UNASSEMBLED in Freezer:
In a large skillet, brown the meat and onion. Work in batches if you need to—season with salt and pepper.
Stir in the Cream of Mushroom Soup, milk, and Worcestershire sauce.
Divide proportionally into bags (for instance, divide into four bags if you make four batches).
Now, divide the cheese into four other bags.
Divide the tater tots into four more bags.
Label and date all bags.
Rubber band one meat, cheese, and tater tot bag together and freeze.
The day before you want to serve, take out one bag of meat and one bag of cheese and thaw in the fridge.
Lightly grease a baking dish with a paper towel dipped in olive oil or cooking spray.
Pour in the meat/soup mixture, top with half of the cheese.
Top with the tater tots and remaining cheese.
Bake uncovered at 425º F for 25 minutes.
2. How to PRE-BAKE Casserole to Freeze:
In a large skillet, brown the meat and onion. Work in batches if you need to—season with salt and pepper.
Stir in the Cream of Mushroom Soup, milk, and Worcestershire sauce.
Lightly grease however many baking pans you are using with a paper towel dipped in olive oil or cooking spray.
Fill each dish with meat mixture, then half of the cheese, then potatoes, and the rest of the cheese.
Bake at 400º F for 20 minutes.
Remove from the oven. Let cool slightly. Cover with airtight lids or foil to seal.
Place the partially baked casseroles in the refrigerator to cool the rest of the way. When they are no longer hot, place them in the freezer. Once they are frozen solid, you can pop them out of their pans, so you can use the pan while the casserole is in the freezer. Wrap in foil, plastic wrap, or use a large zipper freezer bag. Don't forget to label.
To serve: Remove the wrap from one of the casseroles, replace it in its original baking pan, and thaw it out in the refrigerator. Turn the oven on to 400º F and bake for 15 - 20 minutes.
If cooking from frozen: 1 hour before you wish to serve it, place the casserole in a cold oven and turn it on to 300º F. Bake for 1 hour. Then turn oven to broil setting and cook for a few more minutes to get a nice crisp on top.
We Love Hearing From You!
If you try this Tater Tot Casserole freezer meal or any other recipe on Suburban Simplicity, don't forget to rate the recipe and let us know how it went in the comments below. We love hearing from you! Better yet, use the hashtag #suburbansimplicity if you make the recipe.
You can also FOLLOW US FACEBOOK, TWITTER, INSTAGRAM, and PINTEREST to see more delicious food, fun crafts, + DIYs!
You May Also Like These Easy Dinner Casseroles:
Mexican Chicken Veggies and Rice Casserole
Roasted Cauliflower Mac & Cheese Casserole