We've scoured the interest and found the Best Meal Prep Containers, so meal prepping is a breeze! These eco-friendly options are freezer, microwave, and dishwasher-safe.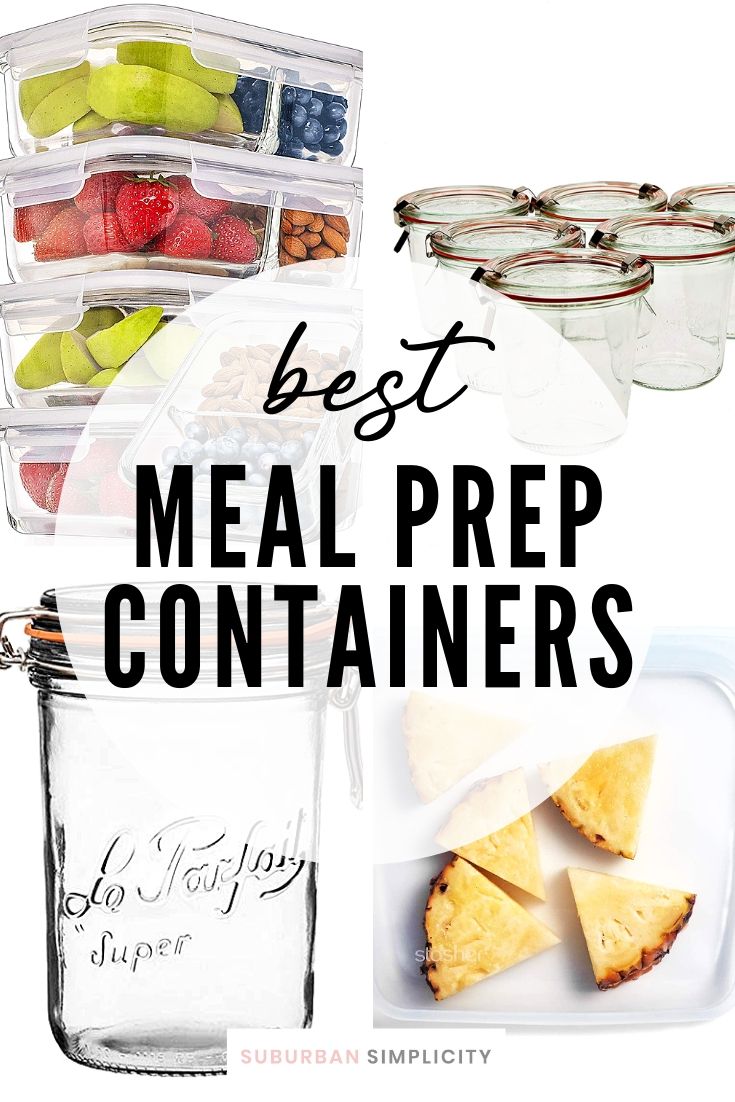 Best Eco-Friendly Meal Prep Containers
Meal prep can be a lifesaver when life gets busy.
To eat healthy, well-balanced meals, preparing a meal plan and preparing food in advance is key. And, if you want to meal prep healthy meals every week, having the right containers is important. Go-to containers that will withstand constant use, store nicely, and are BPA-free.
We've searched high and low and found the Best Meal Prep Containers to store food with ease and peace of mind.
These options are healthy for you since they don't contain chemicals that can leech into your food and have the added benefit of being leak-proof. This comes in very handy if you make overnight oats or salad dressing!
Good Containers are Essential to Meal Prepping!
Best Meal Prep Containers
We've rounded up the very best meal prep containers on the Internet and compiled them into a nice little list right here for you!
Photo Credit: www.amazon.com
Made from eco-friendly glass, these food storage containers are freezable, microwavable and oven safe. As a bonus, the smart locking lids with vents make food warming a breeze. (Lids are NOT microwave, oven or dishwasher safe.) And, if you're making something that you want to keep separated, it's got little sections like a bento box.
Photo Credit: www.amazon.com
Le Parfait glass preserving jars are popular because they are made with all-natural materials, are easy to use and easy to clean, save you time in your daily schedule, and come in a large range of sizes and styles. Think overnight oats, chia seed pudding, dressings and much more.
Photo Credit: www.amazon.com
100% pure non-toxic platinum silicone: the world's first fully functional, self-sealing, non-plastic bag. Plus, unlike traditional plastic bags, Stasher bags contain no BPA, no PVC, and no latex. Cook. Bake. Microwave. Freeze.
Perfect for snacks, or small bites. Or use the half gallon size for larger portions.
Photo Credit: www.amazon.com
Weck Jars are high quality glass jars and lids with rubber gaskets and stainless steel clamps to make it easy to create an air-tight seal. Each jar has been designed with a wide mouth for neater, quicker filling. Dishwasher and microwave safe. There are many sizes to fit your needs whether it be nut butters or oat milk.
So, when it comes to meal prep containers, look for containers that are:
durable and reusable
can be used in both cold storage and warmed up
are non-toxic (this means, for the most part, no plastic)
FAQs
Can you freeze Meal Prep containers?
In our opinion, using your freezer to preserve food for later is a must! All containers listed here are freezer safe, making them some of the Best Meal Prep Containers around. The small investment in meal prep containers is totally worth it!
Are meal prep containers microwave-safe?
Yes, meal prep containers are microwave safe. However, you want to check that they are BPA-free. If you're taking your lunch in a meal prep container and it needs to be reheated, ensuring it's safe for the microwave is important. All the containers listed here are.
This post contains affiliate links. Disclosure policy here.
Meal Prep Recipes