Life in the kitchen doesn't need to be time-consuming or stressful. Use these clever Cooking Tips for Busy Moms and preparing meals and snacks for your family will be a breeze!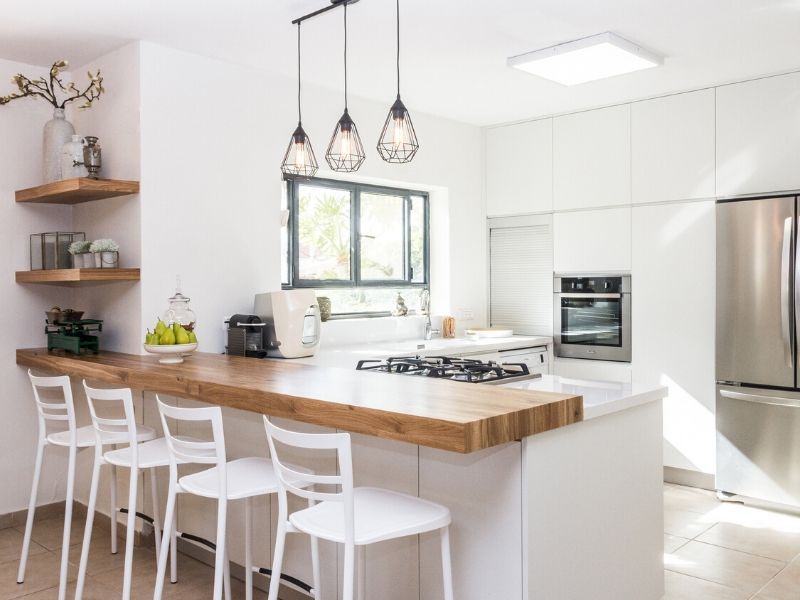 Cooking Tips for busy moms
When you are a busy mom trying to balance everything, cooking can become a challenge. Even on the busiest days, your family needs to eat and to manage that cooking is a must. These cooking tips for busy moms will help you get food on the tables faster and easier so you can feed your family even on the crazy hectic days.
First and foremost, learning how to meal plan is critical!! With your meals planned, you save time and money shopping and preparing your meals.
Here are several more cooking tips that are guaranteed to make you more confident in the kitchen and help you get food on the table more efficiently!
1. Get a Slow Cooker or an Instant Pot.
These kitchen appliances can make cooking for your family a breeze!
A crockpot is a great set it and forget it option to feed your family. Toss everything in and let it cook while you take the kids to sports practice or cheer them on at the big game. A hot and tasty meal will be ready when you get in the door.
If you're new to slow cooking, definitely check out our Crockpot Tips and Tricks so all your recipes turn out just right.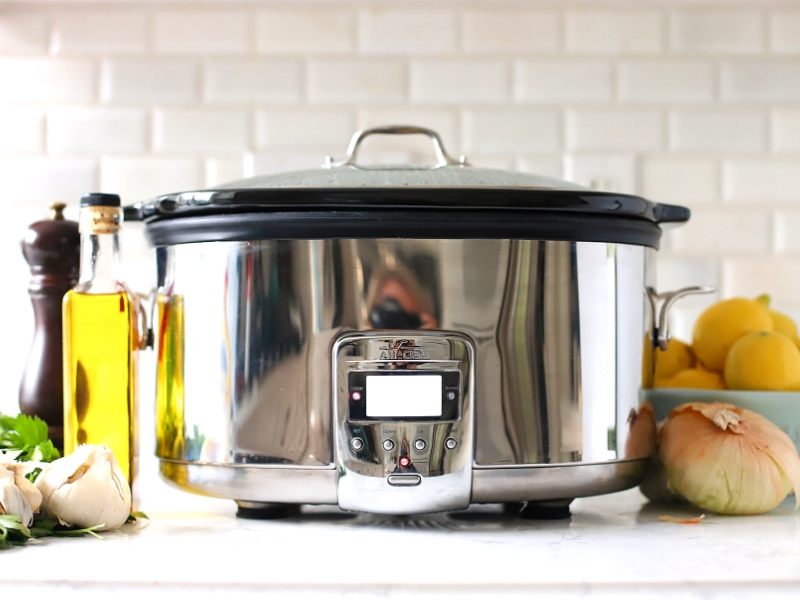 Forget to start something before you left or don't feel safe leaving food to cook while you are away? An Instant Pot is a great way to feed your family quickly and easily so you can toss together a hot meal on a busy weeknight instead of hitting the drive-through.
Crockpot Recipes
Crockpot Pizza Casserole
Crockpot Beef Stroganoff
Crockpot Turkey Chili
Instant Pot Recipes
Instant Pot Mac & Cheese
Instant Pot Tortellini Soup
Instant Pot Lemon Chicken
2. Batch Cooking
Batch cooking is simply preparing recipes in advance and is a great way to save time when feeding your family because you're prepping several meals ahead of time.
You can prepare several meals at once and stash them in the freezer. This technique can save you time and energy on busy days and help save you time cleaning up by condensing it down to a single clean up for several meals.
Plus, you can save money by buying in bulk.
Freezer Meals
Tater Tot Casserole
Crockpot Taco Soup
3. Stock the Pantry and Freezer With All of the Basics Your Family Loves.
Stocking your pantry with healthy food allows you to create a quick and easy meal without needing to run to the store for missing ingredients, and you tend to eat healthier altogether.
Pantry Dinners
Veggie Quesadillas
1-minute Omelet
Tater Tot Casserole
Here are some tips for stocking your pantry during the busy back-to-school season.
4. Clean as You Go to Make Cooking Less Stressful.
This tip will save you so much time! Drop used dishes directly into a sink of soapy water or straight to the dishwasher to prevent them from building up on the counter and getting in your way.
Tip: keep a bowl on the counter while cooking to drop in your food waste. You can then put it in the trash or compost all at once.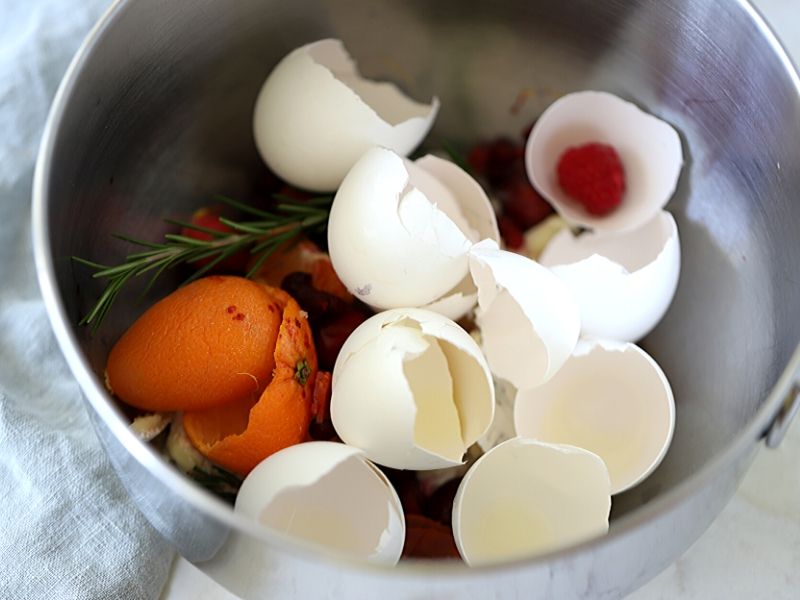 5. Do Prep Work Ahead of Time
Here's one of the best Cooking Tips for Busy Moms. Whatever day you do your weekly shopping (for us, it's Sunday), take some time to clean out the refrigerator and prep food for the week.
For example, cut vegetables for lunches and dinners, make a big pot of quinoa to use as a side dish or in casseroles throughout the week. Also, you can wash your fruit, so it's ready to eat or pack in a lunch or snack bag.
6. Plan Ahead for the Next Day
While you're cooking dinner, let's say on Monday, get out whatever pots, pans, or utensils you'll need on Tuesday. It's a small step, but it makes the next night go so much faster!
7. Set the Table with the Dishwasher
If your dishwasher is continuously going like ours, don't put all the dishes away, set the table for the next meal. Bam, you're instantly more efficient.
8. Have Frequently Used Utensils by Your Stove
Having an organized kitchen can save you so much time, not only when putting kitchen items away, but also while cooking. Having your most used cooking utensils by the stove (spatula, tongs, etc.), you'll be a master chef in no time!
Make it a cute utensil holder, and it's also a functional decorative piece for your kitchen!!
Also, we can't stress enough what a good set of knives can do for you in the kitchen. You'll be so much more efficient with a good set that sits on the counter. It's an investment, but you'll have them for years.
We recommend a chef's knife, a parer, one with a serrated edge, and a carving knife as a basic set.
Amazon Pick: Rotating Utilsel Holder (5-star rating)
9. Use a Recipe or Device Stand
Have a dedicated spot for reading recipes either from a cookbook or on your device close to your workspace – this way, you're not constantly moving them or walking to the other side of the kitchen to check the recipe.
Amazon Pick: Best Recipe Stand
10. Freeze Some Tomatoes
We use tomatoes ALL. THE. TIME. When cooking healthy meals, they add such good flavor. Keeping a few tomatoes in the freezer makes them always available to use in soups, stews, and casseroles any night of the week. (Not for salads)
Tip: Add the whole, frozen tomato to your cooking pot, and the skin will easily slip off while cooking.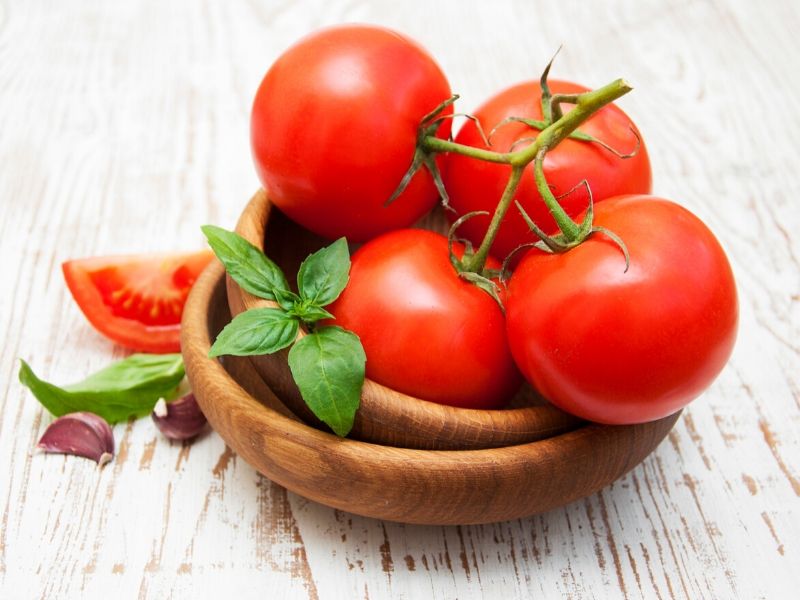 11. Use Your Freezer!
Utilizing your freezer for everything you make in the kitchen is one tip everyone should know. There are so many fruits and vegetables you can freeze, so you always have nutritious options to feed your family. 
If you follow our tips to prevent freezer burn, your food will always taste fresh and delicious!
Plus, you can prep things like smoothie bags, so breakfast is ready in record time!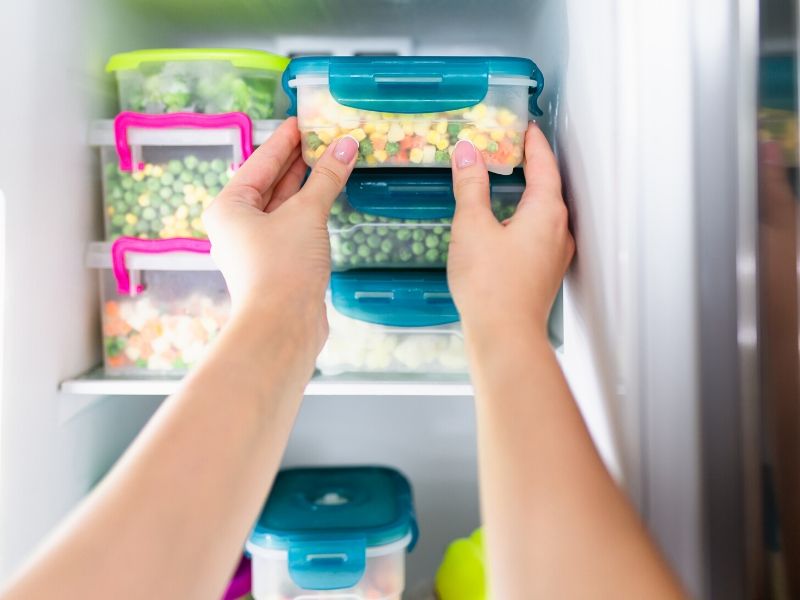 Bonus Tip! Put the Kiddos to Work in the Kitchen
Older kids can be a massive help in the kitchen. Set them to stirring food so you can work on another dish. Younger kids can easily help with clean up.
Related: Why My Kids Pack Their Own Lunches
So, now you know the best cooking tips for busy moms, and you're on your way to being a rockstar in the kitchen—and saving money, so your family budget is on track!
Read Next: More Time-Saving Tips for Busy Moms.

You can FOLLOW US FACEBOOK, TWITTER, INSTAGRAM, and PINTEREST to see more delicious food, fun crafts + DIYs!