Learn the secrets of how to clean your refrigerator in 15 minutes! This much-used appliance needs a good cleaning; these tips will help you get a clean fridge quickly!
Also, see How to Clean Your BBQ Grill, How to Clean Baseboards and Trim, and How to Organize Your House in 2 Minutes!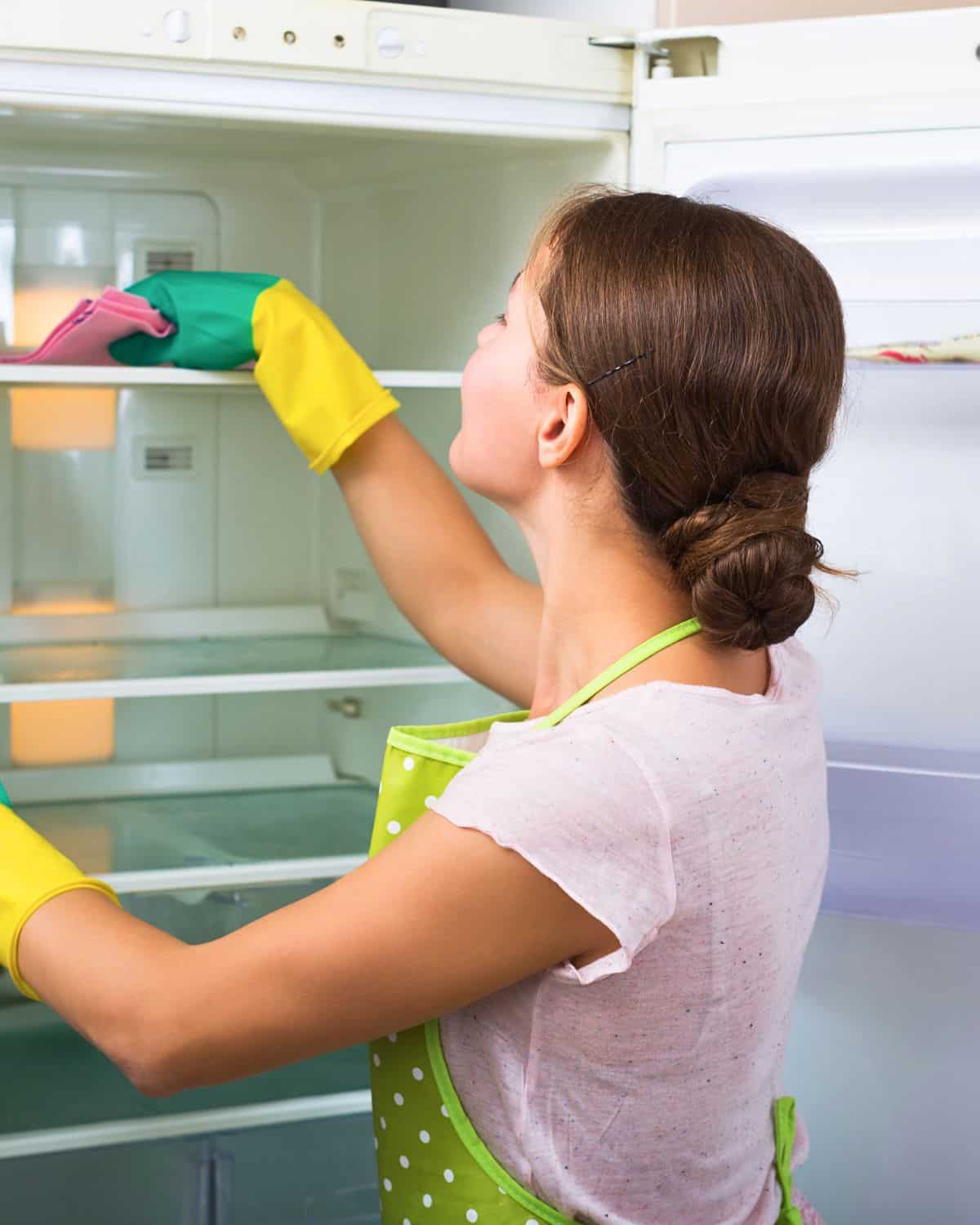 Does anyone else's refrigerator need a little help like ours? You know, the sticky syrup that spilled as one of your kids took it out of the fridge but "forgot" to clean it up? Or the who-knows-what green liquid that pooled at the back of the bottom shelf and the unpleasant smells that linger.
Yep, the doors are closed, but they're still there. We know you're busy, so let us show you how to clean your refrigerator in 15 minutes or less with these hacks!
Let's use Marie Kondo's advice and get our fridge to a place we love!
Best Tips for Getting Started
TIMING: The best time to do fridge cleaning is when you do your weekly (or bi-weekly shopping). The interior of the refrigerator is usually relatively empty, so the job goes more quickly.
SUPPLIES: If you like to clean naturally, especially around food, use a DIY All Natural Cleaner. You will also need a rag, soft cloth, or paper towels.
So let's get to the cleaning!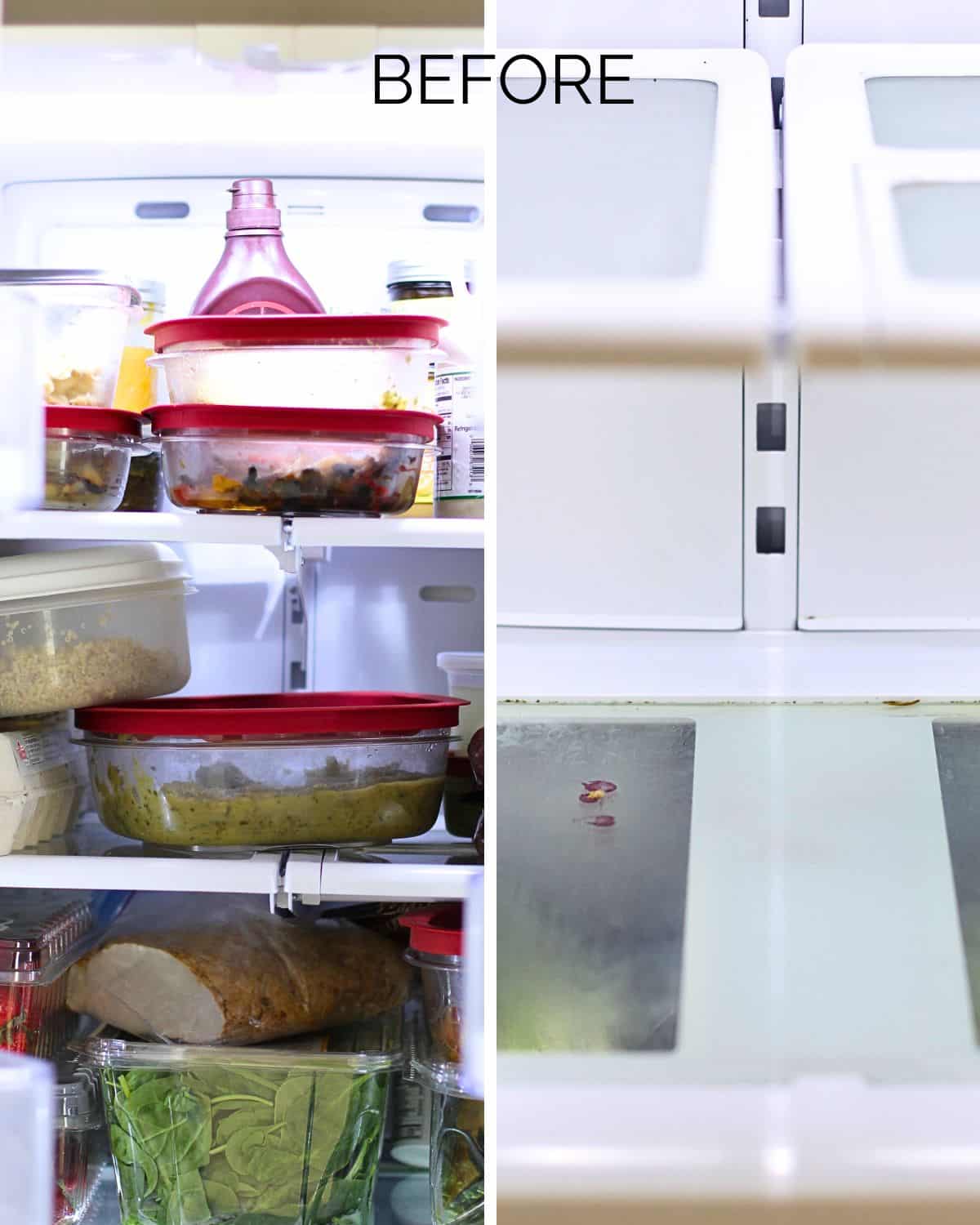 The Steps to Clean Your Refrigerator in 15 Minutes
1.) Remove all perishable foods from the fridge. Dispose of any items past their expiration date. If you're not going to eat it, it goes in the waste or compost bin. Recycle containers if possible.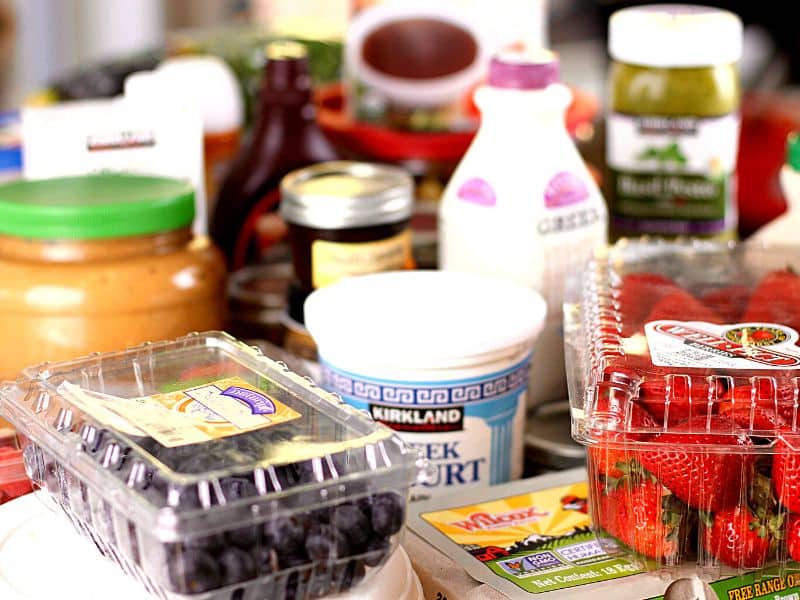 2.) Take out any removable shelves and drawers.
3.) Grab or create a cleaning solution. We like an all-purpose cleaner from white vinegar and room-temperature water placed in a spray bottle. You can also use dish soap diluted with water.
TIP: We recommend that you use rubber gloves when cleaning with the solution, plus you won't ruin your nails 🙂
4.) Start cleaning at the top of the refrigerator vs. the bottom of the fridge so that any debris falls onto shelves that still need to be cleaned. Wipe out the inside of the refrigerator of all food residue with a clean cloth. If needed, go back through and rinse with a clean, wet sponge.
PRO TIP: For stubborn stuck-on food, use an old toothbrush to scrub it away or cover stubborn food spills with a warm, wet cloth for a few minutes to soften the debris.
5.) Wash removable shelves and veggie drawer with the cleaning solution in the sink. Rinse thoroughly.
6.) Dry shelves and drawers and put them back in the fridge.
7.) Wipe down any sticky or dirty jars and bottles with your cleaning solution, then rinse with a clean, wet sponge.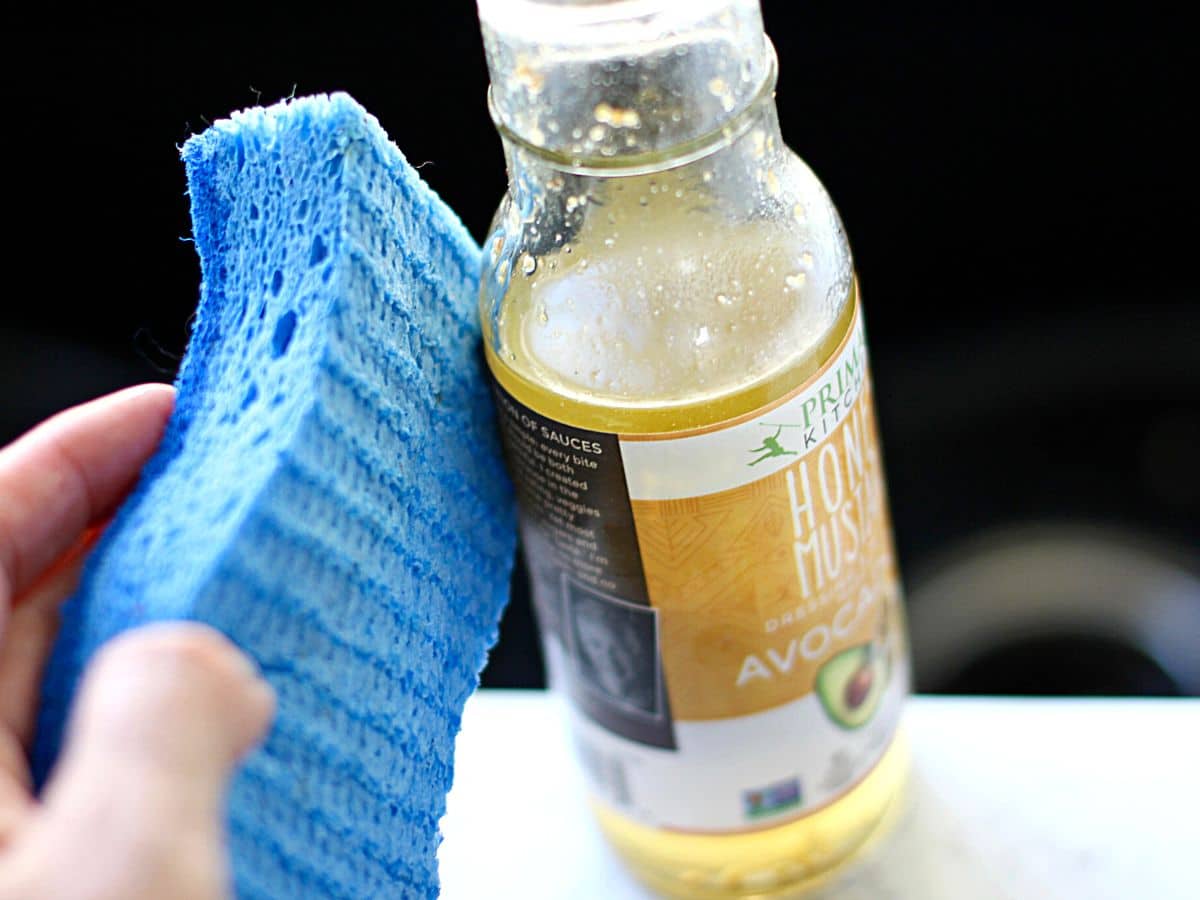 8.) Place all food items back in the fridge (group like items like lunch food or yogurts for better organization and place all kid-friendly snacks in one place.)
9.) Wipe down the door handle, door seals, and exterior. If you have a stainless steel refrigerator, use stainless steel cleaner and a microfiber cloth on the outside to remove fingerprints, etc.
10.) Periodically check the drip pan and annually clean off your refrigerator coils with a vacuum cleaner and dust the top of the fridge.
Phew, you made it in 15 minutes! Take a step back and admire your work. You deserve it!
You now have a clean and sparkly refrigerator. We're pretty sure the kids think ours is a self-cleaning refrigerator, but we know the truth about a dirty fridge!
Plus, if you use vinegar and a damp cloth, it's cleaned naturally—no harsh chemicals or additives.
Here's a video by Clean My Space of how to go about cleaning your fridge with a couple of extra tips, like turning the cooling mechanism off so you're not wasting energy while you have your fridge open.
More Fridge Cleaning Tips
LINGERING SMELLS: Once the fridge has been cleaned and dried, fill an open container with baking soda and leave it on the bottom shelf. The baking soda will absorb any remaining odors inside your appliance.
CLEAN THE REFRIGERATOR WATER DISPENSER: If you have a built-in water dispenser, it may need cleaning periodically. It's a good idea to reference your owner's manual for cleaning instructions or troubleshoot any problems in this area.
How to Keep Your Fridge Cleaner Going Forward
For regular upkeep, try these tips:
Don't stack the fridge with unsealed or sloppy food containers or spoiled fruits and vegetables to prevent sticky spills and unwanted odors.
Take the time once a week to throw out rotten produce or leftovers lingering in the back of the fridge. Check expiration dates on dairy products and condiments and toss out anything past its date.
Related: Tips for a Clean House
FOLLOW US on FACEBOOK, TWITTER, INSTAGRAM, and PINTEREST to see more delicious food and home tips!
More Helpful Home Tips
How to Organize Your Home in Two Minutes
How Being Organized Saves Time and Money