Store the best of summer's harvest in your freezer to enjoy all year long. Here are the most freezer-friendly Fruits and Vegetables to stash in the freezer for later.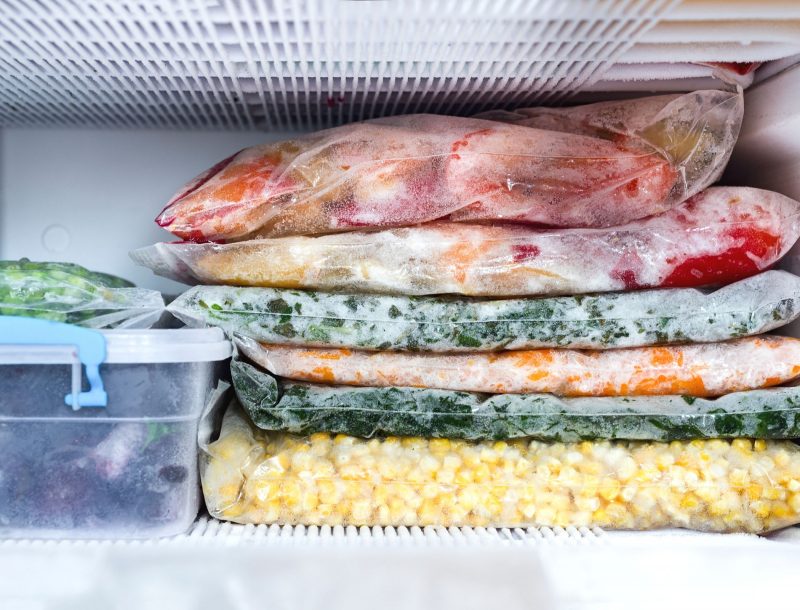 Fruits and vegetables picked at the peak of freshness are the best for taste and nutrition when you're thinking about freezing them. We're talking about you, farmer's market produce!
To savor that good flavor, save money on your grocery bill, and decrease food waste—these Freezer Friendly Fruits and Vegetables are your best choices to fill your freezer.
You can find fruits and vegetables on sale during the summer and into the fall when they're in season and cheaper, but you can also create a family outing and pick your own. #winwin
It's also essential to avoid freezer burn on your fruits and vegetables so they don't go to waste.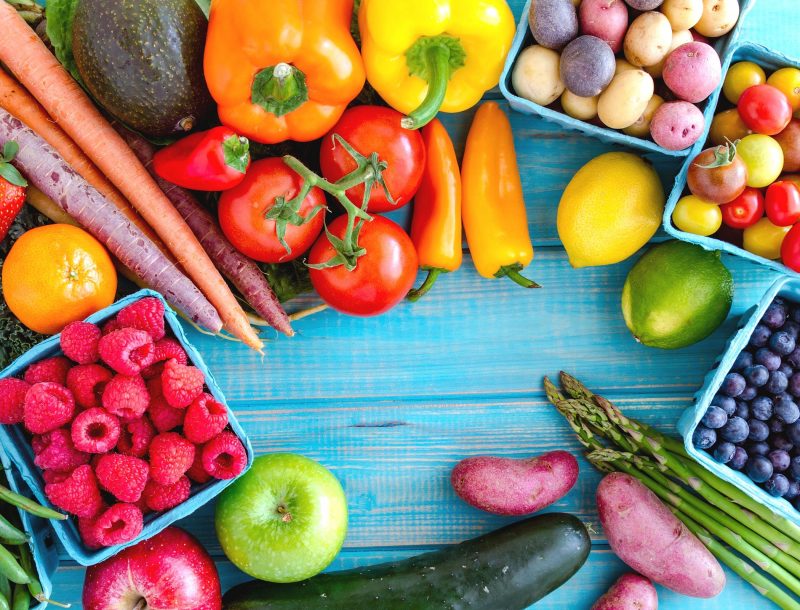 Jump to:
How to Pick Fruit for Freezing
The freezer is your friend. It lovingly stores things for when you're ready to eat them. Before you fill the freezer, it helps to know what fruits and vegetables work best for freezing, so let's take a look. 
Start by choosing fruits and vegetables you and your family love. Then, plan to freeze it at the peak of ripeness. The food should be firm and without bruises to ensure the best taste when used in future recipes.
Tip: When picking fruit, don't be afraid to take a little sniff to see how it smells. This is a good indicator of how it will taste.
How to Prep Fruit and Vegetables for the Freezer
Depending on size, fruits, and vegetables should always be washed, dried, and cut up before being frozen.
You can often freeze fruits without much preparation, but the same can't be said about vegetables. Most vegetables will require you to blanch them for about 5 minutes and then dip them into ice water to stop the cooking process before you can freeze them. We'll talk more about that later. 
Freezing Fruit
Frozen fruits will become much softer and more watery after thawing, altering the texture but definitely not the yummy flavor. They are best used in smoothies, a blueberry cobbler, or an easy strawberry oatmeal bar. 
One of our favorite recipes to use frozen fruit in is Blueberry Crisp. So good!
No one we know likes brown fruit, so a trick for preserving fruits more susceptible to browning and bruising, like peaches and apples, is to use a bath of acid or Vitamin C. 
To do this, you can either create an acidic water mixture using the juice of one lemon and one quart of water and bathe your cut fruit in the liquid before freezing.
Or the other method is to buy powdered ascorbic acid (Vitamin C) from the vitamin section of the grocery store. Then, mix one teaspoon with six tablespoons of water, and trickle this mixture over your fruit slices.
Tip: Either way, make sure any fruit treated with either method is dried completely before putting it in the freezer.
Fruits that Freeze Well
Apples
Apricots
Bananas
Berries of all kinds (Blueberries freeze especially well)
Cherries
Coconut
Cranberries
Citrus
Grapes
Nectarines
Peaches
Pears
Pineapple
Plums
Raspberries
Rhubarb
Strawberries
Fruits that Don't Freeze Well
Fruits that don't freeze well include watermelon and citrus fruit. While you may find these fruits frozen, you'll notice the texture is different when thawed.
Freezing Vegetables
Freezing vegetables makes cooking in the fall and winter months a cinch. You can freeze most vegetables, but the texture can be slightly different once thawed. For this reason, using your frozen vegetables in soups, casseroles, and chilis, like Crock Pot Turkey Chili, is a good idea. 
Vegetables That freeze well
Asparagus
Beans – most varieties
Beets
Broccoli
Cabbage (only use for cooking)
Carrots
Cauliflower
Celery
Corn
Eggplant
Greens (kale, mustard, and turnip)
Okra
Parsnips
Peas (black-eyed and green)
Pumpkin
Sweet potatoes
Rutabagas and turnips
Summer squash
Tomatoes (stewed, only use for cooking)
Vegetables that Don't Freeze Well
Vegetables you don't want to freeze include lettuce, cabbage, cucumbers, endive, parsley, and radishes.
What Fruit Can You Freeze for Smoothies
One of the most common things to do with frozen fruit is to make smoothies. Here are the best fruits to freeze to make smoothies:
Bananas (peeled and cut into slices)
Strawberries
Blueberries
Kiwi (peel and cut into slices)
Mango (peel and cut into slices)
Pineapple (peel, core, and cut into slices)
Cherries (take out the pit before freezing)
Can You Freeze Broccoli?
Yes, absolutely! This superfood is great for freezing. Broccoli, both the florets and stems, must be blanched for it to freeze well. If you freeze it raw, you'll end up with bitter, drab green, shriveled stems. Ick!
Blanching preserves the bright green color and tasty flavor. 
As mentioned, most vegetables should be blanched (briefly cooked in boiling water) and then taken out and put in ice water to stop the cooking process. This kills any bacteria that may be present and preserves their color and flavor.
To blanch: Bring 1 gallon of water per pound of prepped vegetables (about 2 cups) to a boil in a large pot. Add the vegetables, cover, return to a boil and cook for 5 minutes. Then, place in ice water to cool. Dry completely before freezing.
Remember, even though most fresh fruits and veggies are freezer friendly, they'll never be exactly the same as fresh. The taste will be very similar, but the texture tends to be different. 
In short, if you are looking to save a little money and enjoy seasonal fruits and vegetables all year, freezing them is a smart, budget-savvy way to store them for later. 
You can FOLLOW US on FACEBOOK, TWITTER, INSTAGRAM, and PINTEREST to see more delicious food and home tips!
More Ways to Preserve Your Bounty: