If you want a tidy home, you need these Tips for a Clean house! Simple tasks that take little time but make a big difference when cleaning up.
You'll also want to know these Time-Saving Tips for Busy Moms and Organizing Tips for Busy Moms.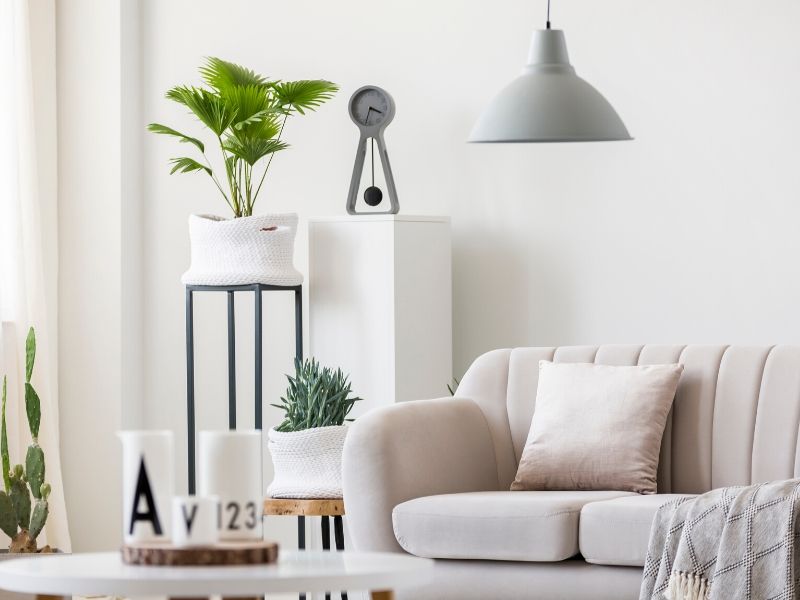 8 Best Tips for a Clean House
Life is busy. The daily task of keeping your home clean can get exhausting, but it really doesn't have to be. If you develop a good routine, it will make it much easier to keep things clean. Here are our Best Tips for a Clean House.
These tips will help you keep your house cleaning process a little easier and more streamlined with less time invested! Sounds good, right?
We are all about Simplifying Life!
1. Make the Bed at the Beginning of the Day
Okay, this seems easy, but it's essential to make it part of your daily routine. Develop the habit of making your bed each day when you wake up.
It is often said that this little chore is a waste of time, but we believe it is time well spent. When your bed is made, it helps make your room look tidy and reduce stress. We think it's the simplicity of the easy task that makes it so effective.
And hey, it's also a great example to set for your kids.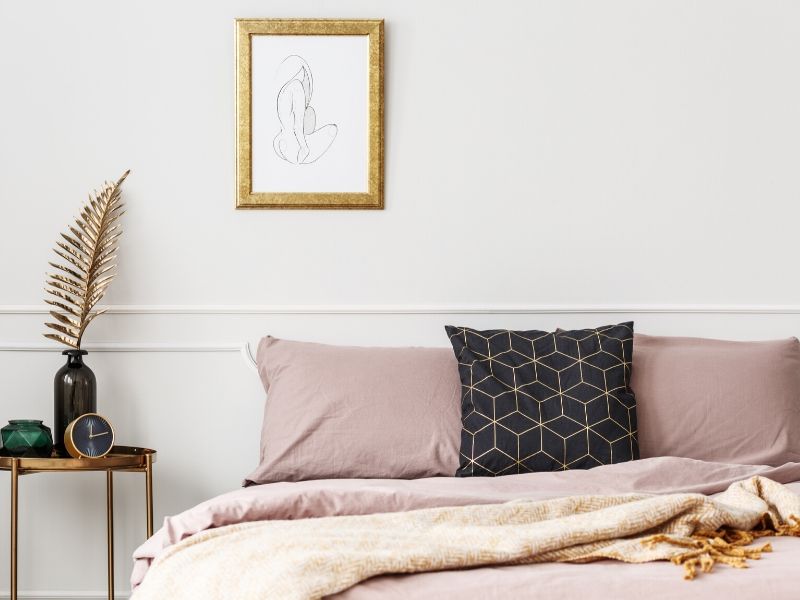 2. Prioritize
As mentioned, making your bed at the beginning of the day is a great tip for starting the day right as far as housework goes. That being said, you don't have to have a specific schedule for each chore every day.
Make a list of the chores you really want to be done and prioritize them by how important it is to you to complete them today or if they can wait until another day.
For example, you might be able to wait until later in the week to do your laundry, but a sink full of dirty dishes can't exactly wait that long.
You decide what's important and prioritize a list that works for you and your family. Did you know Organizing Can Save You Time and Money?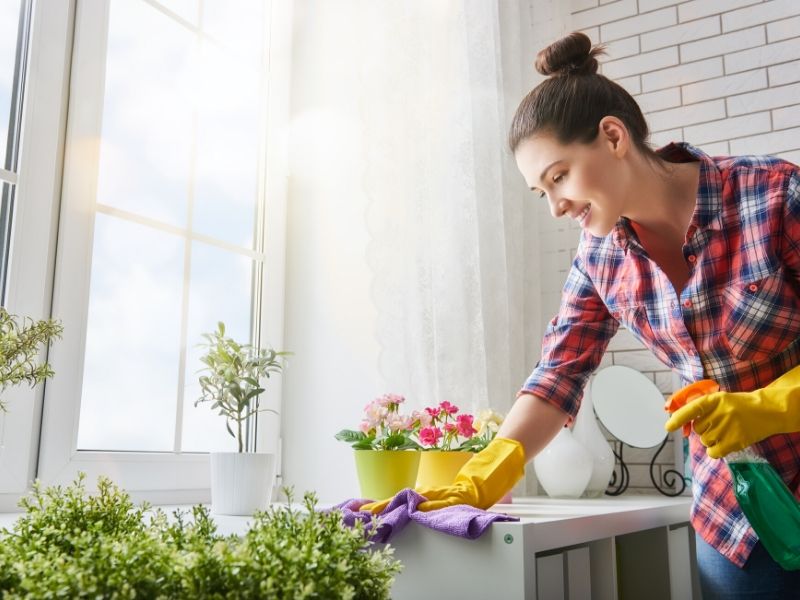 3. Get Everyone Onboard
If you live with family members, you did not make this mess by yourself! Make sure that you don't clean it up by yourself. Get the whole family on board with specific chores for each person.
The quote "Many hands make light work" by John Heywood is a good reminder when it comes time to get the house in tip-top shape, it is a much easier process when everyone is involved.
This is why our kids make their own lunches 😉
4. Straighten Up Nightly
The final 10 minutes before you go to bed each night are important and should be spent straightening up. This sets the next day up for success.
Again, get the whole family involved in this cleanup session. Load the dishwasher or toss some laundry in the washer while the kids pick up their bedroom floors, straighten their bathroom, etc.
No one wants to wake up to a messy house, and a mere ten minutes each night could prevent it and get the next day started right.
Related: Organize Your Home in 2-Minutes!
5. Basic Cleaning Supplies Should be Kept On Hand
To simplify cleaning around the house, you should keep basic cleaning supplies on hand in a caddy in multiple places. If you have multiple bathrooms, keep cleaning supplies in each one.
Tip: Keep some in your kitchen as well as your laundry room.
If you don't have as far to go to grab your cleaning stuff for each room you're working in, it will help streamline your cleaning process.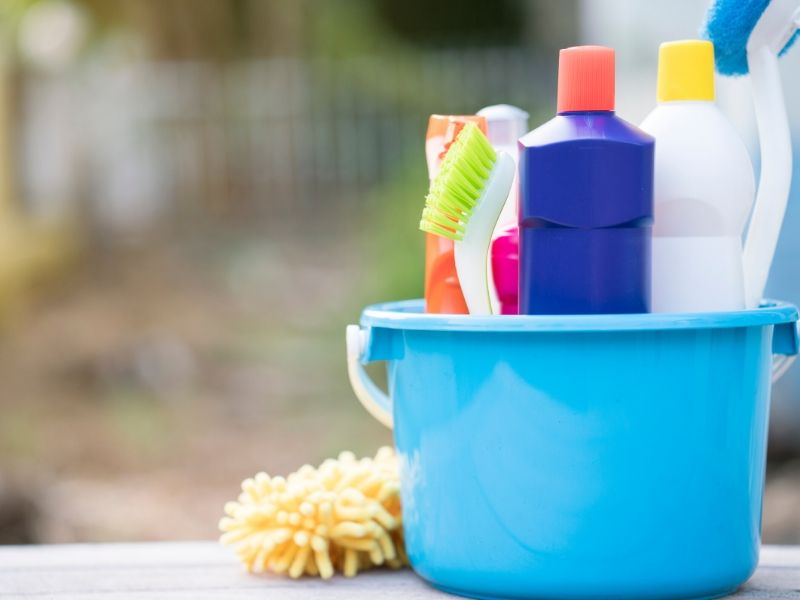 6. Always Clean as You Go
One of our favorite habits that we developed over the years is always taking something with us when we leave a room. Sounds simple, right?
If you see anything on the floor or anything out of place at all, pick it up. You are leaving the room anyway, so you aren't even making a special trip!
These little tricks add up to a cleaner house overall.
Related: Time Savors for Busy Families
7. Do a Daily Cleaning of Your Busy Zones
All homes have busy zones. For example, this is often the front door or mudroom where people come into the house, and your family drops their backpacks, coats, shoes, etc. Clean these spaces EVERY SINGLE DAY to keep the area from being overly cluttered.
When the entryway is cluttered and messy, it sets the stage for the entire home.
8. Don't be a Perfectionist
We know you want your house to look fabulous, as we all do, but deep cleaning every single day simply isn't realistic. Be okay with your home being cleaned up and decluttered, but not perfect.
This will save you a tremendous amount of time and stress. Here are some ways to stop being so busy and focus on what matters.
More Home Management Tips
We love these Tips for a Clean House and use them daily. What is your best tip for keeping your home tidy?
FOLLOW US on FACEBOOK, TWITTER, INSTAGRAM, and PINTEREST to see more delicious food, fun crafts, parenting tips, + DIYs!