Learn How to Clean Your Dishwasher and how often you should do it. Follow these easy steps to keep this kitchen appliance working efficiently.
Since your dishwasher's purpose is to clean your dishes, you may think there's no need to clean the inside of the appliance.
But with all that food and grease that comes off your dishes after each load, not to mention soap residue buildup, it's essential to keep the inside of your dishwasher clean to ensure it keeps working efficiently.
Luckily, cleaning your dishwasher is a pretty easy job if you know what you're doing. Follow these simple steps to get your dishwasher sparkling clean in no time.
Also, learn How to Clean Your BBQ Grill and How to Clean Your Baseboards in your home.
Related: Kitchen Organization Tips
Jump to:
What is the best way to clean the inside of a dishwasher?
Cleaning the inside of your dishwasher may be pretty intimidating if you're unsure where to start. Luckily, we've created this dishwasher cleaning guide for you so you know where to start
Follow this easy method for cleaning your dishwasher:
Start with an empty dishwasher and then take out the bottom rack.
Clean the food debris. One of the most significant issues you'll find with your dishwasher is odors from bits of food left in the bottom of the appliance. Yuck! That's why we like to tackle this issue first. Remove the dishwasher's bottom rack and use a paper towel or cleaning cloth to wipe all around the bottom of the appliance to pick up food bits and debris.
Wipe down the door. Next, pay attention to the door of your dishwasher. Start by wiping residue and spots from the door using a damp microfiber cloth. Then, use a soft-bristled toothbrush or damp cloth to clean the gasket around the door, making sure to get into the crevice between the gasket and the door to remove the hidden grime.
Clean the filter. Remove the filter from your dishwasher by looking under the bottom spray arm, typically located under the bottom rack. Unlock and remove the filter and rinse it under hot water. Use a soft-bristled toothbrush to scrub the mesh and frame to help loosen stuck-on food and grease. Rinse the filter again, then lock it back into place. If you're unsure how to remove the filter from your dishwasher, check the owner's manual for instructions.
Clear the drain trap. Another spot in your dishwasher that often gets clogged, causing issues with standing water inside your dishwasher, is the drain trap. To ensure nothing is clogging the drain, it's a good idea to check it while you're deep cleaning. Remove the bottom rack, then look at the area surrounding the drain at the bottom of the dishwasher. Use a paper towel or cleaning cloth to clear away debris.
Run a cycle with cleaning tablets or vinegar solution. Use dishwasher cleaning tablets to deep clean your dishwasher, following the instructions on the package. Most major dishwasher detergent brands have them. Or create a more natural DIY cleaning solution with vinegar and baking soda. Start by filling a dishwasher-safe cup with one cup of white vinegar and placing it in the center of the top rack. Run a normal cycle without detergent. Then, sprinkle a layer of baking soda in the bottom of the empty dishwasher and run a short hot cycle to rinse.
Wipe the exterior. After the inside of your dishwasher is clean, it's time to tackle the outside. If your dishwasher has a stainless-steel finish, use a cleaner specifically designed for stainless steel to scrub away fingerprints and grime. Otherwise, use an all-purpose cleaner to clean dirt and smudges from the exterior of the appliance.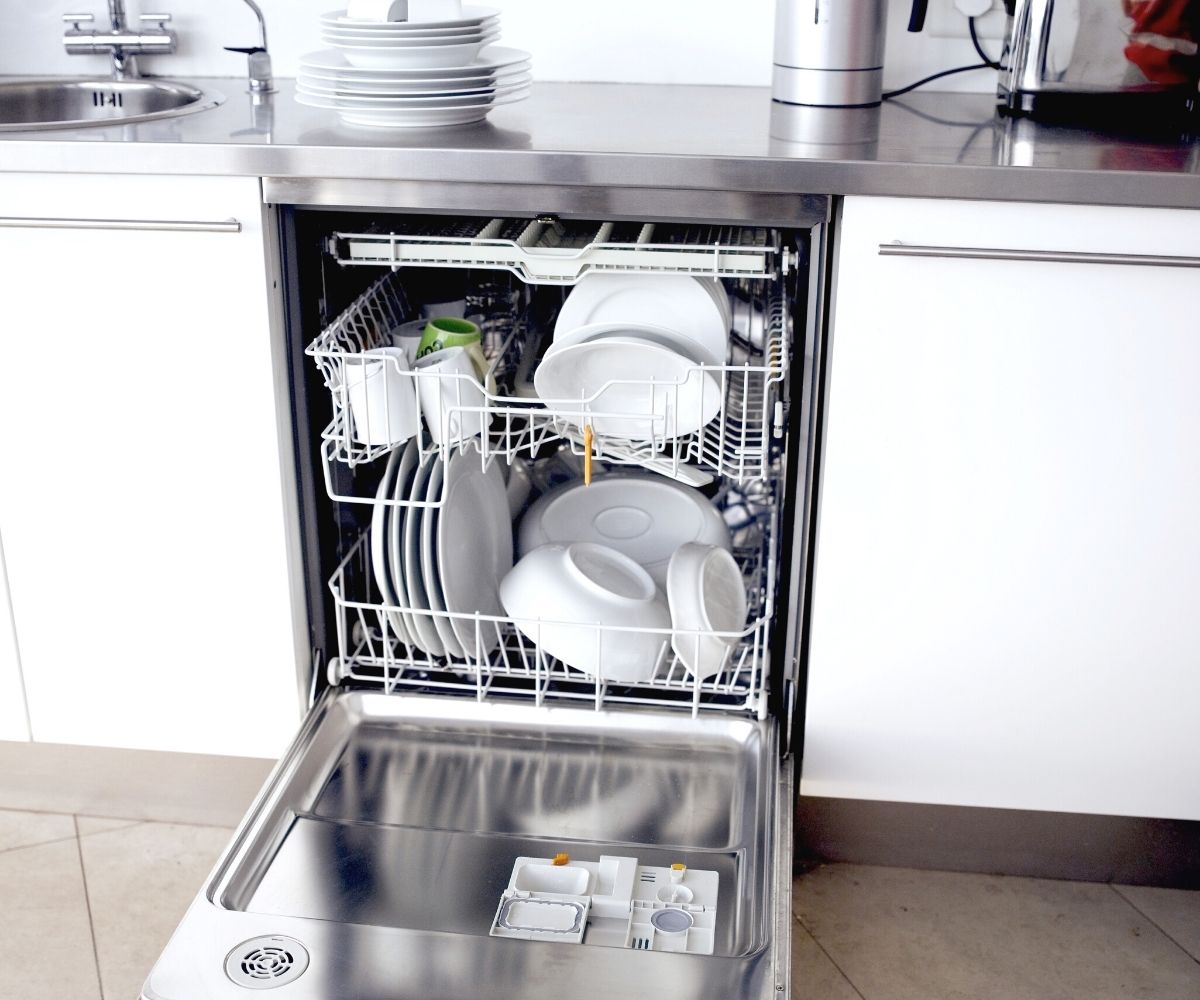 How often should you clean your dishwasher?
While you don't need to deep clean the inside of your dishwasher very often, there are a few cleaning tasks that need to be taken care of regularly to keep your dishwasher in good shape.
Follow this easy dishwasher cleaning schedule to make sure your dishwasher gets your dishes clean every time you run it:
Daily: Keep drain clear of food and debris
Weekly: Wipe down the exterior and interior of the door
Monthly: Deep clean the interior of the dishwasher, including the filter and drain
In addition to these ongoing tasks, it's also a good idea to inspect your dishwasher after each load to make sure there is no stuck-on food or other debris that could cause issues in the future.
Dishwasher Cleaning Tips
Follow these simple tips to get your dishwasher clean without issue:
Avoid bleach-based cleaners. Although it may be tempting to clean the inside of your dishwasher with bleach to kill bacteria, this cleaning solution can cause damage if the inside of your appliance has stainless steel in it.
Use a damp cloth on touch screens and buttons. To avoid damaging the buttons and screen on your dishwasher, avoid using cleaning solutions in those areas. Instead, wet a microfiber cloth and wring out the water until the cloth is only slightly damp. Then, wipe the screen and buttons.
Wipe/rinse dishes before washing. Prevent the buildup of food and grease in the bottom of your dishwasher by wiping your dishes to remove excess food before placing them in the dishwasher. It's also a good idea to remove tags and labels before placing new dishware in the dishwasher.
Bonus Cleaning Tips
Use a quality dishwasher detergent and rinse aid to help reduce the unsightly spots that can develop on the interior of your dishwasher and your glassware and dinnerware.
Make sure you read the instructions before using any cleaning tablets since some can't run in the same cycle as dishes and detergent.
More Cleaning Guides
You'll also want to know How to Clean Your Refrigerator and How to Clean Your Washing Machine to keep them running efficiently.
Here's your step-by-step guide for How to Do Laundry.
Keep In Touch
You can FOLLOW US on FACEBOOK, TWITTER, INSTAGRAM, and PINTEREST to see more delicious food, home tips, + DIYs!