Organize Your Home In Two Minutes with these simple tips. Make the clutter more manageable and your home happier and healthier!
Make sure to check out How to Organize Your Kitchen and How to Organize Your Pantry!
Organizing your home can sometimes seem a little overwhelming.
Well, maybe a lot, depending on the day!
Not everyone is uber-organized, so breaking down projects into two-minute tasks every day helps make clearing clutter more manageable and easily attainable for us busy moms. So let's Organize Your Home one job at a time...
If you need to get ready for overnight guests quickly, we've got you covered there, too!
Two-Minute Organization Task #1

 
Make your bed every morning.
This probably takes less than 2 minutes! It's obvious, but making your bed really does start your day off right, instantly making your bedroom look neat and orderly. It also helps perpetuate other good habits throughout your day.
There are also a few studies that have linked making your bed to increased happiness! Bonus!

Two-Minute Organization Task
#2
Tackle cluttered desks and kitchen drawers one at a time.
Take two minutes each morning to sort through one. Just one. Take everything out. If you find something that doesn't belong there, put it in its proper place and throw out unwanted, broken, or expired items.
Two-Minute Organization Task 
#3
Organize and clean your fridge and pantry shelves one at a time.
If you're already pulling out the milk for the kid's morning bowl of cereal, take two minutes to pull everything else off the shelf, quickly wipe it down, and only put back things in that will truly be eaten.
Do this task every week when you bring the groceries home. The fridge is a lot less full, so the job is super quick.
Check out this post if you want to Organize Your Whole Kitchen Efficiently.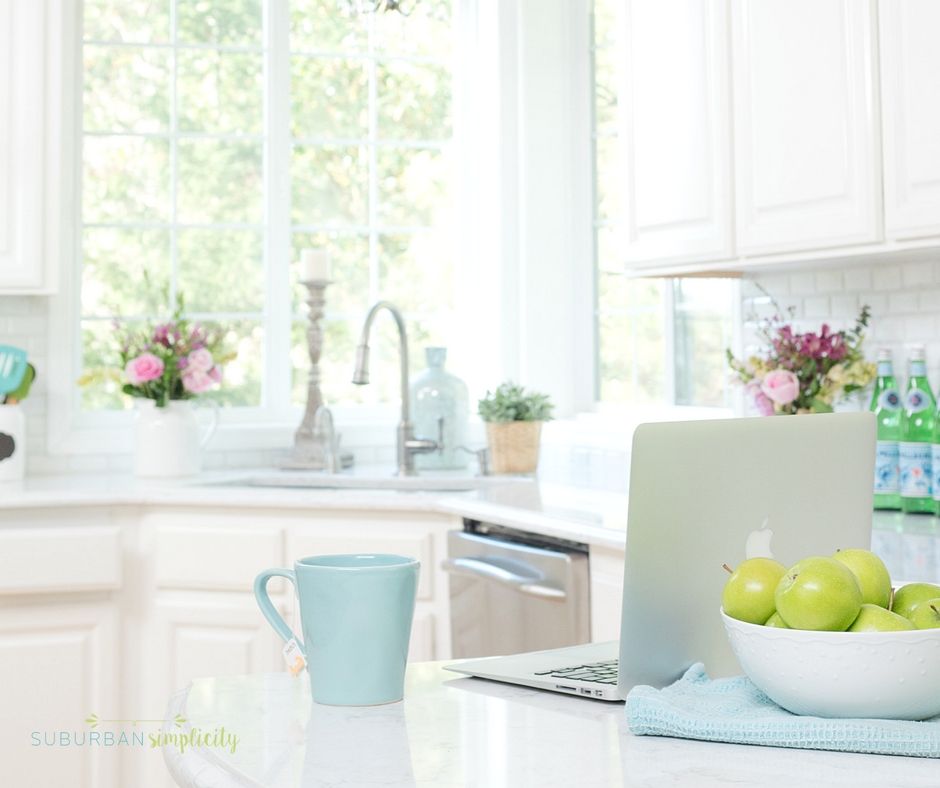 Two-Minute Organization Task #4
Clean out your closet of unwanted things.
Follow the golden rule of closet organization. If you haven't worn it in a year, you probably won't wear it again.
Doing this at the change of every season keeps your closet from becoming a bulging mess.
Keep a bag in my closet for things that need to be donated. When it's full, put it in the car, and it's off to Goodwill.
Here's how to Keep Your Closet Fresh and Clean.
Two-Minute Organization Task #5
Sort your mail.
Do this when you bring it in from the mailbox.
Have three main categories - FILE, TO DO/PAY, or TRASH.
This makes it much easier when it comes time to sit down and actually tackle the sorted piles. Take time every week to go through your respective baskets and then file or pay the bills.
You can read this helpful guide for more on Office Organization, including what you should keep and for how long.
Simple Home Organizing Solutions
Sometimes Home Organization requires storage solutions and creative ways to organize the rest of your life. We've compiled the best Home Organizing Solutions that don't break the bank but significantly impact conquering clutter and saving time.
How To Keep Your House Clean and Organized Bonus Tip!
Stash those easy-to-lose receipts. This quick trick is great for keeping receipts, tickets, and other important documents.
Just attach envelopes with glue or double-sided tape to the inside of your planner, notebook, or datebook to help keep must-have papers on hand.
The cumulative effect these little two minutes tasks have on transforming your overall household and cutting the clutter is really unique. They bring simplicity and organization to your life.
Simple tips like these create a happier, healthier home, so start your task list today!