This Mint Sugar Scrub is so refreshing and very exfoliating! An easy and luxurious DIY that can made at home for pennies!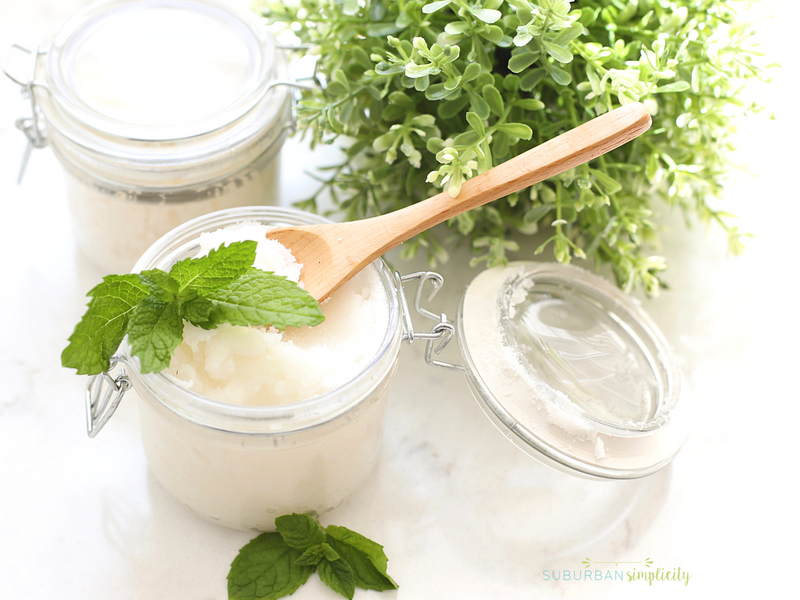 Mint Sugar Scrub with Free Printable Tags
There's nothing more refreshing than the scent of peppermint! That's why it's so perfect in this Mint Sugar Scrub Recipe. This DIY Sugar Scrub contains only 4 natural ingredients and is suuuuper easy to make!
Mint is an evergreen recipe for a DIY Sugar Scrub that's great year round.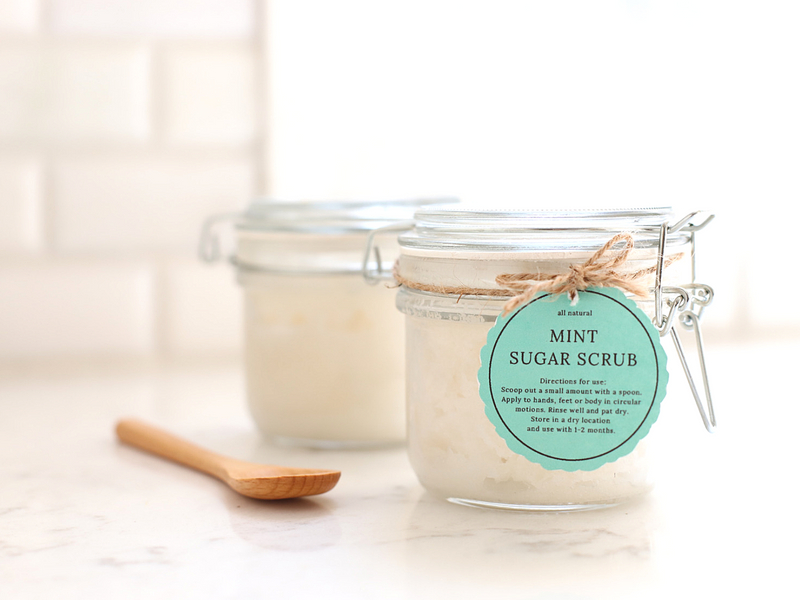 Who has time to spend hours on a beauty routine any time of the year? I like sugar scrubs because they make it so simple to get your skin feeling soft and smooth with just a few minutes in the shower. Plus, homemade sugar scrubs are all-natural and make great homemade gifts!
I'm all about green beauty these days! Have you read or tried to read the ingredient list of many store bought products? Not so natural!
If you like this sugar scrub you may also like this Lavender Mint Sugar Scrub.
Materials Needed for a Homemade Sugar Scrub
This post contains affiliate links. Disclosure policy here.
glass jar  – I like ones with a snap closure that keep your scrub air tight.
Organic sugar
Organic coconut (or other) oil
vitamin E oil
How to Make a Mint Sugar Scrub
1 cup granulated sugar
½ cup oil (almond, olive or coconut work best)
½ teaspoon vitamin E oil
15 drops peppermint essential oil
Place all ingredients in a bowl and mix together. If need be, soften coconut oil in the microwave for a few seconds. You can add more or less oil to your liking.
Store in an air tight container. Since this recipe doesn't contain any preservatives, it's best if it's used within a month or two.
Printable Tags for Your DIY Sugar Scrub
These Mint Sugar Scrub printable tags make giving your sugar scrub as a gift super simple! Slip on a pretty ribbon or burlap string. Attach your tag, and voila you've got an irresistible present.
Note:  My printer gave the tags a bit of a blue tone, but the template is definitely more of a mint green color.
How to Wrap a Sugar Scrub as a Gift
The best way to make your sugar scrub a gift or party favor is by tying a pretty ribbon or twine around the jar and attaching a tag. The free tags that come with this Mint Sugar Scrub give the name of the scrub as well as instructions for use.
What Sugar to Use in a Sugar Scrub?
Great question! Because it's a little finer, so less abrasive, I use white sugar for facial or lip scrubs. Brown sugar, which is a bit more coarse, is best for body scrubs. Raw sugar, which is the coarsest sugar, is nice to use for hand and foot scrubs.
How to Use Your DIY Sugar Scrub
Scoop a small amount of the Vanilla Sugar Scrub in your hands with a spoon.
Scrub all over your hands or feet – or wherever you'd like extra soft skin.
Allow to soak into your skin for a few minutes. Enjoy this time to relax!
Rinse well and then pat dry with a soft towel.
If you're short on time, massage the scrub all over your body and rinse during your normal shower routine.
SAFETY NOTE: Be careful while using your sugar scrubs on your feet while in the shower. The oils contained in scrubs can make your feet slippery.
How Often Should You Use a Sugar Scrub?
If your skin is healthy and firm, you can use a sugar scrub a couple times a week. However, if you have sensitive or thin skin, limit a good buffing to once a week. If you have any concerns, you can test an area of your skin before you use it on the rest of your body.  
You May Also Like These DIY Sugar Scrubs: