Learn the benefits of sugar scrubs and how often and why you use them. This DIY beauty product is amazing and does wonderful things for your skin!
You can also learn the benefits of sugar scrubs versus salt scrubs.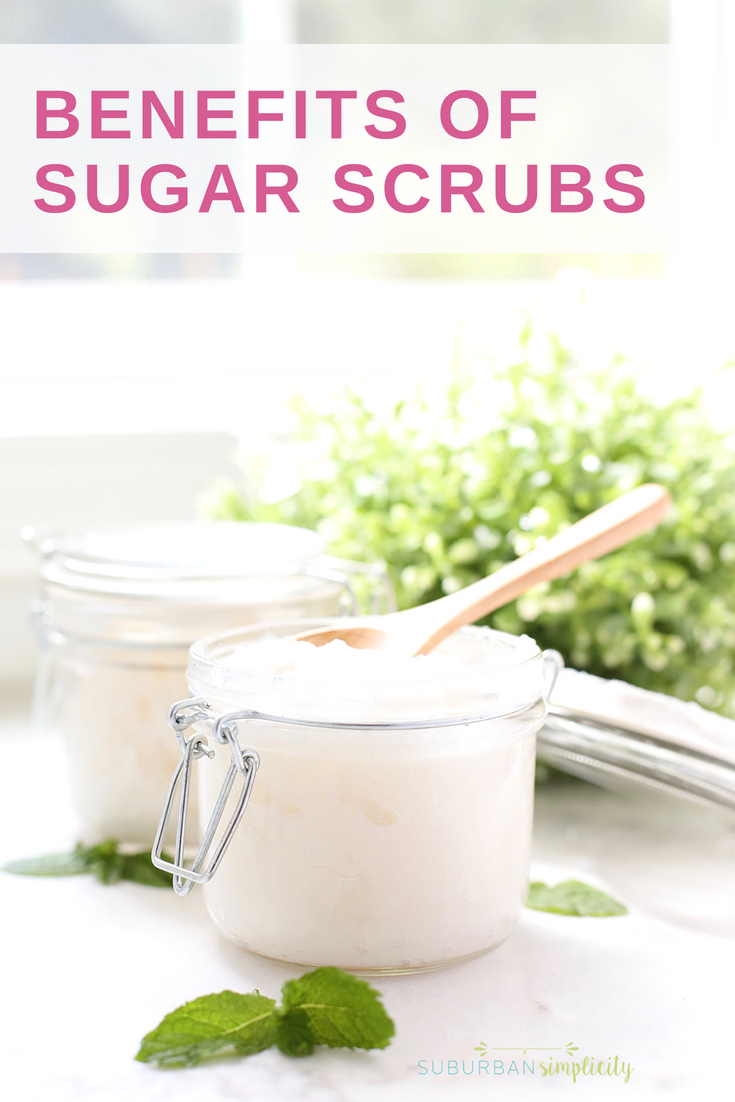 Benefits of sugar scrubs for Skin
Ever wonder how to get naturally soft skin and feel like you spent an afternoon at a relaxing, rejuvenating spa? There's a simple way to do this at home - sugar scrubs or, as they can also be called, body scrubs.
Let's talk about the Benefits of Sugar Scrubs for your skin.
Beyond its ability to pamper you with natural ingredients at an extremely inexpensive cost, a sugar scrub is an excellent choice to exfoliate and smooth your skin, even if it's extremely sensitive.
Sugar scrubs brighten tired, dull-looking skin to promote healthy, smooth, and flawless skin.
Sugar scrubs also naturally fight skin aging.
Another benefit of a sugar scrub is that it can be used all over the body, not just on the face. Just like the face, the body needs exfoliation, too!
To help free ingrown hairs, you can use a sugar scrub in a circular motion, which is less abrasive than a back-and-forth movement on your skin.
Scrubs smooth out skin in preparation for tanning or self-tanners.
Sugar Scrubs make great gifts for family, friends, or party favors.
When making a sugar scrub, don't forget that sugar cane contains minerals that are good for your body. Along with the glycolic acid found in natural sugars, the minerals can be protective for your skin, keeping toxins out.
Benefits of Sugar Scrubs on Your Face
The benefits of sugar scrubs on your face are many.
Not only is it a wonderful exfoliator, which helps to remove dead skin cells from your face, lips, and even your body to restore and refresh tired, clogged pores, but it's also a natural humectant.
Therefore, it doesn't strip your skin of moisture and ensures your skin is left beautifully hydrated.
What Sugar is Best for Your Face?
White sugar is the best for use on your face. The smaller particles make sugar easier on the delicate skin of your face. When you use a sugar scrub on your face you still want to be very gentle.
Simply rub with your hands in small gentle circles without applying much pressure and let the sugar do its job.
You don't need to let it dissolve first, either. Just rub it on and off, and you're done! How nice is that!
SAFETY NOTE: If you plan to use it on your face, people with sensitive skin may want to leave the essentials oils out of the scrub recipe. There's a chance they can be irritating.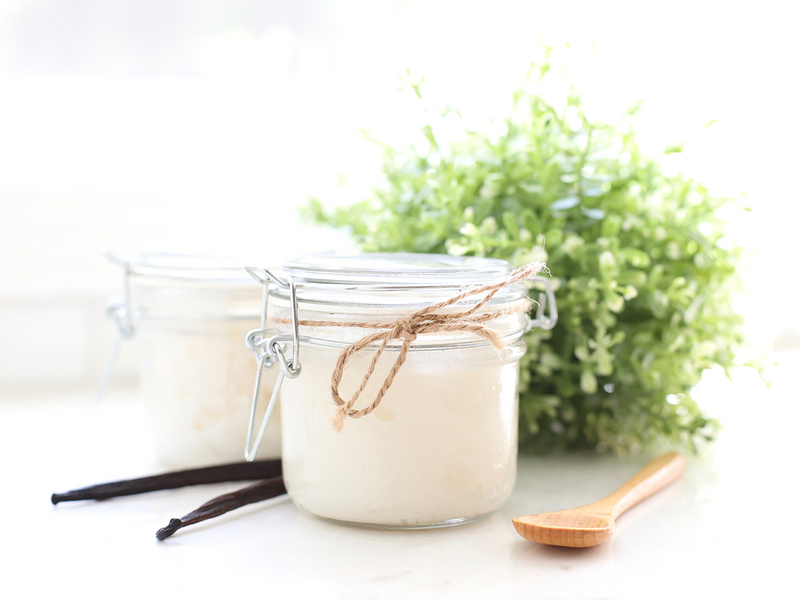 When comparing sugar scrubs versus salt scrubs, you will find additional benefits to using a sugar scrub due to the sugar granules being a lot smaller than salt granules and dissolving faster, too.
This means that for sensitive skin, sugar is a much better choice than salt because you don't want to cause abrasions to your skin by being too harsh with it.
Since the particles are smaller in sugar, it's the best choice for delicate skin compared to salt, which has larger particles and dissolves slower.
When to use a sugar scrub
There are several good times to use a sugar scrub on your skin:
Weekly to maintain soft, smooth skin.

Before you shave your legs (If you don't have sensitive skin).

To prep skin before a spray tan.

When you have ingrown hairs.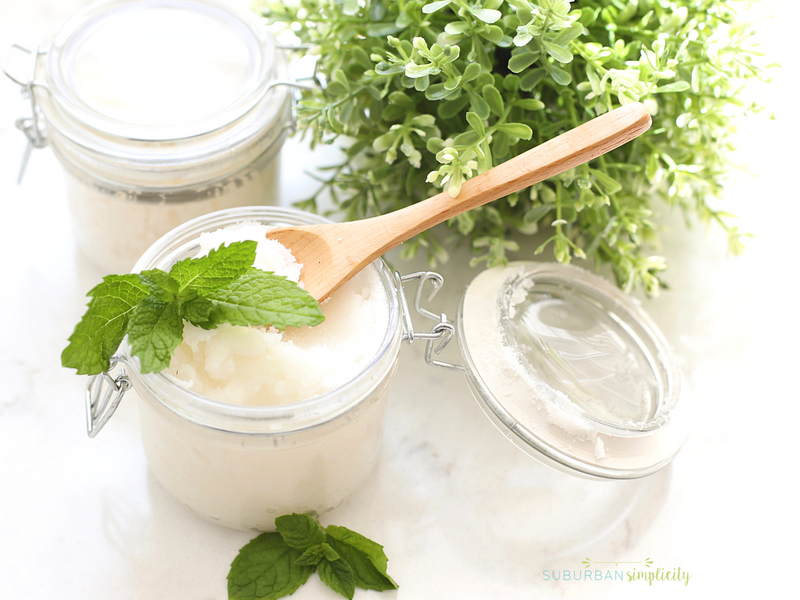 How often should you use sugar scrubs on your body?
We always keep a homemade sugar scrub on hand, and if your skin is healthy and firm, you can use a body scrub a couple of times a week.
However, if you have sensitive or thin skin, limit a good buffing to once a week.
NOTE: If you have any concerns, you can test an area of your skin before you use it on the rest of your body.
How long does a sugar scrub keep?
Due to the fact that homemade versions don't contain any preservatives, sugar scrubs usually keep a month or two in an airtight container.
Also, to keep it bacteria-free, use clean hands when scooping your sugar scrub out of its container or use a clean, dry spoon.

Are sugar scrubs good for acne?
For those who struggle with acne, there's good news!
Exfoliation is essential in creating and maintaining a clear and bright complexion. A good sugar scrub will remove the top layer of dead skin cells, encouraging the production of new, healthy cells. Therefore, it helps clear your skin.
It's important to note, you don't want to use extra oil on acne-prone skin, so it's best to make a simple scrub recipe of sugar and honey, which is antimicrobial, anti-inflammatory, and antioxidant. To kill the acne-causing bacteria, you scrub this gently in circular motions on your face and then rinse
Here are some exfoliation tips if you have acne.
Natural sugars are less drying
If you make or purchase a sugar scrub that's created from natural sugars, it will contain minerals that are found in sugar cane that are good for your body.
Along with the glycolic acid found in natural sugars, the minerals can be protective for your skin, keeping toxins out.
Here are two simple recipes you can try to start experiencing the benefits of sugar scrubs: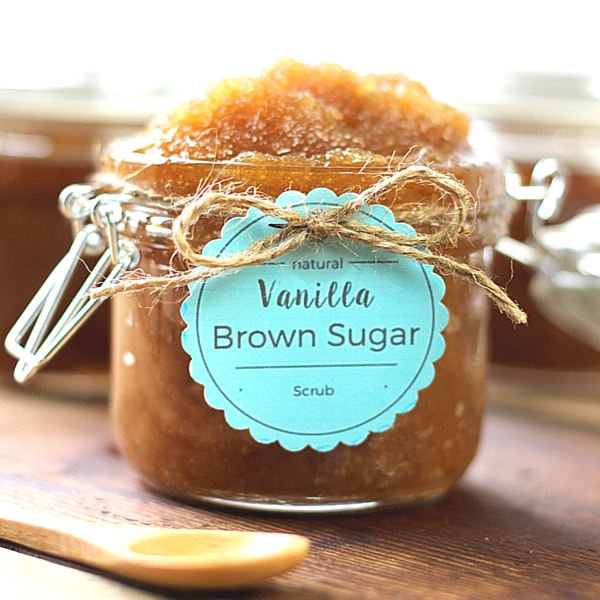 These homemade beauty products are made from all-natural ingredients that you probably have in your kitchen, so no harmful chemicals or additives find their way into your DIY beauty products.
They're totally green, which we're so into these days!
More Sugar Scrub Recipes:
The information contained on this website is not meant to diagnose, treat, cure, or prevent any disease. The information represents what we have chosen to do to take charge of our own personal health and that of our family. Statements on this website have not been evaluated by the Food and Drug Administration. Information found on this site is meant for educational and informational purposes only.