Here's the Best Sugar Scrub recipe to make at home. An easy, inexpensive, and very luxurious DIY! Perfect for gift giving too!
Find tons of inspiration to make face and body scrubs with our easy Sugar Scrub Recipes. If you need a lip exfoliating, try our Lip Scrub.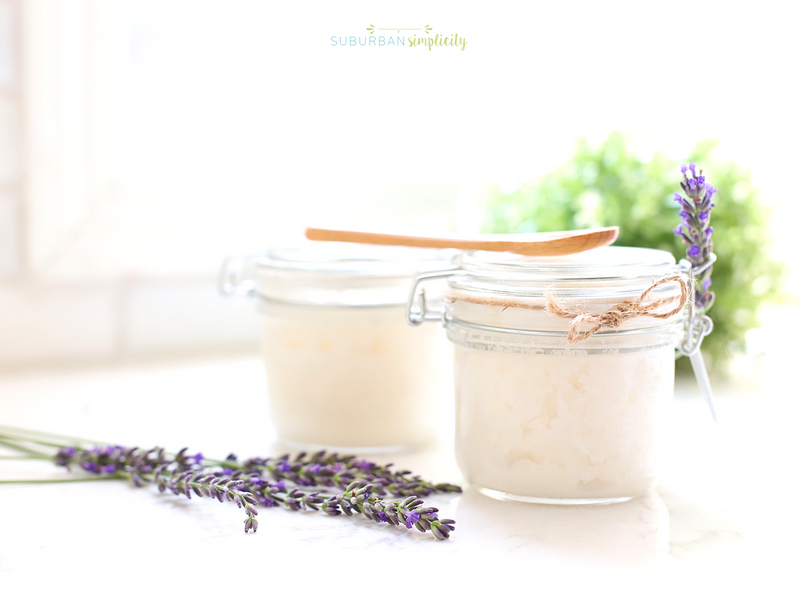 The Best Sugar Scrub
So it's hard to pick just one sugar scrub recipe that is better than all the rest since they are soooo good, but we do love this Lavender Sugar Scrub for its simplicity. There are so many benefits to sugar scrubs for your skin.
Lavender is one of the best essential oils for its wonderful therapeutic benefits like:
Reducing anxiety and emotional stress.
Restoring skin complexion and reducing acne.
Improving sleep.
Slowing aging with powerful antioxidants.
If you haven't made a homemade sugar scrub, this is definitely one of the best!
It's inexpensive and effortless to make.
What Is a Sugar Scrub?
A Sugar Scrub is a mixture of sugar crystals and oil, and sometimes an essential oil. The idea is to massage these granules into your skin to remove debris and dead skin cells. DIY Sugar Scrubs do wonders for dry, cracked skin because they exfoliate so well.
Plus, they leave skin feeling silky smooth. They are perfect for feet, knees, and elbows.
Related: Pink Lemonade Sugar Scrub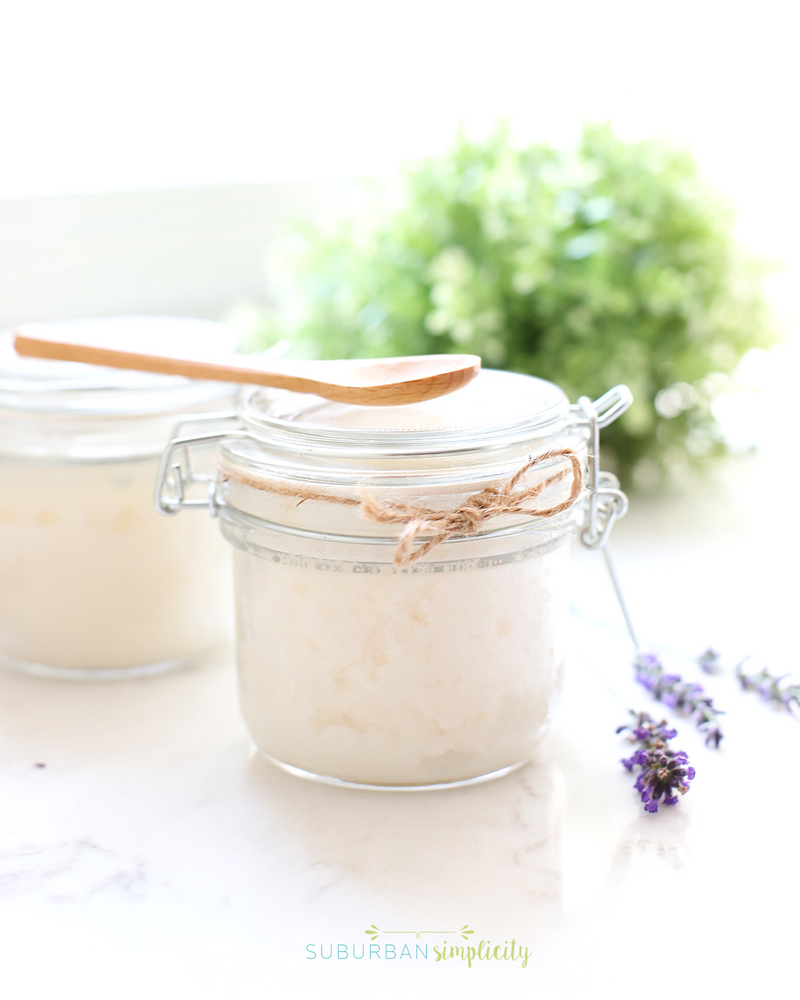 Materials Needed to Make the Best Sugar Scrub for Your Body
This post contains affiliate links. Disclosure policy here.
Glass jar – We like ones with a snap closure that keeps your scrub airtight.
Organic sugar
Organic coconut (or other) oil
vitamin E oil (optional, but acts as a mild preservative)
How to Make a Lavender Sugar Scrub with Coconut Oil
1 cup granulated sugar
½ cup coconut oil (almond or olive work best)
½ teaspoon vitamin E oil
15 drops lavender essential oil
Place all ingredients in a bowl and mix. If need be, soften coconut oil in the microwave for a few seconds. You can add more or less oil to your liking.
Store in an airtight container. Since this recipe doesn't contain any synthetic preservatives, it's best if it's used within a month or two.
Tips for Making Body Scrubs
We love making our body and face scrubs with coconut oil. It is moisturizing as well as easy to work with. If it gets hard after you make the scrub, place a spoonful in your hand and soften it up. We recommend using non-fractionated coconut oil for the most therapeutic benefit.
Food coloring is optional. If you do want to incorporate it, use a plant-based version to keep your scrub all-natural.
The basic recipe calls for a greater amount of sugar than oil. If you like yours more oily, add more coconut oil to the base recipe.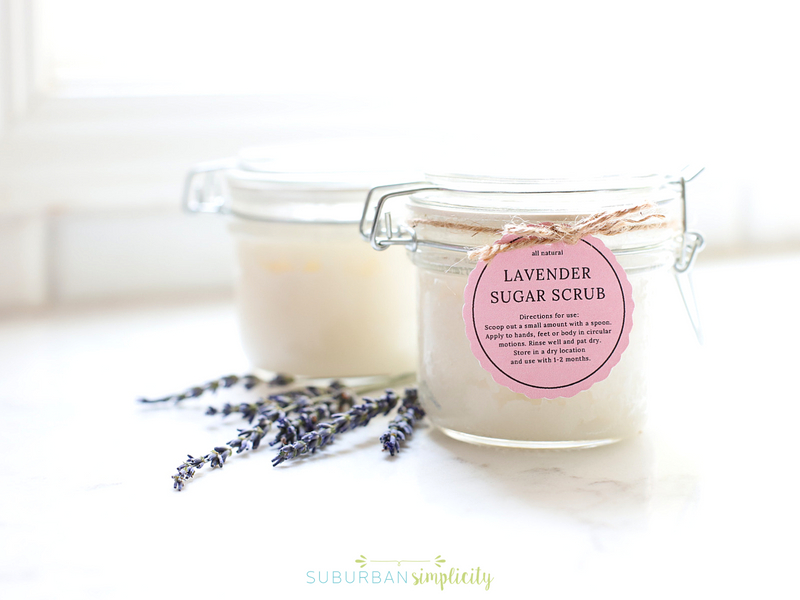 Video for How to Make a Lavender Sugar Scrub
Printable Tags for Your DIY Sugar Scrub
These Lavender Sugar Scrub printable tags make giving your sugar scrub as a gift super simple!
Slip-on a pretty ribbon or burlap string. Attach your tag, and voila, you've got an irresistible present that everyone from friends to teachers to enjoy.
You can use this scalloped edge punch to punch out the tags easily.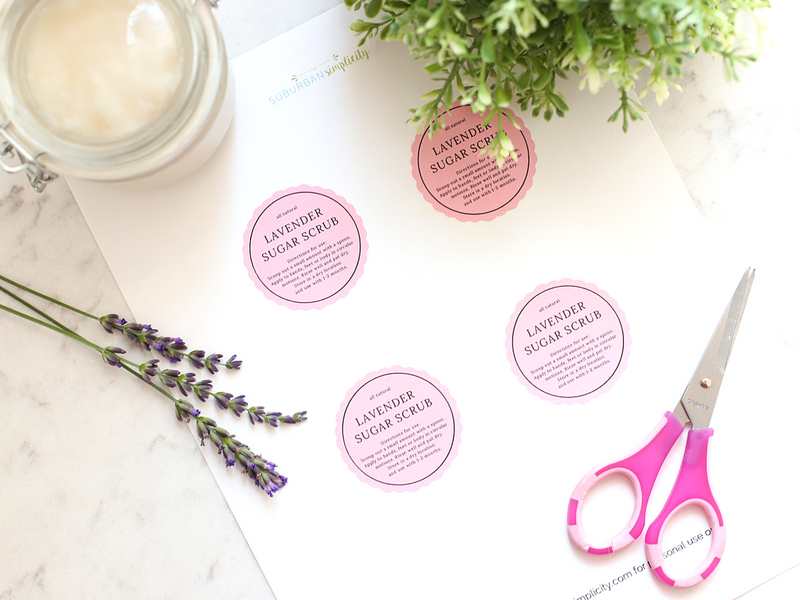 How to Wrap a Scrub as a Gift
The best way to make your sugar scrub a gift or party favor is by tying a pretty ribbon or twine around the jar and attaching a tag.
The free printable tags that come with this Lavender Sugar Scrub give the name of the scrub and instructions for use.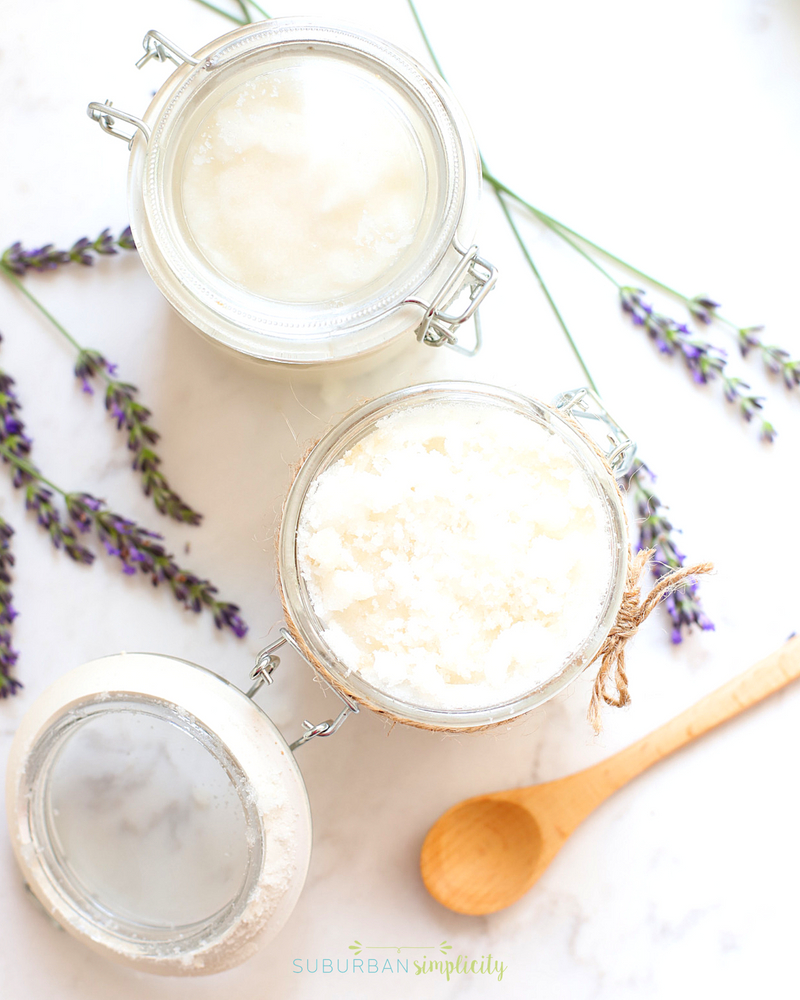 Best Sugar to Use in a Body and Face Sugar Scrub?
Great question!
Because it's a little finer, so less abrasive, we use white sugar for facial or lip scrubs. Brown sugar, which is a bit more coarse, is best for body scrubs like this Vanilla Brown Sugar Scrub. Raw sugar, which is the coarsest sugar, is nice to use for hand and foot scrubs.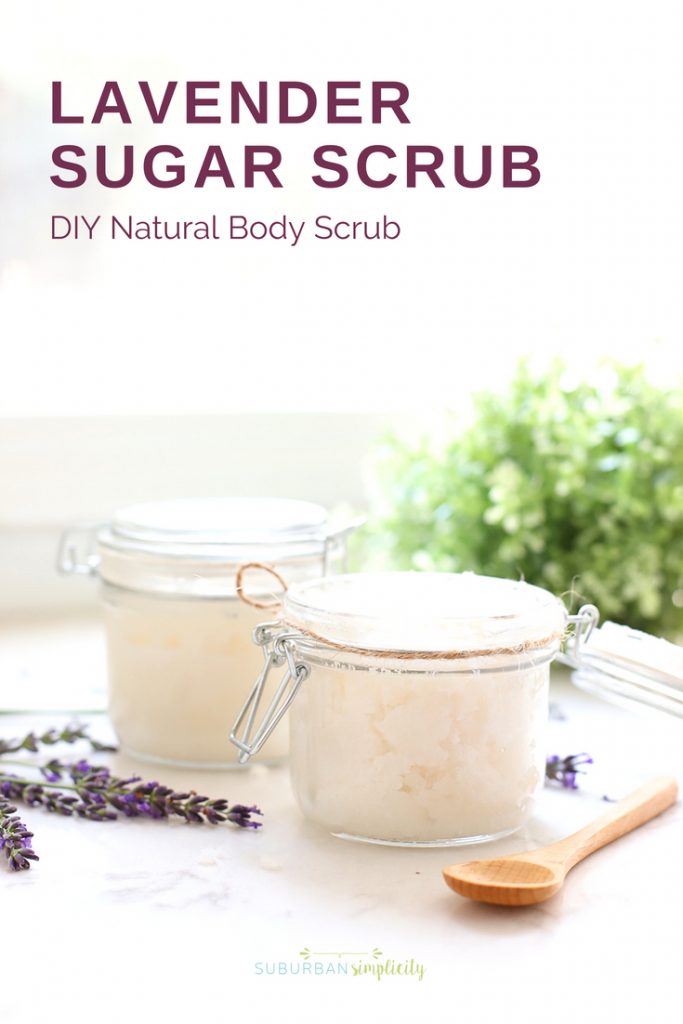 How to Use Your Exfoliating DIY Lavender Sugar Scrub
Scoop a small amount of your Lavender Sugar Scrub in your hands with a spoon.
Scrub all over your hands or feet – or wherever you'd like extra soft skin.
Allow the scrub to soak into your skin for a few minutes. Enjoy this time to relax!
Rinse well and then pat dry with a soft towel.
If you're short on time, massage the scrub all over your body and rinse during your normal shower routine.
SAFETY NOTE: Be careful while using your sugar scrubs on your feet while in the shower. The oils contained in scrubs can make your feet slippery.
Don't forget to download your FREE PRINTABLE TAGS for your Lavender Sugar Scrub!
Let's Connect
You can FOLLOW US on FACEBOOK, TWITTER, INSTAGRAM, and PINTEREST to see more delicious food, fun crafts, parenting tips + DIYs!
You May Also Like These DIY Sugar Scrub Recipes: