This year, use these Homemade Edible Gift Ideas to give something special and delicious to friends and loved ones. You can make the perfect DIY Food Gift for everyone on your list for little money!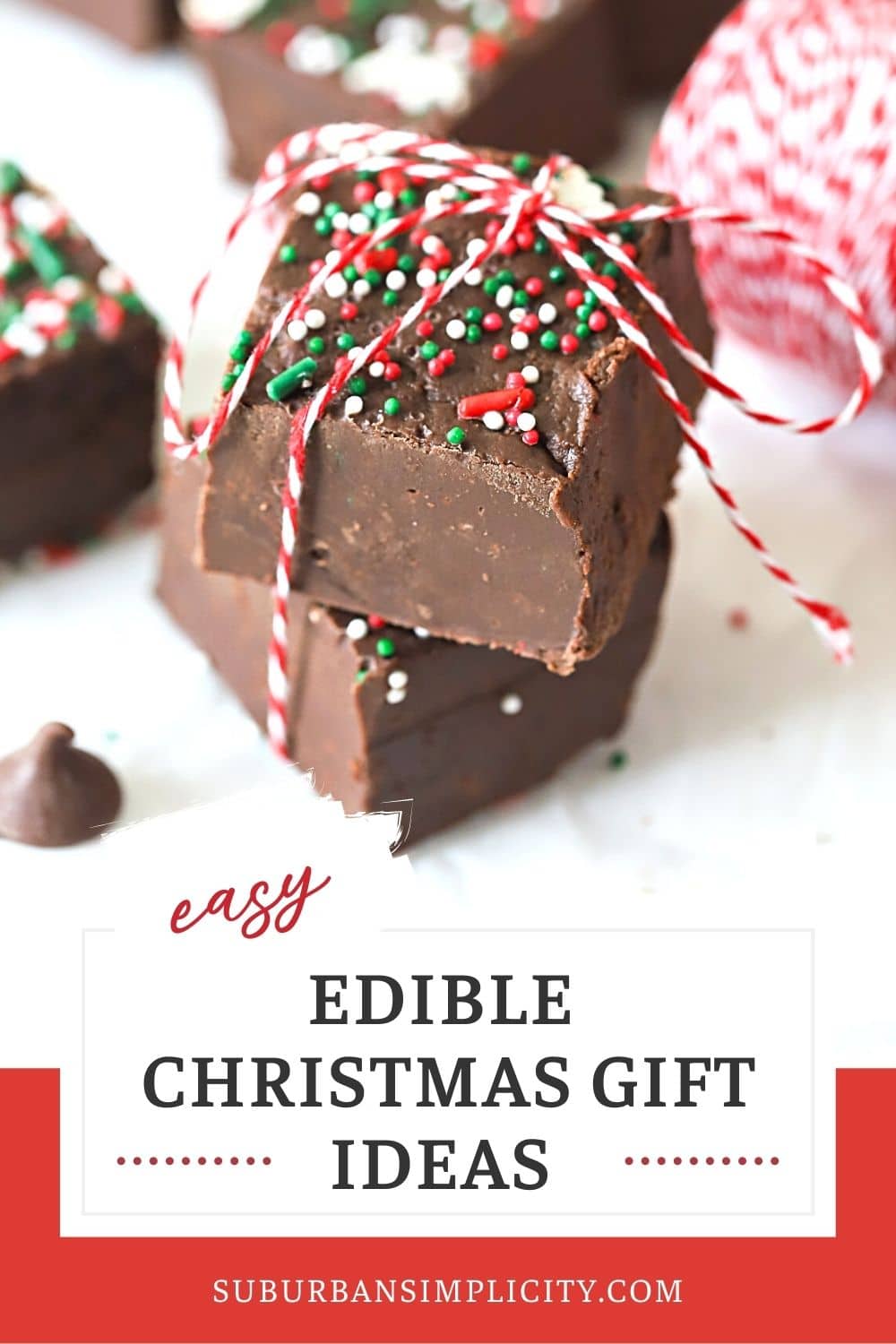 Why not whip up some Homemade Edible Gift Ideas guaranteed to wow family, friends, and neighbors! Don't forget those hardworking teachers!
For little money, you can give homemade gift recipes made from your heart. Plus, most of them you can make ahead. 
Gather the kids and start baking or candy making because these DIY Food Gift Ideas are what everyone wants this holiday season.
These homemade Christmas treats are great to give just by themselves or with a gift card to let someone know you care.
Why not make a batch and bring them to your local firehouse to let them know you appreciate what these first responders do?
Other sweet gifts include Christmas Muddy Buddies and Marshmallow Reindeer.
Christmas Food Gift Ideas
Christmas Fudge Recipe | Suburban Simplicity
One of the easiest and tastiest Christmas treats you can make. You have the perfect gift with just a few simple ingredients you probably have in your pantry and your microwave!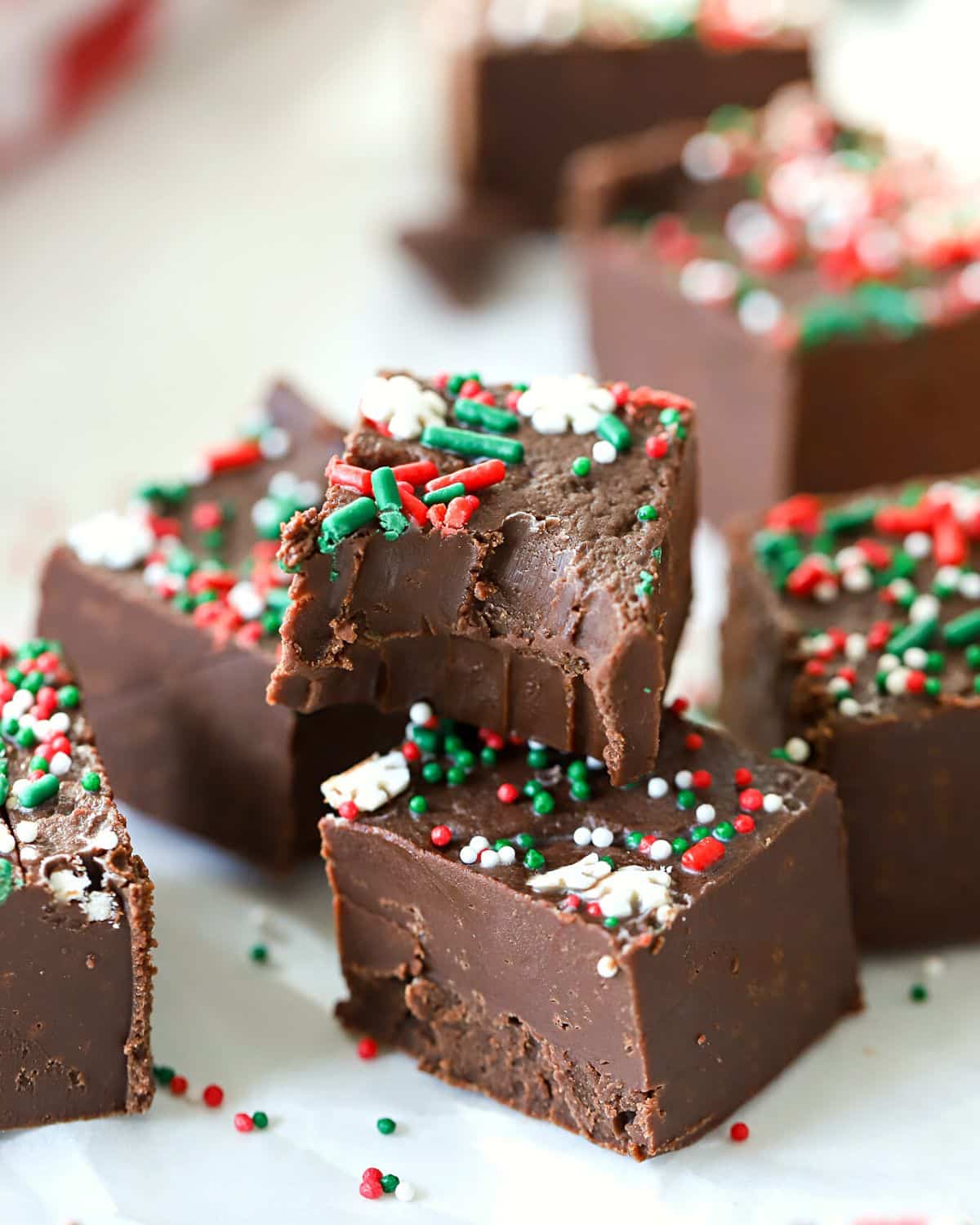 Amazing Cranberry Bliss Saltine Toffee | Suburban Simplicity
Salty and sweet and just what everyone wants to eat! Cranberry Bliss cracker toffee is a unique edible gift! It tastes like cranberry bliss bars but has a nice crunchy base!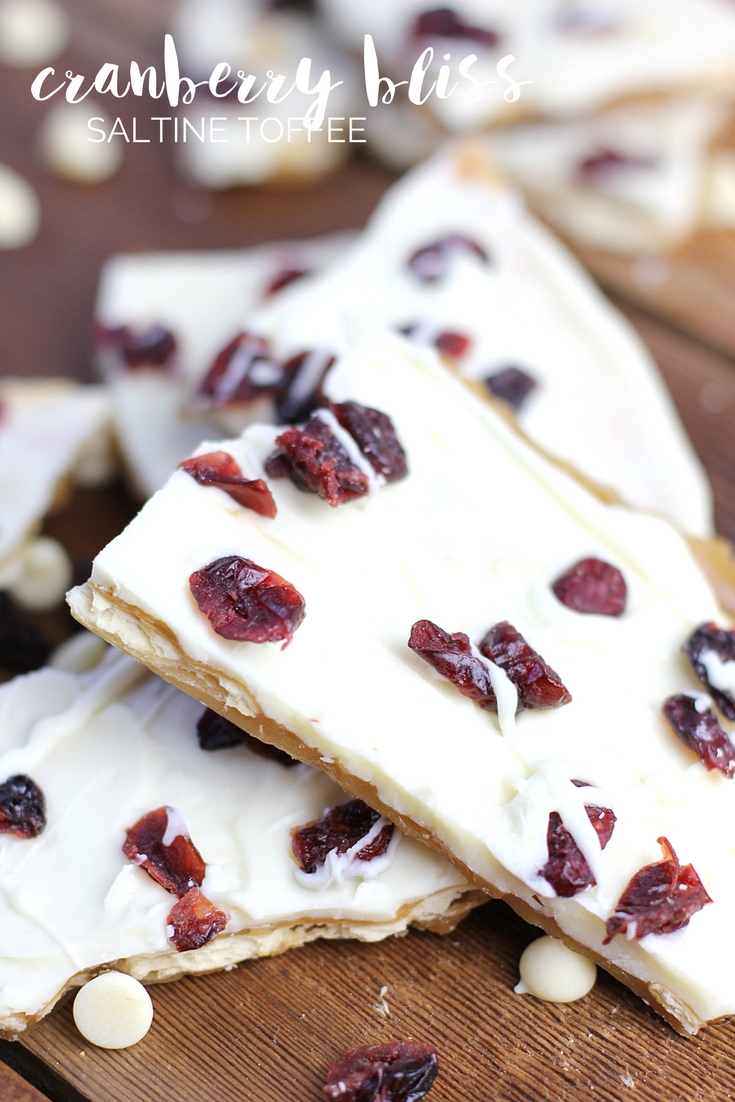 Easy Peppermint Bark | Suburban Simplicity
This easy-to-make Peppermint Bark satisfies all peppermint lovers! Anyone can make this homemade edible gift recipe!! We'd suggest making a double batch so you can keep some for yourself.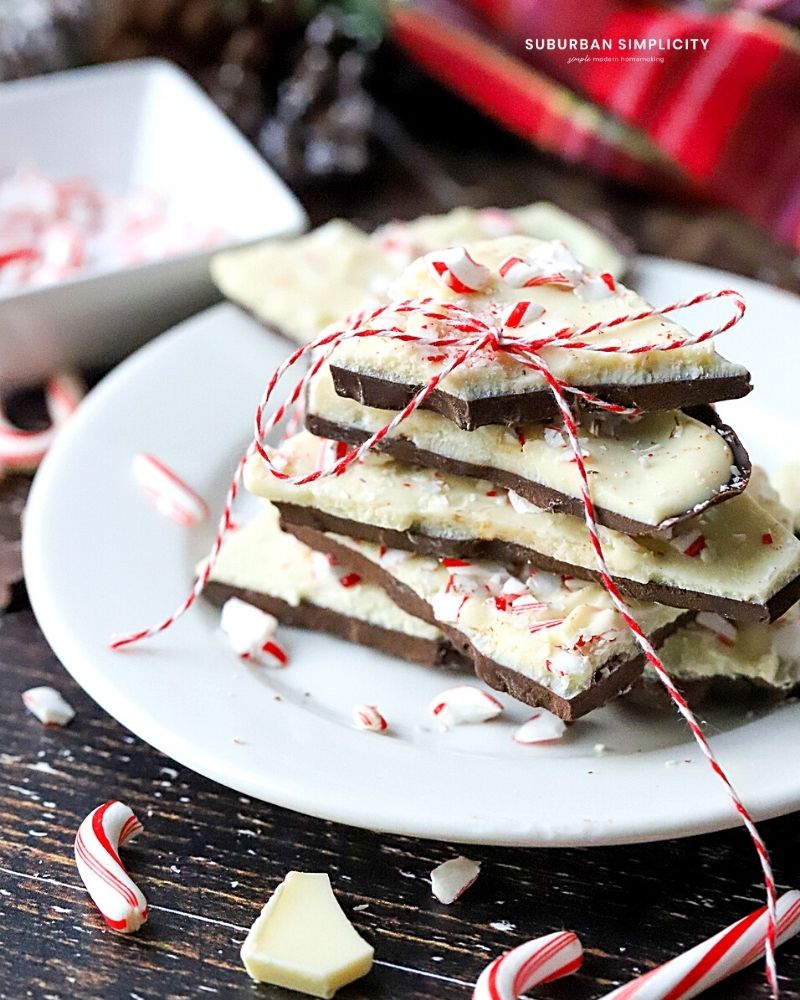 Saltine Toffee That's Simply Irresistible | Suburban Simplicity
The original Saltine Toffee recipe doesn't disappoint. There are salty crackers, a caramel middle, and a chocolate top. Seriously, everyone will love this gift! It's often called Christmas Crack because it's so addictive.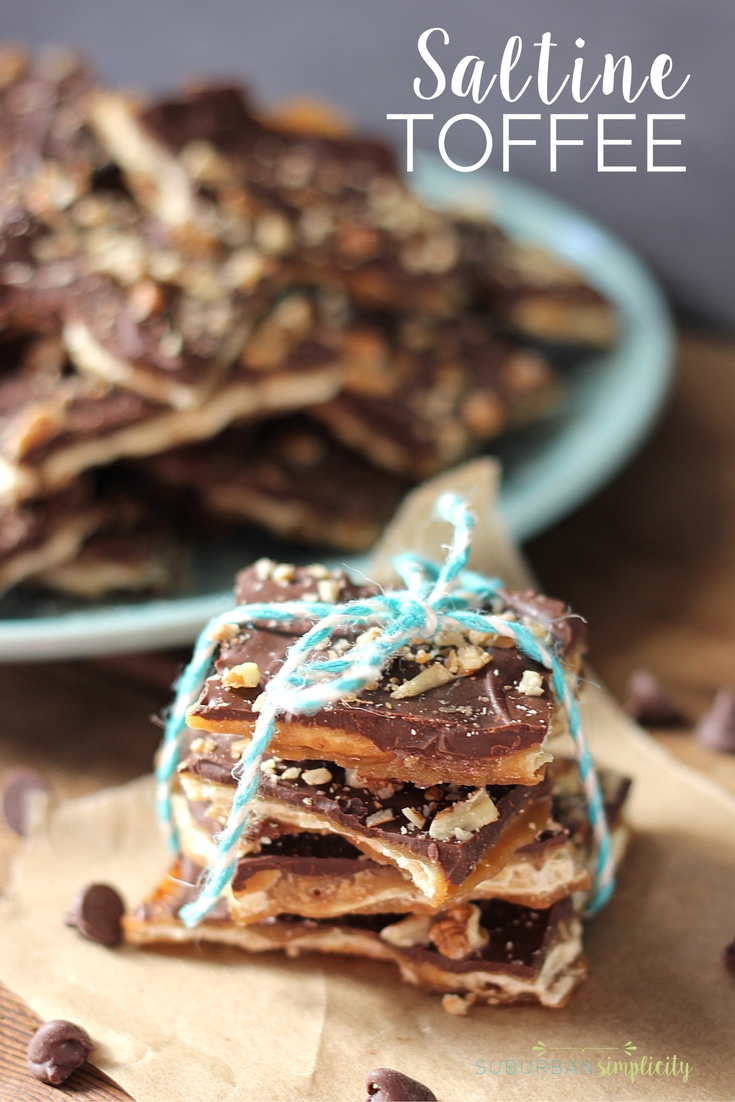 Reindeer Chow | Suburban Simplicity
One of the easiest no-bake Christmas treats is Reindeer Chow (aka Christmas Muddy Buddies)! This recipe makes a large batch so great for multiple gifts or parties.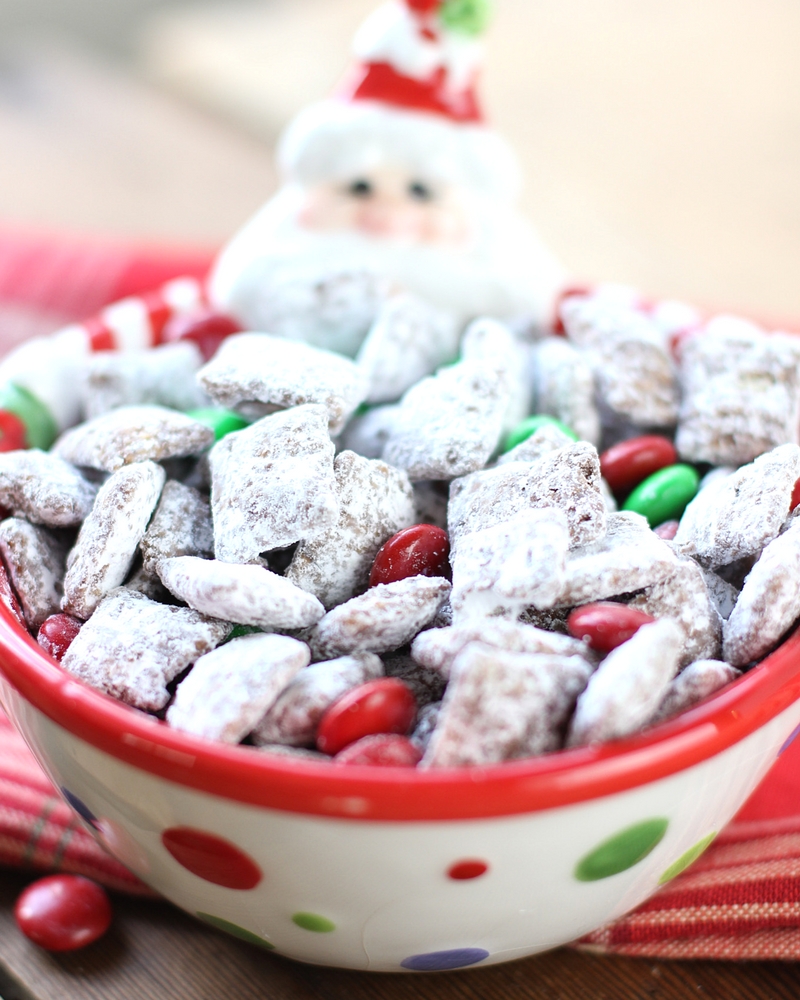 Reindeer Pretzel Bites | Suburban Simplicity
Grab a cellophane bag and make a batch of these Rolo Pretzel Reindeer to fill it up. You only need 4 ingredients! Perfect for co-workers at the office!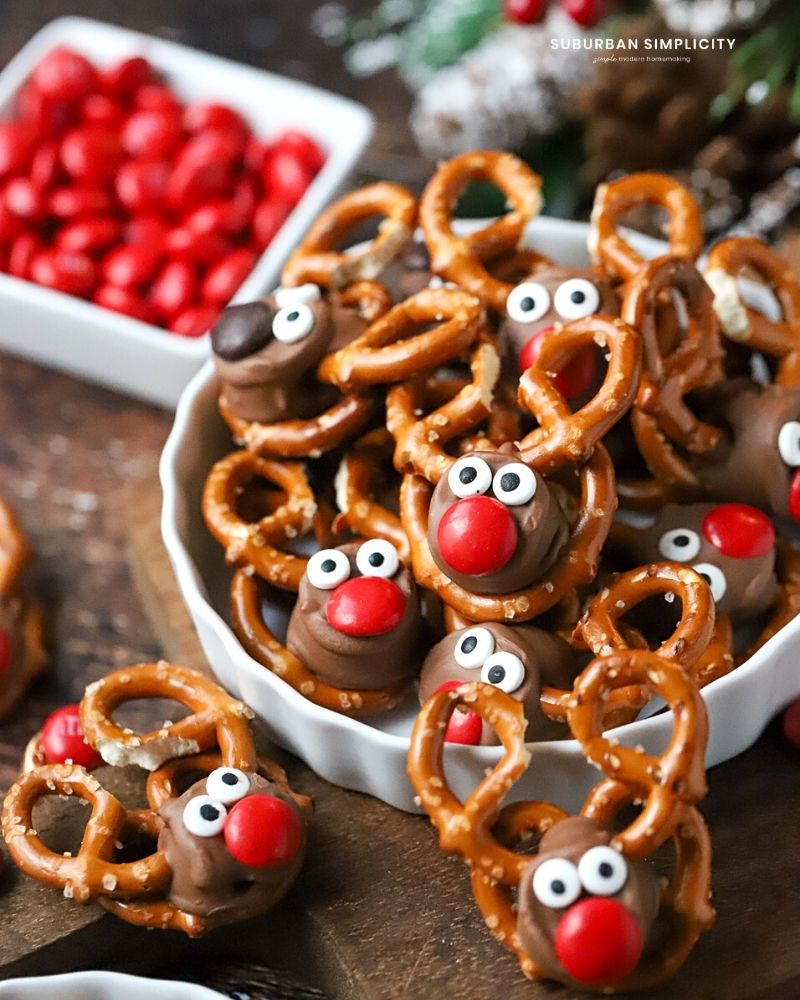 Crockpot Christmas Candy | Suburban Simplicity
Use your crockpot to whip up a batch of yummy homemade candy! They taste like delicious peanut clusters. Plus, the recipe makes a large batch, so plenty for gifting!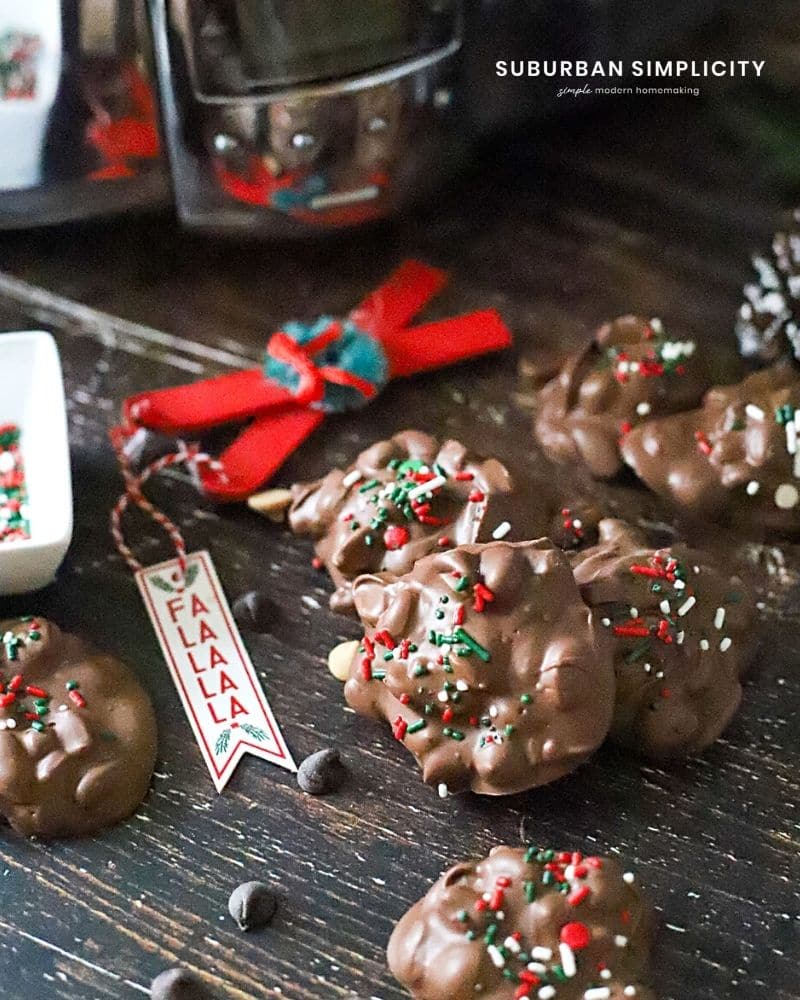 Peanut Butter Saltine Toffee | Suburban Simplicity
Peanut butter lovers rejoice! We've got you covered with our Peanut Butter Cracker Toffee. It's like the original but with a creamy peanut butter layer between the crackers, caramel, and chocolate. So good!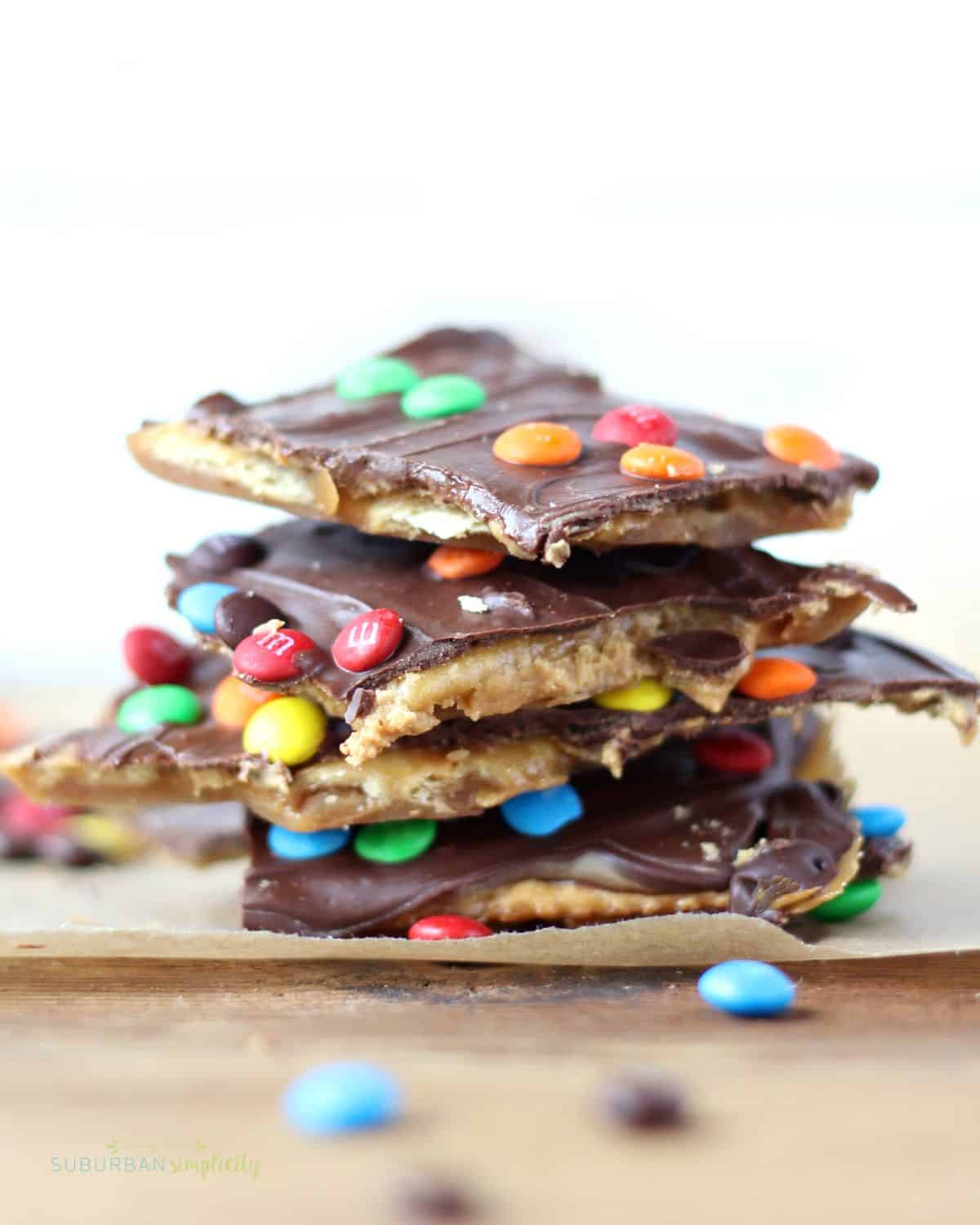 Christmas Snowball Cookies | Suburban Simplicity
These melt-in-your-mouth cookies deserve to be on your list. They're easy to make in one bowl with pantry staples.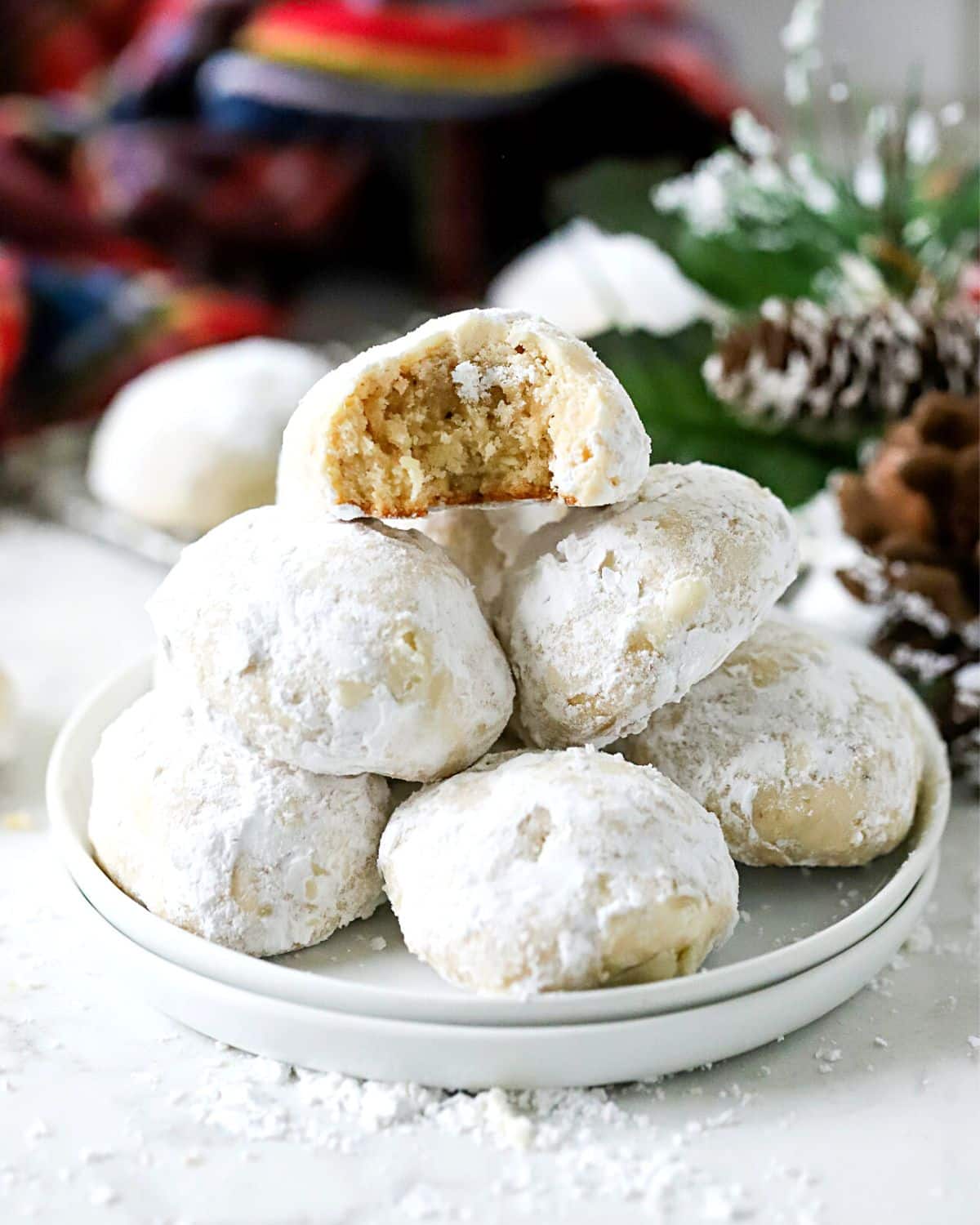 Homemade Almond Roca | Suburban Simplicity
Everyone loves this classic Almond Roca Recipe! Bonus! You don't need a candy thermometer to make this recipe.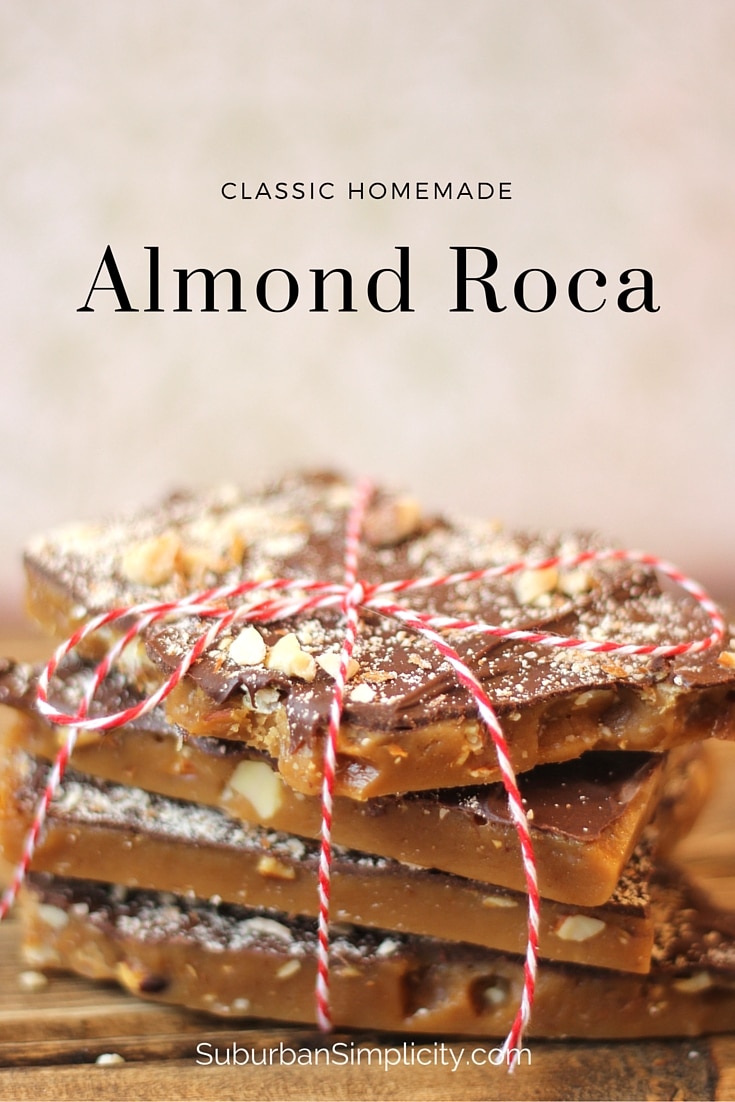 Candy Cane Hearts | Dinner at the Zoo
Cute and sweet! You'll enjoy these candy hearts all season long because of their peppermint and chocolate flavor!
Peanut Butter Ritz Cookies | Suburban Simplicity
Making these irresistible Chocolate Covered Ritz Crackers is almost too easy! With a few simple ingredients like Ritz Cracker, peanut butter, and chocolate, you have one addictive little cookie.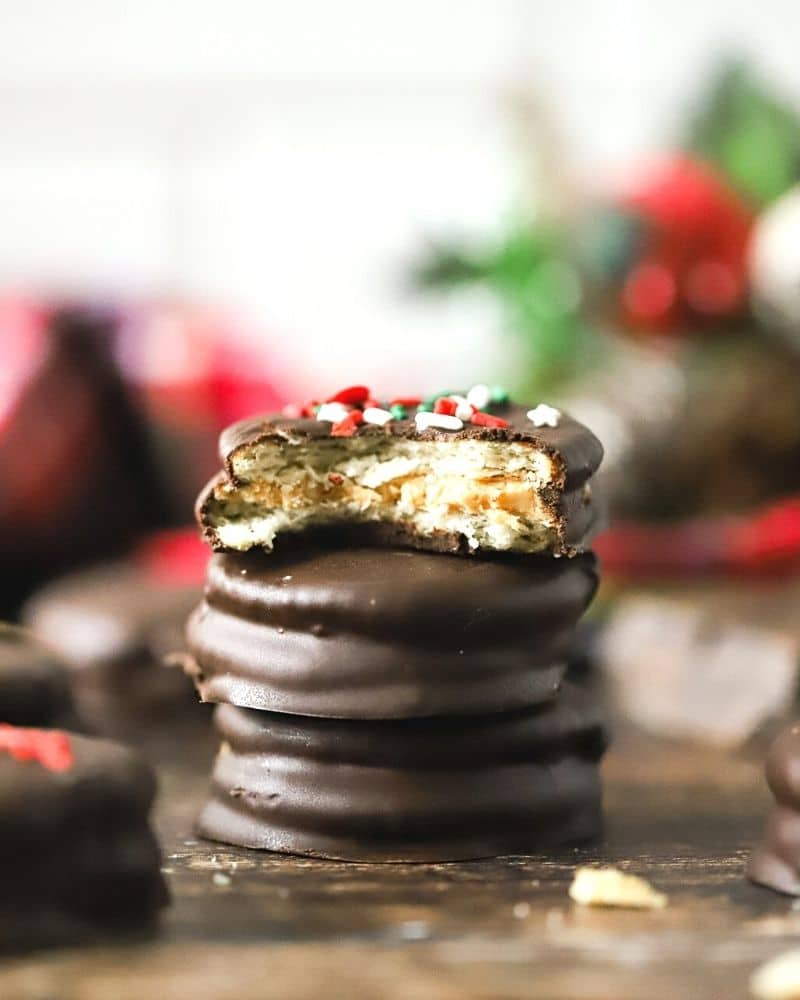 Cranberry White Chocolate Cookies In a Jar | Suburban Simplicity
Cookies in a jar make the perfect gift for anyone on your list! This is an inexpensive gift that works for so many occasions.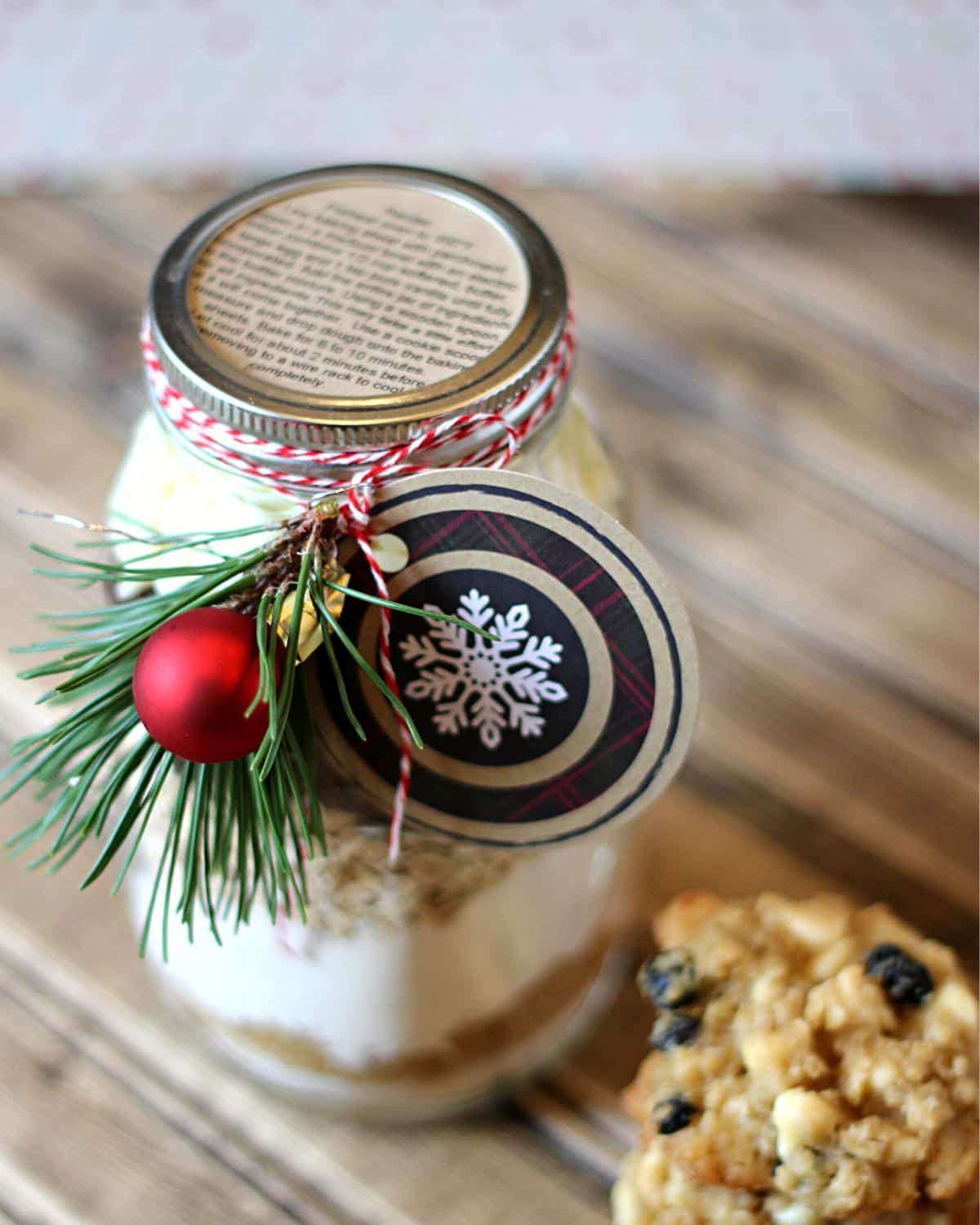 5 Ingredient Peppermint Patties | Baker by Nature
This is a fun gift idea—classic peppermint patties with a holiday topping.
Pistachio Cranberry Bark | Four On My Face
White chocolate bark is just too good and a quick and easy recipe to make!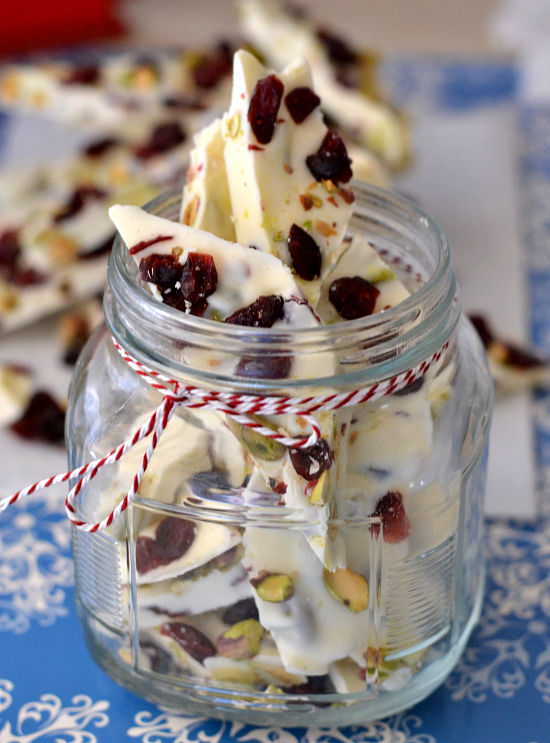 Ideas to Wrap Homemade Gifts
This post contains affiliate links. Disclosure policy here.
It's easy to package your homemade edible gift ideas in a cute jar, box, or cellophane bag and finish with a pretty bow!
This holiday season, reserve a day to bake up some goodies, and half your gift-giving is done! Plus, you get to sample along the way!
More Christmas Treats
HUNGRY FOR MORE? FOLLOW US on FACEBOOK, TWITTER, INSTAGRAM, and PINTEREST to see more delicious food and home tips!