Learn how to freeze and reheat chicken noodle soup at home with our easy step-by-step guide. These simple tips keep your favorite soup recipe fresh and delicious for longer. Perfect for busy weeknights or meal prep!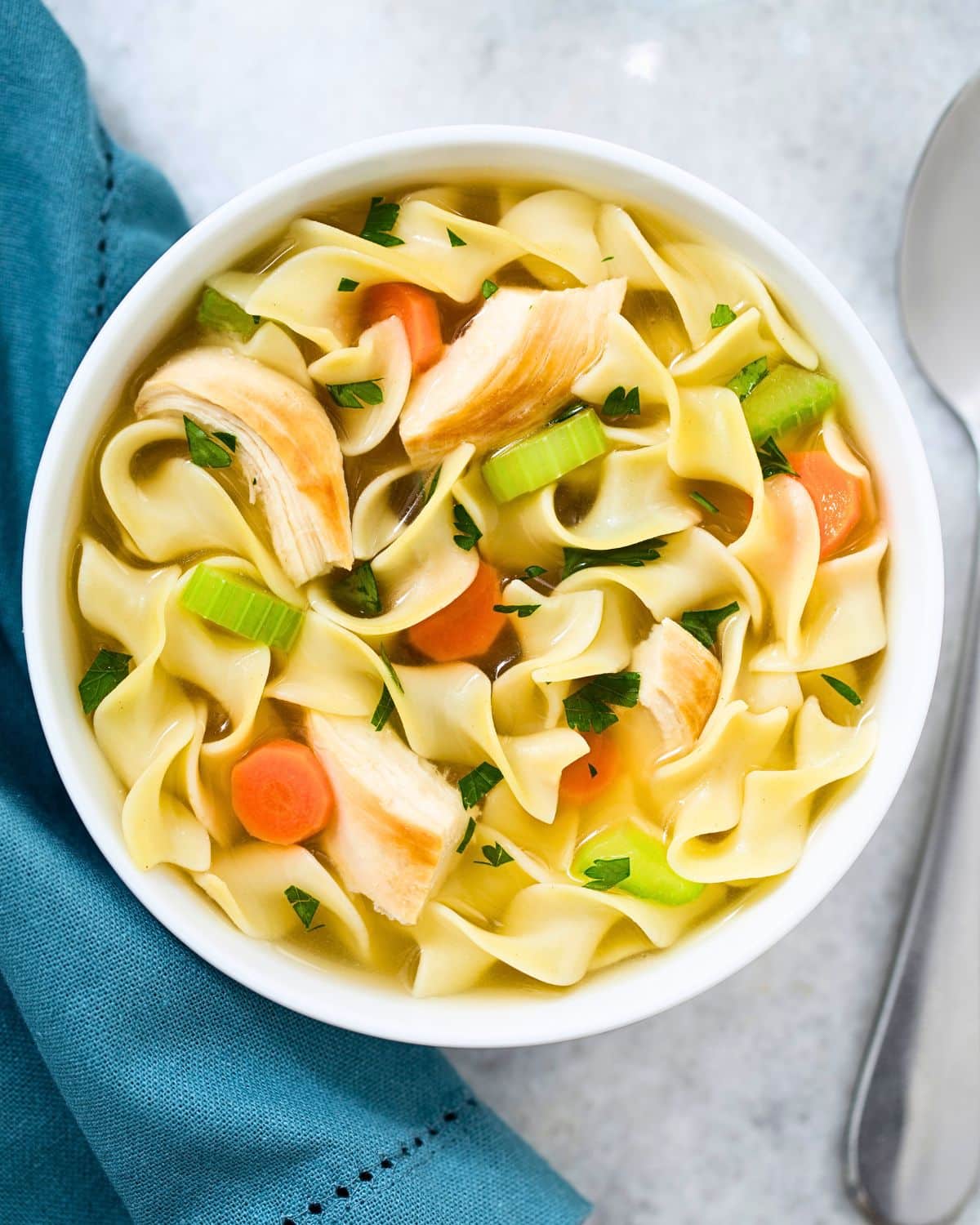 Nothing is more comforting than a big bowl of homemade chicken noodle soup with tender chicken pieces. It can be nourishing support for your immune system during the colder months.
Since soup recipes like these are easy to churn out in big batches, you may find yourself with plenty of leftover chicken noodle soup to last for days—or even weeks.
That's why freezing chicken soup is the best way to preserve it for a later date.
Try our highly-rated 30-Minute Homemade Chicken Soup Recipe you make with a whole chicken and fresh veggies.
But wait!
Before you simply place your soup into your freezer, you need to know the best tips for freezing and reheating chicken noodle soup for the best results.
You'll learn everything you'll need to know in this guide to keep your soup from suffering freezer burn and maintain its fresh, homemade flavors.
You may also want to know how to freeze chicken, how to freeze chicken and rice, or how to freeze cream cheese.
Jump to:
Steps for Freezing, Thawing, and Reheating Chicken Soup
Allow your chicken soup to cool to room temperature before freezing. This will prevent condensation from forming on the lid of your storage container.
Choose a container that is freezer-safe and airtight. Mason jars, plastic containers, or resealable freezer bags are all good options depending on your budget and preference.
Pour or ladle your soup into the container, leaving about an inch of space at the top for expansion during freezing.
Seal your soup tightly in a freezer-safe container and label it with the contents and date.
Place your container in the freezer, and if possible, make sure it is stored flat. This will allow it to freeze evenly and prevent it from taking up too much freezer space.
When you are ready to thaw your soup, remove it from the freezer and place it in the refrigerator. Allow it to thaw overnight or for at least 8 hours.
Once your soup is thawed, you can reheat it on the stove (recommended) or in the microwave until it is hot and bubbly.
Tips & Tricks
CONSIDER YOUR SOUP PORTIONS: you'll want to figure out how you want to portion out your leftover chicken noodle soup. If you're going to freeze a big batch of soup, then a large container will work.
But if you'd rather have small portions or a few portions capable of serving a family of 2-4, you will need containers matching those sizes. Doing so makes defrosting and reheating your soup so much easier, and nothing goes to waste.
PRO TIP: Avoid defrosting and refreezing your homemade chicken noodle soup a bunch of times. Doing so can negatively impact the flavors and texture.
COOL YOUR SOUP: Before storing your soup in the freezer, you'll need to be patient. You should never put anything hot right into the fridge or freezer. It's best to let your soup cool to room temperature before storing it.
Don't wait too long, though. Once it cools, you should avoid leaving it out at room temperature for longer than 2 hours.
FREEZING NOODLES: Another important consideration is what's in your soup. Most people add egg noodles to their chicken soup recipe. They're totally delicious, soaking up all those rich, savory flavors and adding more texture to every mouthful.
However, egg noodles, or any noodles or grains, do not freeze well in soups. These things tend to soak up the liquid naturally and can take on a mushy texture when defrosted.
Here's What We Recommend:
Your best bet is to take a moment and remove your egg noodles or added grains before freezing your soup. Then, freeze in separate containers.
If you've made those things in a separate pot, to begin with, and added them to each bowl as you served them, then you can store them separately from the soup. Or, it's easy enough to make fresh noodles when you're ready to reheat your soup.
Container Considerations
It's important to choose the proper container for freezing chicken noodle soup. This should be a freezer-safe container of some kind. Here are some options.
Use an airtight container meant for the freezer that will not crack when the soup expands. It will also keep odors out and prevent freezer burn from ruining your soup.
Some people use glass containers like mason jars, while others use plastic containers. You can take an extra step and add a layer of plastic wrap on top before securing the lid on top, but it is optional.
If space is a concern for you, you can also use quart-size Ziploc freezer bags. You can lay them flat, one on top of the other, and it will take up far less space than glass or plastic containers.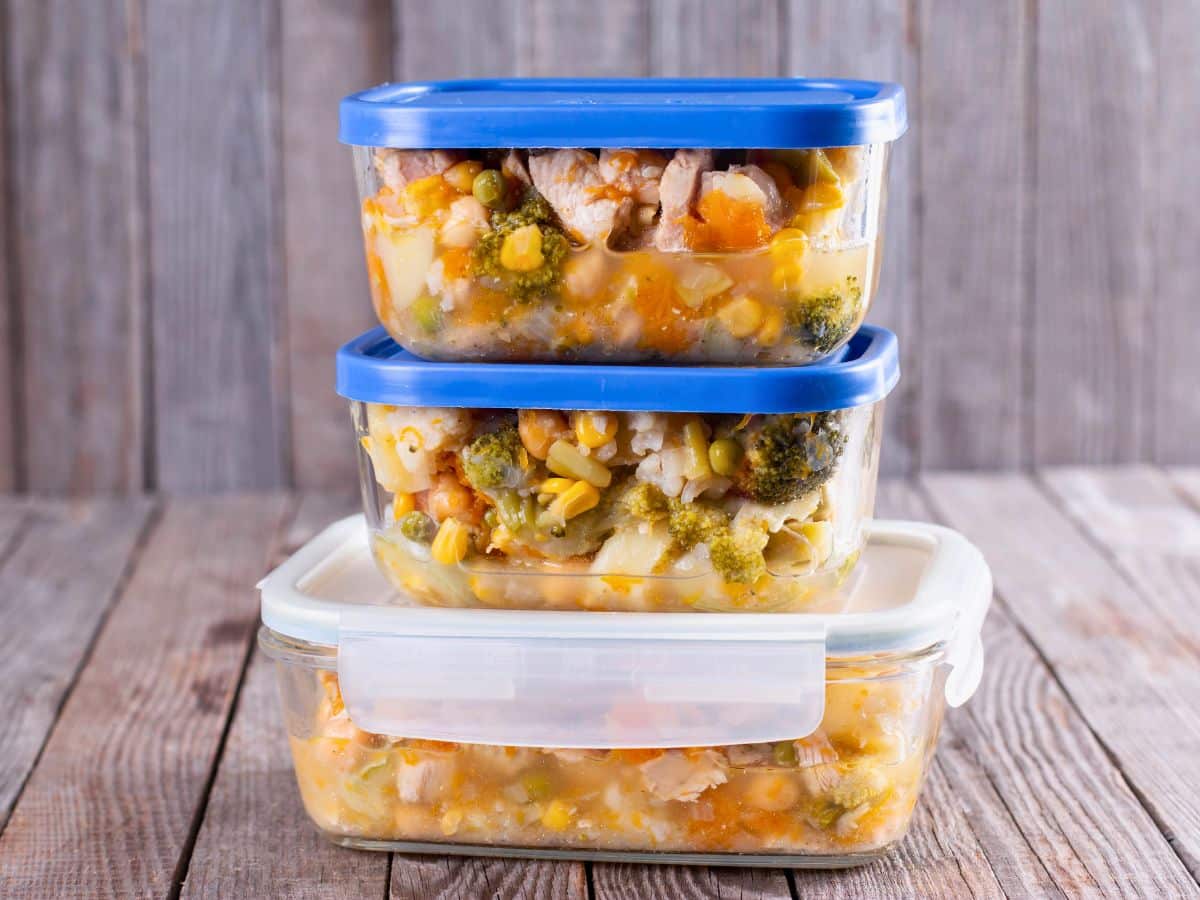 What to Know About Freezing Chicken Noodle Soup
LABELING: No matter which freezer-safe option you choose for portioning out and freezing your leftover chicken noodle soup, it would be best always to take a moment to label the contents.
Write what's in the container as well as the date. This way, you'll be sure to use it while it's at its best. For chicken noodle soup in your freezer, you will want to use it up within 3 months.
ROOM TO SPARE: Remember that the liquid will expand as it freezes. You should keep about an inch free at the top of your airtight container to prevent it from bursting. For freezer bags, leave just a little space in there as well before sliding the zipper closure to seal it in.
Are you freezing a single portion?
Pouring your leftover chicken noodle soup into muffin tins is a great idea for making single portions.
You'll put this in the freezer until the soup freezes. Then you can pop out the individual servings and put them in a freezer bag. This is an excellent idea for meal prep and keeping the portions just right.
Once your chicken soup has adequately frozen, remember to enjoy it within 3 months so you retain the rich flavor.
How to Defrost and Reheat
Thankfully, it's very easy to defrost and reheat whenever you're craving a bowl of comforting soup.
The best ways to defrost frozen soup:
THAW OVERNIGHT: Pull it from the freezer and move it to the fridge the night before you plan to serve it.
WARM WATER BATH: But don't worry if you've forgotten. You can set it in a bowl of hot water to speed things up until it's thawed.
MICROWAVE: Our least favorite is to use the defrost setting on your microwave to thaw your soup.
Reheating Soup:
Stove Top: Warm your soup on the stovetop in an appropriately-sized pot over medium heat, stirring occasionally until it begins to boil and the chicken is heated to 165 degrees F. At that point, you can add egg noodles so the soup will taste just like it did the first time you made it.
Microwave: For smaller batches or individual servings, transfer Chicken Noodle Soup to a microwave-safe bowl, add additional chicken stock or water as needed, and cover with a microwave-safe lid or paper towel. Microwave for 2 minutes, stir, then heat at 30-second intervals if necessary.
Now that you know How to Freeze and Reheat Chicken Noodle Soup, you'll never wind up with mushy noodles or let it go to waste again!
FAQs
How long does Chicken Noodle Soup Last
Homemade Chicken Soup will last 3-5 days in the refrigerator or 3 months in the freezer if frozen properly. 
Can you freeze homemade chicken noodle soup with noodles in it?
You can freeze chicken noodle soup with noodles in it, but the noodles may become mushy when defrosted. If that's a concern, we recommend freezing them separately if possible, or freezing the soup and then adding freshly cooked noodles once the soup is thawed and reheated.
Can you heat chicken soup from frozen?
If you want to reheat frozen soup on the stovetop, place it in an appropriately sized pot and warm it on low heat while breaking up the chunks of ice as you go. High heat will cause the soup to burn before it's thawed.
Enjoy your delicious homemade chicken noodle soup any time by following these simple freezing and thawing instructions! They work when freezing our Homemade Vegetable Soup or Chicken Tortilla Soup.
HUNGRY FOR MORE? FOLLOW US on FACEBOOK, TWITTER, INSTAGRAM, and PINTEREST to see more delicious food and home tips!
Printable Recipe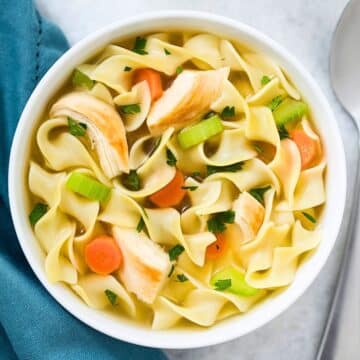 How to Reheat Chicken Noodle Soup
How to reheat chicken noodle soup on the stove top and microwave.
Print
Pin
Rate
Equipment
medium pot

Spatula or cooking spoon
Ingredients
4

cups

chicken noodle soup
Instructions
Pour or ladle your thawed soup into a medium pot.

Warm soup over medium heat until hot and bubbly.

If adding cooked noodles, do so now. Continue to cook the soup for another minute or two until the noodles are heated.
In Microwave
Place thawed soup in a microwave-safe dish and heat for 1 minute. Stir, and then continue to heat at 30-second intervals until heated through.
Notes
THAWING: Thaw overnight in the refrigerator or place soup in a warm water bath to thaw before reheating.
POT SIZE: Select a pot that matches the size of the soup you are reheating.
STIRRING: Stirring the soup occasionally will help it heat evenly and not stick to the bottom of the pot.
NOODLES: You can use already-cooked noodles and add them to the pot the last couple minutes of reheating or make fresh noodles and add them to the heated soup.
TEMPERATURE: It's best to reheat the soup to 165 degrees F.
Serving is about 1 cup of soup. Nutritional information is approximate and was calculated using a recipe nutrition label generator and will vary based on cooking methods and brands of ingredients used.
Nutrition
Calories:
91
kcal
|
Protein:
8
g
|
Fat:
6
g
|
Saturated Fat:
2
g
|
Polyunsaturated Fat:
1
g
|
Monounsaturated Fat:
3
g
|
Trans Fat:
0.04
g
|
Cholesterol:
32
mg
|
Sodium:
30
mg
|
Potassium:
80
mg
|
Vitamin A:
59
IU
|
Vitamin C:
1
mg
|
Calcium:
5
mg
|
Iron:
0.4
mg