Wondering how to make an all-natural cleaner for your home? This Natural All-Purpose Cleaner recipe requires only three ingredients and is very easy and inexpensive to make.
This cleaner work great when cleaning and organizing your pantry or cleaning your refrigerator.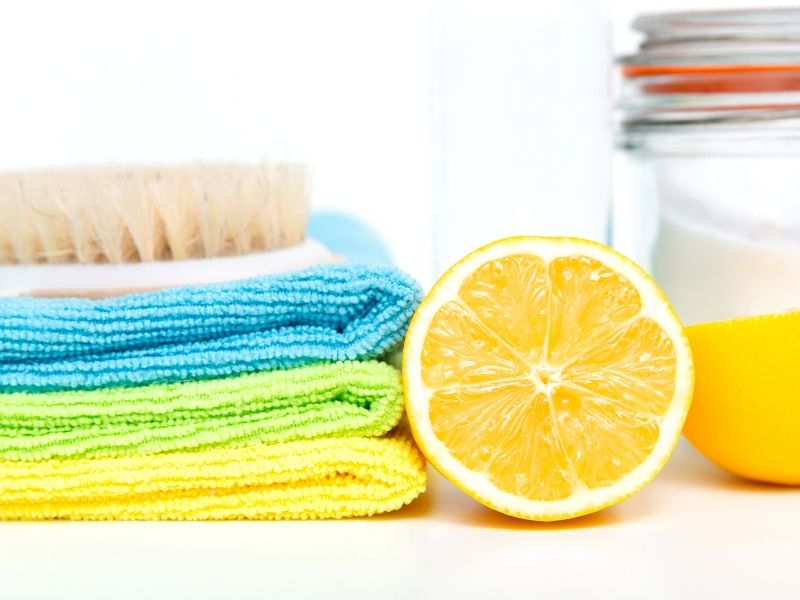 All-Purpose Cleaner for Your Home
Are you looking for a more natural way to clean your home that really works? And smells great? Us too! That's how we discovered this simple DIY recipe for a natural, multi-surface all-purpose cleaner that really works and smells good too!
We don't like using harsh chemicals to clean and deodorize, so we made the switch.
Did you know many chemicals found in household cleaners aren't approved by the EPA? What's even scarier, 70 percent of typical cleaning products often found in homes contain harmful agents, so try this recipe instead.
Related: How to Organize Your House in Two Minutes
Ingredients for Homemade Cleaner Using Essential Oils
How To Make An Natural All-Purpose Vinegar Cleaner
Pour all ingredients into a spray bottle, preferably made of glass.
Shake well before use.
Store in a cool, dark place. (Essential oils oxidize in sunlight)
Tip: It's a good idea to use a reusable glass bottle because it helps the environment and eliminates the chemical smell plastic bottles can impart to liquids placed in them. The one recommended above is a perfect size - not too heavy, yet large enough that you won't need to refill it constantly.
Making your own natural cleaners is cheaper and easier and just makes you feel good! The vinegar naturally cleans and deodorizes your kitchen perfectly!
How to Make A Natural Kitchen Cleaner and Deodorizer
Another simple recipe we like to use in the kitchen, which is great for cleaning your counters or refrigerator, is this one:
Ingredients for Cleaner/Deodorizer
4 tablespoons baking soda
1 -quart warm water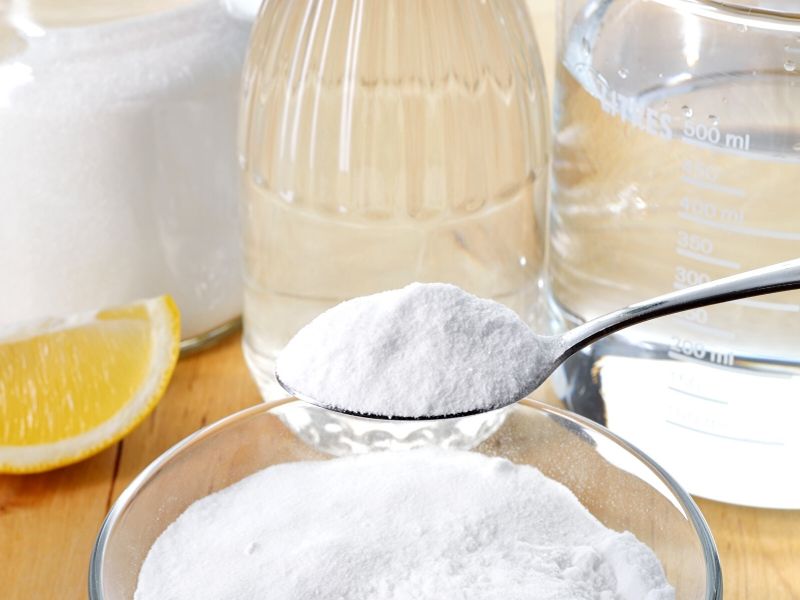 Simply add the baking soda to your water and get ready to power clean!
If you have a water stain on your stainless steel, baking soda will do wonders. Make it into more of a paste by adding a little water. Then, apply it with a damp cloth and rub gently in the direction of the metal's grain. Rinse off and buff dry.
You're really going to like this multi-surface cleaner!
Tip: Baking soda will get rid of that yucky smell in your garbage disposal with ease. Just dump some baking soda down the drain, let it sit for a minute or two, and then turn it on. Lemon is also good for getting rid of garbage disposal odors.
Can You Mix Baking Soda and Vinegar to Clean?
Yes, you can mix baking soda and vinegar for tough stains. It's perfectly safe. Simply mix equal parts of each and scrub away stains on coffee mugs and teacups.
Important Note About Natural Cleaners
It's been suggested that vinegar solutions should not be used on marble or granite because of the potential etching that may occur. Please use discretion when deciding what surfaces you'll spray it on!
Stay In Touch
You can also FOLLOW US FACEBOOK, TWITTER, INSTAGRAM, and PINTEREST to see more delicious food and Home Tips!
This post was originally published in January 2016. It was updated with enhanced instructions on March 13, 2020.
You May Also Like:
17 Amazing Uses for Lemon Essential Oil
Simple Organization Tips for Busy Families