Enjoy these Easy Halloween Treats that are frighteningly easy and delicious! Perfect for your Halloween Bash or class party! Kids love these dessert ideas!
Yep! It's that time of year when ghosts, goblins, bats, and monsters create the perfect backdrop for Halloween parties and get-togethers!
These Easy Halloween Treat Ideas are so darn cute for just such occasions.
What's even better, most of these Homemade Halloween Treats are so easy, and the kids can help so that you can scare up some good old fashion fun in the kitchen! Holidays are about making memories; these little treats do that and more!
We make our Oreo Mummy Pops as a Halloween Dessert for the parties we attend - because it's tough to resist an Oreo, especially when it becomes an adorable Cookie Pop!
If you need really easy Halloween treats to make, try these Mummy Pretzels. We have even more Halloween Treat Recipes ideas if you need them!
You may also want to know What to Do with Leftover Halloween Candy and How To Keep Kids Safe on Halloween!
If you want Healthy Halloween Treat Recipes, we have those, too!
Let's Get to the Easy Halloween Treats!
Brownie Mummies
If you're craving chocolate this Halloween, these Mummy Brownies from Suburban Simplicity must be on top of your list! Use homemade or store-bought brownies to speed up the recipe.
Spider Brownies
Creepy crawly spiders can be cute when you make them from dark chocolate brownies. Try these salty and sweet Brownie Spiders that are spooky good as a Halloween dessert from Suburban Simplicity! You'll love how easy they are to make!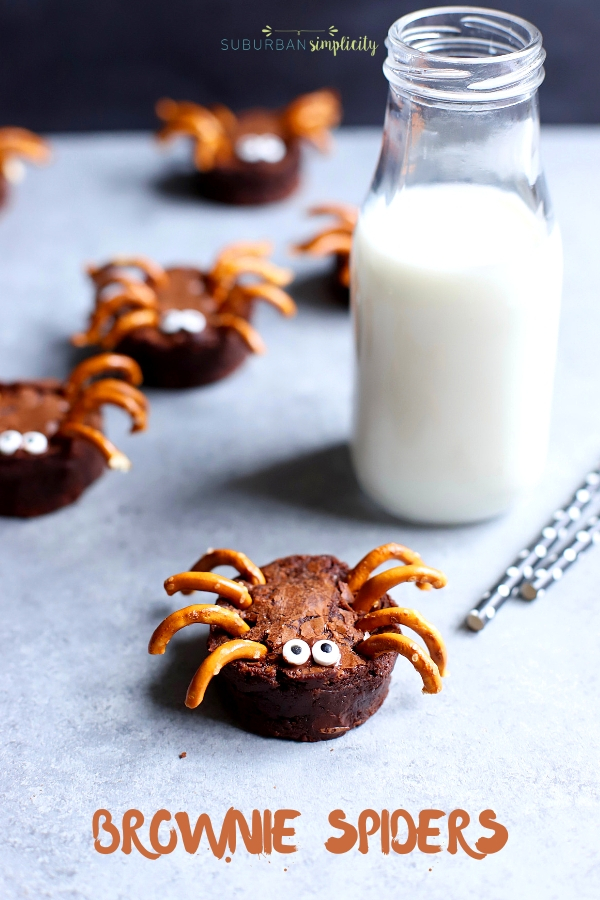 Apple Monster Mouths
How about a healthier Halloween Treat? Try Apple Monster Mouths from Suburban Simplicity and watch all the kids and adults smile when they bite into one!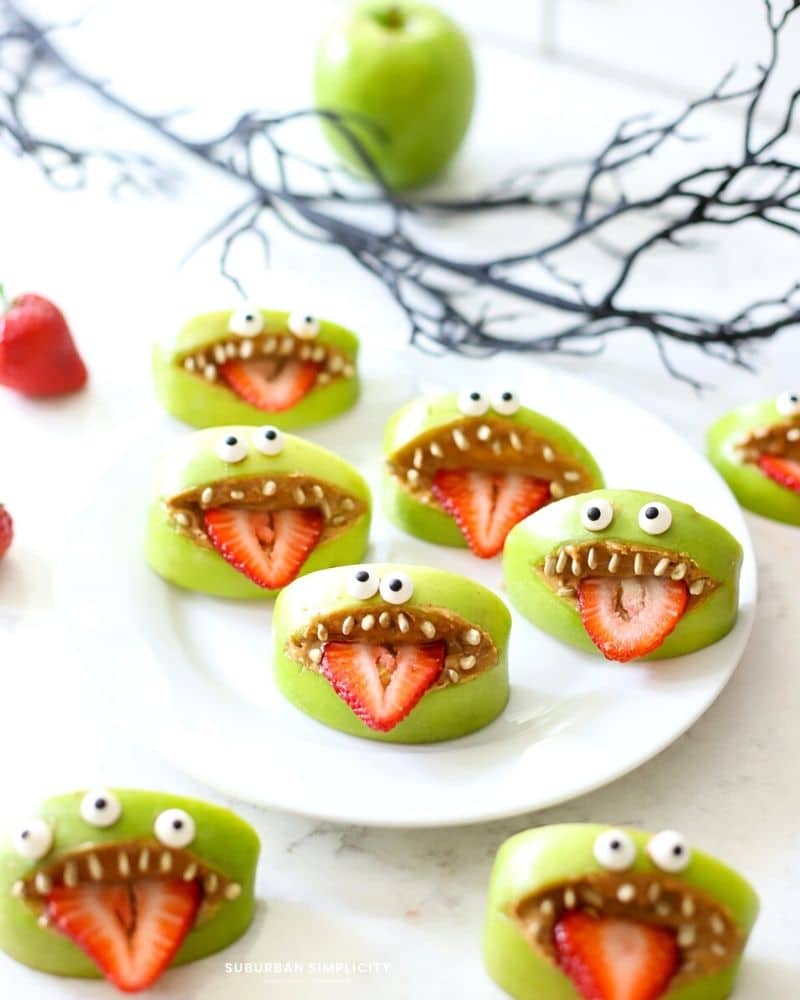 Monster Mash Party Mix
Completely addicting, this Halloween Monster Mash Party Mix from The Forked Spoon is the perfect Halloween sweet! It has a little something for everyone and takes just 5 minutes to whip together.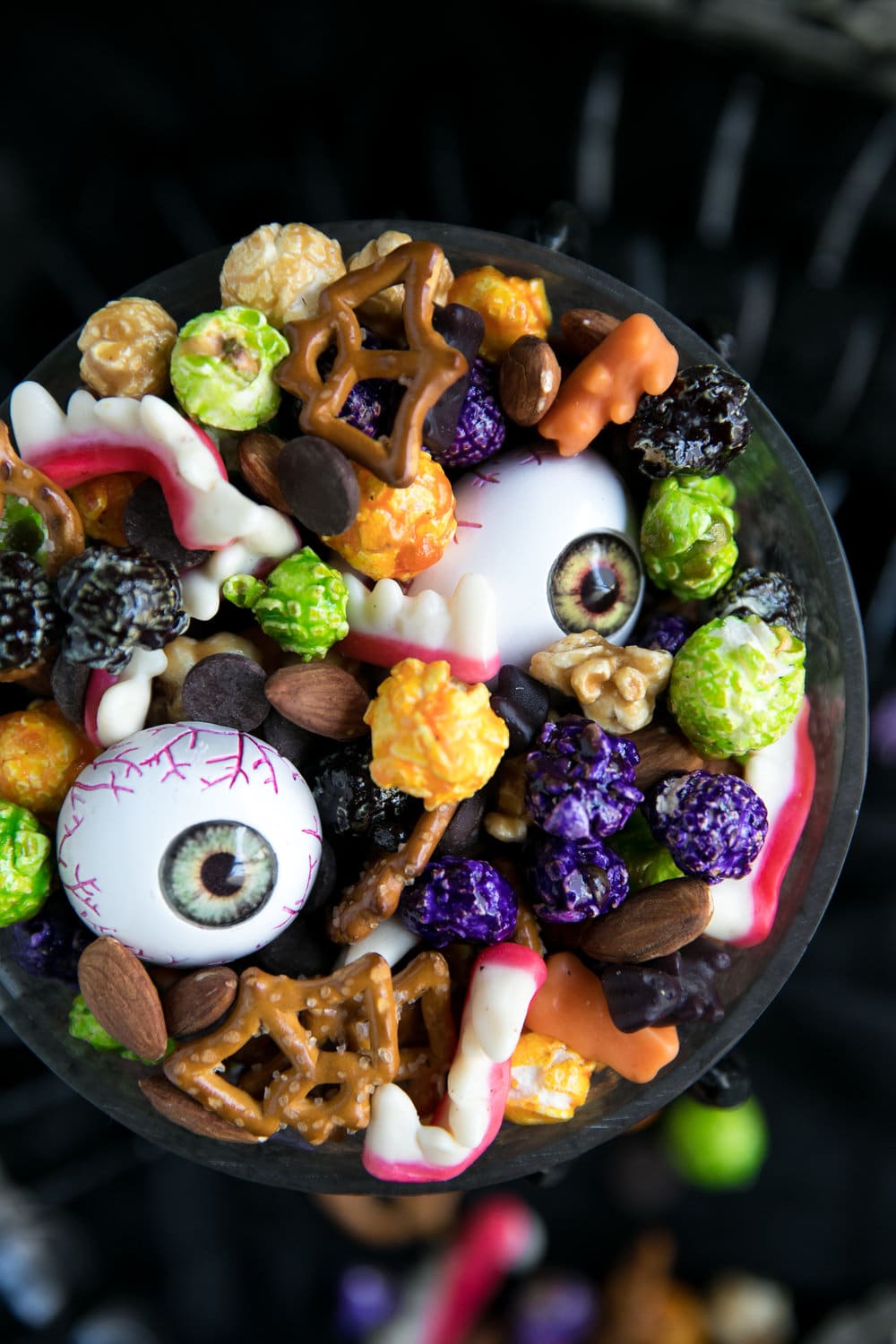 Mummy Oreo Cookie Pops
Here are those Oreo Mummy Pops we mentioned. It's the best Halloween-themed dessert! See, so easy and so fun to bring to a Halloween Bash!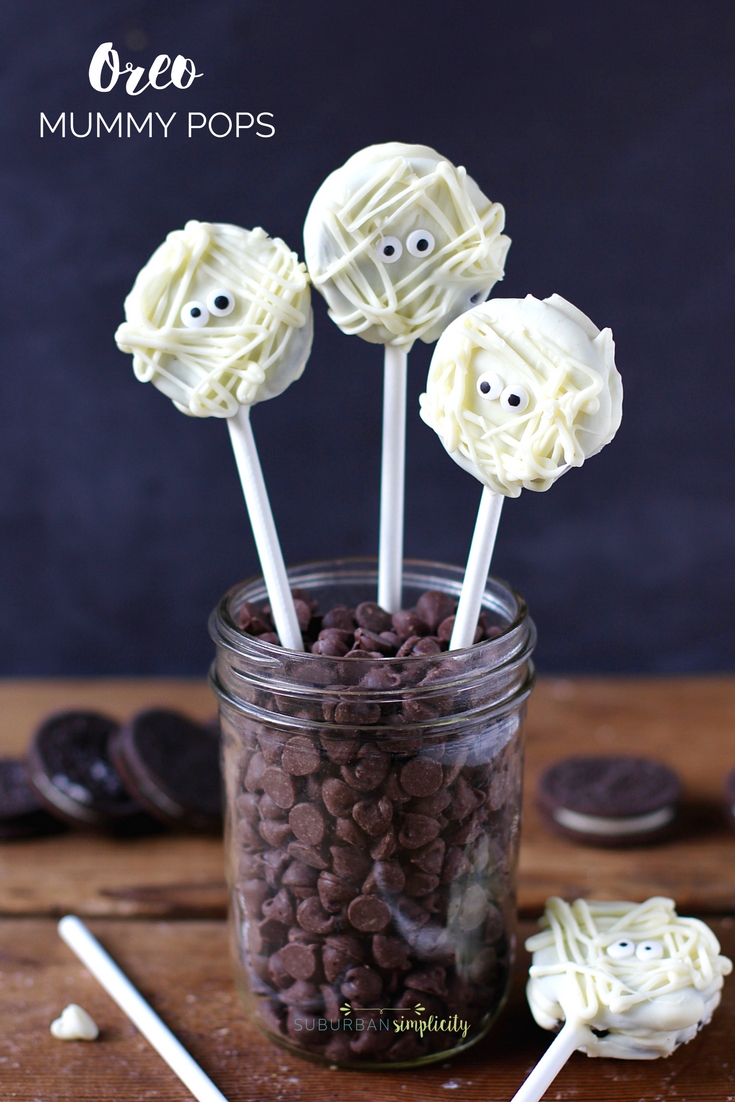 Mummy Rice Krispies Treats
Mummy Rice Krispies Treats from Suburban Simplicity are a classic quick and easy Halloween idea. Perfect for playdates or school parties.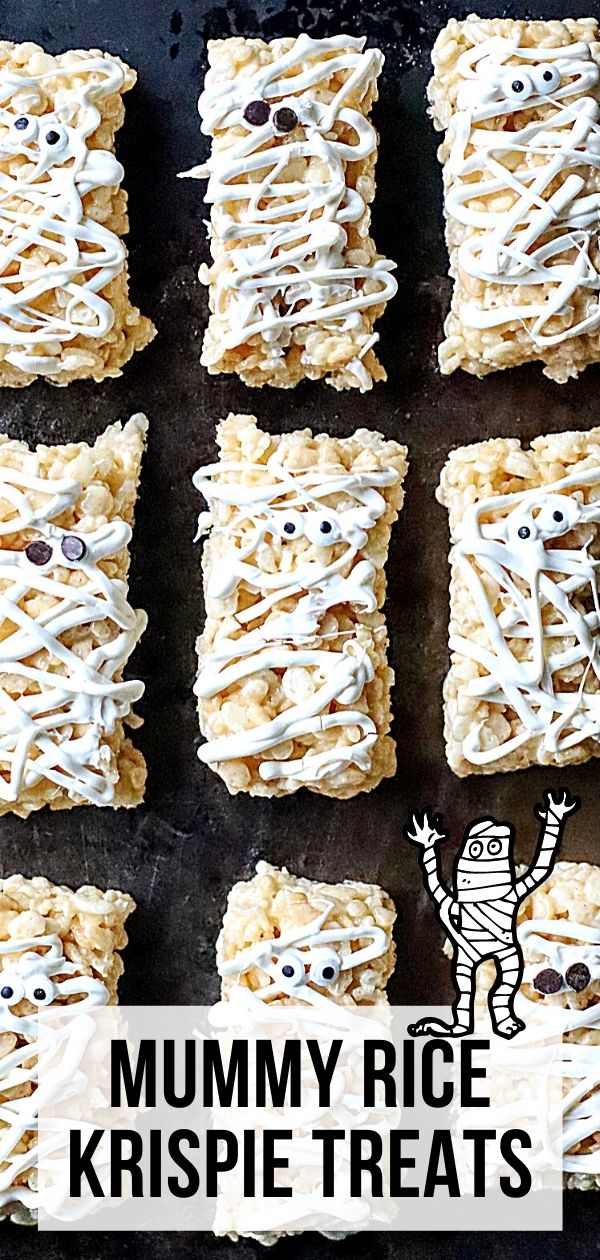 Bat Bites
These are so popular as a Halloween dessert idea and so easy. You have to make them at least once! 4-Ingredient Bat Treats from Suburban Simplicity are super cute but also contain peanut butter and chocolate!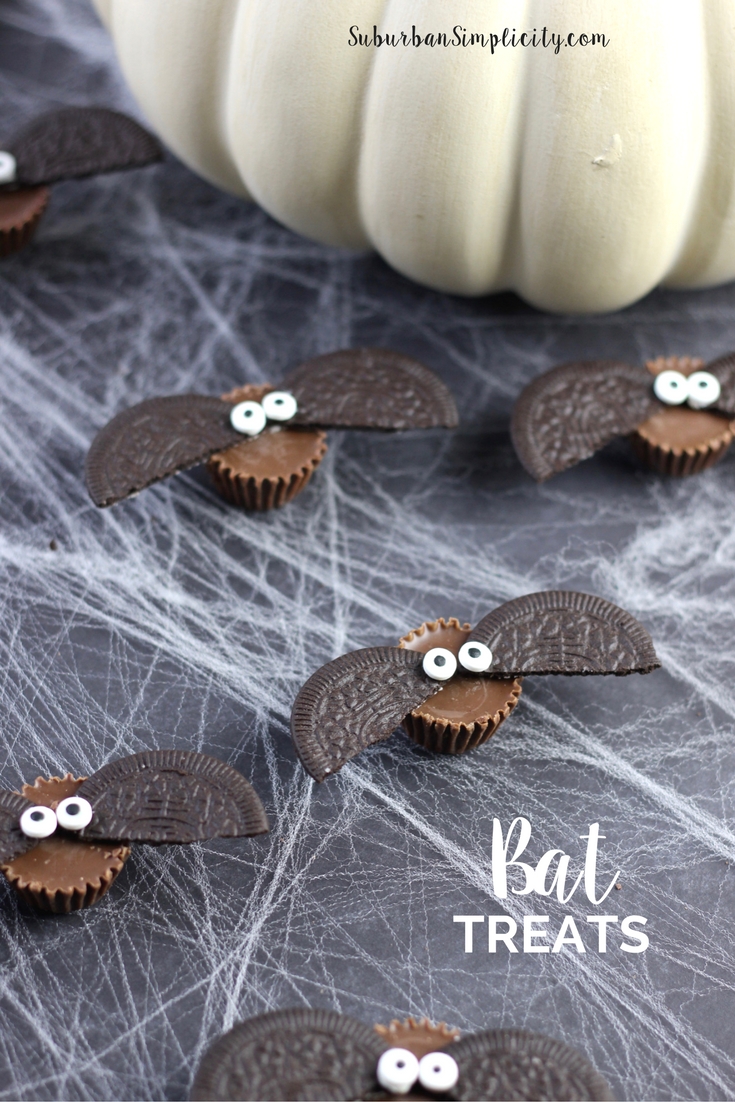 Halloween Popcorn Balls
Need a crunchy, salty, and sweet treat for Halloween? Try these easy marshmallows and candy corn Halloween Popcorn Balls from Suburban Simplicity! Kids love these. Plus, they're a great make-ahead recipe!
Spider Cookies
Made with peanut butter cookies, marshmallow "spiderwebs," and peanut butter cup bodies, these Spider Cookies from Sugar Spun run are fun to assemble and almost too cute to eat. Almost!
Oreo Cookie Pumpkin Pops
Cute Halloween Treats can totally involve pumpkins! Adorable! Try these Oreo Pumpkin Pops (with video tutorial) from Suburban Simplicity. Put them in goodie bags at your Halloween party.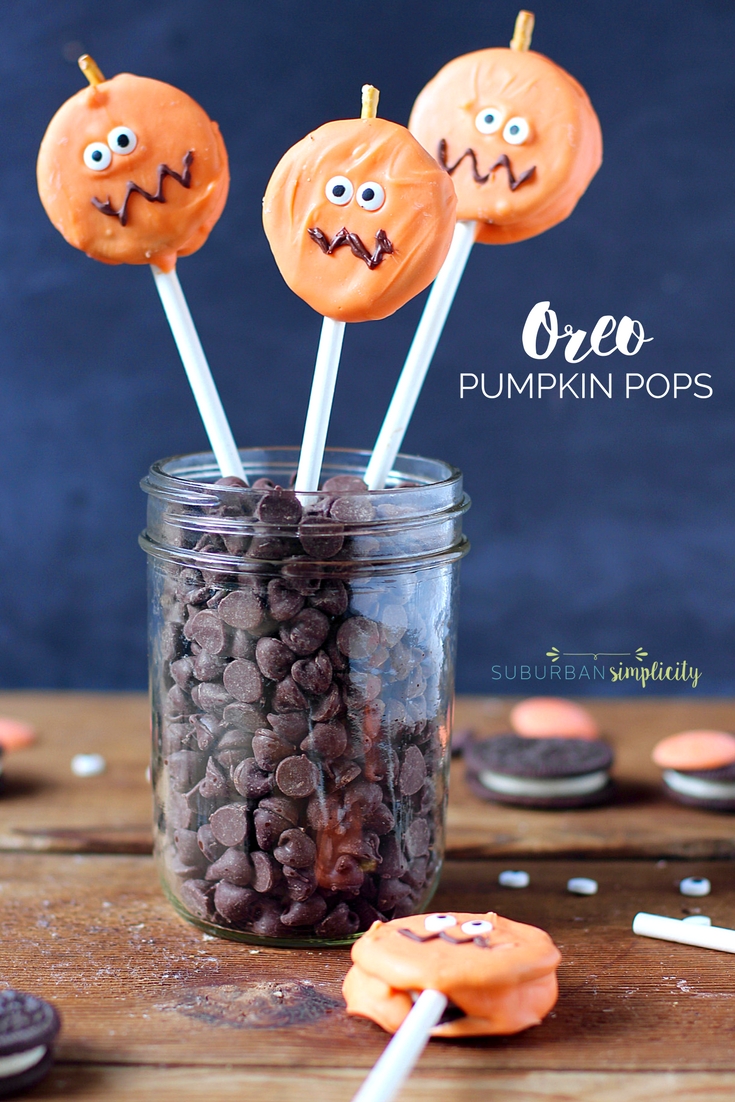 Halloween Dirt Cake
You can't go wrong when you serve a Halloween Dirt Cake with Gummy Worms!! Oreos, chocolate pudding, and dipped cookie Tombstones make this dessert from Suburban Simplicity a special treat!!
Marshmallow Ghosts
These Homemade Ghost Marshmallows from The Simple Sweet Life will delight all the boys and ghouls this Halloween! Perfect for hot cocoa.
Monster Marshmallow Pops
These cute Monster Halloween Marshmallow Pops from Recipes from a Pantry are an easy Halloween treat that anyone can make. Gluten-free too!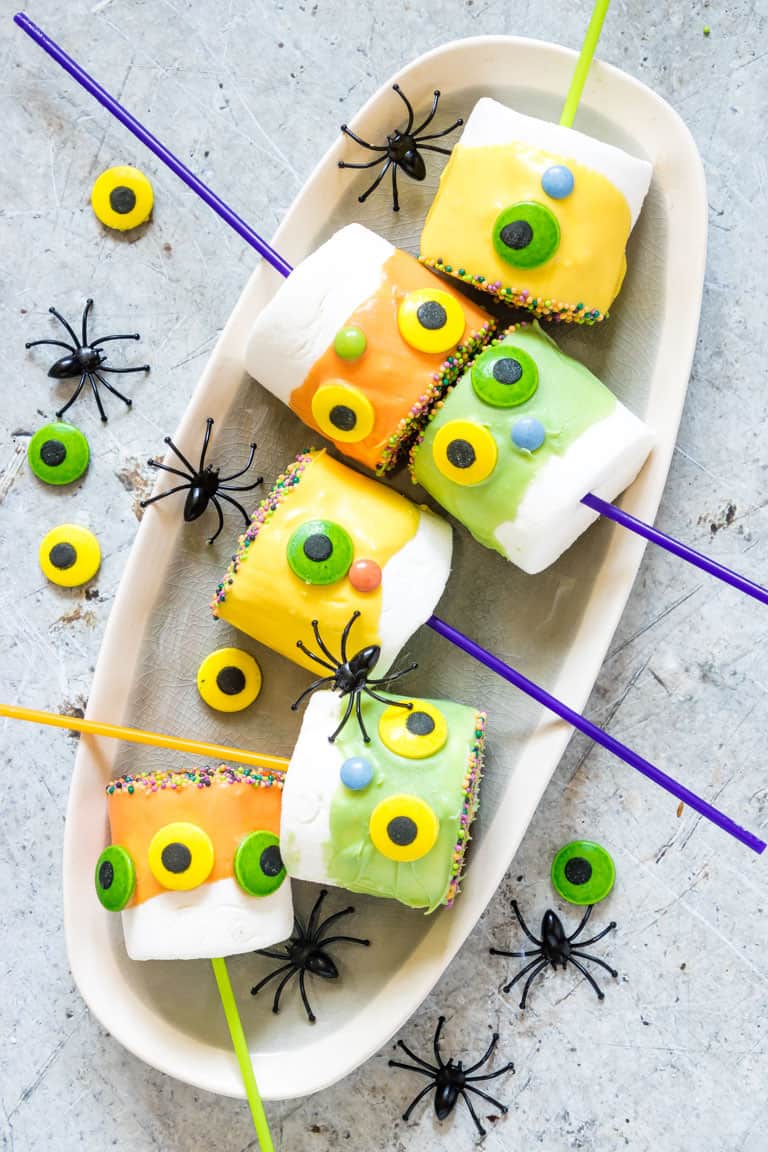 Oreo Cookie Monsters
Oreo Halloween Monster Cookies - how cute are these from A Table Full of Joy! Easy to make and even easier to eat! Make a plate of these and watch them disappear!
Mummy Pretzels
Everyone loves a salty + sweet Halloween Treat! Mummy Pretzels from Suburban Simplicity do the trick! You only need 3-ingredients!
Werewolf Chow
Werewolf Chow was created by Home. Made. Interest. is homemade Halloween puppy chow with crispy, peanut butter and chocolate-coated rice cereal, caramel corn, and Halloween candy!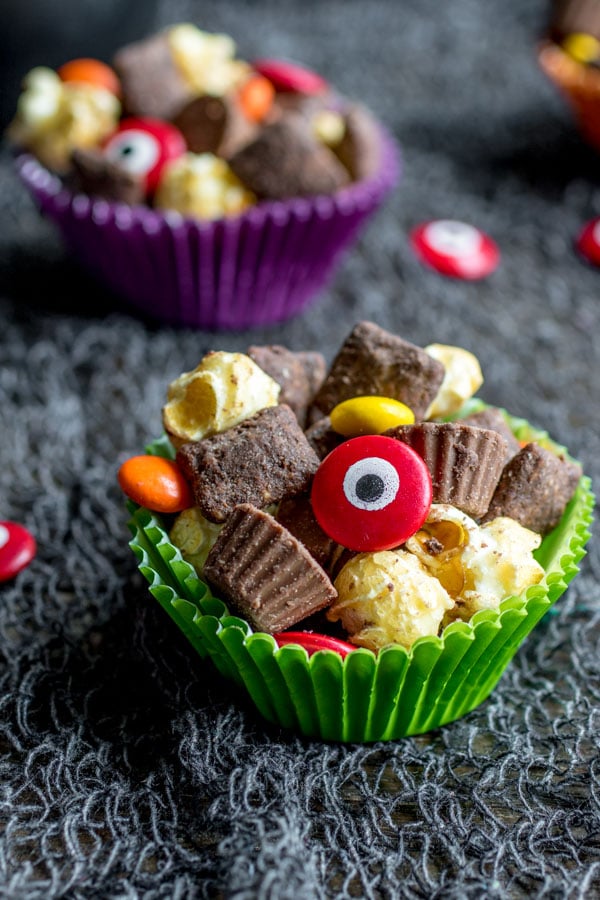 Halloween Cake Pops
Choose from three Halloween Cake Pop decorating ideas from The Anthony Kitchen — Ghosts, Mummies, or Little Monsters — to add an especially festive touch to your Halloween party!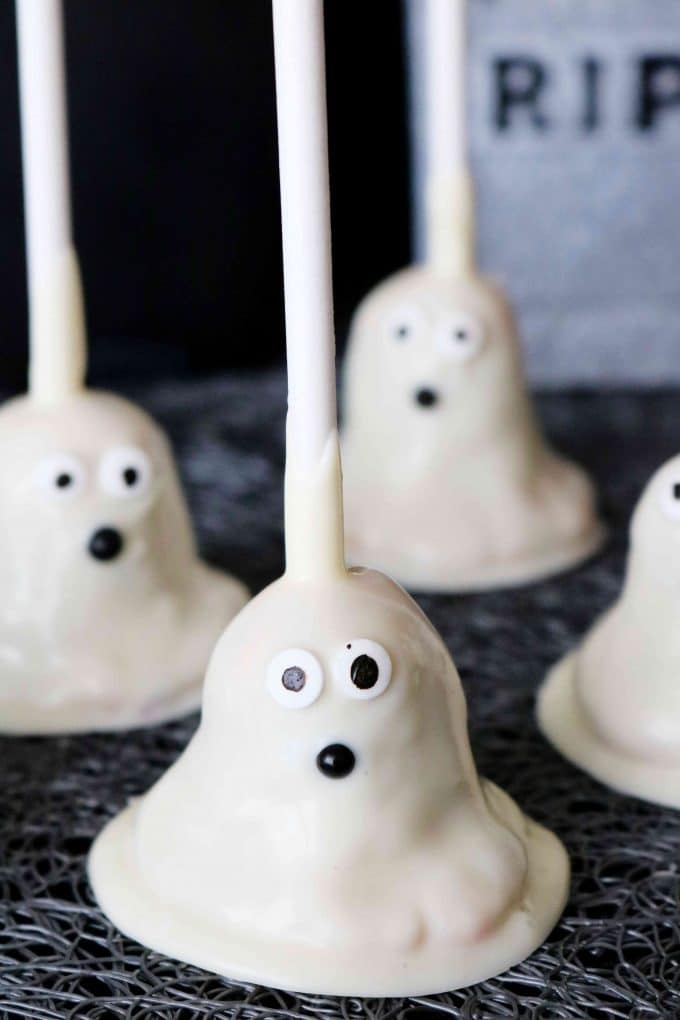 Spooky Chocolate Covered Pretzels
Halloween Chocolate Covered Pretzels from Garnish and Glaze is an easy treat to make and enjoy with the kiddos. Make vampire bats, Frankenstein, mummies, pumpkins, monsters, or all!
Fruit Halloween Treats
Have a healthier choice for the kiddos and serve Banana Ghosts and Tangerine Pumpkins from Suburban Simplicity. They are so easy to make!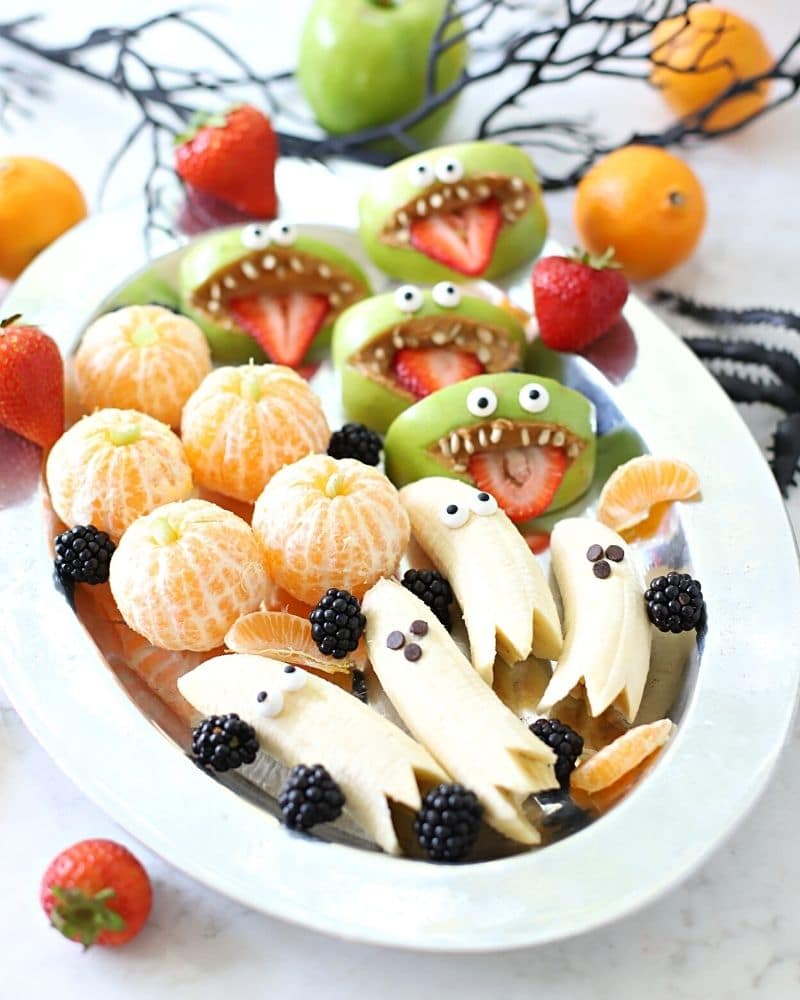 Halloween Bark | Sweet Caramel Sunday
Nutter Butter Boos | Home. Made. Interest.
Easy Halloween Macaroons | Eats Amazing
Gummy Worm Jello Shooters | Bitz & Giggles
Spider Donuts | Cooking on the Front Burner
If these Easy and Cute Halloween Treats to make in your kitchen don't give you some inspiration for a spookily good Halloween party, we don't know what will!
Make any one of these Halloween Treats for kids, and you'll be the hit of your party!
You can FOLLOW US on FACEBOOK, TWITTER, INSTAGRAM, and PINTEREST to see more delicious food, fun crafts, home tips, + DIYs!
You May Also Like:
How to Decorate Your Halloween Mantel
What to do With Leftover Halloween Candy
SaveSave
SaveSave
SaveSave
SaveSave
SaveSave
SaveSave