Here's your guide to delicious Thanksgiving Leftovers. How long they last. Plus, how to store them, how to reheat them, how to freeze them, and more!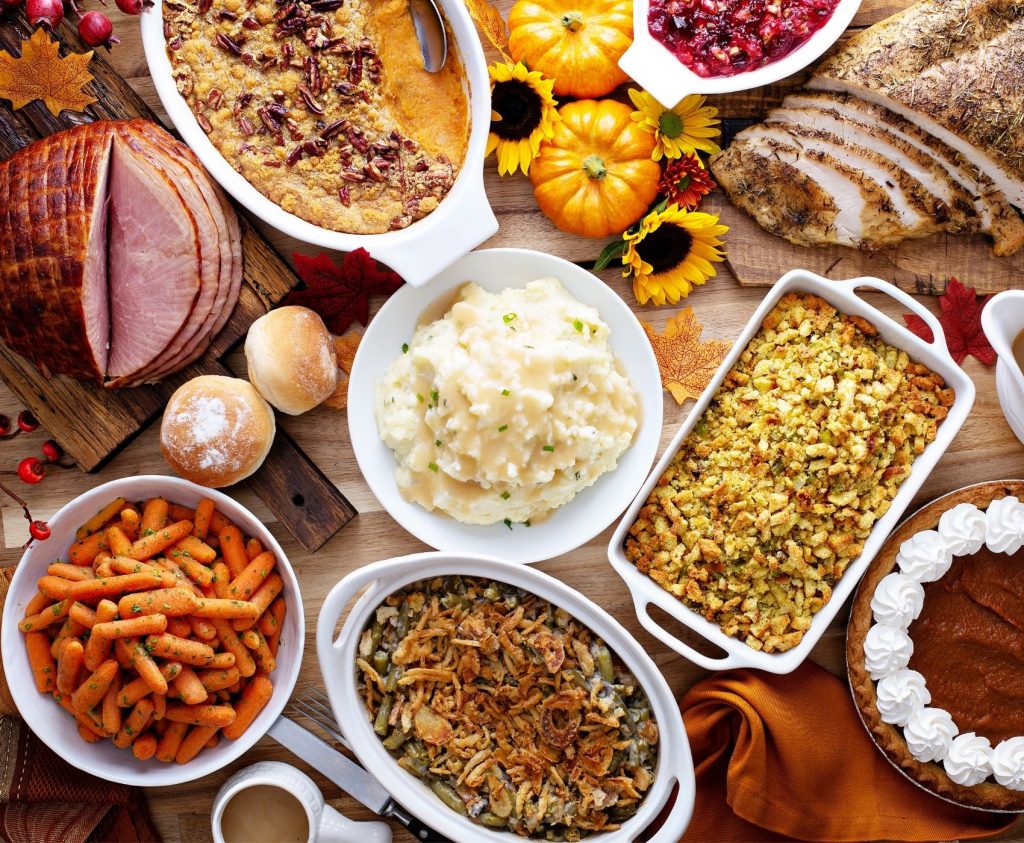 The turkey is cooked, and the dishes are done. Now we need to know How long to keep all those amazing Thanksgiving leftovers?
Most of us like to enjoy leftovers for a few days after the big feast, and here's your Thanksgiving Leftovers Guide so that you can do it safely and deliciously!
Make Turkey Day easy with our Thanksgiving Planner and printable checklist, delicious Make-Ahead Crockpot Thanksgiving Recipes, and the best Thanksgiving Tips and Tricks everyone should know.
How do you store Thanksgiving leftovers?
You can store most thanksgiving leftovers either in the refrigerator or in the freezer so you can enjoy them later.
Let's start with the main course, your Turkey. Proper storage will help keep your turkey as moist as possible. And yes, you can freeze leftover turkey.
How you store Leftover Turkey:
Cut turkey meat off the bones into serving-size pieces.
Wrap in foil and place in freezer-safe bags to freeze or an airtight container to store in the refrigerator.
Label and date. 
For the bones, it's a wonderful idea to make stock (otherwise known as broth). Or make Homemade Turkey Soup!
How to Make Turkey Stock in the Instant Pot
Here's a quick way to make turkey stock. Place turkey bones, an onion cut into large chunks, two cut carrots, two stalks of celery, and whatever herbs and spices you have on hand (thyme, rosemary, marjoram, peppercorns) in the Instant Pot.
Cover with water about an inch above the ingredients and cook on high pressure for 30-minutes. Then, use a natural release.
Strain the contents and use the stock for soups, rice, or quinoa. Or freeze for later use.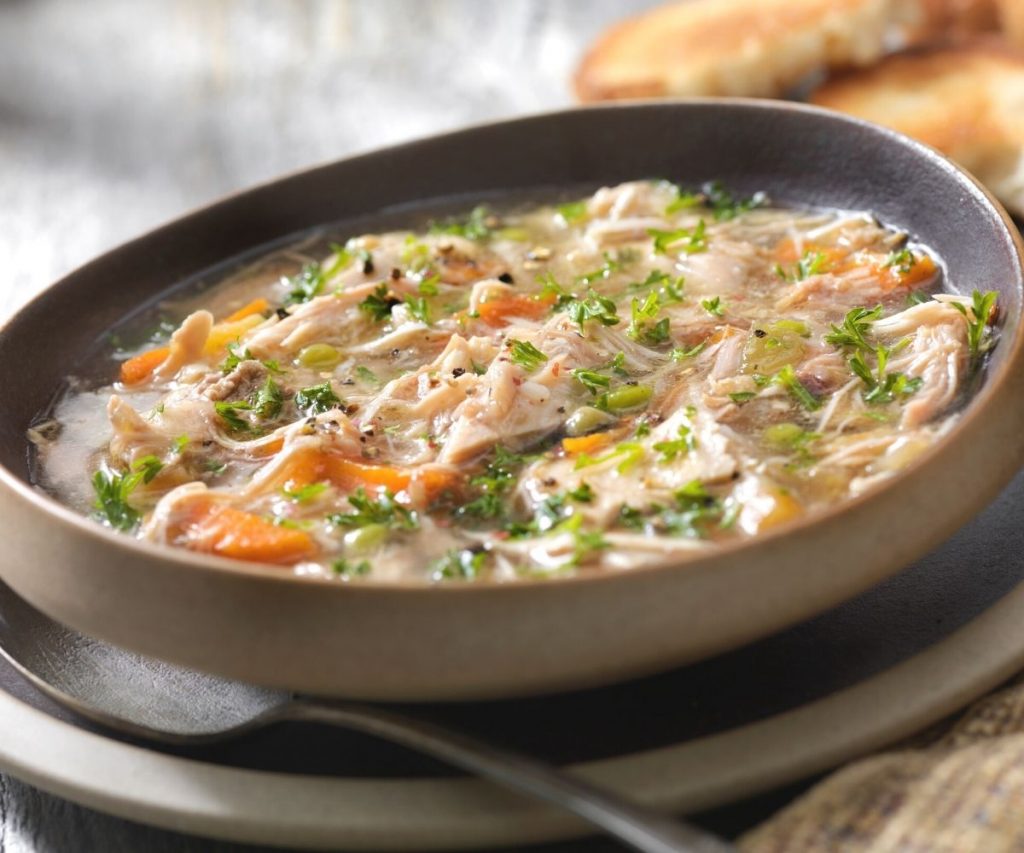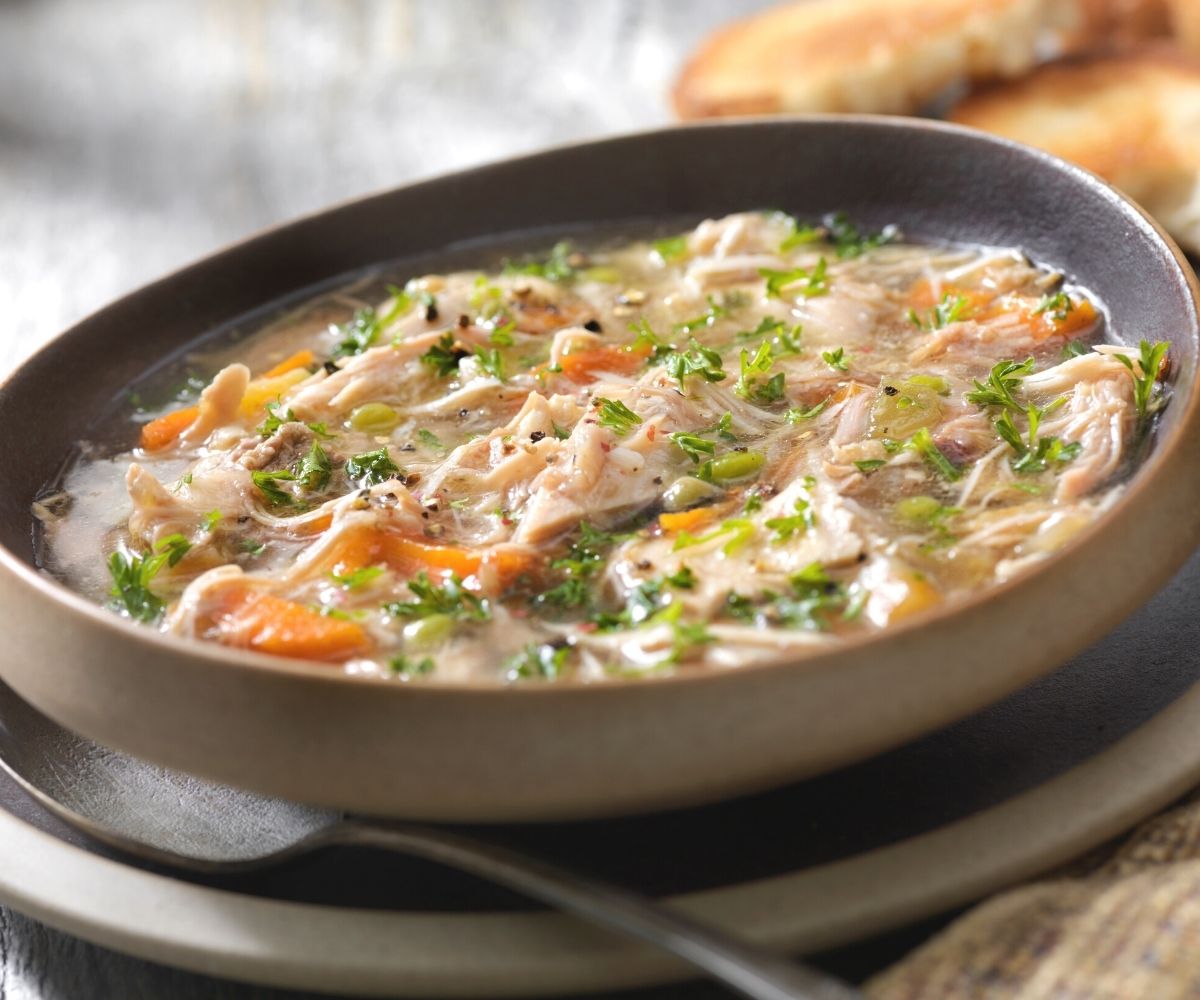 How to Store Mashed Potatoes
Make enough mashed potatoes because they are definitely good for leftovers. Can I freeze mashed potatoes? Yes, you can freeze mashed potatoes.
Here are our favorite ways to enjoy them later.
FOR SINGLE SERVINGS - Place scoops of cooked and cooled mashed potato on a parchment-lined baking sheet and freeze until solid. Then, place frozen scoops in a freezer-safe bag, squeeze out as much air as possible and seal—finally, label and date. Then, put it in the freezer.
FOR LARGE BATCH - Place mashed potatoes in a large freezer-safe bag and squeeze out any extra air. Lay the bag flat and pat it out so the potatoes can freeze in an even layer. Then, label and date and place in the freezer.
If you plan ahead, you can thaw mashed potatoes overnight in the refrigerator.
If you follow our tips for preventing freezer burn, you can freeze almost any food!
How Long Do Leftover Mashed Potatoes Last?
Leftover Mashed Potatoes are great, and they last 3-4 days in the fridge and 2 months in the freezer.
How to Store Leftover Stuffing
A traditional recipe for Thanksgiving is stuffing, and if stored correctly, it's a tasty leftover. Here's how to store it.
To store in the refrigerator, place leftover stuffing in an airtight container and use it within a couple of days.
To store in the freezer and extend its life, place stuffing in a freezer-safe container or a zippered bag made for freezer use. Squeeze out all the air and label and date. Use within three months.
How to Store Cranberry Sauce
Because of its simple ingredients, cranberry sauce lasts longer than other Thanksgiving leftovers if stored properly. There are so many uses for leftover cranberry sauce; you may want to make extra!
To store in the refrigerator, place leftover cranberry in an airtight container and use it within two weeks. 
To store in the freezer, place cranberry sauce in a freezer-safe container or zippered freezer bag and store for up to 2 months. Make sure to label and date the container.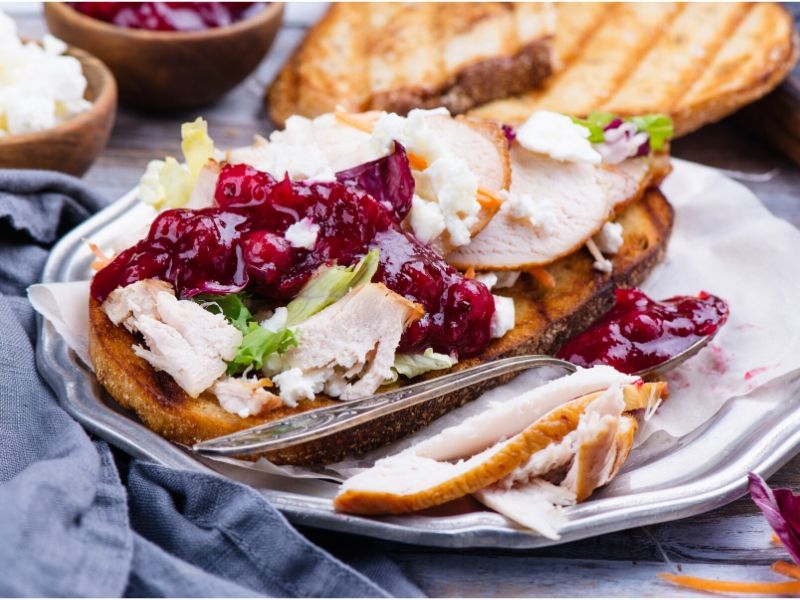 How to Store Pies
Store fruit pies, loosely wrapped in plastic wrap, at room temperature to keep the crust from getting too soft for about two days.
Store pumpkin pie and pecan pie in the refrigerator for about two days.
How to Reheat Thanksgiving Leftovers
As a general rule, you should reheat leftovers the same way you cooked them. Here are our best recommendations for turkey and all the trimmings.
How to Reheat Turkey
When storing, make sure to carve your turkey into serving-size pieces, and then try one of these reheating methods. Of course, leftover gravy is a must for leftover turkey! It helps keep it moist.
Oven - Place the turkey in a single layer on a baking tray. Splash with a bit of leftover broth or stock and cover the baking dish in aluminum foil. Then, place the dish in a 325-degree F oven for 20 minutes.
Microwave - Place turkey on a microwave-safe plate. Cover with a paper towel or a microwave-safe lid—heat on 50% power for 2 to 5 minutes, or until warm.
Tip: If possible, allow your turkey to come to room temperature before reheating with either of these methods.
How to Reheat Baked Side Dishes
First, avoid microwaving them to maintain the texture of baked side dishes like sweet potato casserole, potato gratin, or stuffing.
Try this method instead.
Reheat in a wide, ovenproof container, covered with aluminum foil, at 300 degrees F until warmed through.
Then, uncover and broil briefly to crisp the top. You can also reheat and broil in your toaster oven.
Tip: Add a little butter to the top of your stuffing while reheating to keep it moist.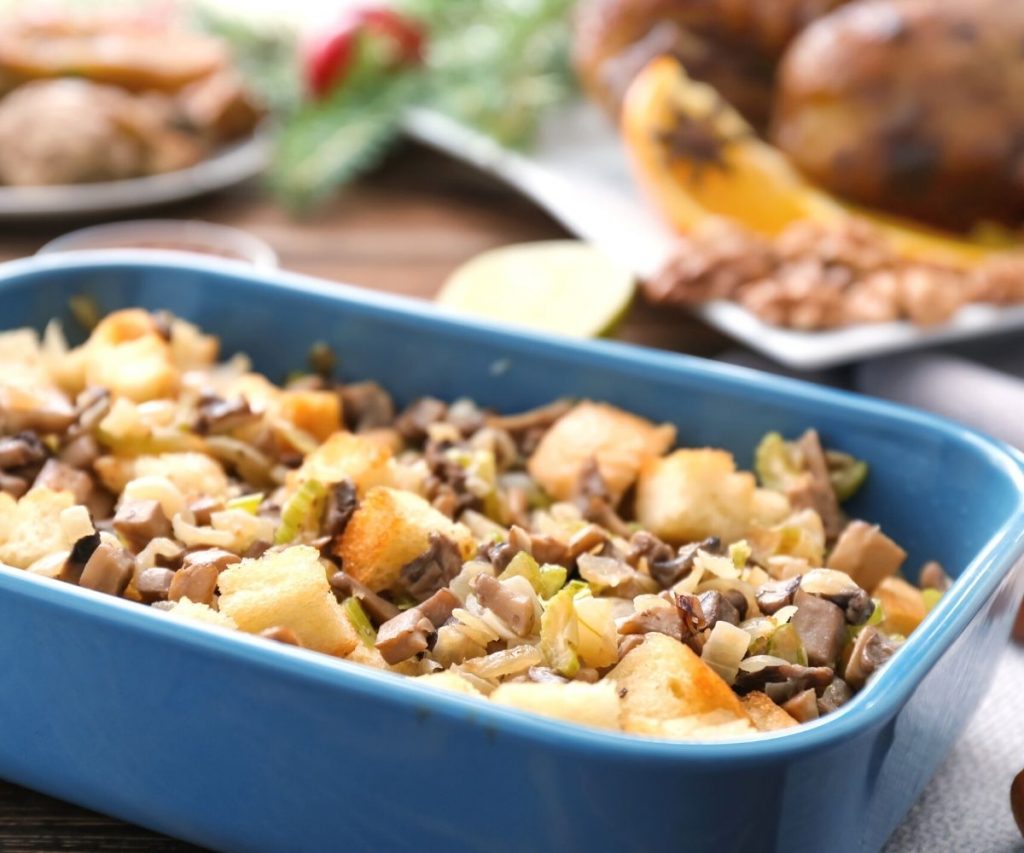 How to Reheat Mashed Potatoes
To keep the texture and flavor, always reheat mashed potatoes with more milk and a chunk of butter. You can reheat one of three ways.
Microwave - Add your additional milk and butter and place in a microwave-safe dish, and reheat at 50% power for 2-5 minutes, depending on the amount, until heated through.
Oven - Place in an oven-safe dish and reheat, add your additional milk and butter and mix well and reheat in a 350 degrees F (177 degrees C) oven for 20-30 minutes, sitting occasionally. 
Stove Top - Warm frozen or thawed potatoes slowly over low heat in a covered saucepan, occasionally stirring, until heated through. Add more milk or butter as needed if potatoes start to dry out.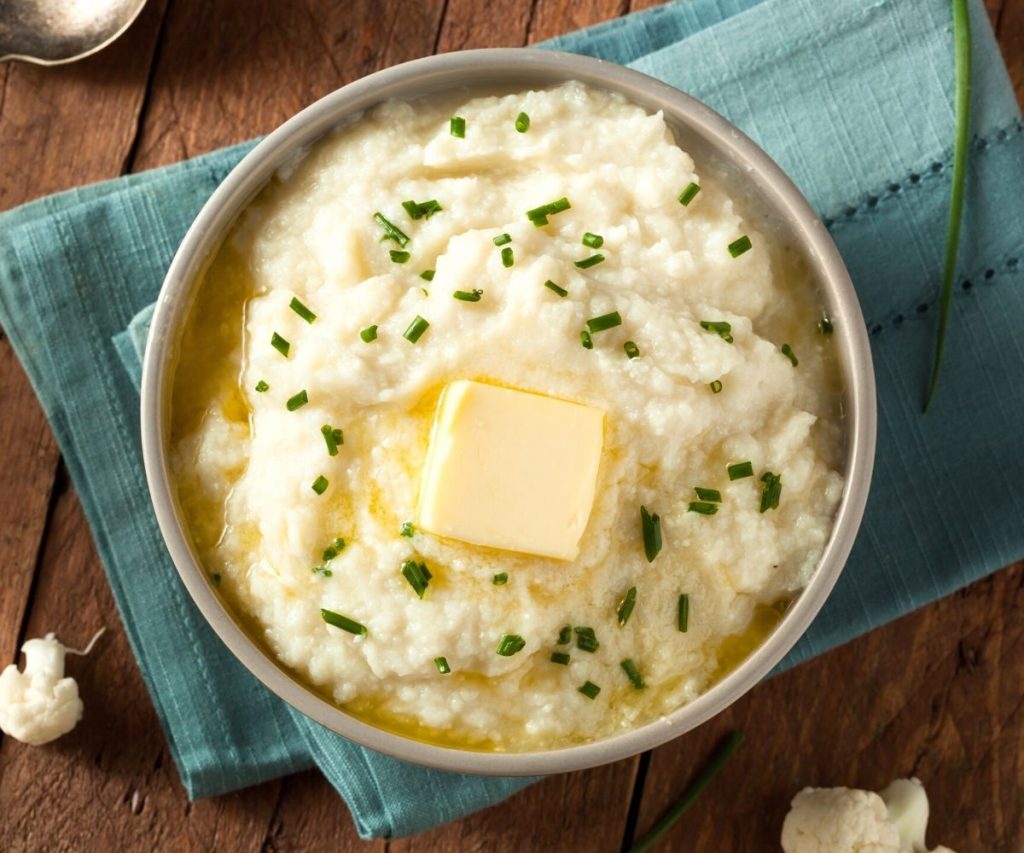 How Long is it Safe to Eat Thanksgiving Leftovers?
As long as your leftovers were frozen or refrigerated within 2 hours of serving them, here is a chart that tells you how long your Thanksgiving food will keep either in the fridge or in the freezer.
| | | | |
| --- | --- | --- | --- |
| | Room Temp | Fridge | Freezer |
| Turkey | -- | 3-4 days | 3 months |
| Gravy | -- | 2-3 days | 2 months |
| Stuffing | -- | 3-4 days | 3 months |
| Mashed Potatoes | -- | 3-4 days | 2 months |
| Sweet Potatoes | -- | 3-4 days | -- |
| Cranberry Sauce | -- | 2 weeks | 3 months |
| Bread | 1-2 days | -- | 1 month |
| Fruit Pies | 2-3 days | -- | -- |
| Other Pies | -- | 2 days | -- |
Thanksgiving Leftovers Guide
Can I freeze leftover turkey stuffing?
Thanksgiving Leftover Casserole
This recipe is our favorite Thanksgiving Leftover Casserole. It's got all the big meal flavors and uses up all your leftovers in one casserole that's never dry. Delish!
Thanksgiving Leftover Sandwich
One of the best things about Thanksgiving is the sandwiches you can make with the leftovers. Gosh, they're good!
Try this Thanksgiving Panini or this amazing Thanksgiving Sandwich, which uses turkey, stuffing, mashed potatoes, and cranberries!
You can FOLLOW US on FACEBOOK, TWITTER, INSTAGRAM, and PINTEREST to see more delicious food, fun crafts, parenting tips, + DIYs!