Here are the best Thanksgiving Crockpot Recipes to serve at your holiday dinner. Free up stovetop and oven space when making these easy and delicious slow-cooked dishes for Thanksgiving.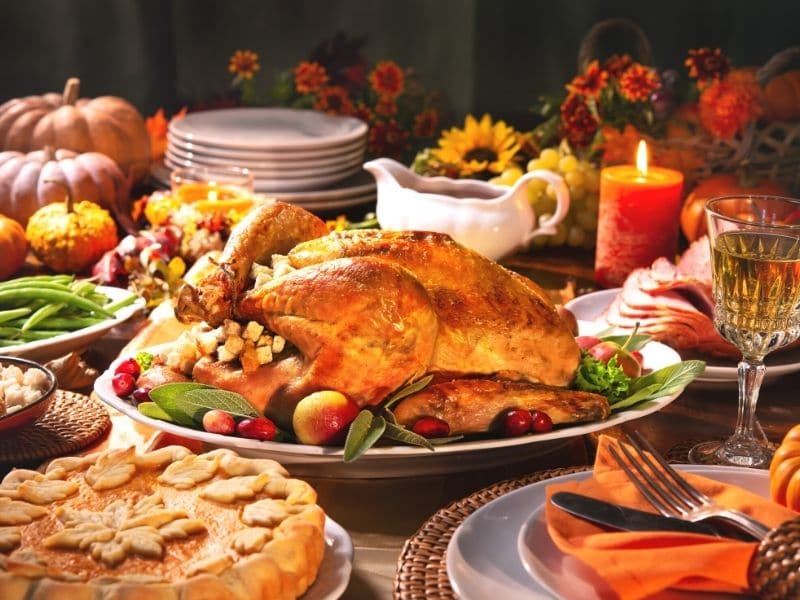 Turkey Day just got so much easier! We're all about ease and convenience when we're cooking up a Thanksgiving feast in the kitchen, and your trusty slow cooker helps you get there. Grab our Countdown to Thanksgiving Checklist, and have a stress-free holiday this year!
There are so many dishes that you can make in your slow cooker for your holiday table. You may be asking, "What can I use my crockpot for on Thanksgiving?" Whether you're looking for Thanksgiving favorites like moist turkey, tasty sides, sip-worthy soups, killer appetizers, festive drink recipes, or cozy desserts, we've got them all!
In addition to freeing up space in your much-needed oven, your crockpot lets you make dishes ahead of time because it keeps them warm until ready to serve.
Double bonus!
Oh, and they're also great to take to Thanksgiving potluck gatherings.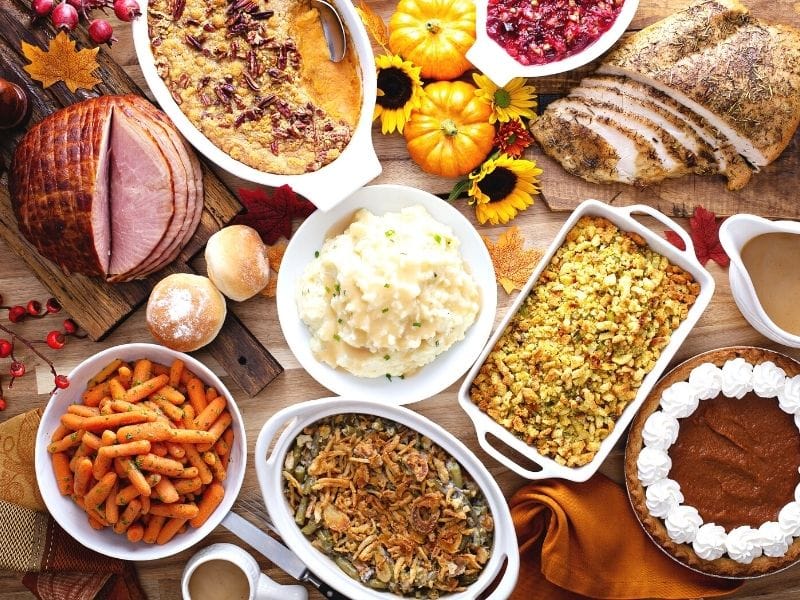 For the best slow-cooking results, make sure you know the most important Crock Pot Tips and Tricks!
Jump to:
Crock Pot Thanksgiving Main Dishes
This Slow Cooker Turkey Breast is, without a doubt, the easiest, safest, and tastiest way to cook turkey breast without brining. It's moist and juicy and takes 3 minutes to prepare. Then, just leave it to cook in your slow cooker (crock pot).
If you need gravy, just use the juices to make a killer sauce!
This crockpot ham is a spiral-cut ham topped with a pineapple brown sugar glaze, then slow-cooked to perfection. This really is the BEST way to make your holiday ham. Your slow cooker does all of the work!
All it takes is 5 minutes of prep time, and you end up with the most tender and succulent ham of all time!
Slow Cooker Pot Roast Beef
This easy Crockpot Pot Roast recipe should be a staple in your holiday cooking. It's flavorful (from some secret ingredients) and has a creamy gravy. And it's moist and tender, and the best part? It makes a wonderful sandwich the next day.
Crock Pot Thanksgiving Side Dishes
Here are the best Thanksgiving crockpot side dishes! We've got the classics and some new additions to go with your Thanksgiving turkey.
One of the best Thanksgiving side dishes! Creamy, buttery potatoes make one great crock pot potluck side dish. Crock Pot Mashed Potatoes are the perfect choice for your crockpot since you can make them ahead of time and then keep them warm until ready to serve. You could also do Slow Cooker Parmesan Potatoes.
This is a no-boil recipe that comes out perfectly every time.
You can pin it for later below.
Family-friendly comfort food! Crock-Pot Mac and Cheese is creamy, tender, and delicious. It's easy to prep in 10 minutes because there's no need to boil the pasta before slow-cooking it.
This is the perfect side dish for all your holiday gatherings.
Pin for later below.
Crockpot Stuffing, a Thanksgiving staple, takes your favorite classic stuffing recipe and turns it into an easy make-ahead side dish. This stuffing (or dressing) is perfect for serving alongside turkey dinner!
Not only is it easy and delicious, but it can also be prepared up to 24 hours in advance, making it the perfect side during a busy holiday meal!
Pin it for later below.
Sweet Potato Casserole is a tradition on most Thanksgiving tables. In your slow cooker, you toss fresh cubed sweet potatoes with brown sugar, butter, fresh orange juice, and pumpkin pie spice. Then, you cook it until it's fork-tender.
It's that easy. It's finished with mini marshmallows.
Pin it for later below.
If your family can't go without Green Bean Casserole during Thanksgiving dinner, you must try this hands-off recipe. It's pretty much the best side dish for Thanksgiving or Christmas! This recipe feeds about 15, with lots of leftovers.
Pin it for later below.
This simple Crock Pot Buttery Bacon Green Beans recipe turns ordinary canned beans into some of the most delicious green beans you have ever tasted! So buttery and with lots of smoky flavors.
Pin it for later below.
Cranberry sauce could hardly get any easier on the stove. But if you happen to love slow cookers as much as we do and want a stove-free Thanksgiving (or if you at least want to free up some extra space on that stove), you need to try this Slow Cooker Cranberry Sauce.
It's easy to customize to your desired sweetness level. Oh, and this is a fantastic make-ahead recipe.
Made easily in your slow cooker with cream, fresh herbs, a little garlic, salted butter, and melty Gruyere cheese (or cheese of choice like cream cheese), these mashed potatoes are one of a kind. Each bite is perfectly smooth, creamy, and so delicious.
Pin for later below.
Skip the canned cream corn this year and make it from scratch right in the crockpot. It's so rich, creamy, and unbelievably easy to make with just five simple ingredients!
Simply drop everything in the crockpot, cover, stir, and that's it! This is a vegetarian Thanksgiving slow cooker recipe.
These slow cooker glazed carrots are a super easy side dish perfect for a casual dinner or a holiday gathering!
Your whole family will love these slow-cooker carrots! Sweet and savory brown sugar-glazed carrots are coated in butter and sugar and cooked to tender perfection.
This is a vegetarian Thanksgiving Slow Cooker recipe.
Looking for a veggie side for Thanksgiving? Slow Cooker Cinnamon Sugar Butternut Squash is a mix of sweet and buttery perfection.
This is one of those recipes you can make a day ahead of time and then warm up in the crockpot before serving the next day.
Pin it for later below.
The holidays are crazy enough as it is – you might as well let your slow cooker do all the work for you. These Crock Pot Balsamic Glazed Brussel Sprouts are so easy to make and pair so well with your Thanksgiving meals.
The tastiest Slow Cooker Pumpkin Soup! So creamy and comforting and pairs well with Turkey Day trimmings. You make it with coconut milk, so it's vegan, gluten-free, paleo, and all-around allergy-friendly if you need it.
This is a great way to free up oven precious oven space during the holidays. These buttery Slow Cooker Dinner Rolls do not require proofing and are sweet, soft, and delicious. Perfect for serving with Turkey dinner or with jam at breakfast for your guests.
Crock Pot Thanksgiving Appetizers
Any one of these delicious recipes would be perfect to start your Thanksgiving celebrations.
Slow Cooker Cranberry Meatballs are sweet and spicy with the perfect amount of holiday flavor! And they're so easy to make! You'll find yourself "taste testing" these cranberry sauce meatballs a few too many times before serving your guests.
Make guests happy and serve them this awesome Chex Mix you make in the slow cooker this holiday season! It's super easy and always a crowd favorite. This large-batch recipe is a keeper.
Pin it for later below.
Crock-Pot Thanksgiving Desserts
For one of the easiest and tastiest Thanksgiving desserts ever, make this Crock Pot Apple Dump Cake. You only need four ingredients for this no-fuss slow cooker cake that tastes like freshly baked apple pie! It's so much easier than making a pie crust. This is one of those Thanksgiving Slow Cooker Recipes everyone raves about!
Want pumpkin pie on the Thanksgiving menu but don't have the oven space? This easy Slow Cooker Crustless Brown Sugar Pumpkin Pie won't have you missing the crust at all! You can make it low-sugar and low-fat if you need to.
Pin it for later below.
This traditional holiday dessert recipe is quick and easy to whip up in your slow cooker. Plus, it adds a cozy smell to your home! Guests love it.
It's made with cranberries and walnuts and is served with a homemade caramel sauce.
So tasty! You can top these slow-cooked apples (that taste like baked apples) with a scoop of vanilla ice cream or whipped cream, and you've got yourself a lighter dessert that pairs well with holiday food. This is a great vegan or vegetarian option.
Pin the recipe for later below.
Crockpot Pecan Pie is an easy dessert that will have guests begging for more! It's semi-homemade because you use refrigerated pie crust and fill it with a delicious pecan pie filling! Oh, the crunchy pecans!
Pin it for later below.
Thanksgiving Crockpot Drinks
You'll want this crockpot mulled cider at all of your holiday gatherings! This slow cooker apple cider recipe is delish. It's infused with hints of citrus and spices and simmered to perfection.
Pin it for later below.
These homemade Slow Cooker Pumpkin Spice Lattes are perfect for a fall get-together and couldn't get any easier than this Thanksgiving Slow Cooker Recipe!
Start with freshly brewed coffee and then stir in half and half, canned pumpkin, spices, vanilla extract, and sugar. And top with whipped cream!
This Slow Cooker Pumpkin Spice Hot Chocolate is a delicious party drink that you and your guests, whether young or old, will love.
You can top this recipe with marshmallows or whipped cream or give your guests a choice of both.
You have to try this Slow Cooker Spiced Rum Cocktail! It will help you and your guests warm up on a cold day. And as a bonus, while it's warming for hours, your house smells amazing!
Pin it for later below.
So push the easy button this year! Pull out your crock pot and make some of these Thanksgiving Slow Cooker Recipes!
Printable Recipe