Not Sure What to do With Leftover Cranberry Sauce? We have you covered! Here are several delicious and easy ways to use every last bit!
Here's the Best Recipe for Homemade Cranberry Sauce, and our guide to Thanksgiving leftovers is very helpful.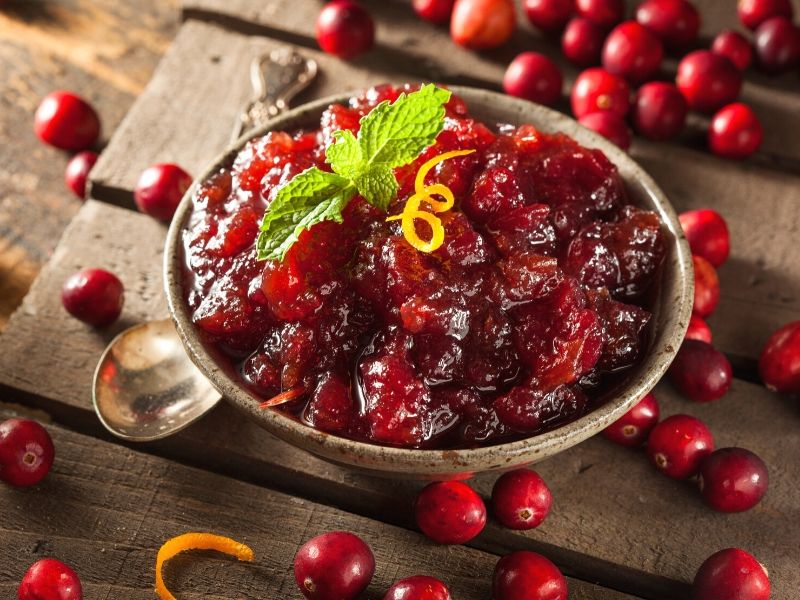 What to Do with Leftover Cranberry Sauce
The turkey's been roasted, the potatoes mashed, and dinner's been served! Now it's time to start thinking about leftovers - because Thanksgiving leftovers are a must!
One question that comes up year after year is What to Do with Cranberry Sauce Leftovers? 
Thanksgiving isn't complete without a helping of the best Homemade Cranberry Sauce, but you might have extra, so here are a few of the best things to do with your leftover sauce. 
These Cranberry Sauce Recipes are so tasty; you might want to make extra just to try them!
Can I Freeze Cranberry Sauce?
Yes, homemade cranberry sauce freezes wonderfully. Just place it in a freezer-safe container or freezer-safe plastic bag to prevent freezer burn. 
Tip: Make sure to label and date it!
Cranberry sauce is good in the freezer for about 3 months. To thaw, place in the refrigerator overnight and use it within a few days.
Cranberry Topped Yogurt
The morning after is a brilliant way to serve your leftover cranberry sauce. Top plain or vanilla yogurt with your sauce and finish with a bit of crunchy granola.
Tip: If you want your cranberry sauce to be more smooth for this recipe, blend it with an immersion blender. 
Cranberry Oatmeal Bars
Baking and leftover cranberry sauce is a match made in heaven. The topping is like a crumble in these Cranberry Oatmeal Bars and is the perfect afternoon snack. Just sub your cranberry sauce recipe for the fresh cranberries.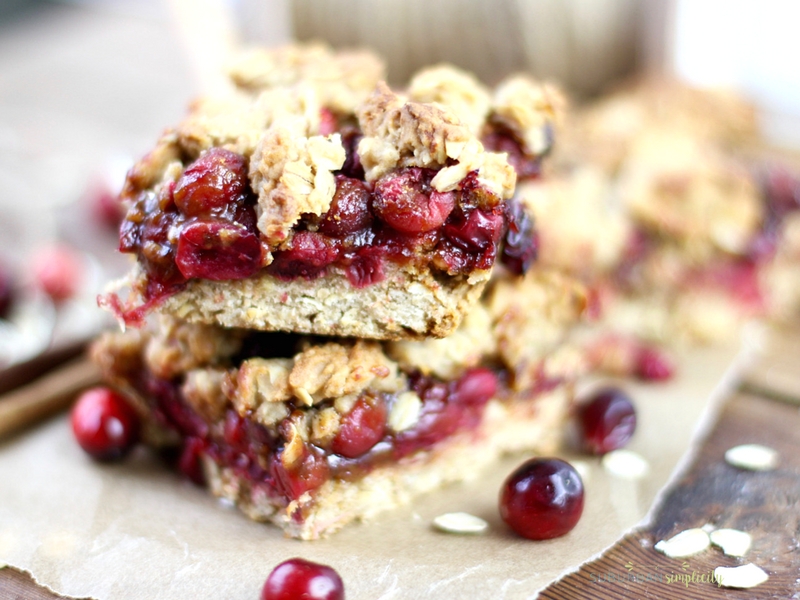 A Delicious Pancake Topper
Another morning treat is to top your pancakes or waffles with a heaping spoonful of warmed cranberry sauce. If you have some on hand, a dollop of whipped cream is also lovely!
Cranberry Crumble
The perfect way to use up cranberry sauce is to make it into dessert!
This is so easy!
Place your sauce in a ramekin (small oven-safe baking dish) and top it with cut butter, flour, cinnamon, oats (if you like them), and sugar together to form a rough crumble topping. Sprinkle over cranberry sauce in ramekins and bake for 20 - 25 minutes until it bubbling and the top is golden brown! 
Turkey Meatball Topper
If you haven't tried Turkey Stuffing Meatballs, you're in for a treat! Moist and delicious, and your extra cranberry sauce is the best dipping sauce!
These are good year-round!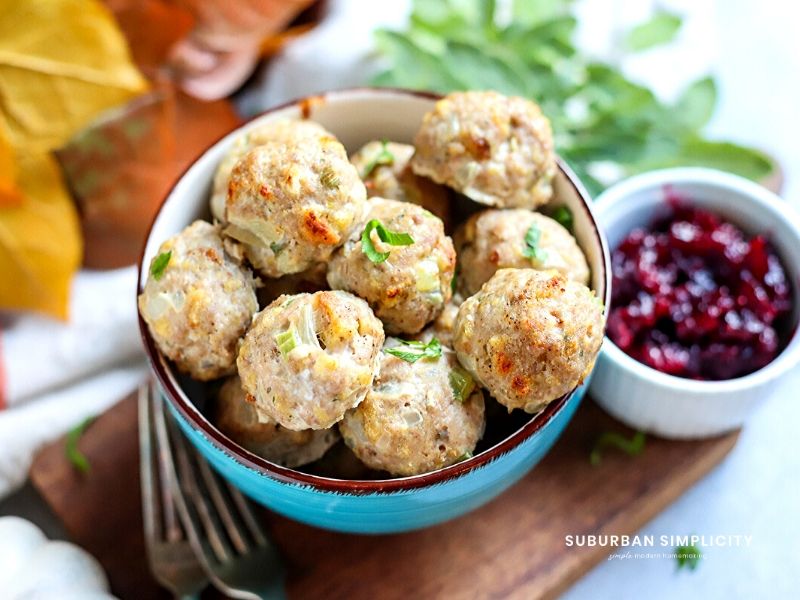 Yummy Bagels and English Muffins
What better way to enjoy your leftover cranberry sauce than on top of a toasted bagel, English muffin, or whole-grain toast. Smear it with cream cheese and top with a little sauce. 
Cheesecake Topper
One of the best ways to solve the quandy "what to do with leftover cranberry sauce is to top your cheesecake! Fruit topped cheesecake is a festive holiday treat! Take a plain cheesecake and top with your leftover sauce.
Not only is it delicious, but it's also pretty!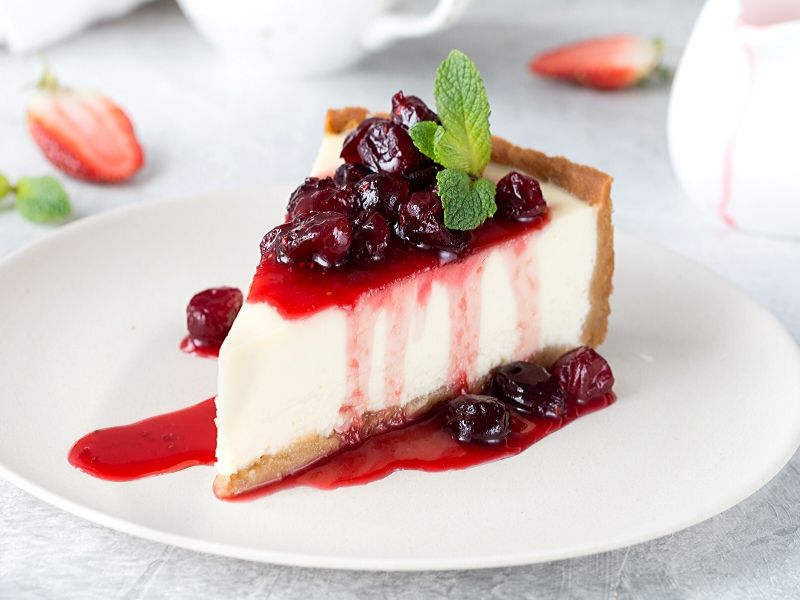 Cranberry Butter
Make cranberry butter to slather on your favorite muffins or bread by beating together butter, a little cranberry sauce, fresh orange zest, and a touch of almond extract.
Turkey Quesadilla
There's nothing better than pairing gooey melted cheese and cranberry sauce.
Top a tortilla with your cheese of choice, a bit of your leftover turkey, and some cranberry sauce, and cook in a pan until slightly crispy and heated through.
Oh, the mix of flavors is so good! 
Tip: Sharper cheeses work really well in this recipe!
Crock Pot Cranberry Meatballs
This Crockpot Meatball Recipe is a classic. Take it up a notch by substituting cranberry sauce for the grape jelly.
Add 1 teaspoon ground cumin and 1 teaspoon black pepper and let it simmer for a couple of hours until ready to serve. It makes a great appetizer or dinner.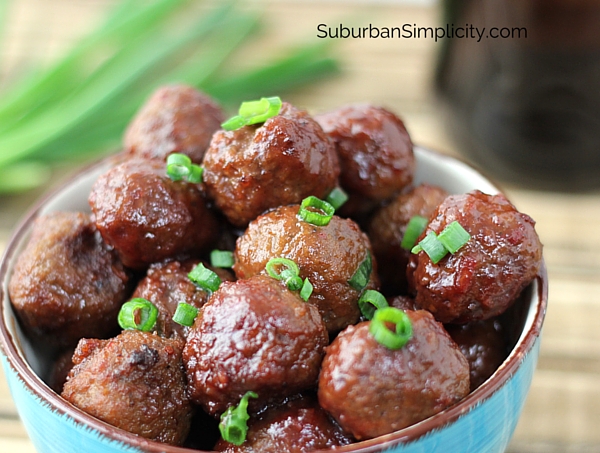 Jazz Up Your Favorite Sauce or Dressing
Whether you have BBQ sauce or a balsamic dressing on your dinner menu, adding a little spoonful or two of this bright sauce will liven it up!
Cranberry Topped Brie
Cranberry sauce is the perfect topper for a round of creamy Brie.
To make Baked Cranberry Brie, cut the top off your Brie and top with cranberry sauce and chopped walnut or pecans. Bake for 8 minutes.
Once it's baked, the combination of tart cranberries and cheese is just divine. New Year's Eve never looked so good! 
Another wonderful appetizer to use up your cranberries is Cranberry Brie Bites.
Spice it Up!
Add some diced jalapeño peppers to your cranberry sauce to give it a spicy kick. Then, use it for everything from turkey sandwiches to Chipotle Chicken Tostadas!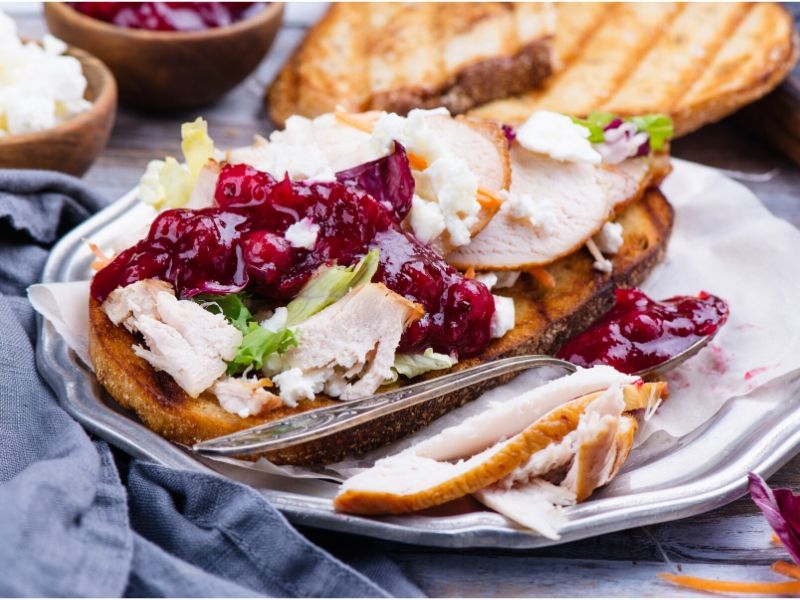 We All Scream for Ice Cream
Vanilla ice cream and homemade cranberry sauce make an excellent pairing. Top your ice cream with a heaping tablespoon of sauce, and you're in heaven!
How to Tell if Cranberry Sauce is Bad
If your cranberry sauce has been in the refrigerator for a while (let's say more than 10-12 days), the best way to tell if it's gone bad is to smell it and look for signs of mold.
If it smells good and there are no signs of fuzz, you're good to go!
Recipes to Bake with Leftover Cranberry Sauce
Leftover Cranberry Sauce Muffins
Baked Cranberry Doughnuts with Orange Glaze
Fruity Cream Cheese Coffee Cake