Get the room you've always wanted on the budget you already have! These creative Living Room Decorating Ideas on a Budget will help you get there!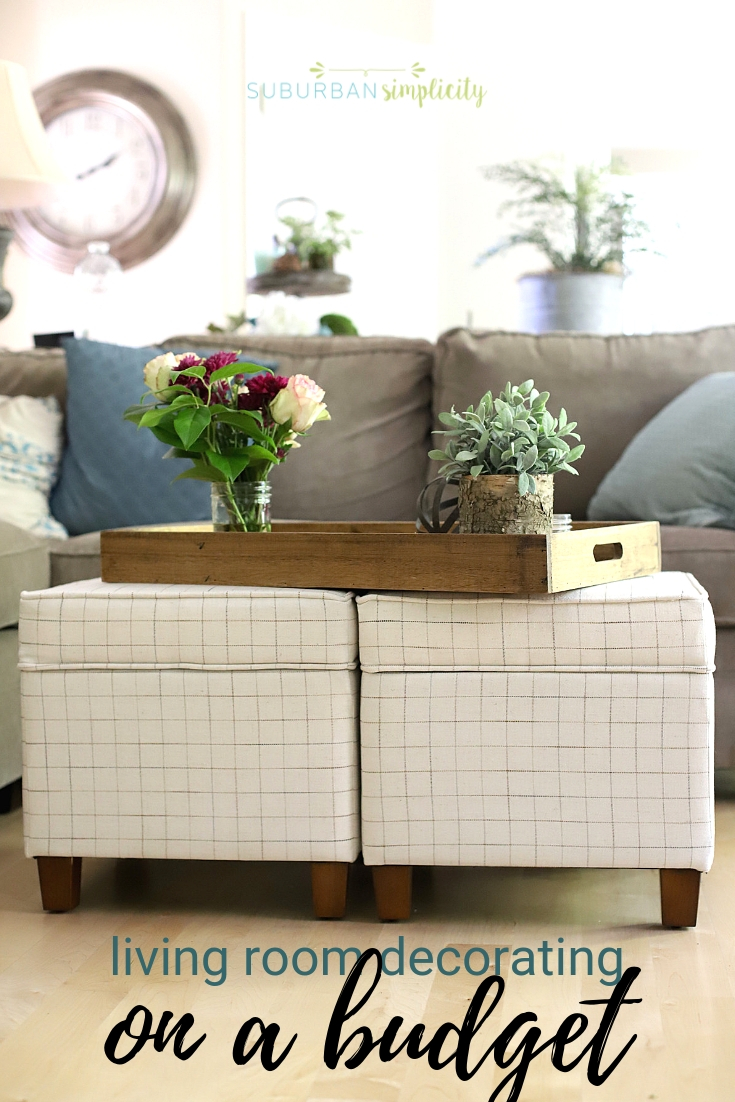 Living Room Decorating Ideas on a Budget
Whether you're working with a small or large room, you can totally create a fabulous, furnished living space on a budget - with ease! Here are several Living Room Decorating Ideas on a Budget you're gonna love!
If you break it down, It doesn't take a lot of time or money to create an incredible space. One of the easiest ways to do this is by using an online retailer like Fred Meyer Direct. It's a simple and convenient way to shop online for home items and electronics from Fred Meyer and then have them delivered right to your door. Plus, you still get to take advantage of their low prices and fuel points! #winwin
Speaking of deals. If you click through to Fred Meyer Direct, you'll see they're offering a 15% off coupon on your order to save you even more!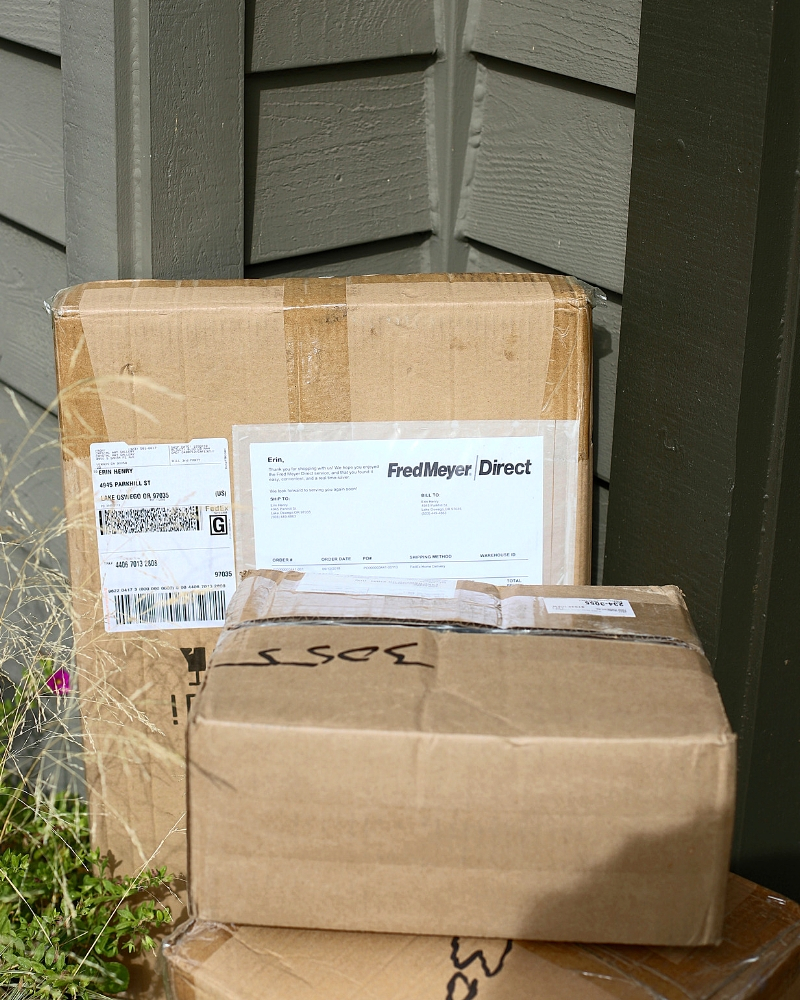 With my busy schedule, ordering from my computer in my PJs after the kids go to bed is a dream. I didn't have to make time to go into the store or carry my purchases to my car. My home decor from Freddy's came right to my door! Several fun pieces helped refresh my living room without spending a fortune. See, decorating can be easy! Let's get started with the basics.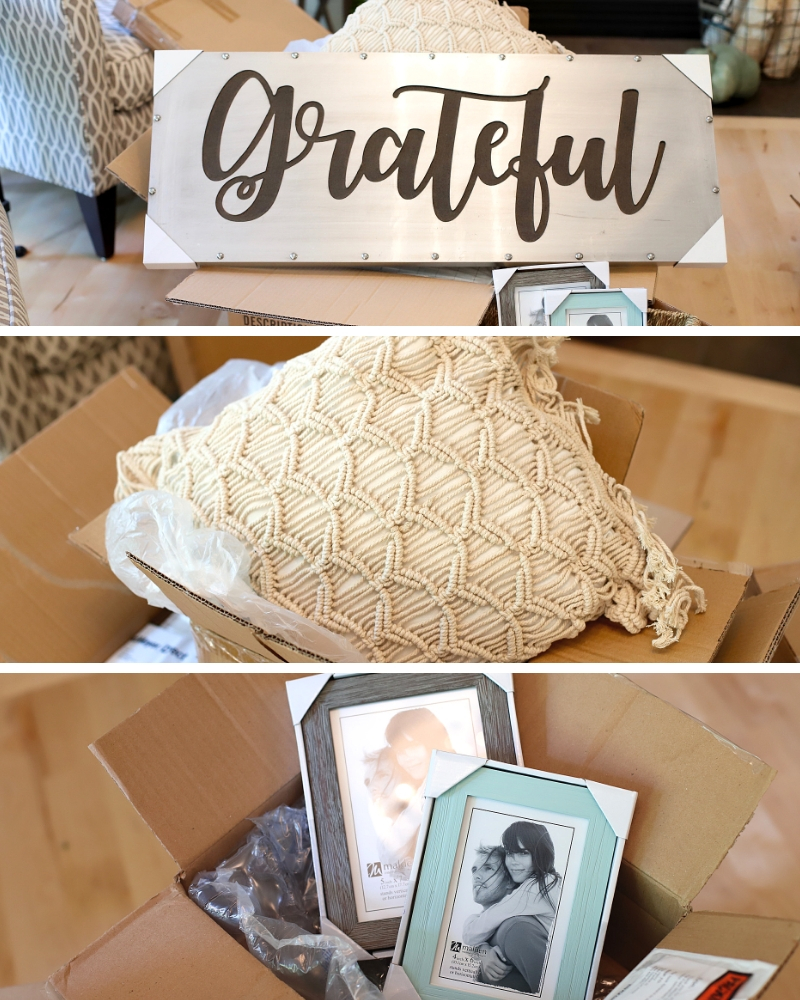 Ideas for Decorating on a Budget
Rearrange Your Furniture
Rearranging your furniture is one of the easiest ways to get a whole new look for your space and totally stay within budget. Reimagine your room with perhaps a different focal point or traffic pattern. Maybe divide a big room by placing a couch between the two and defining the living room better. Remember to shop other rooms for pieces that might work even better when placed in your living room.
Another benefit - you get to clean under furniture that hasn't moved in a while!
Create Eye-Catching Vignettes
Oh, how I love a vignette!
These small groupings make a simple and effective decorating idea that brings a room together and gives it a little personality. First, you need to decide where to put your vignette. Maybe it's your coffee table or mantel; it's totally up to you.
Now it's time to gather a few accessories and pick an anchor object. Start by grouping stacks of books, some vertically and some horizontally, then add in accessories and artwork. Use small groupings and combine items in varying sizes, colors, and textures for a truly eye-catching display.
Check out these ideas for fall vignettes around your house.
Create a Focal Point
Your focal point is what draws you into a room and makes you feel welcome. Perhaps it's your mantel or wall of windows. If you don't have something built into the design of your room, like a fireplace that creates a defined focal point, create one with height. A large armoire or bookcase is a great idea.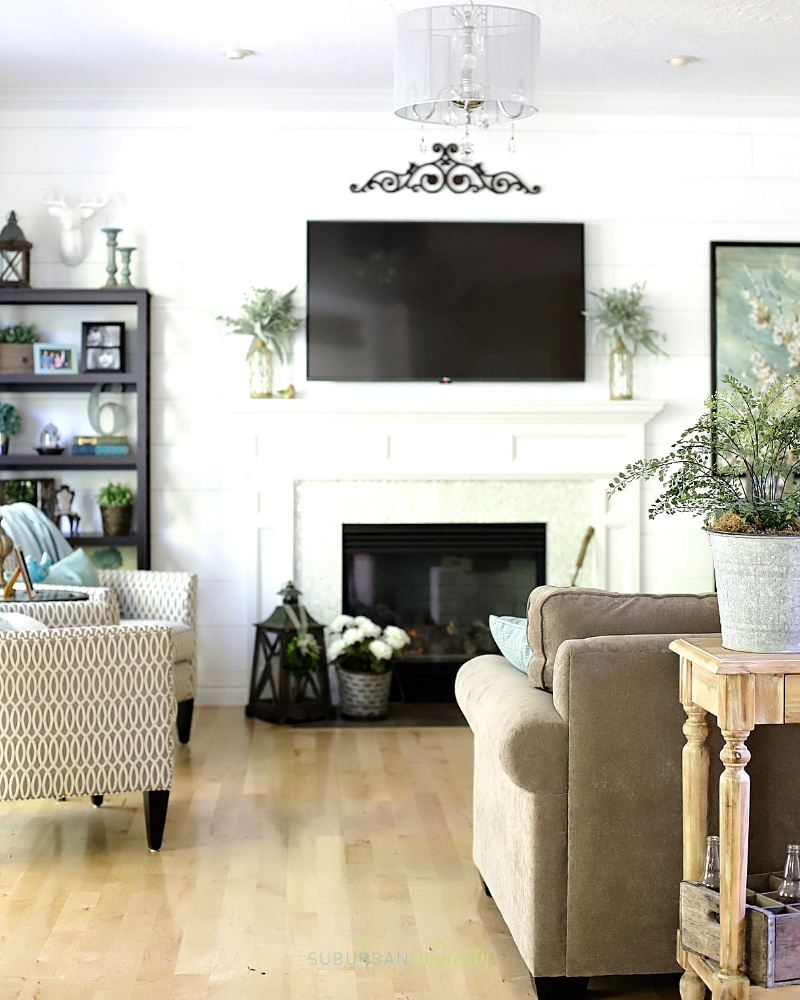 Declutter
Decluttering can be one of the most cost-effective ways to change the way you see your space. It also makes it more cohesive. You can start by keeping flat surfaces clutter-free. This makes the room feel bigger and more serene. You can also give a bookshelf a makeover and edit down what you keep there. Use decorative containers like a seagrass basket to minimize clutter in the room.
Add Wall Art
What better way to customize your living room and incorporate your personality than adding colorful or interesting wall art. Adding something to your walls is also a great way to change things up for the seasons.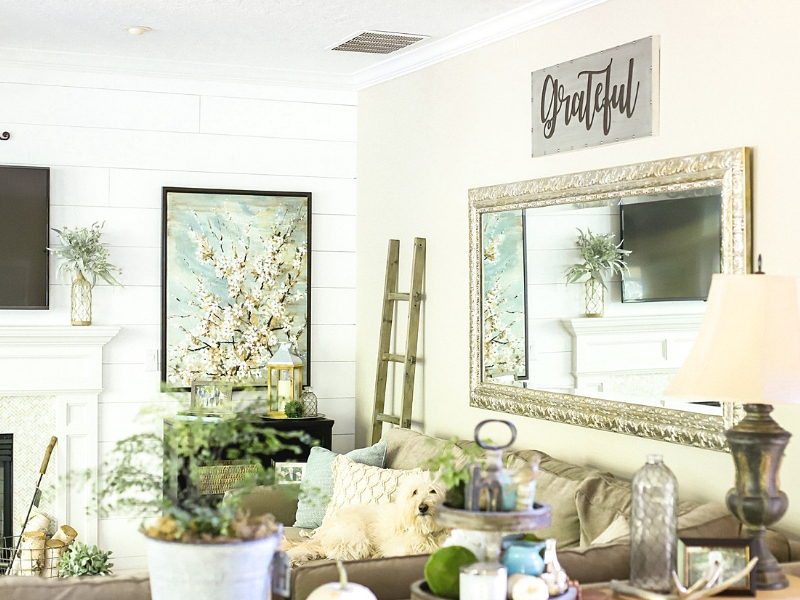 Pick a Color Scheme
Changing up your wall colors is a very inexpensive way to get a new look. Neutral is always a winner or whiten it Up!. Then, you can inexpensively add in color and style with pillows, framed artwork, rugs, and accessories for a cohesive look.
Change Up Your Pillows
One of the easiest and most economical ways to change a room is by changing out or adding pillows. You can even do this seasonally to give your room a different look.
It's easy to keep your room fairly neutral, and use pillows for pops of color. Pillows also add great texture to your space. This one from Fred Meyer Direct is perfect and gives the right amount of texture to the room.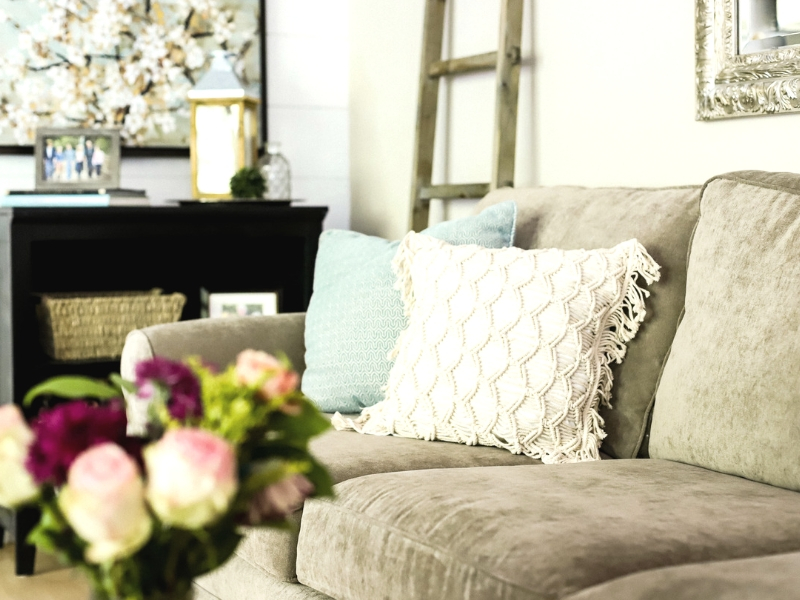 Refresh Furniture
It may be time to get rid of your worn-out pieces and refresh your old furniture. This can bring new life to a room. If you're on a tight budget, start with smaller pieces like the coffee table, side table, or ottoman. If you can afford to replace larger pieces, go for it!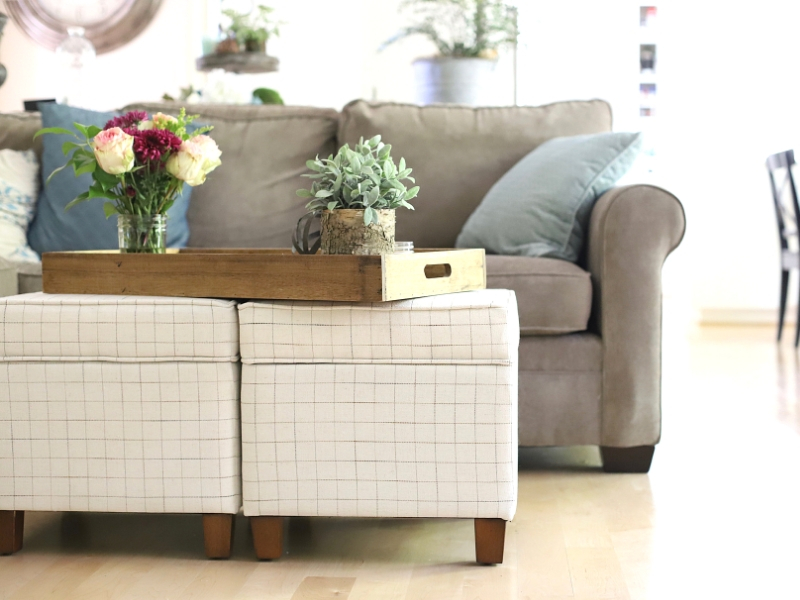 Pro Tip - look for pieces that add extra storage, like these ottomans from Fred Meyer Direct. These are such a value, not only in price but also in the storage they add to the room.
Add an Area Rug
Area rugs help define a space and bring it all together. You can add color this way or keep it neutral. Rugs are also a great way to incorporate new color trends. If you shop at Fred Meyer Direct, you'll find lots of styles and sizes at great value.
Put Some Texture on the Walls
Retexturing your walls is a creative way to add personality to your room. There are several ways to add texture, so whether you use wallpaper, textured paint, or a faux finish, the result of textured walls is well worth the effort. DIY Shiplap is another easy and inexpensive way to add texture to your walls. It warmed our living room up and I adore the way it looks!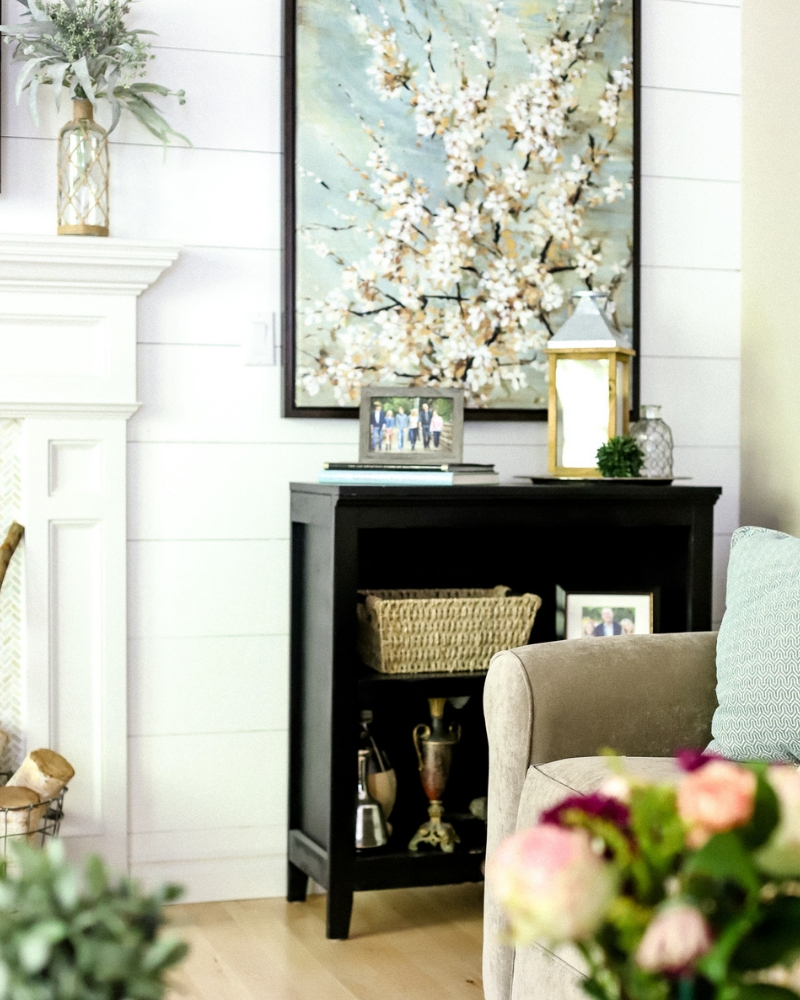 Display Family Pictures
Decorate your walls and tabletops with family photos to fill up your empty spaces and showcase the warmth and love that you captured in them.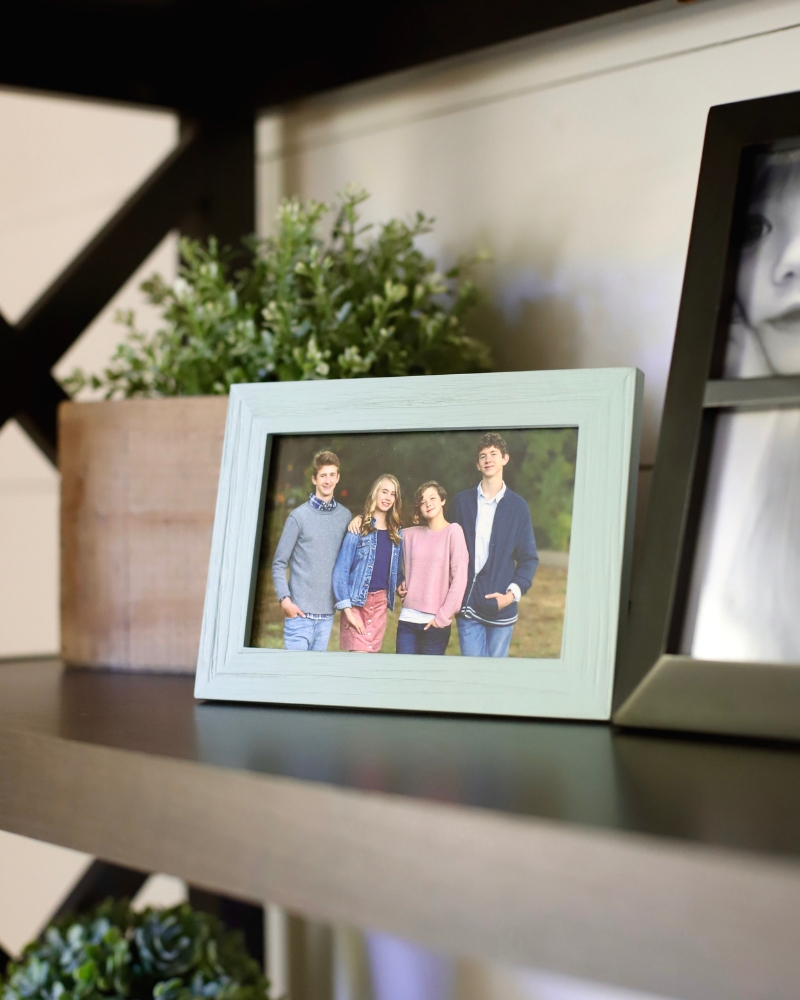 This picture frame called my name while looking for home decor on Fred Meyer Direct, and it's an incredible price! I adore the pop of color it adds to the room, too!
Bonus Tips for Living Room Decorating Ideas on a Budget
Create a cozy grouping with your furniture.

This makes entertaining or just hanging out that much more enjoyable.
Comfort and functionality are key.

Your living room is a high-use area.

Make sure it meets the needs of your family and pets - and is comfortable and durable if need be!
Always add your own style.

It's your space, so make sure it incorporates your style.

You want it to be a place you love coming home to and spending time in.
Small decorating projects can freshen up your house without costing a fortune. Try one of these Living Room Decorating Ideas on a Budget and get an instant fix for your home! If you're looking for convenience and value, then shop Fred Meyer Direct for your home furnishing needs!
You May Also Like These Decorating Resources
SaveSave
SaveSave