Feng Shui Decor ideas and tips to bring peace and prosperity to your home. Learn the basic principles of Feng Shui and how to incorporate them into your space.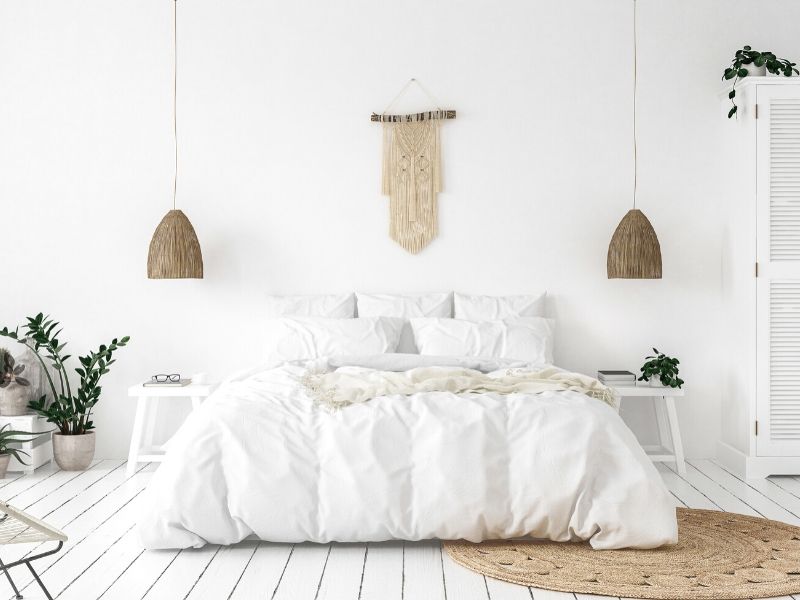 Feng Shui Decor for Your Home
Having a calm and pleasing home is our ultimate goal. A place to feel relaxed and unstressed to enjoy the little moments in life. Let's face it. Life can get a bit hectic, and your home is where you get grounded. That's why we're talking about Feng Shui Decor
What is Feng Shui?
Great question, so let's start there. Feng shui is a traditional practice that claims to use energy forces to harmonize individuals with their surrounding environment. It Originated in ancient China.
It aims to ensure that people live in harmony with their surroundings. Therefore, creating a balance in your space and life.
Here are several ways to incorporate (positive) Feng Shui energy in your home—whether you seek more peace, fun, happiness, spirituality or wealth.
1. Make a Good Impression With Your Front Door
To attract positive energy into your home, you need a welcoming front door. This is easy to accomplish with a clean welcome mat, a freshly painted door, natural elements like flowers or shrubs, or other outdoor decor elements.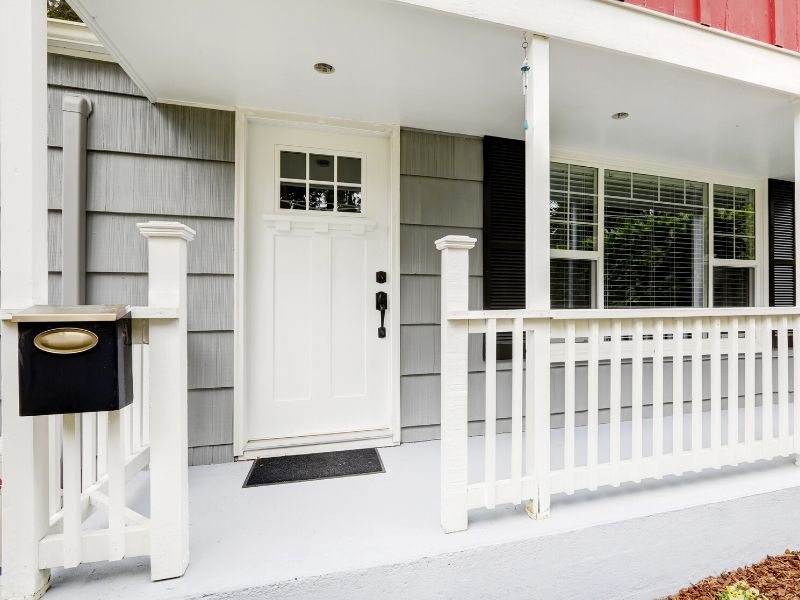 2. Declutter Your Space
It's proven that clearing clutter creates a more calm and inviting space and opens up creativity. To incorporate feng shui, you need to clear out the old stagnant energy to create space for a clean and strong energy foundation.
This will allow for the flow of good energy or chi in your home.
By this, we mean not just hiding stuff under beds, we say, actually cleaning out closets and disorganized shelves and drawers. Getting rid of unwanted items and only keeping those things you genuinely love.
3. Get Light and Air Flowing Throughout Your Home
Now that you've decluttered and made it easier to energy to flow, open windows and let the light shine in!
Maximize light movement by keeping all mirrors, glass surfaces, and windows clean. Illuminate dark corners or spaces with a lamp or mirror to reflect light into them.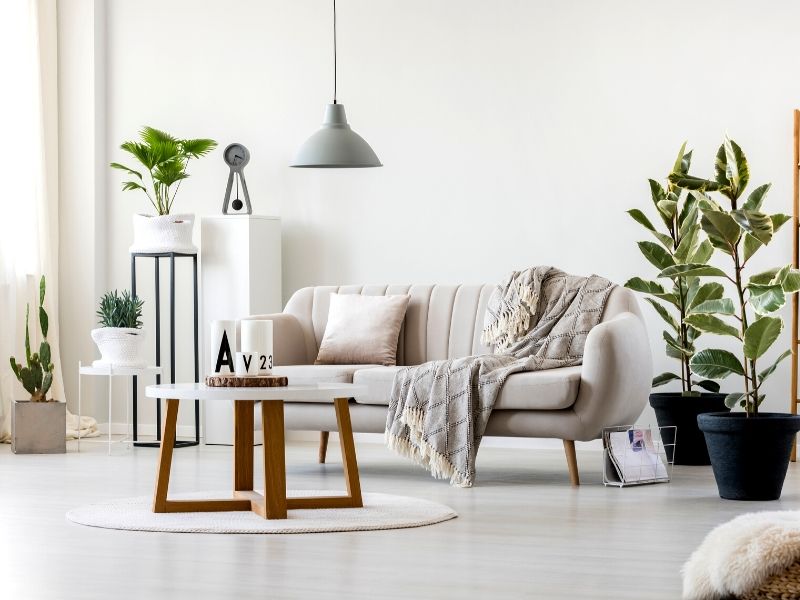 4. Add Live Plants
Plants filter the air, creating healthier, cleaner surroundings. They also attract vibrant chi energy due to their life force.
Fun Fact: cactus, although a living plant, are considered bad feng shui because they lack the need for water (water is like wealth in the feng shui practice).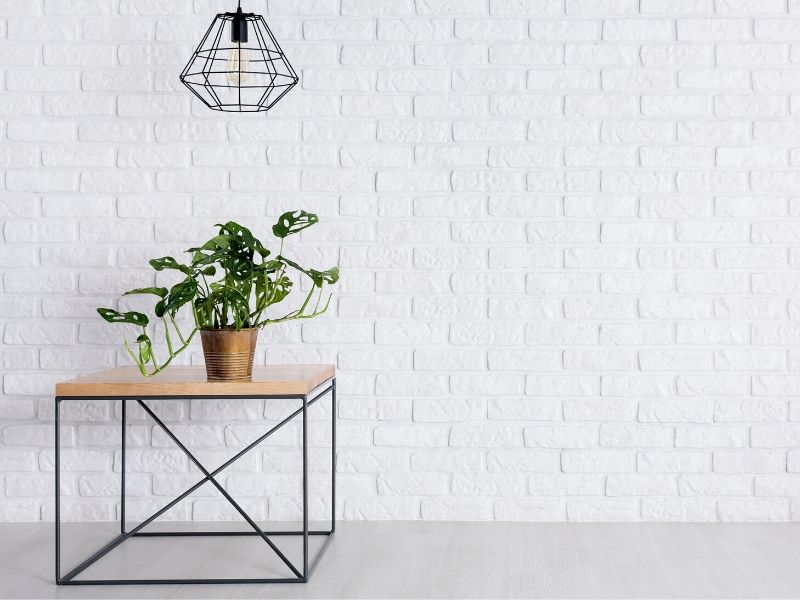 5. Add Your Favorite Colors to Activate the Energy Associated with Them
Color is extremely powerful, as it is an expression of light energy. You can incorporate it through throughout your home with your wall color, artwork, or decorative decor.
Here is a list of what colors project within your home:
Red: luck and wealth
Orange: happiness and fun
Yellow: mental stimulation, power
Green: peace, balance, healing
Blue: calmness, communication, spirituality
Purple: wealth, high spirituality
White: cleansing and purity
Black: power, especially when paired with red
Brown: nurturing
6. Incorporate Yin and Yang (balance)
Feng shui followers believe that everything is composed of two opposing, but connected forces: Yin (feminine) and Yang (masculine).
You can incorporate this philosophy into your home decor by decorating with complementary colors and design elements. For example, a bit of black and white, or geometric elements or straight lines and then adding some round, softer edges.
How Do I Decorate My House with Feng Shui?
You may be asking, how do I decorate my house using Feng Shui? What a great question, and for beginners, it's as simple as incorporating these elements.
Feng Shui Elements
Wood for growth and vitality. Placing wood items in your space encourages personal growth. Plants and wooden furniture are easy ways to add this element.
Metal to bring logic and intelligence. It supports knowledge and mental sharpness. Add this element to your space with metal frames, shelves, or sculptures.
Earth for stability and balance. It helps to ground and stabilize. Bring the earth element inside with rocks, crystals, and landscape imagery.
Water for wisdom and serenity. It helps with clarity and relaxation. Mirrors, reflective surfaces, and aquariums are ways to add the water element to your space.
Fire to bring passion and energy. It's representative of transformation, expansion, and volatility. Use candles and red objects to enhance your space with fire.
Feng Shui Decor Ideas You Need in Your Life
Here are some fun and economical ways to incorporate feng shui decor into your home.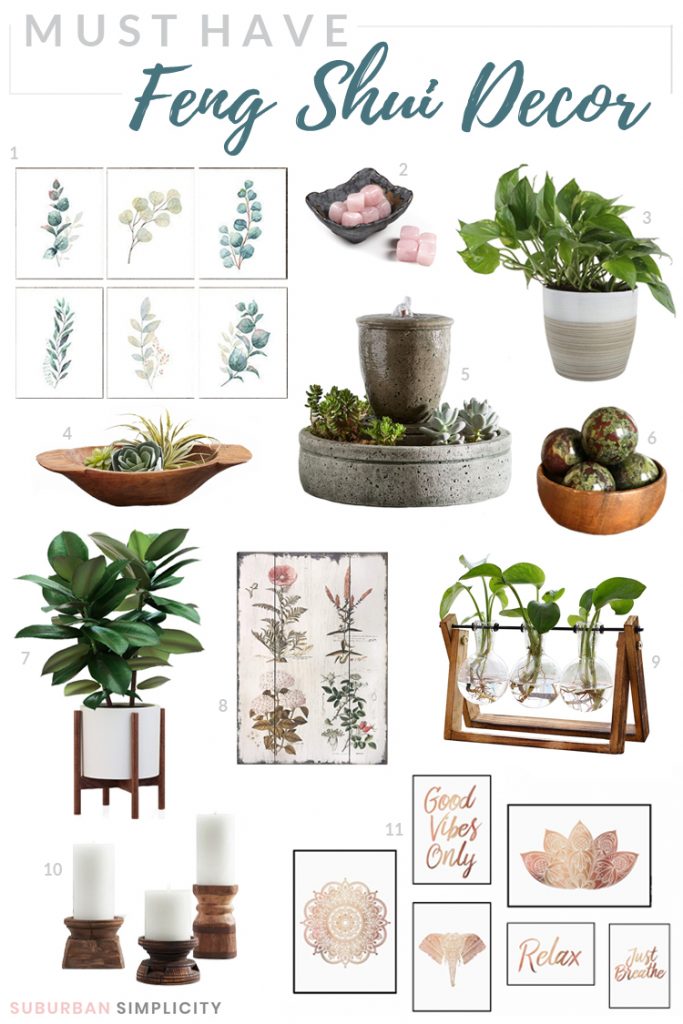 Botanical Prints - American made nature-inspired prints for your walls to bring stability and balance to your space.
Rose Quartz Healing Crystals - smooth, soothing, and full of potent stone energies. Rose Quartz is said to help with self-love, caring, kindness, friendship, and romantic love.
Golden Pothos White-Natural Decor Live Indoor Plant - Golden Pothos is one of the easiest houseplants to grow; it's a low maintenance vining plant and drought tolerant. Great for cleaning the air in your home.
Wooden Dough Bowl - hand-carved out of reclaimed wood, this natural element is perfect in any room.
Indoor Fountain - The Sesasi Fountain has a timeless quality and brings the energy of water to your space.
Dragon Blood Jasper Stone Sphere - metaphysically, dragon blood jasper is an intensely healing stone, promoting courage, strength, and vitality while also being very centering and grounding.
Beautiful Mid Century Plant Stand - add the healing energy of plants with this modern plant stand.
Vintage Florals Botanical Wood Plaques - tastefully designed and crafted, this wood plaque brings a beautiful natural element to your living or dining room or even your bedroom.
Plant Terrarium with Wooden Stand - great for floral arrangements and plants as well as a gift idea.
Wood Candle Holders - these holders showcase the rustic beauty of natural mango wood. They are crafted by hand to give each one unique appeal.
Zen Prints - feng shui wall art that brings a handcrafted touch to your walls.