Learn How to clean your oven easily with chemical cleaners or naturally. Plus, how often you should clean this kitchen appliance.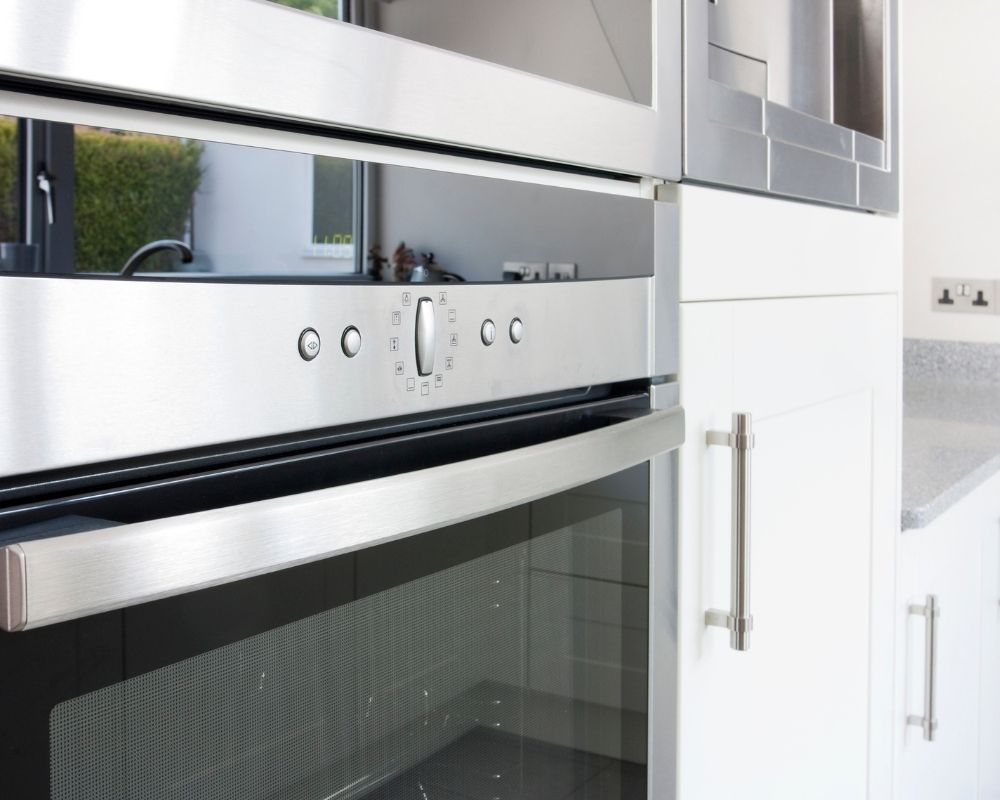 Keeping your oven clean can be a big job – especially if you love to cook! Especially after a big holiday like Thanksgiving.
That's why this task often gets put off until it's totally necessary. If you're dreading cleaning your oven, you're not alone! But if you can't put off this chore any longer, don't worry!
It's important to clean your Refrigerator and clean your dishwasher for optimal efficiency. Don't forget to Clean Your Washing Machine once or twice a year!
Jump to:
How do you clean the inside of your oven?
There are three basic methods you can use to clean the inside of your oven. Each option is a good one, depending on how dirty your oven is and whether you'd prefer to use chemical-based cleaners or natural ones.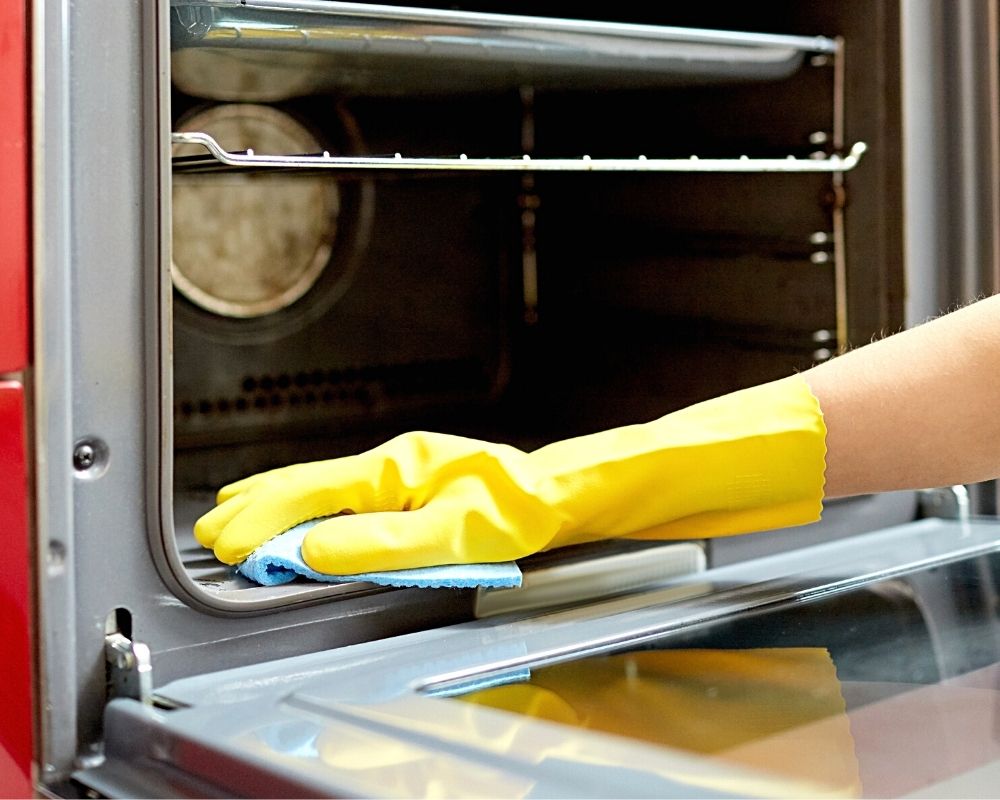 Option 1 - SELF CLEANING
Many ovens have a self-cleaning function that can aid in cleaning the inside of the appliance. To use the function, remove the oven racks and hit the self-cleaning button on your oven.
The oven door will lock and heat up to around 550 degrees, burning off the stuck-on food and grease.
Once the self-cleaning cycle is finished, use a damp cloth to wipe away the white ash at the bottom of your oven. This cleaning method works well for ovens that aren't overly dirty.
If your oven has a large amount of buildup, it's a better idea to clean it manually to avoid smoke in your kitchen.
OPTION 2 - OVEN CLEANER
Another popular method for cleaning an oven is to use a chemical oven cleaner. Simply follow the instructions on the back of the bottle to use this oven-cleaning method.
A store-bought cleaner is the easiest and fastest method of cleaning your oven, especially if it has a significant amount of grime inside.
Option 3 - VINEGAR AND BAKING SODA
If you prefer a more natural oven-cleaning solution, you can also clean the inside of your oven with a combination of vinegar and baking soda. However, this method takes longer than using the self-cleaning function or store-bought oven cleaner.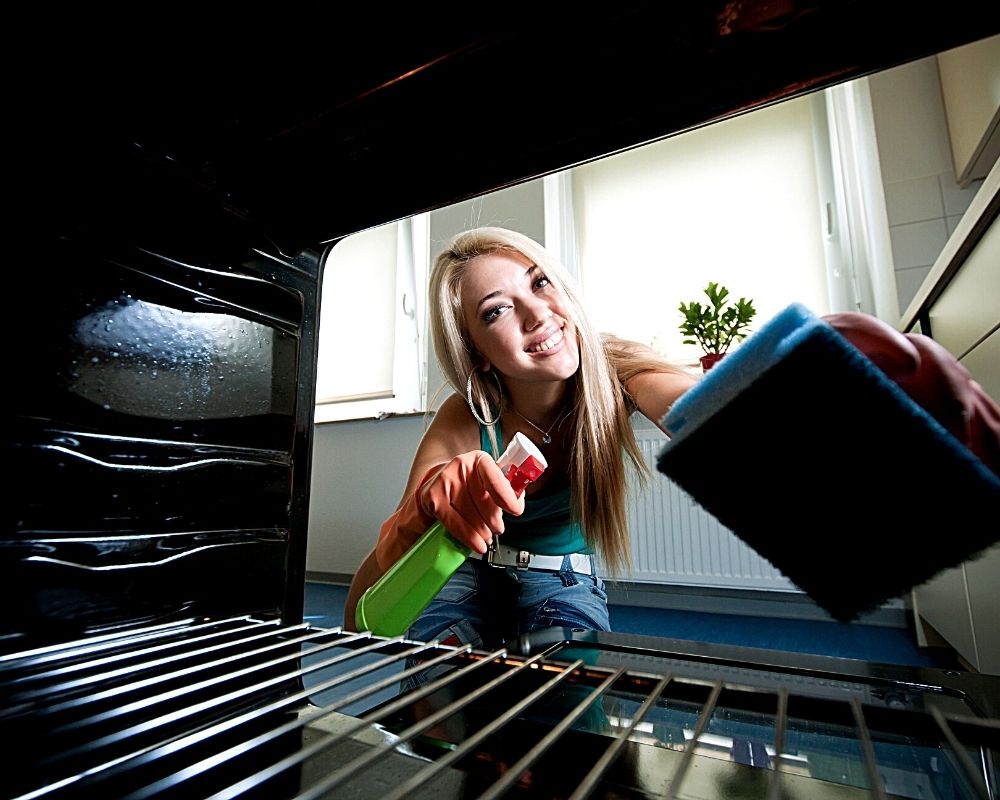 How to Clean Your Oven Naturally
Although a commercial oven cleaner is a fast way to get your appliance clean, it does come with potentially harmful chemicals and a strong odor. If you prefer a more natural and safe cleaning method, combining baking soda and vinegar is a good DIY alternative.
To clean your oven naturally, you'll need:
Rubber cleaning gloves to protect your hands as you clean
Old towels or newspaper to cover the floor around the oven
Baking soda
Vinegar
Water
Spray bottle
Damp cloth or sponge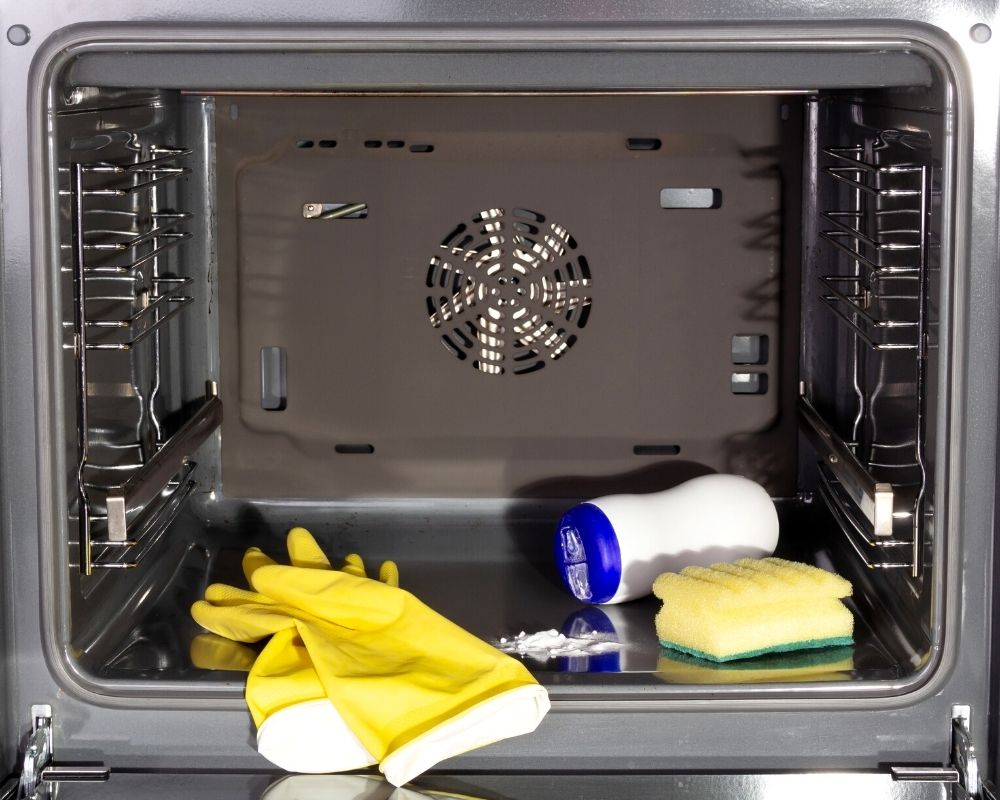 Clean Your Oven Naturally In 5 Easy Steps
Start by removing the racks and other removable pieces from inside your oven. Then, spread a layer of newspapers or old towels on the floor to protect it from debris and the cleaning solution.
Make the cleaning solution by combining ½ cup of baking soda with two to three tablespoons of water in a bowl. Stir the ingredients together to form a paste.
While wearing your gloves, use your fingers to spread the baking soda paste all over the inside of your oven, covering the sides, bottom, top, and inside of the door. Avoid spreading the paste on the heating element or the areas where the gas comes into the oven. Close the oven door and allow the baking soda paste to sit in your oven for 10 to 12 hours.
As the baking soda paste is soaking inside your oven, you can clean your oven racks. Place the racks in your kitchen sink or bathtub and sprinkle baking soda all over them. Pour vinegar over the top of the baking soda to create a foam. After the mixture has stopped foaming, place a stopper in the drain and cover the racks with hot water. Allow the racks to soak in the water for 10 to 12 hours.
When the soaking time is up, fill a small spray bottle with vinegar and put your gloves back on. Use a damp cleaning cloth or sponge to wipe the baking soda paste off the interior of your oven. If you notice the mixture is stuck to a spot in your oven, spray the location with vinegar and allow the mixture to foam. When the foaming stops, use the cleaning cloth to wipe the foam away. Continue wiping and scrubbing until you remove all the baking soda.
Drain the water from the sink where your racks are soaking and use a microfiber cloth or sponge to wipe the racks clean. Dry the clean racks and return them to your oven.
Finally, after cleaning the inside of your oven, you can use a damp cleaning cloth to wipe down the exterior door of the oven to finish the job.
Here is a simple video on how to clean your oven with baking soda and vinegar.
How often should I clean my oven?
There is really no set time limit for cleaning your oven. How often your oven needs cleaning will depend on how much you cook and the types of recipes you make. That means you'll need to use the inside of your oven as a guide to know when it's time to give it a deep cleaning.
Here are the main signs it needs cleaning:
Visible residue: If you notice crust or residue on the bottom of the oven or the oven door, it's probably time to deep clean it.
Smell: Another sign your oven needs cleaning is if you notice a burning smell every time you turn it on. The stuck-on food or grease inside your oven will begin to burn as it heats up, causing a distinct smell that will let you know when it's time to clean.
Smoke: Significant buildup inside your oven will eventually begin to smoke as the oven heats up. If you notice smoke coming from your oven, it's definitely time to give it a good cleaning.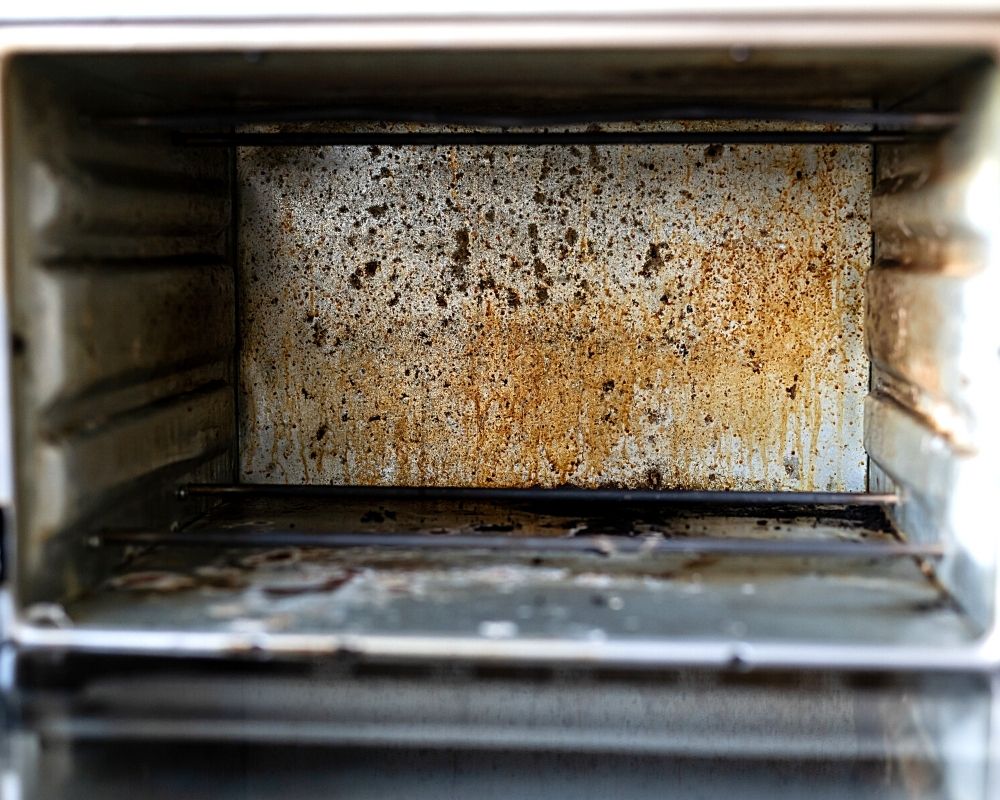 It's best to take the time to clean your oven as soon as visible residue appears to make the cleaning process more manageable. For regular bakers and cooks, cleaning should take place every three months.
Cooks who don't use their ovens as often can typically wait six months between deep cleanings.
Other Home Cleaning Guides
How to Clean Your BBQ Grill
How to Clean Your Baseboards and Trim
How to Clean Your Refrigerator in 15 Minutes
Keep in Touch!
You can FOLLOW US on FACEBOOK, TWITTER, INSTAGRAM, and PINTEREST to see more delicious food, fun crafts, home tips, + DIYs!