Try these no-bake Christmas candy and treat recipes to add a dash of festive magic to your holiday season. From creamy fudge to melt-in-your-mouth truffles, these easy, no-bake sweets will make your Christmas extra special.
We have the best Christmas Treats for kids, too!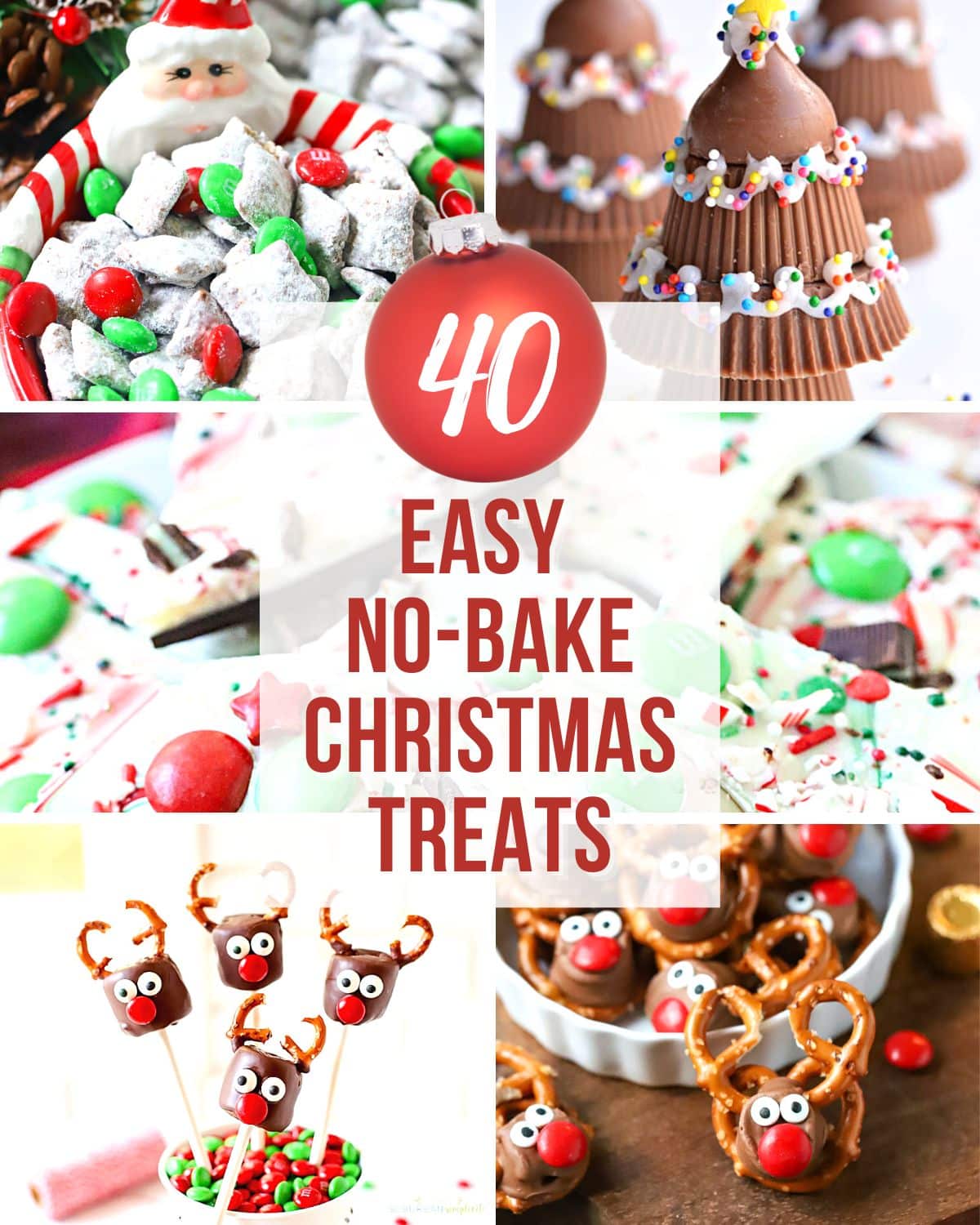 We're all about easy during the holidays. These no-bake Christmas desserts are easy to make and a great way to enjoy the holiday season without spending all your time in the kitchen.
They're also wonderful additions to your cookie tray or the perfect activity to keep the kids busy.
If we are doing any Christmas baking, we turn the oven on to make Christmas Crack, a tradition at our house.
Jump to:
Peppermint Recipes
Layers of white chocolate and dark chocolate infused with peppermint extract and topped with crushed candy canes, this classic treat is so simple to make and perfect for the holidays.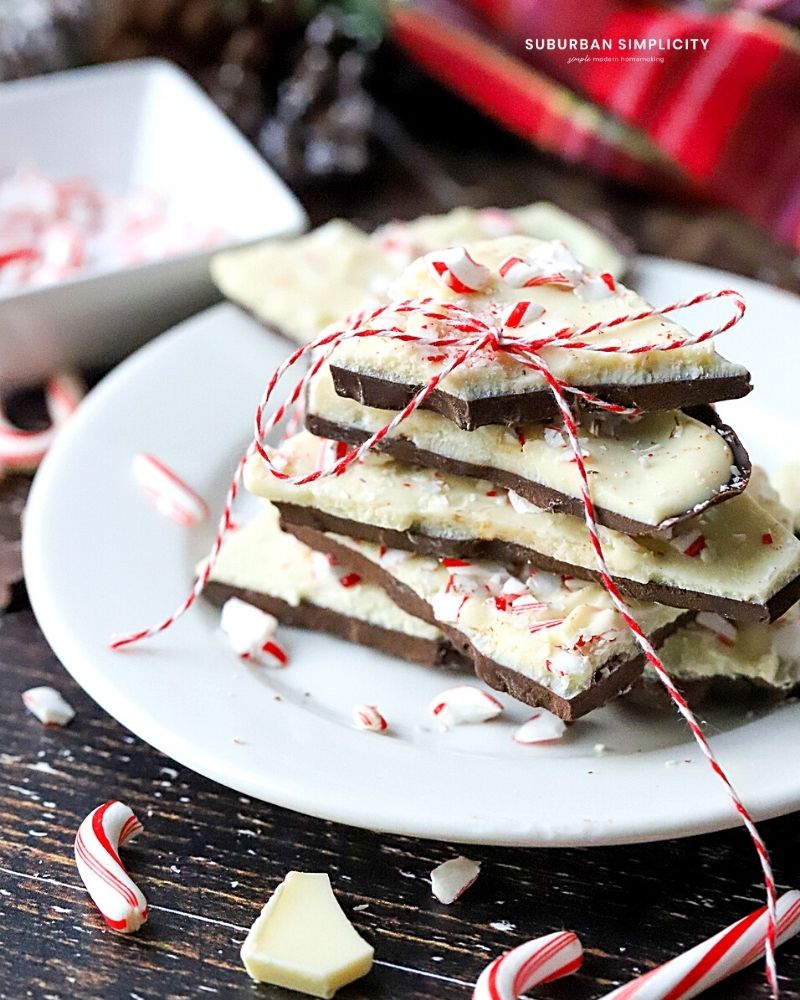 These soft, fluffy, springy peppermint marshmallows make the perfect edible gifts for Christmas. And they pair perfectly with a cozy mug of hot chocolate!
No-Bake Peppermint Cookies: The perfect Christmas candy treat! Made with vanilla wafers and Andes Mints, these festive sweets are incredibly easy to whip together—the go-to dessert for any holiday gathering.
Peppermint Truffles:
Vegan Peppermint Bark: This peppermint bark is made with dairy-free chocolate so the whole family can enjoy it! It's super easy to make and a wonderful kid-friendly treat.
Salty & Sweet Recipes
Yep, it's one of our most popular Christmas candy recipes- and for good reason! Reindeer Chow (Muddy Buddies) has a salty-sweet taste and a nice crunch. It contains chocolate and peanut butter; you can make this delicious treat in 5 minutes!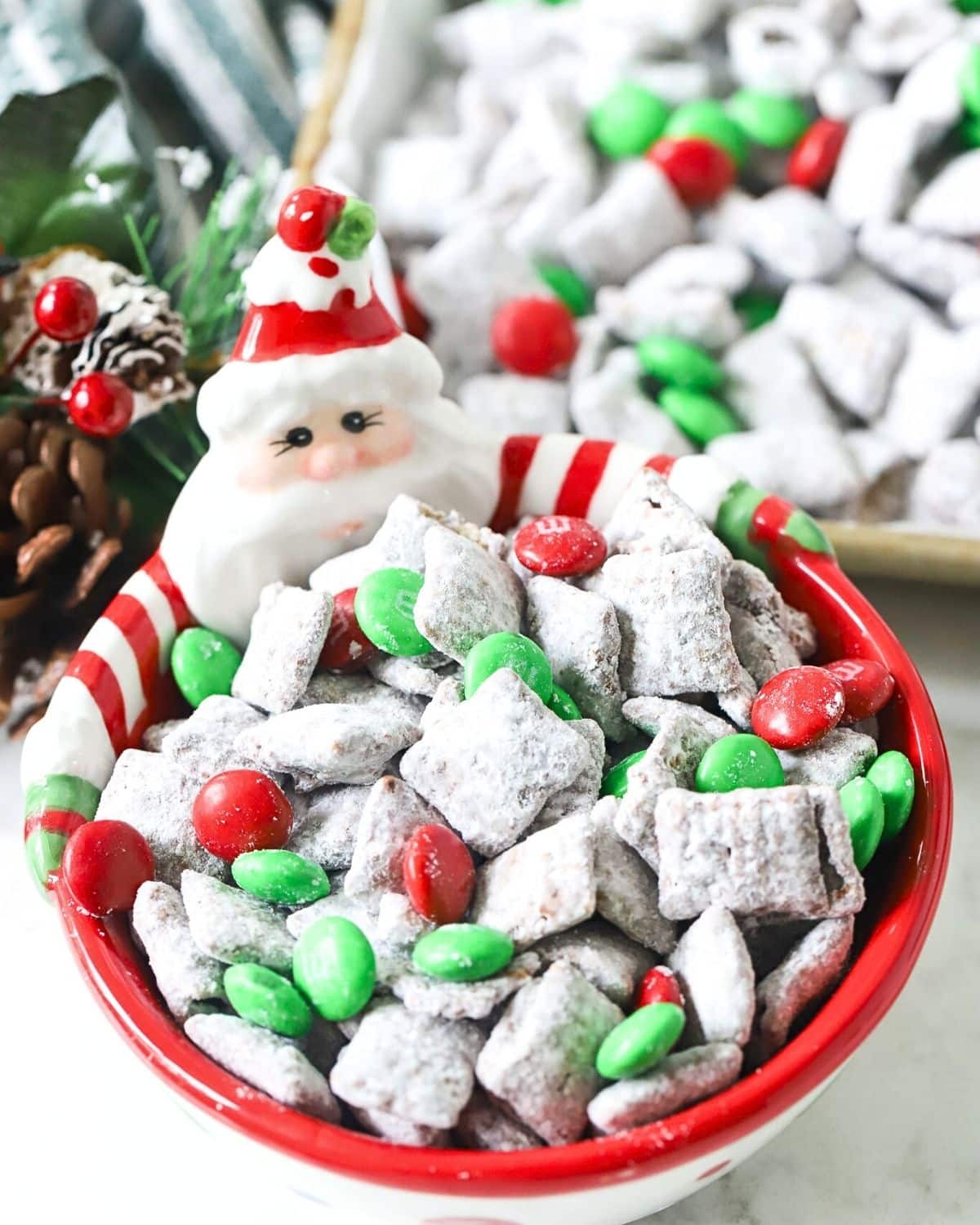 Christmas Pretzels: Making Christmas Pretzels is fun for the whole family! These pretty treats make great snacks or gifts.
Salted Chocolate and Caramel Pretzel Bars: These simple, 4-ingredient bars will quickly become your new favorite sweet and salty treat!
Christmas Popcorn Mix: This easy chocolate-covered party mix is ready to fuel you through your next Hallmark movie binge or holiday playlist on repeat.
Christmas Themed Treat Recipes
These delightful Christmas kabobs- bursting with festive colors and natural sweetness- feature a merry mix of fresh, juicy fruits adorably arranged to capture the spirit of the season. A health-conscious addition to your Christmas spread, these kabobs are no-fuss, no-bake treats perfect for the classroom or office.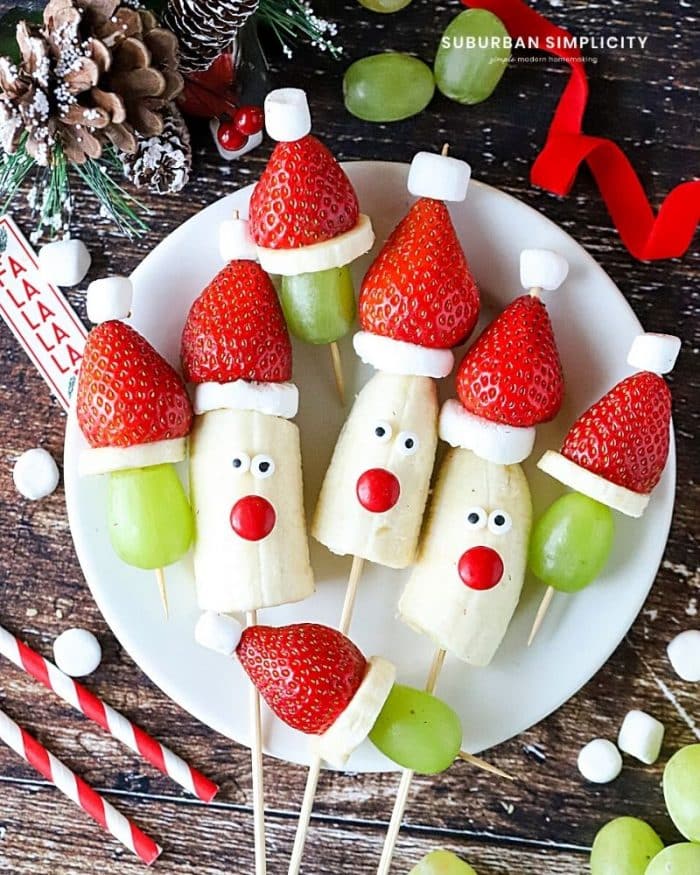 These adorable reindeer treats feature a perfect medley of salty pretzels, gooey Rolo caramel, and festive M&Ms, all adorned with edible eyes and pretzel antlers. Easy to make and impossible to resist, these sweet and salty delights add a touch of cheery whimsy to your Christmas season. Plus, they easily travel.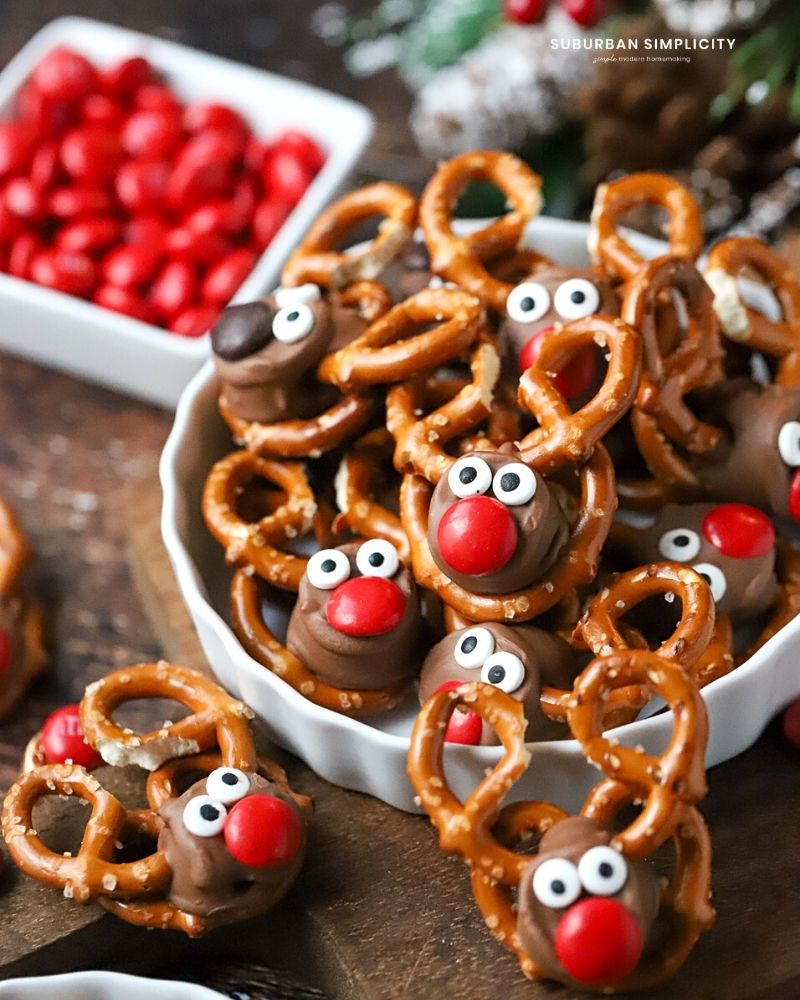 Craft holiday magic with our Chocolate Covered Marshmallow Reindeer! Transform simple marshmallows into adorable reindeer characters dipped in smooth, luscious chocolate. This festive treat is a delightful blend of whimsy and sweetness, perfect for spreading cheer at your holiday gatherings.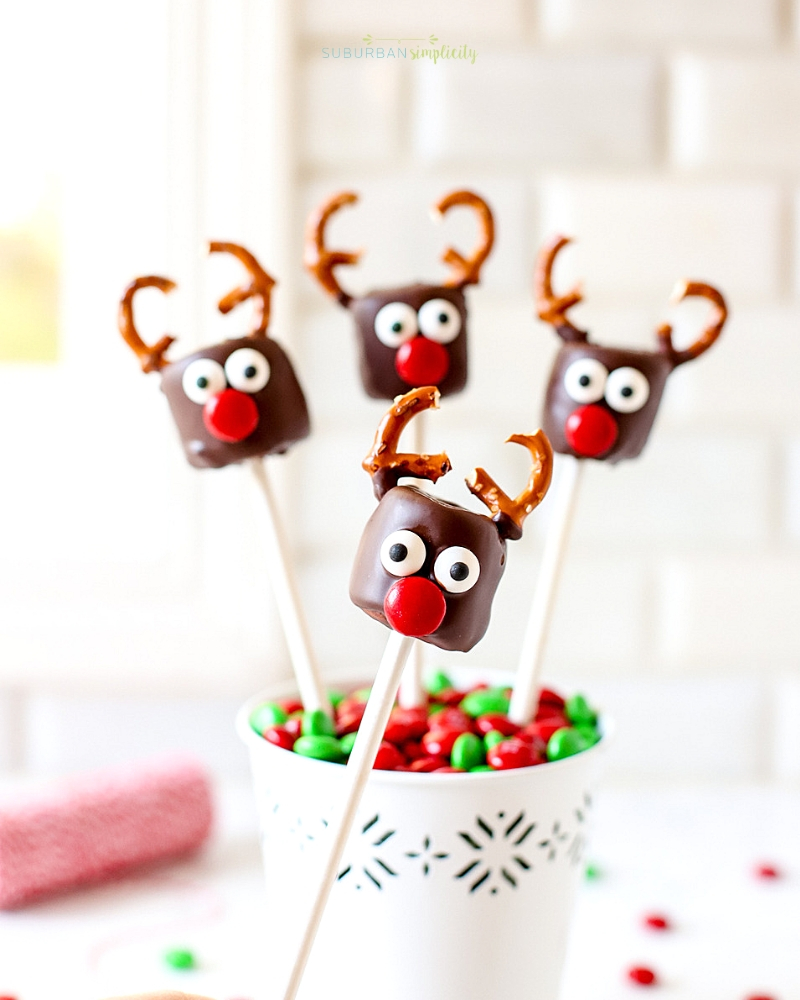 Chocolate & Peanut Butter Recipes
Simple, quick, and irresistibly delicious—discover the perfect blend of sweet and salty with our no-bake chocolate-covered Ritz cookies. These are the perfect holiday dessert. They offer a harmonious balance of crisp Ritz crackers filled with creamy peanut butter and dipped in smooth, decadent chocolate.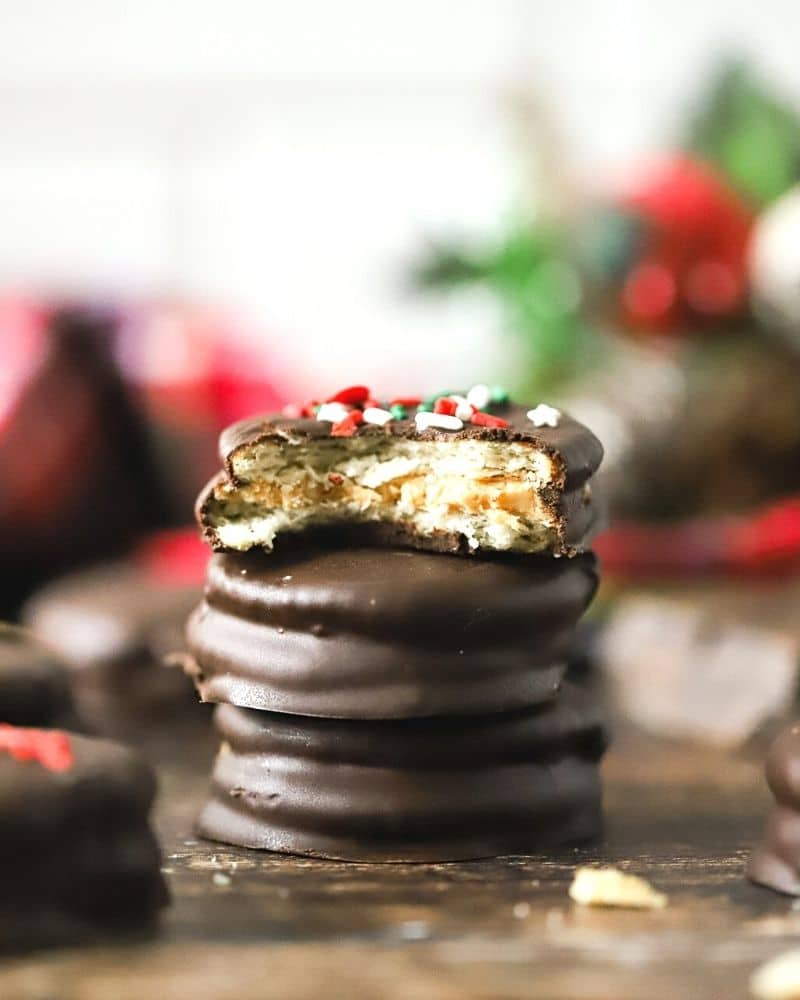 These festive treats are perfect for Christmas parties. They combine Reese's peanut butter cups' iconic peanut butter and chocolate goodness with whimsical holiday charm. Shaped like an adorable reindeer, each bite is a joyful celebration of flavor and fun. Perfect for gifting, sharing, or simply savoring the holiday spirit.
This is one of our favorite sweet treats! Our no-bake crockpot homemade candy is a celebration of convenience and flavor, carefully crafted to elevate your Christmas dessert tray. Let your slow cooker do the work for this large-batch chocolate candy, which is wonderful for gifting.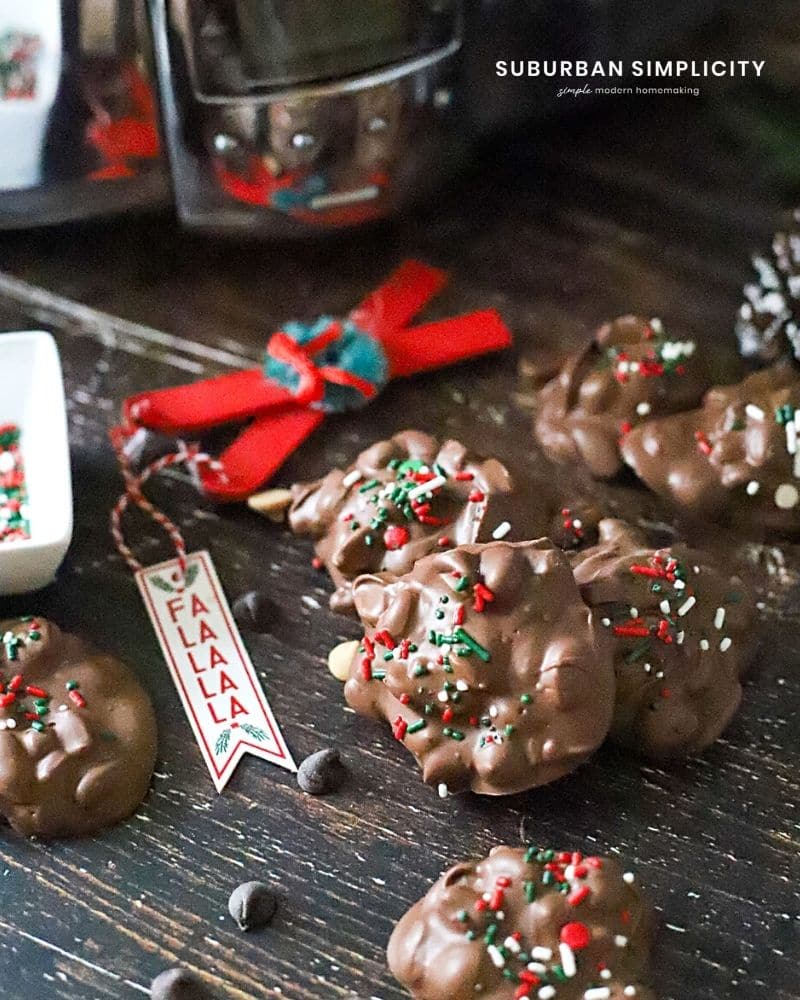 Buckeye Candy Recipe
Everyone loves this classic Buckeye Candy with smooth, creamy chocolate covering peanut butter balls. You can use dark, semisweet, or milk chocolate. We like taking them to cookie exchanges because everyone raves about them! Definitely add this to your recipe box!
Chocolate peanut butter pretzel bark with peanut butter cups is a crunchy, sweet, and salty homemade Christmas candy that perfectly complements your cookie tray.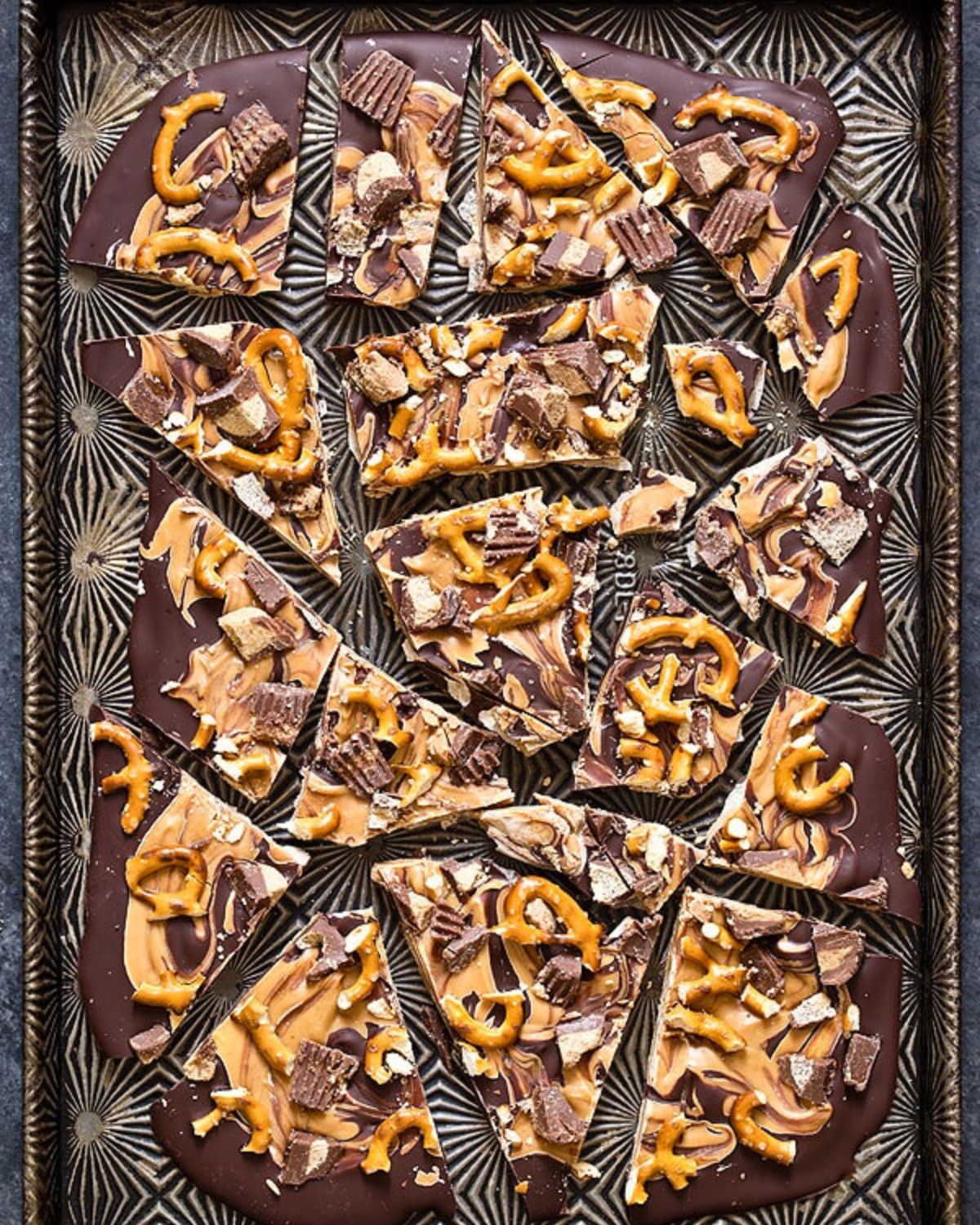 Fudge Recipes
You use simple ingredients to make this microwave fudge. It turns out creamy every time! This no-bake holiday treat is a quick and easy way to satisfy your sweet cravings. Smooth, rich, and made with love, our no-bake Christmas fudge is totally worth it!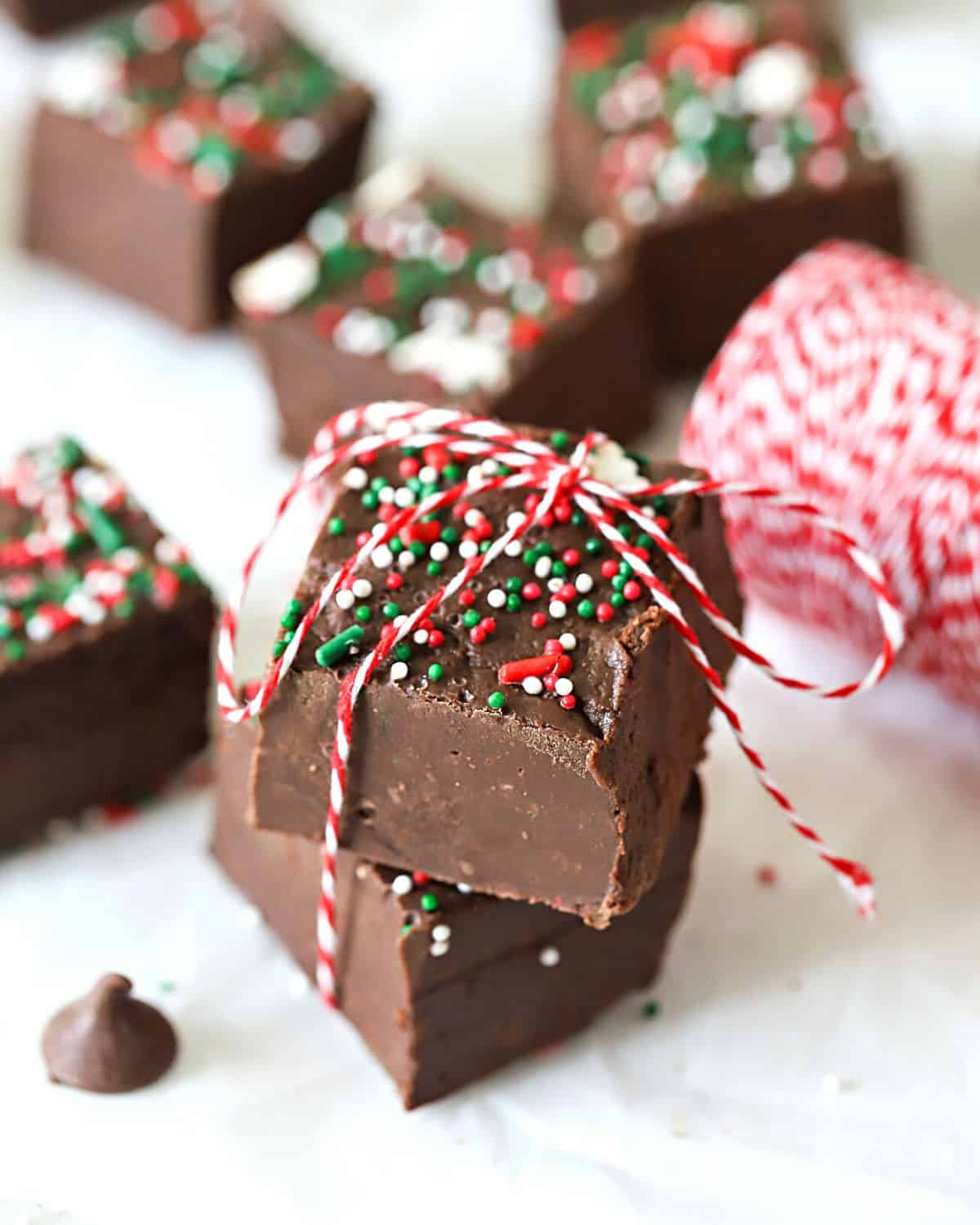 This easy chocolate peanut butter fudge is perfect for a holiday treat. You can enjoy a delicious, crave-worthy fudge recipe with only a few ingredients. It's really the perfect dessert!
This incredible treat combines rich melted chocolate and vibrant holiday candies in one addictive recipe. Quick and easy to make, it's the ideal sweet surprise for your holiday gatherings.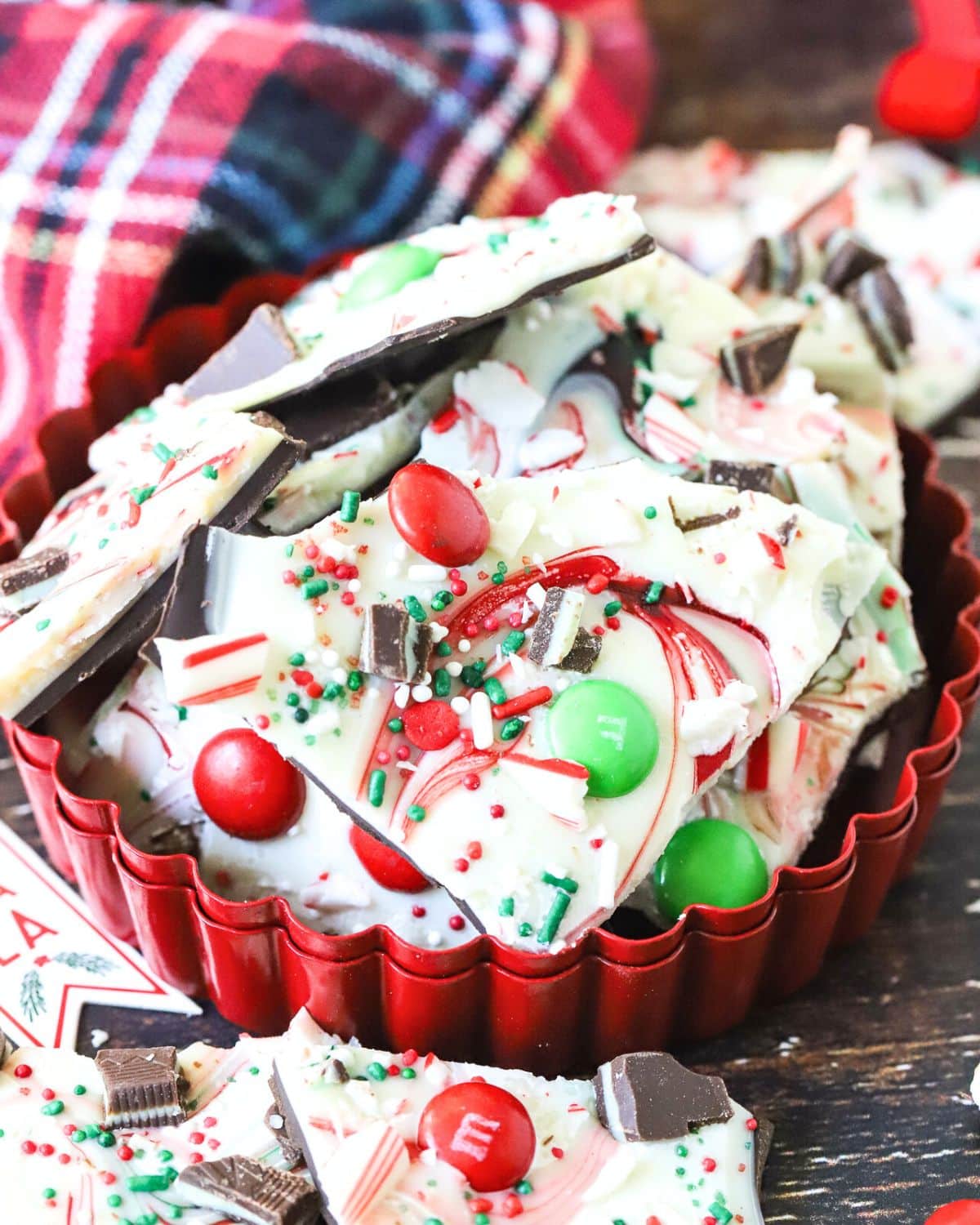 No-Bake Cookie Cookies
Capture some joy this season with our delightful semi-homemade Christmas cookies! Transform your holiday celebrations with our easily made reindeer, wreath, and snowman cookies that taste divine and bring a festive touch to your table.
Truffles Recipes
These Christmas Coffee Truffles look so professional that no one will believe you made them yourself! Plus, they taste just as good, if not better, than store-bought chocolates!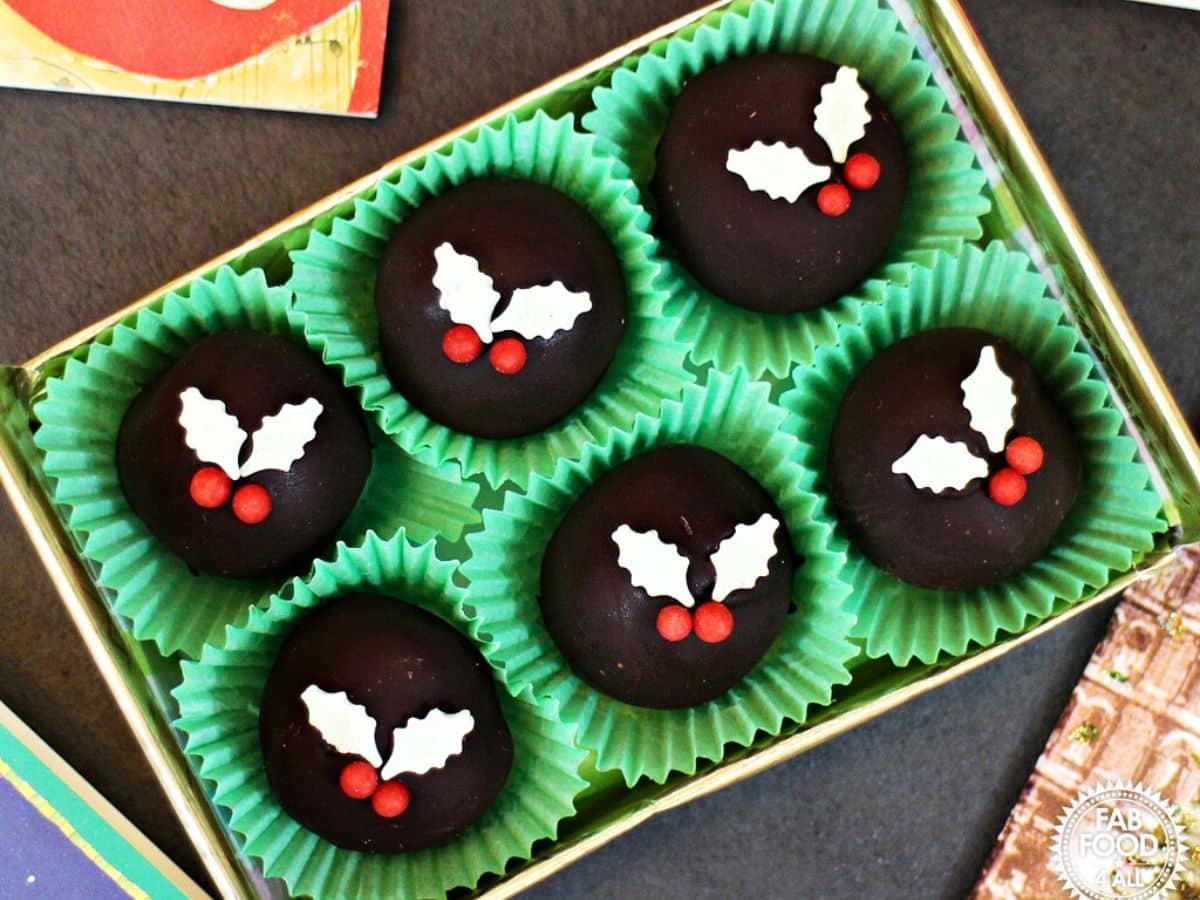 No-Bake Christmas Treats FAQs
Can I make no-bake treats in advance?
Most of these candies and treats, like Reindeer Chow, Peppermint Bark, Truffles, and Fudge, can be made ahead and stored in an airtight container until you're ready to serve.
How to store Christmas treats
Most of these easy Christmas treats can be stored in an airtight container at room temperature. However, if they contain dairy, store them in the fridge.
What are some creative packaging ideas for gifting no-bake treats?
A popular way to gift your no-bake treats is in cellophane and tie them with baker's twine or ribbon. You can also use a festive tissue-filled cookie tin or box for your Christmas candies. Twine-wrapped parchment paper is good for fudge or brittle. Tied plastic bags work well for Reindeer Chow or other loose candy.
Whether you're making classic fudge, delicious truffles, or one of our festive no-bake creations, these Christmas candy recipes will help you create delightful, stress-free, and easy holiday treats that your friends and family will love.
HUNGRY FOR MORE? FOLLOW US on FACEBOOK, TWITTER, INSTAGRAM, and PINTEREST to see more delicious food and home tips!