Your step-by-step guide for How to Do Laundry the right way. This simple process walks you through sorting clothes to washing and drying.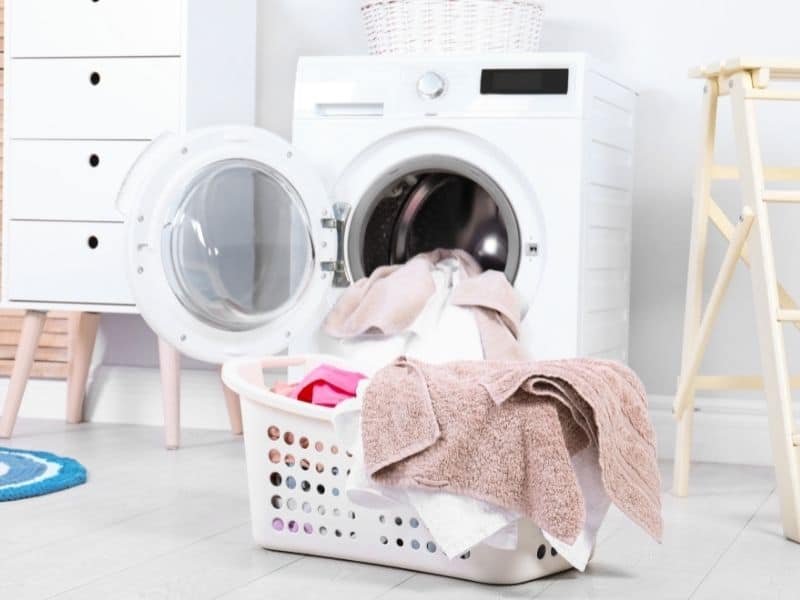 Laundry is one of those never-ending chores that can make even the best homemaker feel overwhelmed. But tackling that pile of dirty clothes isn't all that difficult if you know what you're doing and get in a rhythm.
With the help of these simple tips and tricks, you can learn how to do laundry once and for all easily & efficiently or teach your kids to do it!
Follow this step-by-step guide to learn everything you need to know about doing laundry.
How to Wash Clothes
Believe it or not, doing laundry is a little more complicated than simply tossing your dirty clothes in the washing machine.
To ensure your clothing looks fantastic after every wash, you should follow a few simple guidelines on laundry day.
How to Sort Laundry
One of the most important steps for correctly doing your laundry is sorting. There are a few different laundry sorting methods you can use, including sorting by:
Color

. The first step to washing your clothing is to sort your laundry by color. You should sort your clothing and linens into three color categories: whites, darks, and colors. To sort by color, simply make three piles. Put all the white clothing and linens in one pile. All the dark laundry (blacks, browns, and grays) will go in a separate pile. And all other colors can go in a third pile.

Fabric type

. After sorting your laundry by color, it's also a good idea to sort by fabric. Checking the label on your clothing will help you determine which fabrics you wash together. Cotton clothing can be washed in a regular cycle, while more delicate fabrics, like linen, should be washed on a delicate or permanent press cycle. Taking the time to sort your fabrics can ensure you wash each type of fabric correctly.

Soil level

. Another sorting method to consider is the soil level of your clothing. It's a good idea to wash heavily soiled, muddy, or stained clothing separately to prevent damage to the rest of the clothing in the load.

Size

. To keep your loads from being too big or too small, it's also important to sort your clothing by size. Oversized items, like blankets, should be washed separately. In contrast, you can group smaller items into one load.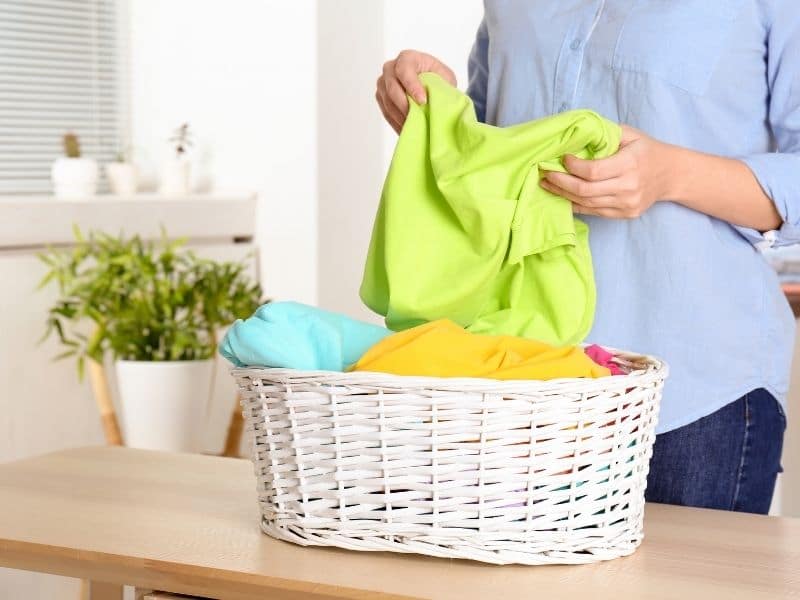 Should I turn my clothes inside out when washing?
Clothing that tends to fade or retain oder will benefit from being washed inside out. Dark jeans for example, workout clothes and dark T-shirts should all be washed inside out.
Using the Washer
After you sort your laundry, take the time to inspect the clothing—Pretreat noticeable stains by lightly blotting stain remover on the spot before adding it to the washing machine.
Place the load in the washer and add detergent according to the instructions on your washing machine. Check the label on your detergent to see how much detergent to add to the machine. If using bleach or fabric softener, add it to the load according to your machine's settings.
Washer Settings
Select the washer setting based on the type of fabric in your load. Follow these guidelines to help you determine which setting to use:
Normal or regular setting: sturdy fabrics, like jeans, cotton clothing, and towels that are moderately or heavily soiled
Permanent press: clothing that is prone to wrinkling, like blouses, dress pants, linen, and rayon
Delicate: fine fabrics, like lingerie and pantyhose, or clothing with delicate embellishments, like beads, sequins, or embroidery
How to Dry Clothes
After your wash load is complete, it's time to dry your clothes.
Air drying your clothing is a great way to keep the fabric's shape and color. You should lay clothing like sweaters and lingerie flat to dry. Other fabrics can be placed in the dryer to dry.
Before placing your clothing in the dryer, make sure to clean the lint trap of debris. Then, transfer the clothes to the dryer and select the correct setting based on the fabric type:
Regular setting: sturdy fabrics, like jeans, and thicker items, like towels and blankets
Permanent press: fabrics prone to wrinkles and sheets
Delicate or tumble dry: fine and delicate fabrics and fabrics prone to shrinking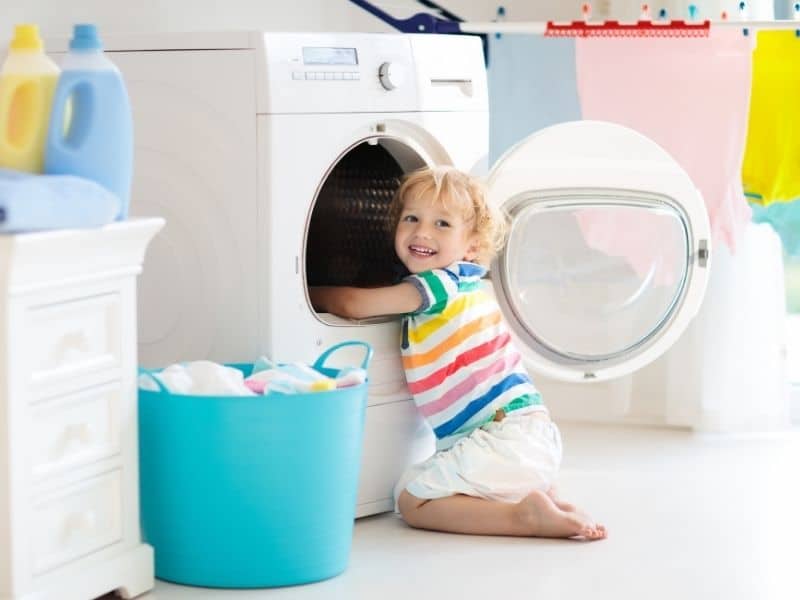 Laundry Tips and Tricks
Knowing the basics of doing laundry is the first step to getting your clothing clean. And with these laundry tips and tricks, you'll be on your way to fresh and clean clothes every time you do the wash.
Don't put your detergent directly on your clothing. When adding detergent to your washer, make sure to use the detergent dispenser in a front-loading machine. Or wait to add your detergent after the basin is filled with water in a top-loading machine. This will help more evenly distribute the detergent throughout the load.
Don't overload the washer or dryer. Filling your washer or dryer too full will result in less than clean and overly wrinkled clothing. Follow the guidelines for your machine to avoid over-filling your washer and dryer.
Fold or hang your clothing immediately out of the dryer. This helps big time! To help avoid the need to iron your clothing, take the time to fold or hang your clean clothes immediately after they come out of the dryer.
Close zippers and snaps before washing. When washing clothing with zippers, like jeans, and snaps, like bras, make sure to close them before adding them to the washer. Zippers and snaps can cause damage to the other clothing in the washer.
Tip: To save money around the house, you should do full loads of laundry, just don't overfill the washer.
More Household Cleaning Guides
How to Clean your BBQ Grill
How to Clean Your Dishwasher
Best Way to Clean Baseboards and Trim
How to Clean Your Oven
How to Clean Your Refrigerator
How Do You Make Clothes Smell Good?
Making your clothes smell good is probably a top priority when it comes to doing laundry. Luckily, there are a few simple steps you can take to make sure your clothing smells amazing when it comes out of the dryer.
Keep your washer clean. One of the best ways to ensure your clothing gets clean and fresh every time you wash it is to make sure your washing machine is clean. Take the time to do proper maintenance and cleaning your washer to keep it from getting dirty and smelly.
Transfer the clothes to the dryer immediately. The longer your clothing sits wet in the washer, the bigger the chances that mildew will start to grow. To ensure your clothes stay mildew-free, transfer them to the dryer immediately after the wash cycle finishes.
Use fabric softener or scent boosters. Adding fabric softeners or in-wash scent boosters is a great way to add scent to your clothes. Follow the instructions on the bottle to enhance the smell of your laundry while it washes.
Add dryer sheets. Another simple way to add a fresh smell to your laundry is to place a dryer sheet with the load while it dries.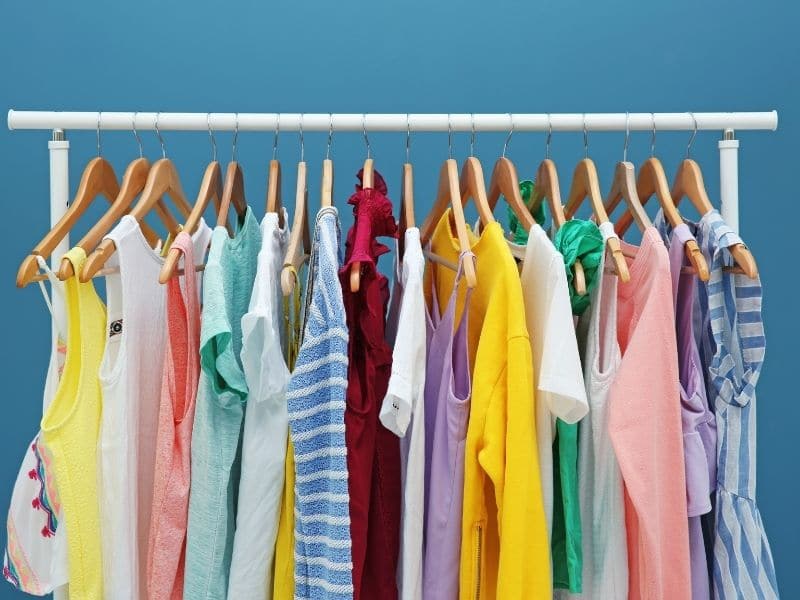 You can FOLLOW US on FACEBOOK, TWITTER, INSTAGRAM, and PINTEREST to see more delicious food, fun crafts, home tips, + DIYs!