Check out our tips for How to Cook Bacon in the Oven! This is a perfect way to cut back on time in the kitchen and the mess and smell cooking bacon can create. Make sure to check out the tips below.
Bacon is wonderful for our Crockpot Crack Chicken recipe!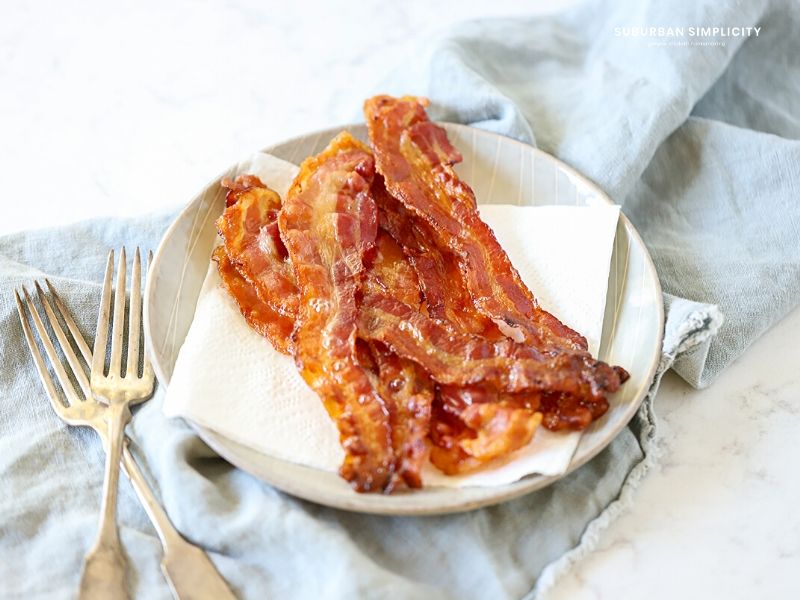 Why Should I Know How to Cook Bacon In the Oven?
Crispy Bacon is one of the best ingredients you will use in your regular cooking routine, but it is also one of the messiest to prepare. By cooking it in the oven, you are saving yourself a ton of frustration.
We love this method as it means we can cook all of the bacon we need in one easy method without going back and forth in a skillet.
Of course, the biggest reason for using this method, in our opinion, is the lack of a mess.
Plus, it helps keep the smell from getting all over the house!
Sure, you still have one pan to clean, but you aren't going to have the layers of grease splatters to clean up in your kitchen after you cook bacon. That alone is a great reason to know how to cook bacon in the oven.
Do I need to Flip the Bacon While Baking?
No! That's the beauty of this recipe! Just place it in a baking pan and into the oven to bake, and then set a timer. No flipping required.
In less than 20-minutes, you have crispy, oh, so delicious bacon ready to eat. It's always cooked evenly, too!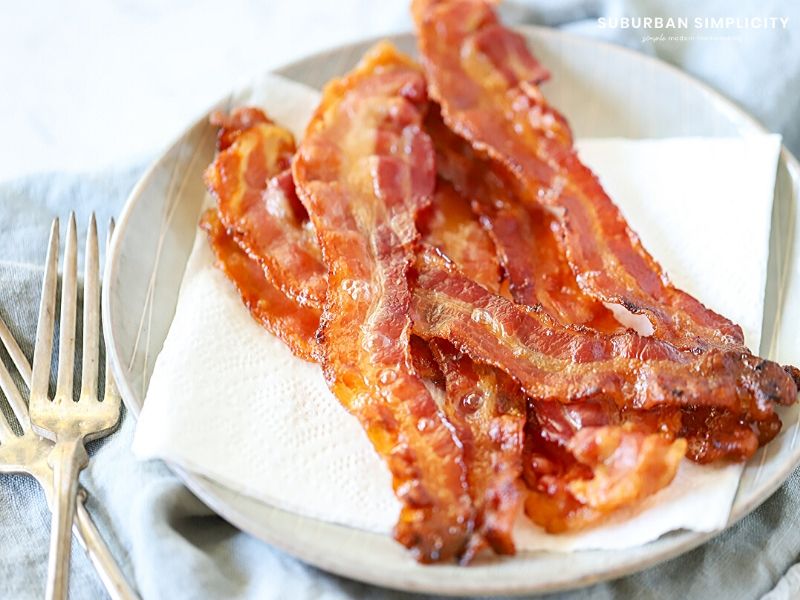 How to Store Cooked Bacon
When we cook bacon in large batches like this in the oven, it is typically going to be used for a few recipes or meals right away.
However, we have ended up making extra batches that we knew wouldn't be used right away. So, we have some tips for storing cooked bacon.
First, once it is cooked and cooled, we like to place it on paper towels and inside a reusable storage container or large plastic baggie to put into the refrigerator. This is good for up to 5 days when refrigerated.
If you have extra, do the same thing, but place it in the freezer in a labeled and dated bag or freezer-safe container for up to 3 months. Make sure you use our Tips to Prevent Freezer Burn.
When ready to eat, just pull out and heat through in the microwave in 30-second increments until piping hot.
How to Clean Your Baking Sheet After Cooking
When cooking bacon in the oven, you will have less mess, but there is still some mess involved. Our method is to line the baking sheet, so once it is out of the oven and cooled, you can pull that liner off and throw it away.
This method is not one in which you would save the bacon grease for other recipes. So, remove the bacon from the pan, let the pan and excess grease cool, and then remove the foil or parchment paper and throw it away.
Before adding the baking sheet to the dishwasher or to the sink to wash, we will use paper towels to wipe off as much excess grease residue as possible, so it cleans well without causing other dishes to have a greasy film.
More Bacon Recipes You'll Love
Bacon is the cornerstone of many of our favorite recipes. Besides basic bacon and eggs for breakfast, below, you will find some more recipes that are ideal for using this new method to cook bacon in the oven.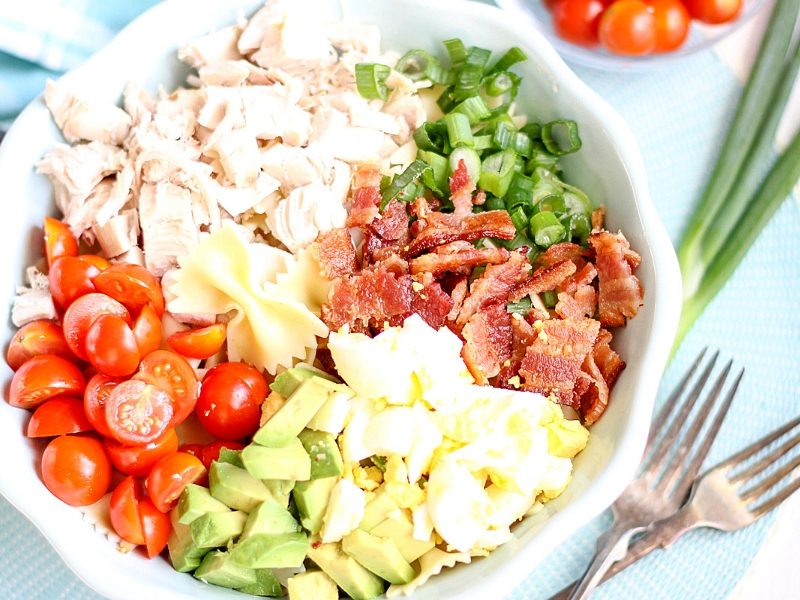 Tips for Cooking Bacon in the Oven
Sweeten it Up - If you like sweet and salty bacon, brush a little of real maple syrup on each slice, or even a small sprinkling of brown sugar.
How to Store - Cooked bacon is good kept in an airtight container in the refrigerator for about 1 week. 
How to Reheat - To reheat bacon slices, wrap in a paper towel and heat in the microwave for approximately 15 seconds. 
How to Feed a Crowd - Cooking bacon in the oven is the perfect way to prepare a large batch to feed a crowd.
Watch It The First Time - Cooking times vary for each oven, so make sure to watch your bacon to get it to your preferred crispiness.
For Crispier Bacon - An alternative method for even crispier bacon is to place a metal rack on the parchment paper for the bacon to sit on while it's cooking. However, we find our bacon comes out perfect without it.
What the Best Temperature to Cook Bacon
We find the best temperature to cook bacon in the oven in 400 degrees Fahrenheit. This allows it to get nice and crisp but not to burn around the edges.
How to Cook Bacon in the Oven
This method of cooking bacon will become your go-to choice when meal planning!
Step 1
Line a baking sheet with parchment paper or aluminum foil.
Step 2
Lay bacon slices in an even layer over the lined baking sheet. These can be placed right next to each other but not overlapping.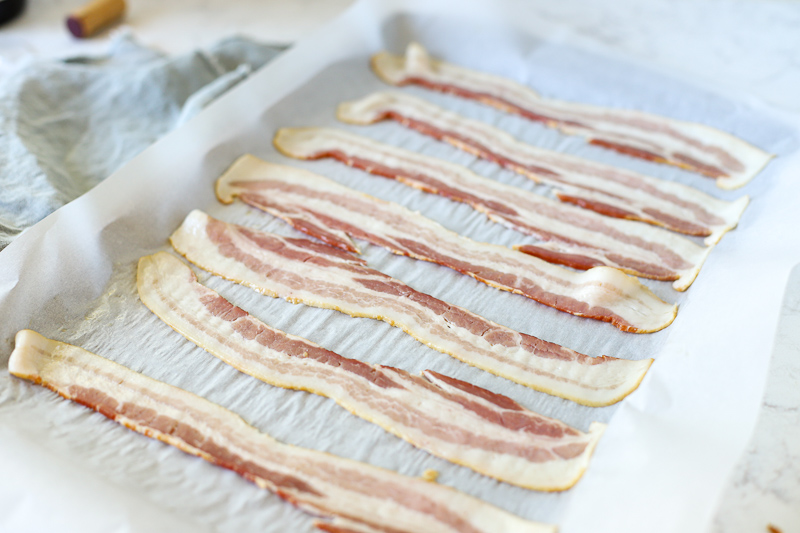 Step 3
Cook for 18-22 minutes as directed, or until the crispness level, you prefer.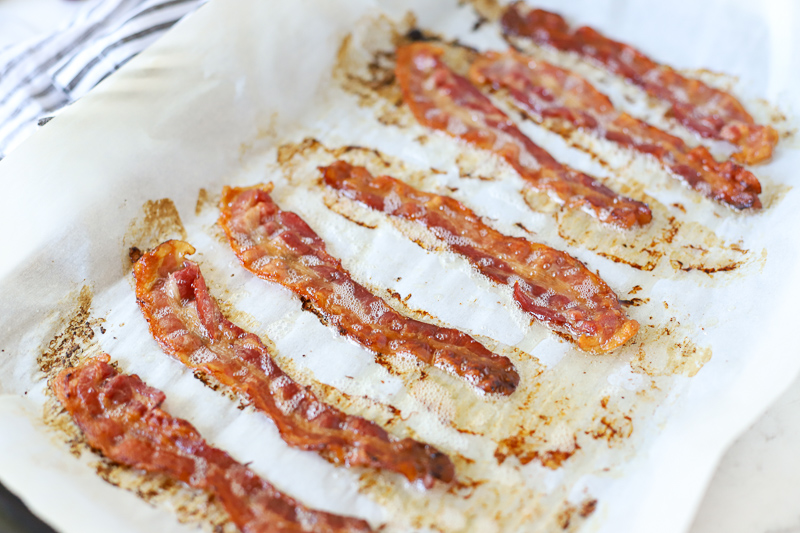 Step 4
Remove the pan from oven and allow to cool, draining on paper or paper towels on a plate.
Step 5
Follow directions above for cleanup and enjoy bacon in your favorite recipe.
Share This Recipe With Others
If you try this method for Cooking Bacon in the Oven or any other recipe on Suburban Simplicity, then don't forget to rate the recipe and let us know how it went in the comments below; we love hearing from you! Better yet, use the hashtag #suburbansimplicity if you make the recipe.
You can also FOLLOW US FACEBOOK, TWITTER, INSTAGRAM, and PINTEREST to see more delicious food, fun crafts + DIYs!
Printable Recipe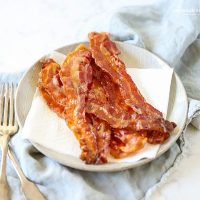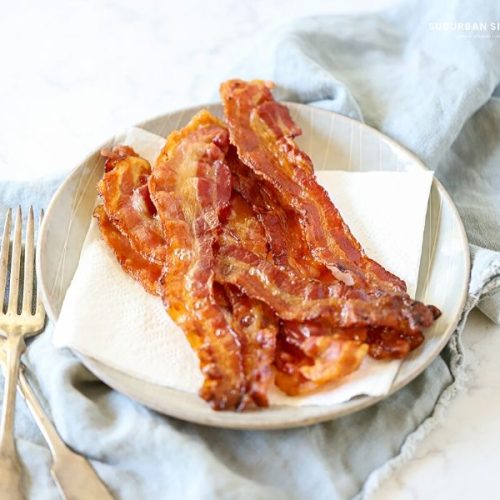 How to Cook Bacon in the Oven
Follow these simple tips for How to Cook Bacon in the Oven for less mess and a deliciously easy snack or addition to any meal!
Print
Pin
Rate
Instructions
Preheat the oven to 400 degrees F.

Line an extra-large baking sheet with parchment paper or foil for easy cleanup.

Arrange the bacon slices in a single layer in the pan. (do not overlap)

Bake for 18 to 22 minutes on the middle rack, until the bacon is done to your liking. Flip once halfway through cooking. The time will vary depending on the thickness of the bacon and how crispy you like it-so keep an eye on it.

After baking bacon in the oven, place on a paper towel-lined plate. Allow it to cool for a few minutes to get more crispy.
Notes
Cooked bacon is good kept in an airtight container in the refrigerator for about 1 week.
To reheat, wrap or cover with paper towel and heat in the microwave for approximately 15 seconds.
Nutrition
Calories:
183
kcal
|
Carbohydrates:
1
g
|
Protein:
6
g
|
Fat:
17
g
|
Saturated Fat:
6
g
|
Cholesterol:
29
mg
|
Sodium:
291
mg
|
Potassium:
87
mg
|
Vitamin A:
16
IU
|
Calcium:
2
mg
|
Iron:
1
mg