This easy and oh, so yummy DIY Sugar Cookie Sugar Scrub smells amazing and gives you naturally soft skin. It takes 5 minutes to make with simple ingredients like sugar, coconut oil, and vanilla.
It is also a wonderful gift idea. FREE printable gift tags included!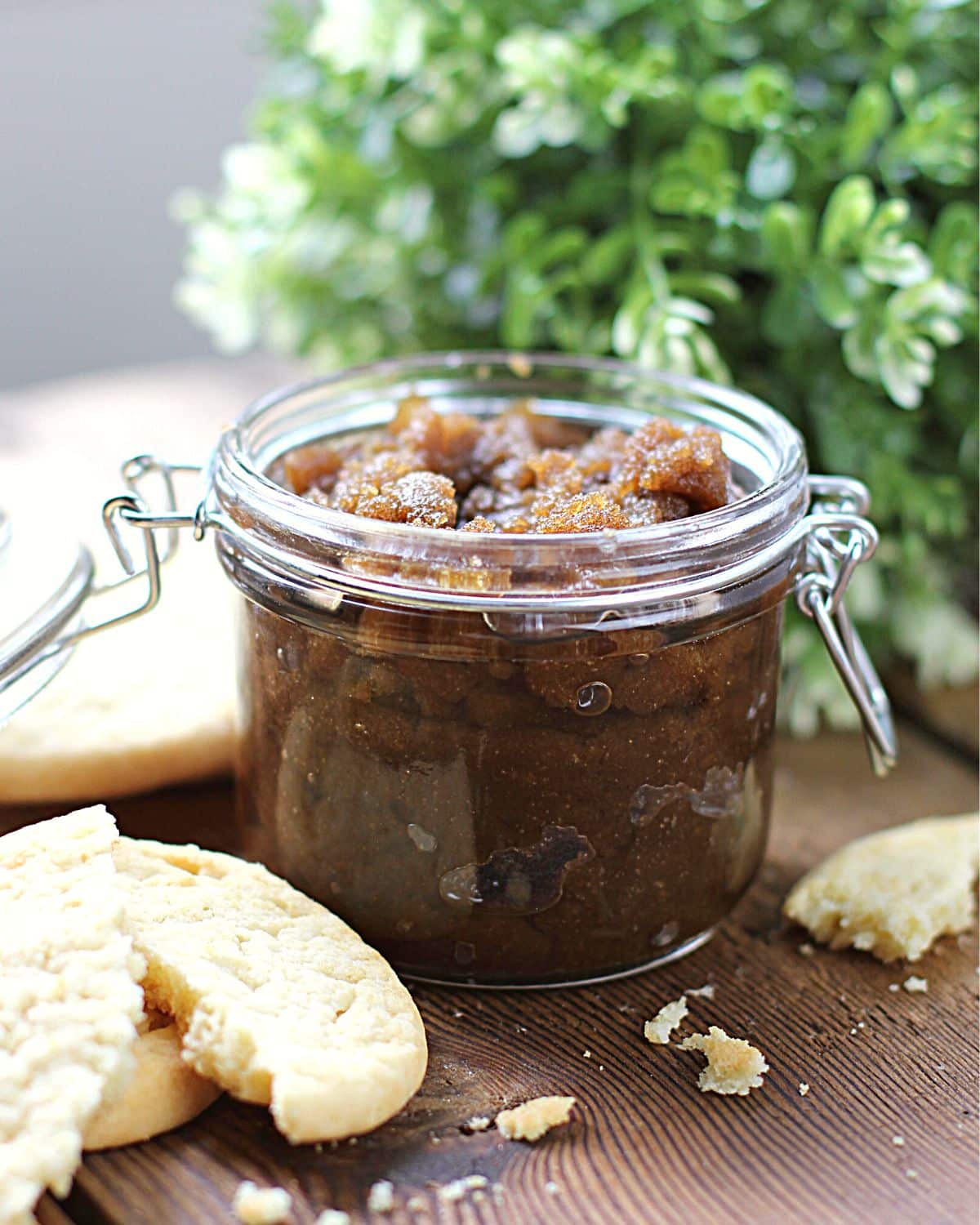 There's something so comforting about the smell of fresh-baked cookies.
You can have that cozy feeling and soft skin when you make Sugar Cookie Sugar Scrub! What is a Sugar Cookie Scrub? It's like cookie dough in a jar!
We have tons of Easy Sugar Scrub Recipes to try! We love this Gingerbread Sugar Scrub Recipe!
Jump to:
Why Make Your Own Sugar Scrub
Handmade Sugar Scrub Recipes are much less expensive to make yourself.
DIY sugar scrubs are more natural than store-bought varieties. Have you ever read the ingredient list?? Nothing that you can't pronounce here.
You probably have the ingredients in your pantry right now!
Oh, and we love the exfoliation! In the winter, it helps dry cracked skin, and in the warmer months, it helps keep feet soft and smooth and flip-flop ready. Have you ever wondered what the benefits of using a sugar scrub are?
If you want to know the benefits of a sugar scrub vs. a salt scrub, we've detailed them and when to use each for the best results.
Supplies
If you have a jar, you can most definitely make this sugar scrub recipe! We prefer to use glass jars (this is a great one) with a glass lid. Metal lids can absolutely be used but tend to rust over time.
Cute Jar (like a mason jar)
Ingredients Listed Below
Printable Gift Tags and scissors
This scrub makes a beautiful Christmas gift, so grab a couple of extra jars and some ribbon and make someone feel special with a gift!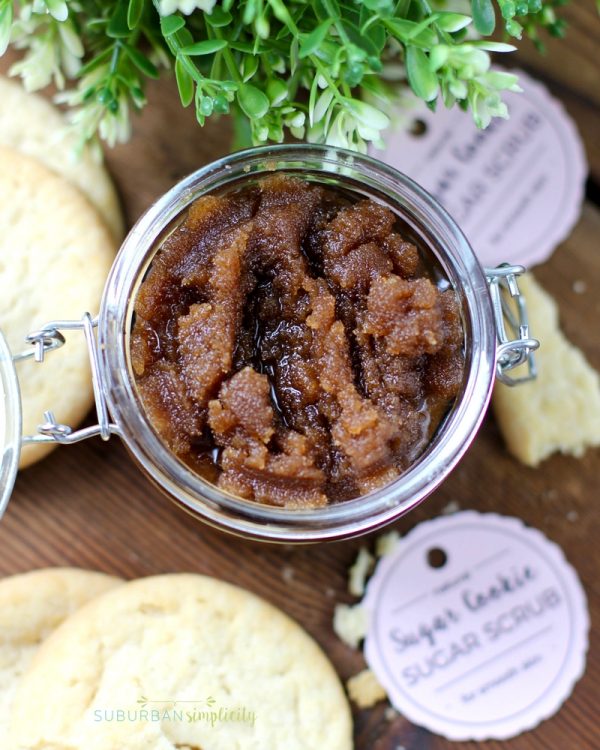 Ingredient Notes
If you make this scrub with white sugar, it makes a wonderful face scrub!
PRO TIP: Yes, you can use vanilla extract in a sugar scrub.
How to Make A Sugar Scrub
So let's get making this cookie dough sugar scrub!
Place all your ingredients in a bowl and mix them. You can add more or less oil to your liking.
Store in an airtight container. Since this recipe doesn't contain any chemical preservatives, it's best if it's used within a month or two.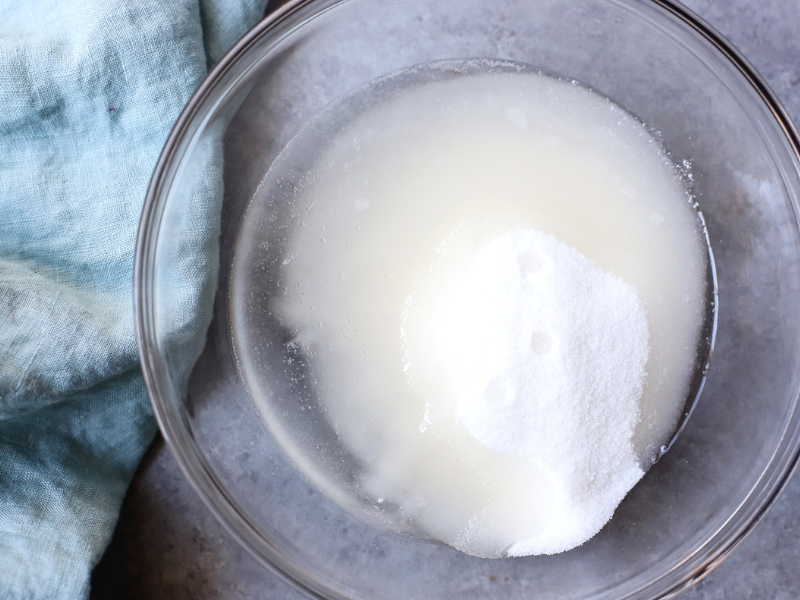 Note: Be careful if using the scrub in the shower. The oil can make things slippery when wet.
Printable Gift Tags
Sugar scrubs are an easy and inexpensive gift idea. We have printable labels to attach to your scrub. Simply print it, cut it out, and tie it on with ribbon or twine. You can also add a small wooden spoon or spatula to finish it off.
Here is the link for the darling Sugar Cookie Sugar Scrub Tag to go with your homemade scrub.
Note: The tags appear a little purplish in the photos. They are actually light pink, as shown below.
Sugar Scrub FAQs
What type of coconut oil do I use?
It is best to use non-fractionated coconut oil (solid at room temperature). It will provide the most therapeutic benefit. Heat it slightly to make it easy to mix together the ingredients for your scrub.
Can I use other types of oil?
Yes, sugar scrubs can be made with a variety of oils, including olive oil, jojoba oil, and almond oil.
How do you use a sugar scrub?
-Scoop a small amount of the Homemade Sugar Scrub in your hands with a spoon.
-Scrub all over your hands or feet – or wherever you'd like a little extra softness.
-Allow the beautiful scrub to sit on your skin for 3-4 minutes. Enjoy this time to rest and relax.
-Rinse well and then pat dry with a soft towel.
Do you use a sugar scrub before or after soap?
Before applying your homemade sugar scrub, you should use soap, shower gel, or body wash. This way, your skin is clean and ready for the scrub to exfoliate.
More Sugar Scrub Recipes
FOLLOW US on FACEBOOK, TWITTER, INSTAGRAM, and PINTEREST to see more delicious food and home tips!
Yield: 1 Jar (8-ounces)
Sugar Cookie Sugar Scrub
This easy DIY Sugar Cookie Sugar Scrub smells amazing and gives you naturally soft skin. It also makes a beautiful gift. FREE printable gift labels included!
Materials
1 cup sugar (we like to use organic)
½ cup oil (almond, olive or coconut work best)
½ teaspoon vitamin E oil (optional - it helps preserve your scrub and provides a little extra softening)
1 tablesppon vanilla extract
½ teaspoon almond extract (optional)
Tools
bowl
measuring cup and spoons
mixing spoon
8-ounce jar with airtight lid
Instructions
Place all ingredients in a bowl and mix them. You can add more or less oil to your liking.
Spoon it into the jar and store it in the air-tight container. Since this recipe doesn't contain chemical preservatives, it's best if it's used within a month or two.
Notes
If the coconut oil is too solid to mix the ingredients, melt it slightly in the microwave.