Creating a budget is so important. Here are our Best Tips for Sticking with Your Family Budget so you can reach your financial goals.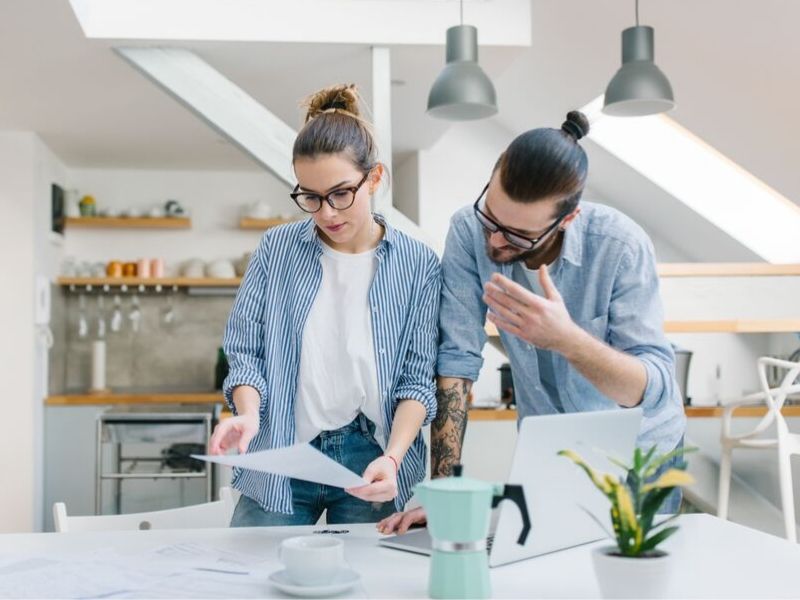 Top Tips for Sticking with Your Family Budget
You created a family budget. Awesome! That's an accomplishment right there. There's only one problem - you haven't stuck with it! Maybe your budget is nicely outlined and detailed but sits unused on your computer or in your desk drawer. Today is the day to change that! We have the Top Tips for Sticking with Your Family Budget so you can get ahead with your family finances.
For a budget to work, it has to fit your personality, lifestyle, and family. Here are 3 creative and even fun tips for sticking with your budget so you can reach your financial goals.
Oh, and no budget will stick if you can't see it! Print it out and tape it to the fridge or inside a high-use cabinet door so it's always visible.
1. Have a Look-See
That's right, take a look at your budget again. Maybe your budget didn't work out because it didn't fit your needs or personality. Take a fresh look at what you put together and ask some of the following questions:
Is Your Budget too detailed? You might find it exhausting trying to keep a budget that includes dozens of categories and tons of details. If this is you, cut back on the categories you track and make one larger category.
Solution: one example, place all your online subscriptions (Netflix, Spotify, etc.) in one section called entertainment. Don't separate them into individual categories.
Is it too simple? If your budget is too general, you may let it slide because there just isn't enough detail to get a true grasp on your finances.
Solution: if you need to dig in, list out all the areas in your food budget you are spending money so you know where it's going. Then, you can cut back in certain areas if need be.
Does your budget include alternatives? You know, inexpensive things that can be substituted for more expensive things. If your family isn't creative in this way, you may have trouble coming up with alternatives to budget cutbacks and savings. For instance, if your budget revealed that you needed to cut back on eating out, and you didn't have an alternate plan for what to do instead of heading out to a restaurant, you might slip up and deviate from your budget. Oops!
Solution: See below for several alternatives to spending less and saving more.
Budgeting Tip: When paying in person, use cash. Many budgeting experts recommend labeling envelopes for categories of face-to-face purchases – such as groceries, gasoline, or Target shopping – and stuffing cash into them each month. Why? Because it forces you to see what you're spending in various areas and increases your likelihood of showing more restraint. 
2. Are You Realistic About Your Income and Expenses?
A budget may fail if your income section is more about goals and ideals and how you want things to be rather than how you live.
It's important to be honest here and capture your actual income and total expenses on an ongoing basis.
Tip: Try using a budgeting app like Pennies or Mint. This helps you track your money in real time.
3. Are There Rewards?
You know, perks to sticking with it. A budget should have some rewards worked into it - a vacation, a movie out, or a new pair of shoes to work towards. No one can stick to a budget if there isn't some sort of incentive built in. 
How Do You Stick to a Tight Budget?
Creative Budgeting Alternatives!
As noted above, having alternatives to fill the void created by cutbacks or when you want to save helps keep your budget on track. Having creative and fun alternatives may be even more helpful. Here are some ideas for you and your family.
Instead of eating lunch out, pack a fun lunch Bento-style.
Lunch-in can be a fun picnic, indoor or outdoor. (kids love this!)
Make your coffee or tea at home instead of going out. It can be just as good!
Save time and money and use your Crock-Pot to cook once, but eat several times.
Staying home for dinner can be exciting if it involves a cookout in the backyard or front lawn.
Cut back by getting rid of cable - high-speed internet access is generally a whole lot cheaper than cable, and the family can have a fun adventure by gathering around the computer for movie night online. 
Instead of going to the movies, make your own. Have a family make-a-movie night and put on plays, puppet shows, or whatever. Capture the fun using your digital camera, phone, or webcam. The memories will last a lifetime.
Look up how to make your own skin cleansers, beauty products, natural household cleaners, and even shampoo online. Learn how you can make these things for pennies and help you save and have fun in the process.
Sometimes, just getting creative and adjusting your budget to fit your family can go a long way toward encouraging everyone to stick with it.
In short, formulating a budget can be a challenge, but once that is done, it's only beneficial to reach your financial goals if you stick with it. These Tips for Sticking with Your Family Budget will help.
What's helped you stick to your family budget?
Read Next: Living Room Decorating Ideas on a Budget