Check out these Fun Activities for a Bored Teen. Boredom busters to keep kids busy during the summer or when you're stuck at home. Most of these ideas don't involve teenagers being on a screen!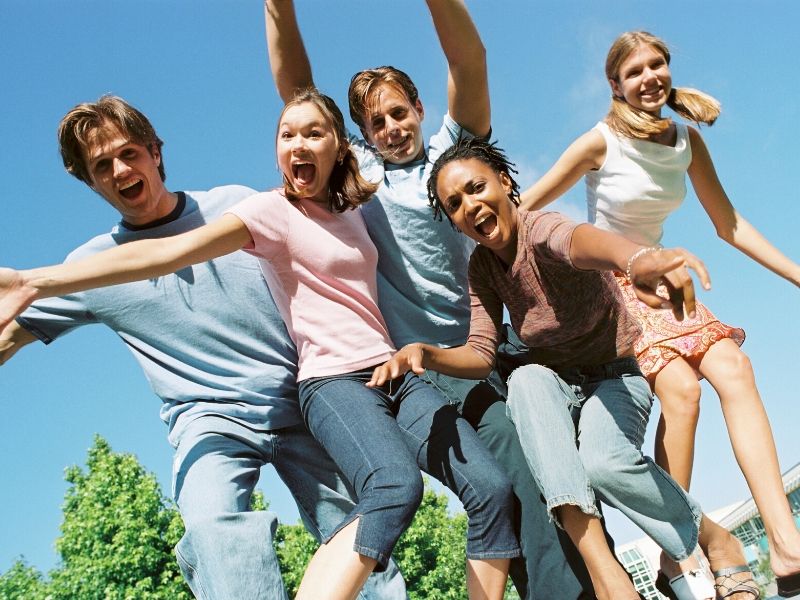 Things for Bored Teenagers to Do
Do you hear the words "I'm Boooored" coming from your teenager?
Fear not. Here's a list of 100 Activities your son or daughter can do that don't all involve a screen! These boredom-busters are good all year long!
If you're looking for ways for Teens to be Productive this Summer or How to Make Money as a Teenager, here are some awesome ideas!
You'll also want to check out How Teens Can Make Money and How Teenagers Can Have a Productive Summer.
Let's take a look at these fun things to do when you're bored!
100 Activities for a Bored Teen
This post contains affiliate links. Disclosure policy here.
Make a music video or movie.
2. Eat a food you've never tried.
4. Make the best ice cream sandwich or freak shake ever.
5. DIY bath bombs.
6. Invent a new type of pizza or killer milkshake.
8. Picnic at a local park.
9. Catch lightning bugs.
10. Have an overnight movie marathon.
11. Play frisbee golf.
12. Have a car wash fundraiser for a club or charity.
13. Grab a blanket, spread it out in the grass, and watch the clouds.
14. Make a card for a friend or grandparent.
15. Bike 5 miles.
16. Take a nap under a shady tree.
17. Go swimming or hot tubbing
18. Have a pool party.
19. Grow vegetables.
20. Make a cute tote bag out of a recycled tank top or jeans.
21. Watch an outdoor play or concert in a park.
22. Have a water gun fight.
23. Bury a friend in the sand.
24. Fly paper airplanes.
25. Volunteer in your community.
26. Go fishing.
27. Sketch your pet.
28. Sleep in your backyard under the stars.
29. Create a photo journal or blog.
30. Hike a local trail.
31. Visit your local library, or download a book, and read a new one every week.
32. Make a friendship bracelet and send it to a friend.
33. Go through your closet and make new outfits.
34. Write a poem.
35. Write a song.
36. Write a play.
37. Start writing a novel.
39. Create a website.
40. Swap a favorite book with a friend and read it.
41. Go geocaching.
42. Have an outdoor basketball free-throw contest.
43. Make a bucket list.
44. Craft friendship bracelets.
45. Help plan the family vacation.
46. Make a root beer float.
47. Write in your journal, "My Top 10 Favorite Summertime Activities".
48. Make a toe ring.
51. Make the family dinner.
52. Paint your fingernails with bright sparkly polish.
53. Watch the sunrise.
54. Watch the sunset.
55. Get your community's events list and attend an event or two.
56. Have a clothes fashion show.
57. Babysit.
58. Volunteer to read to children at the library.
59. Learn to grill a hot dog or hamburger.
60. Learn how to use a manual camera.
61. Learn to grill pizza crust.
62. Visit a museum in person or virtually.
63. Redecorate or rearrange your room.
64. Make a collage out of old magazines.
65. Learn how to play guitar.
66. Skip stones at a lake.
67. Surf/boogie board at the beach.
68. Get a new hairdo.
69. Change something about how you wear your make-up.
70. Decide to pick up one good habit, then do it.
71. Make your own popsicles.
72. Watch last year's hot summer flick.
73. Rearrange your room.
74. Make a list of your favorite movies in your journal.
75. Listen to an audiobook or podcast.
76. Make a vision board.
77. Create a lemonade stand.
78. Make watermelon punch.
79. Make a playlist of your favorite songs.
80. Enjoy a board game marathon outdoors or inside.
82. Do an 8-minute workout.
83. Make some jewelry.
84. Give your dog/pet a bath outside.
85. Take your dog for a walk and explore your neighborhood or local trails.
86. Run through a sprinkler.
87. Visit the zoo.
88. Tie die some clothes.
89. Grow some lavender so you can make your own potpourri.
90. Turn up the music and dance.
91. Sleep until noon -- once or twice.
92. Pick some local fruit.
93. Create some word rocks.
94. See a local baseball game.
95. Play mini or regular golf.
96. Learn how to hula-hoop.
97. Create sidewalk art with chalk.
99. Visit a college. In-person or virtually.
100. Play games outside after dark.
101. Listen to a podcast.
102. Spend some time coloring in an adult coloring book.
103. Try out a new coffee shop.
To make it even more amusing, put all your favorite Activities for a Bored Teen in a jar, and have your teen pick one out. It's like a game of chance and brings a bit of mystery to the activities!
Relaxing Things for Teenagers to Do
If you need some ideas to calm your anxiety or want to wind down and relax, here are some ideas you can do from the comfort of your own home.
Doodle, color, or draw.
Take a bubble bath.
Do yoga.
Meditate.
Take a long shower.
Cuddle your fur baby.
Sip some hot tea.
Journal.
Stretch.
Productive Things You Can Do When Bored
Update or create your resume.
Clean out your email.
Organize your closet or under your bed.
Create a budget.
Clean your phone case.
Make a to-do list.
Do your laundry.
Dust your room.
Research dream jobs.
Donate your unused items.
Do some exercise (walk, run, situps, whatever).
Grab Your Free Printable Teen Activities Guide!
Print this FREE Teen Activities Guide to use whenever you need it!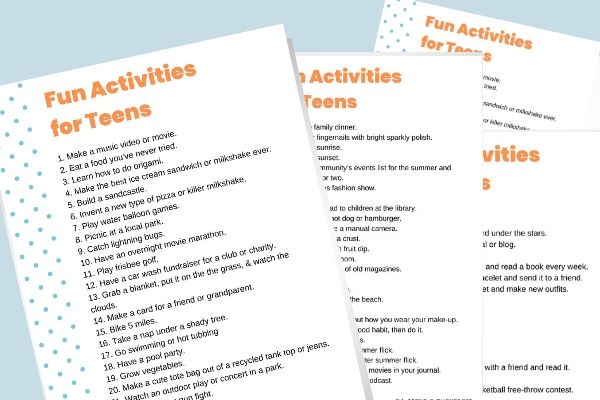 Cool Websites for Teens
You May Also Like:
5 Ways to Help Teens Be Productive This Summer
How to Make Money as a Teenager
SaveSave
SaveSave