Come learn how to defrost chicken in the microwave, as well as the best ways to get chicken from frozen to thawed so you can get dinner on the table fast!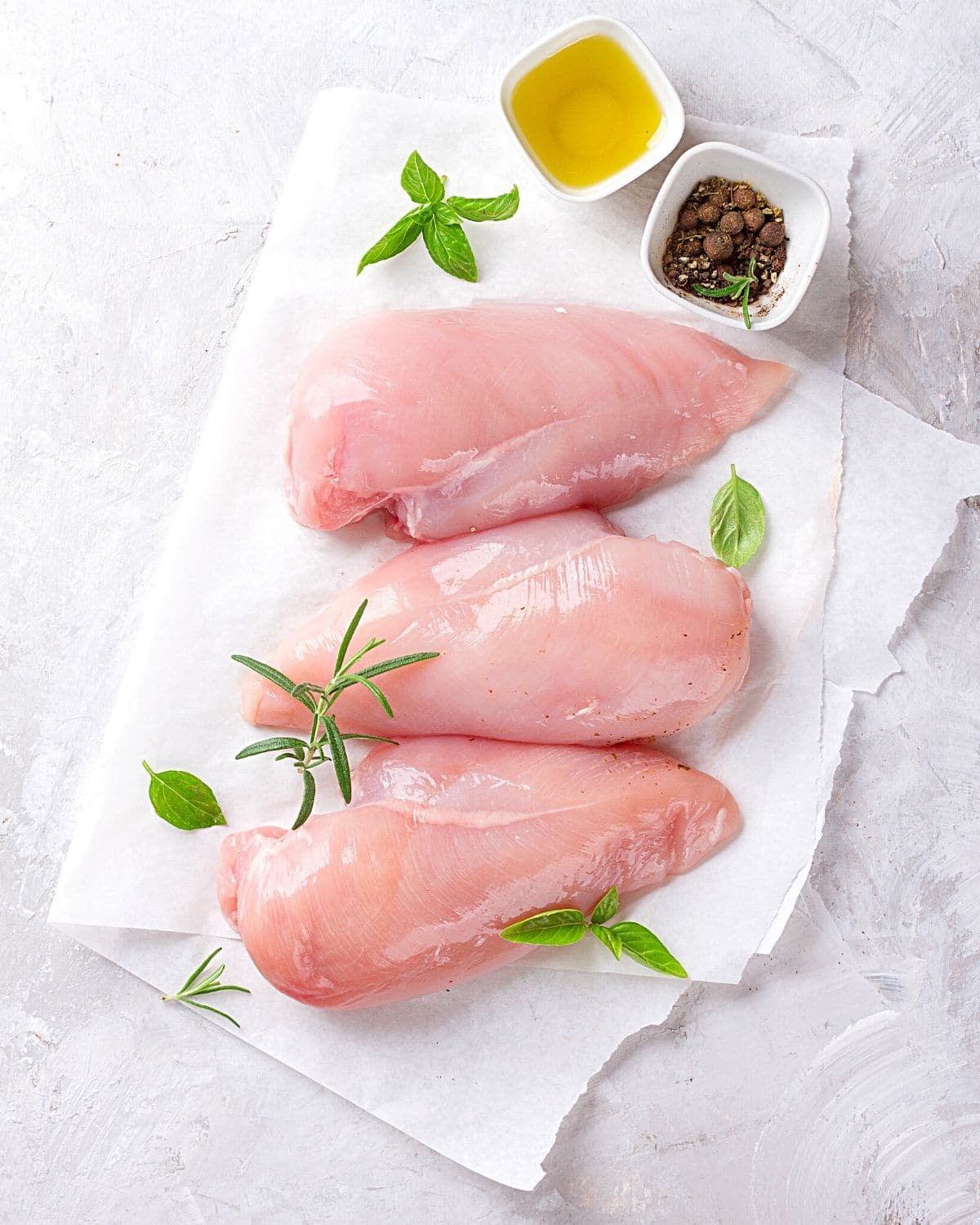 It's dinner time, and you're making your favorite chicken breast recipe. But when you get home, you realize you haven't defrosted your raw chicken.
Now, what can you do?
Before you give up and order takeout, use your microwave oven and defrost button to thaw out frozen chicken fast. 
This method is the quickest way and safest way to get it done! You may also be wondering about How to Freeze Chicken in the first place or How to Freeze Chicken and Rice for quick and easy dinners.
Steps to thaw chicken in the microwave
PLACE IN MICROWAVE - Remove packaging, place chicken on a microwave-safe dish, and set the time on the microwave for 2 minutes on the defrost setting or power level at 30-50%. Never use full power as this will cook the chicken instead of defrosting it.
ROTATE - After one minute has elapsed, flip the chicken pieces over and rotate the plate (unless your microwave has a spinning carousel that keeps it turning). This should optimize the defrosting time in an even way.
CONTINUE UNTIL DEFROSTED - Continue to microwave at 2-minute intervals until thoroughly defrosted. If you see any white or opaque parts, it's best to stop so the chicken won't dry out.
As a general guide, it takes 2 minutes per pound, to defrost chicken in the microwave, so 2 pounds of chicken would take approximately 4 minutes.
PRO TIPS: Make sure you know the amount of chicken you're thawing since it will affect the time it needs in the microwave. You will also need to pay more attention to chicken than other meats, checking every few minutes to see if it is thawing correctly and evenly.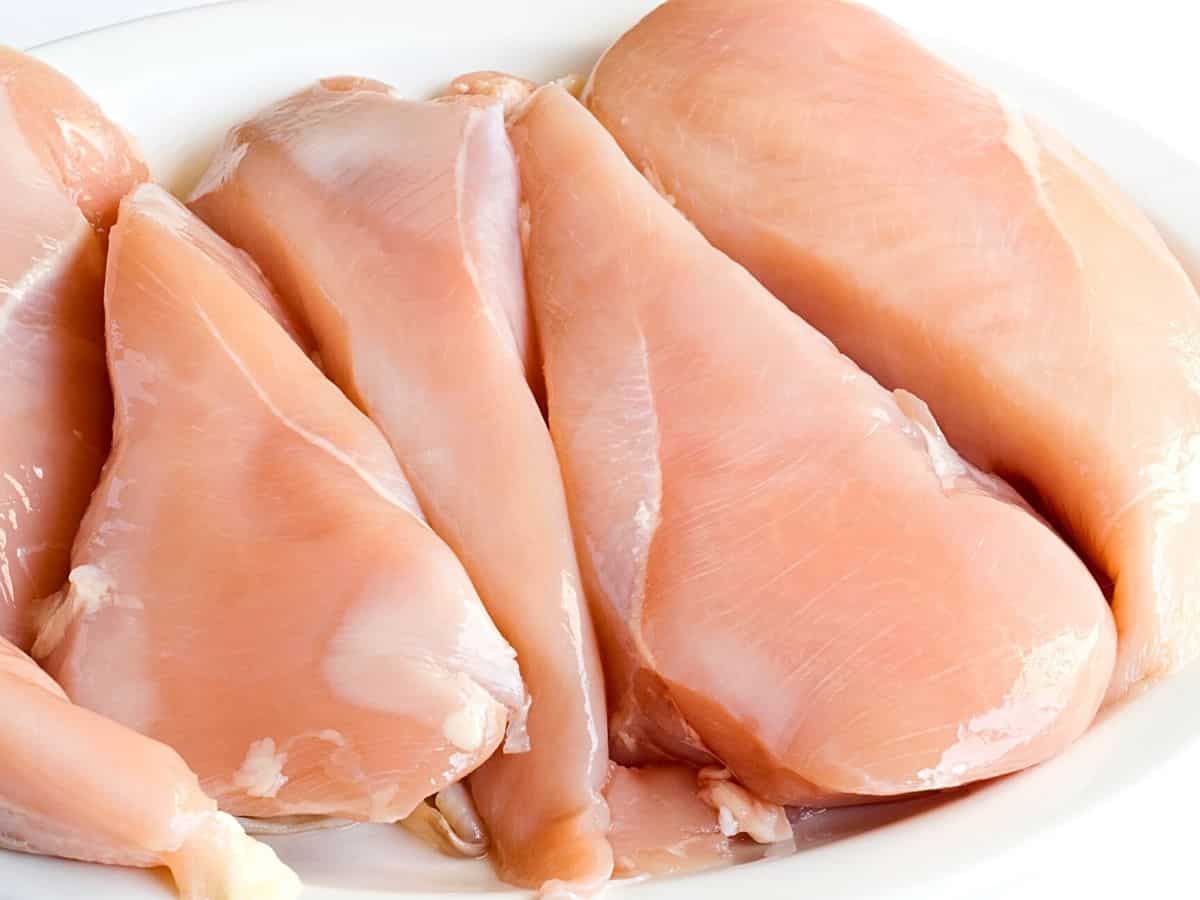 Helpful tips for defrosting chicken in the microwave
Remove packaging from chicken. Do not use foam trays and plastic wraps because they are not heat stable at high temperatures. Melting or warping from the heat of the food may cause harmful chemicals to migrate into it.
Make sure to use the defrost setting or microwave your chicken at 30% power.
Continue to rotate your chicken as it defrosts.
Separate any pieces that loosen up while defrosting for even thawing.
Cook your chicken right away after defrosting it.
Is it safe to defrost chicken in the microwave?
You'll be happy to know that using the defrost setting on your microwave is safe to defrost chicken. It's easy and quick to do, helping you get that chicken to room temperature so you can cook with it straight away.
It's important to note that foods thawed in the microwave should be cooked before refreezing.
The defrost setting on your microwave uses less power to thaw the meat, slowly warming your chicken until it's defrosted.
But watch out to avoid overcooking – if you defrost it too long or ignore your microwave settings, you can start to cook the chicken. This will lead to overcooking once you use it in your desired chicken recipe.
Hot water bath for defrosting chicken
Tempting as it may be to try hot water or warm water for thawing your chicken, DON'T do it!
This method can put your chicken in the danger zone and cause bacterial growth. Plus, the hot water will start cooking the exterior of your chicken while the center is still frozen.
Also, don't leave chicken on the kitchen counter for an extended period of time, as it will lead to harmful bacterial growth.
The danger zone for food is between 40-140°F, and if your chicken is left in this danger zone for too long, bacteria will grow, making you sick.
Defrosting chicken with a cold water bath
Besides the microwave, the cold water method is a good way to thaw chicken if you have enough time. It usually takes about 1 hour 30 minutes.
GRAB A BAG - Place the chicken in a leak-proof Ziploc bag to avoid water getting in and making your chicken waterlogged.
SUBMERGE IN WATER - Place the bag in a large bowl filled with cold tap water in the kitchen sink.
CHANGE WATER - Change the water every 30 minutes.
Small bags of chicken (around 1 pound) may take up to an hour to thaw. A 3 to 4-pound bag of chicken may take 2 to 3 hours.
How long does a chicken take to defrost in the microwave?
For frozen chicken, it takes 2 minutes per pound of chicken for you to defrost it in the microwave. For example, if you have a 5-pound chicken, you will need to let the chicken defrost for 10 minutes.
That can vary, though, depending on:
The wattage of your microwave.
How many chicken pieces you're thawing.
The thickness of each piece.
After one minute has elapsed, flip the pieces over and rotate the plate (unless yours has a spinning carousel that keeps it turning), and this should optimize the defrosting time in an even way.
When defrosting chicken in the microwave, it's a good idea to put only one or two pieces in there at a time. Make sure you use a microwave-safe plate and set the timer for 2 minutes on the defrost setting or power level at 30%.
A general rule of thumb is that the microwave defrosting method is best for boneless chicken breasts and is not recommended to thaw a whole chicken.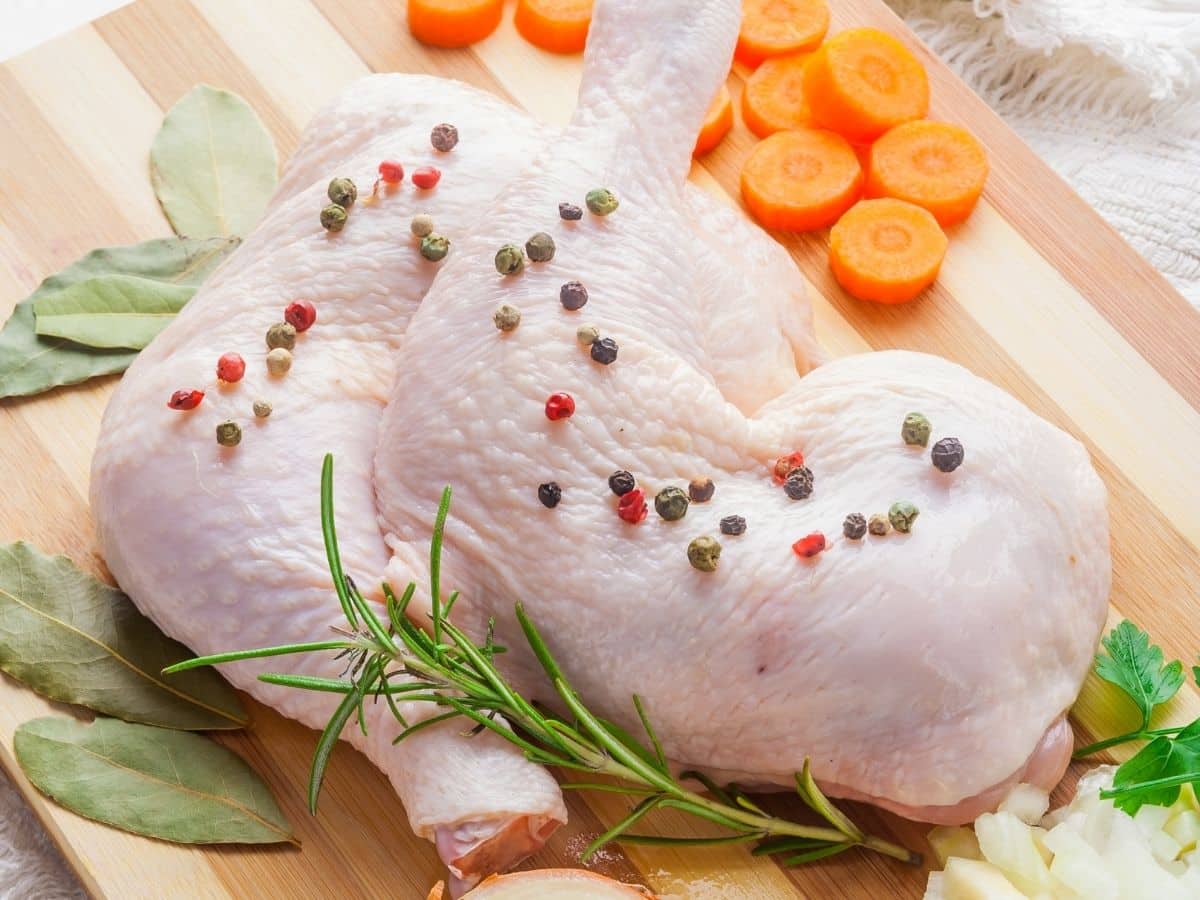 Do I need to defrost chicken?
No, you don't always need to defrost your chicken before you cook with it.
You can safely cook it frozen in your oven or on the stovetop. However, it will take about 50% longer, so be sure to account for that added time.
If you're simply going to throw your chicken from frozen to a frying pan, check the chicken's internal temperature. It needs to reach at least 165°F throughout to be safe to eat, and if the thickest part is that temperature, that's a good thing.
We love this inexpensive digital meat thermometer and use it several times a week to make sure our meat is perfectly cooked. It's great for grilling too!
How to defrost chicken in the microwave without using the defrost button
Not every microwave has a defrost button. And even if yours does, you may not want to use it. If you want to defrost your frozen chicken in the microwave without a defrost button, set the power to cook at 30-50%.
Then you can set the timer for 2 minutes to defrost a pound of chicken.
Whether you have a defrost function or not, you should make sure you rotate that meat halfway through and take a minute to separate any pieces as they loosen up. This will make the defrosting process go faster and lets the chicken thaw more evenly, avoiding those hotspots.
Hotspots are problematic for texture, taste, and bacterial growth, so you'll want to avoid them.
Tempting as it is to throw the raw chicken in there and let it defrost in one go, you don't want to do this, or it could cook the chicken rather than simply bring it to room temperature for cooking.
Additionally, chicken thoroughly defrosted in the microwave needs to be cooked immediately. This will prevent harmful bacteria from growing, which will avoid making you and your family ill.
Is it OK if the chicken starts to cook while defrosting?
No, it's definitely not OK for the chicken to start cooking during the microwave defrost. Not only can this cause bacteria to grow rapidly and give you and your loved ones a potential food-borne illness, but it can also result in tough, dry chicken.
That's why following these guidelines for properly defrosting chicken in the microwave is important.
If you put the chicken in the microwave and set it for a long time to defrost, it will start cooking very slowly, raising the likelihood of breeding bacteria.
Pay attention to the settings and keep a vigilant watch on the microwave while it defrosts. If you keep checking it at 2-minute intervals, you should avoid this problem altogether.
PRO TIP: Remember, it is essential for you to immediately cook the chicken you thaw after defrosting it in the microwave. Leaving it at room temperature will only allow the harmful bacteria to flourish.
While microwave-defrosting your frozen chicken may not be ideal compared to thawing your chicken overnight in the fridge (i.e., the refrigerator method), it is the next best way to thaw it if in a hurry.
PRO TIP: For planning purposes, it takes 24 hours to thaw 1 - 5 pounds of meat in the refrigerator, so adjust your time according.
With safe thawing, you can have peace of mind knowing that you're serving your family a delicious meal without a side of food-related illness to ruin your dinner or, in the worst case, food poisoning.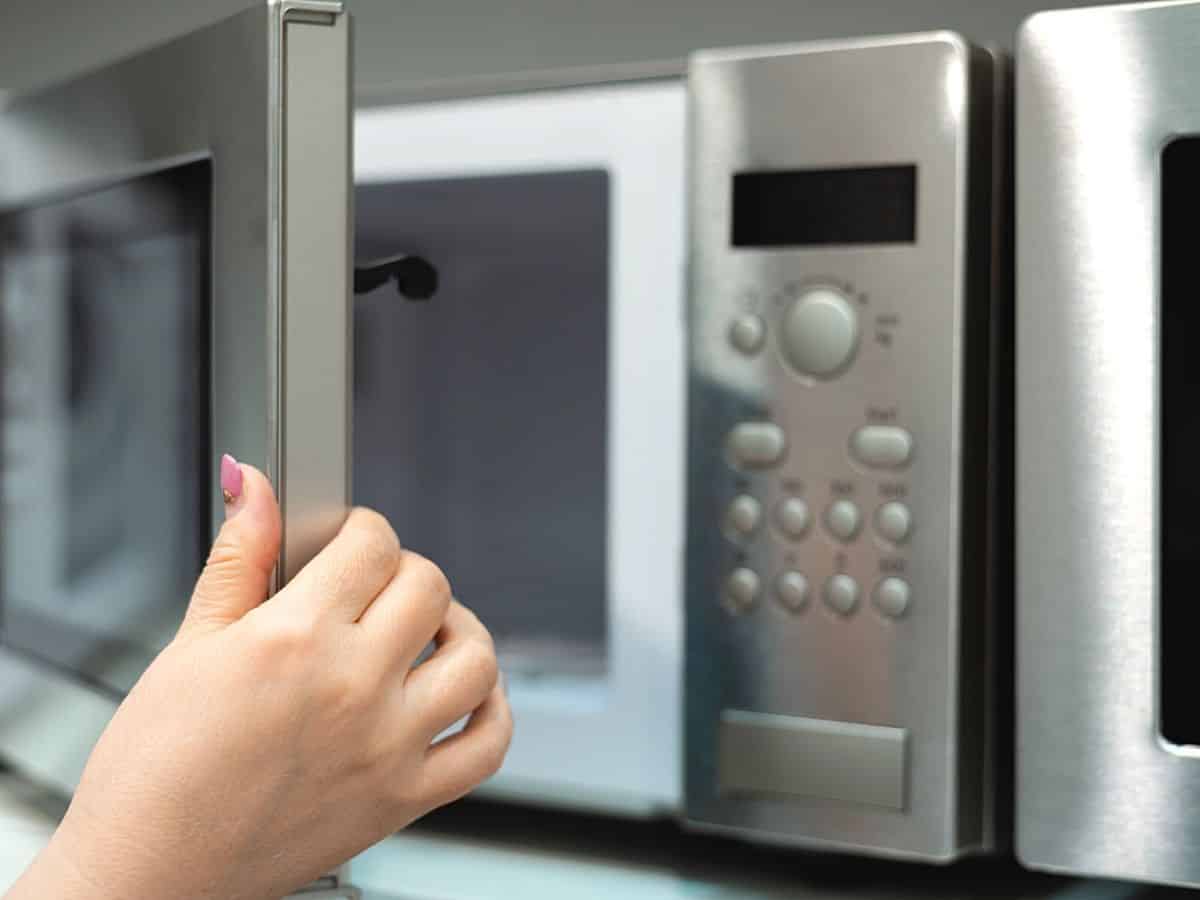 The fastest way to thaw chicken
If you're in a hurry, using the microwave is the fastest way to thaw chicken.
It takes approximately 2 minutes per pound to defrost your chicken in the microwave, even without a defrost function.
Food safety guidelines
Here are the (USDA-approved) safe ways to thaw frozen chicken for dinner tonight.
In the fridge
In cold water
In the microwave
And here are the USDA food safety guidelines for cooking with microwaves.
Chicken recipes
Slow Cooker Chicken and Rice
One Pan Honey Garlic Chicken
Instant Pot Lemon Chicken