Inexpensive and easy Thanksgiving Table Decorations that you can customize for your home. Set a beautiful tabletop with these simple and stunning Thanksgiving DIY ideas!
For your convenience, this post contains affiliate links, meaning I may make a small commission if you make a purchase. This is at no additional cost to you. Full Disclosure policy here.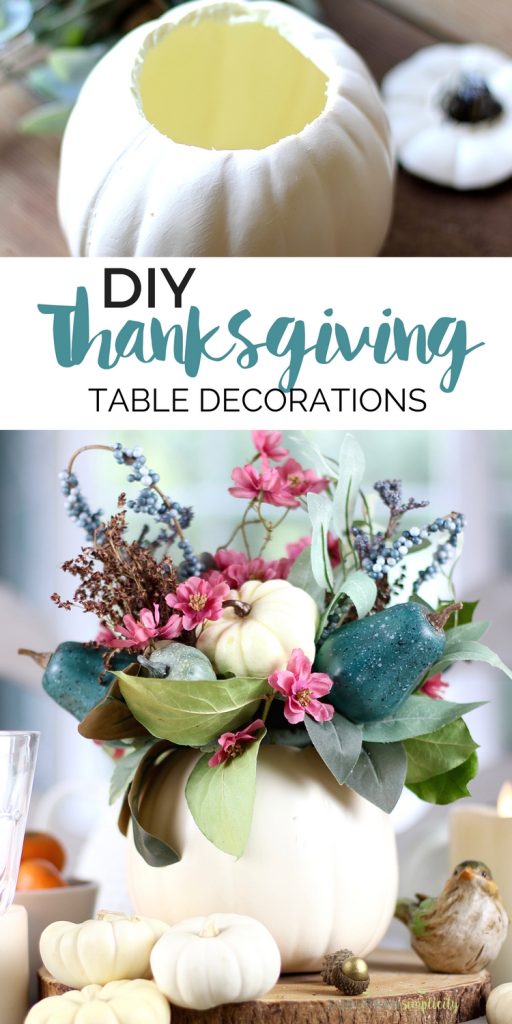 Easy Thanksgiving Table Decorations
There's nothing better than a festive holiday Thanksgiving table. The decorations, the traditions, and the family that gathers around it to share memories. One way to make it even more remarkable is Easy Thanksgiving Table Decorations. Something you make yourself that showcases your style and flair.
It's all the better if it's inexpensive!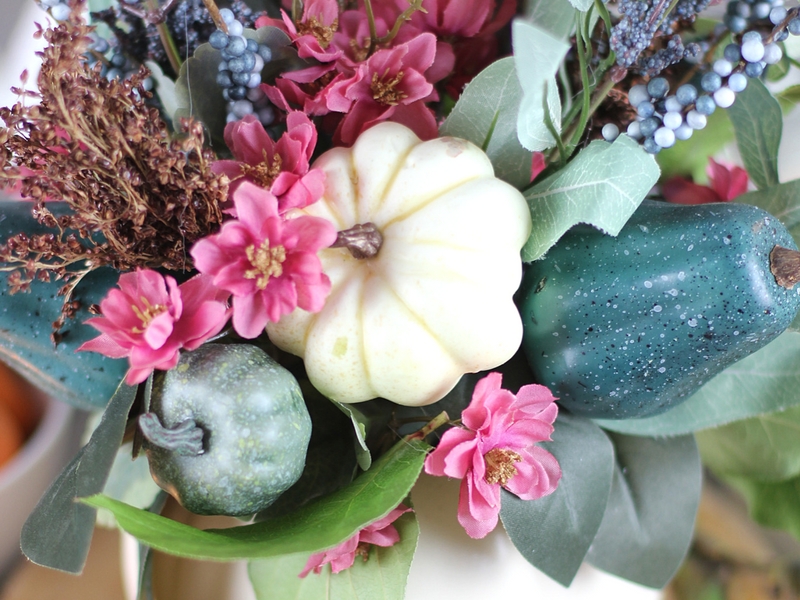 It's one of my trademarks, a nicely dressed table. It's fun to devise creative ways to set the right mood and ambiance for the occasion. Whether it be a themed Birthday, holiday, or everyday celebrations, I like the table to be a focal point.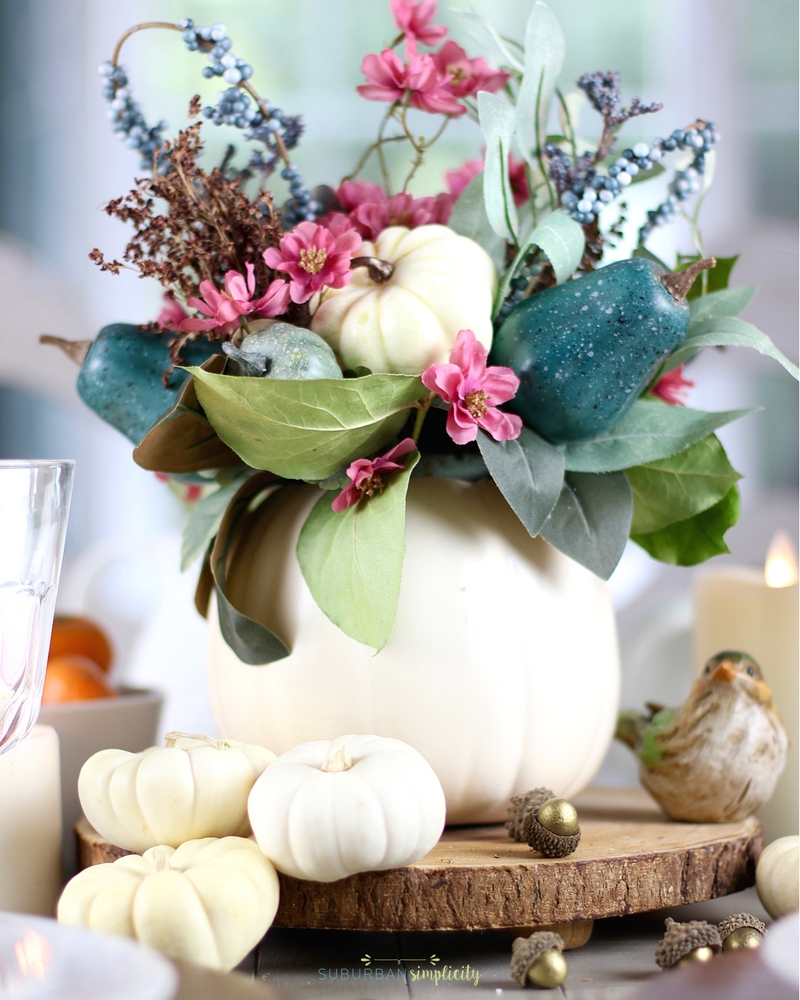 Our budget isn't usually high (you can spend a fortune on pre-made centerpieces, so we come up with ways to DIY something memorable.
This year, it's a foam pumpkin with faux florals that match our home's color scheme. In years past, I've gone with the traditional orange, yellows, and golds, but this year I decided to be unique and went with a beautiful teal with a pop of pink.
What is great about this easy Thanksgiving Table Centerpiece is that you can customize it to whatever colors or style you like.
Go traditional and use an orange pumpkin and gold, yellow and orange flowers. Or, go bold with something that matches your home decor. It's totally up to you.
How to DIY Your Thanksgiving Table Decorations
You'll need a few simple supplies for these projects that can find at Michael's or Amazon:
Faux Flowers, Foliage, and Seasonal Accents
Cutters (either sharp scissors or craft knife and wire cutters)
Step 1: Cut the top off the pumpkin like you're going to carve out the center. Of course, it's hallow, so there is no need to worry about getting your hands dirty with pumpkin seeds 🙂 You'll want to create a hole that leaves a little lip around the end to ensure your floral foam isn't seen when all the flowers are inside.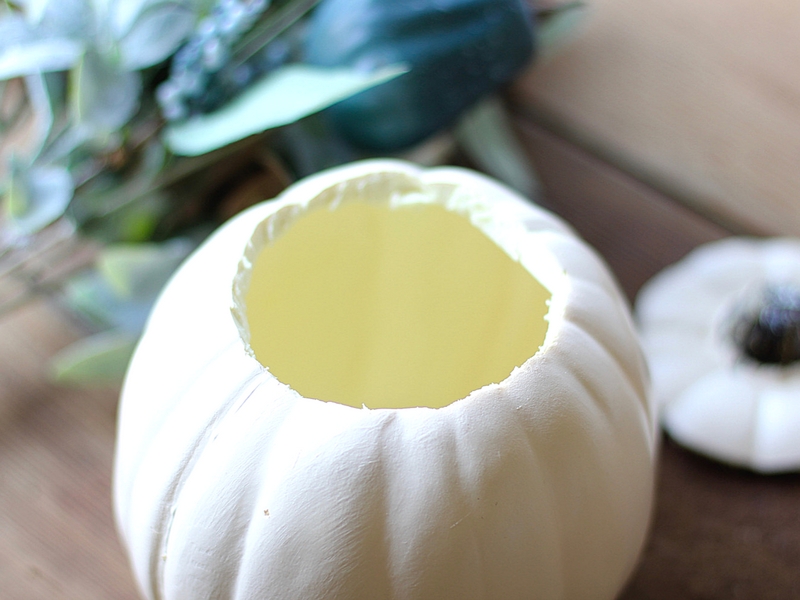 Step 2: Place the foam inside the pumpkin. Make sure it's secure and doesn't wobble around. Cut your faux flowers in various sizes if they came in a larger bunch.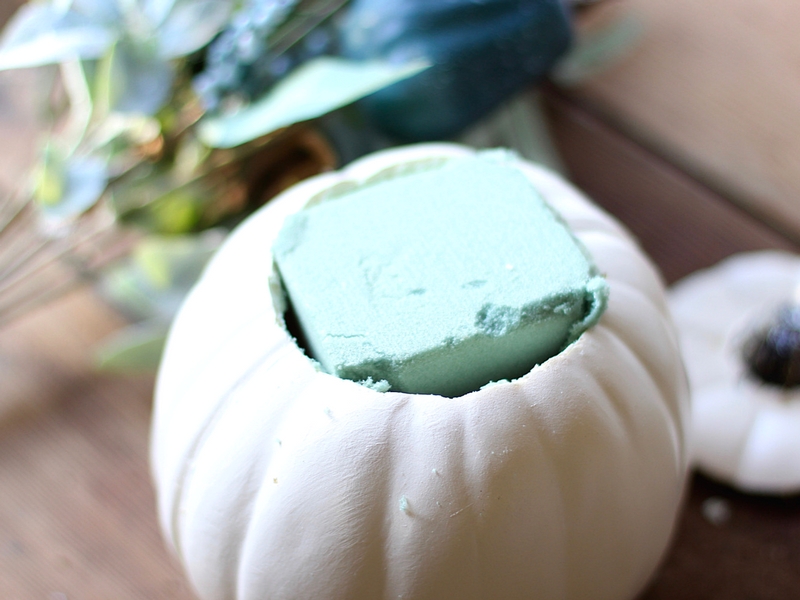 Step 3: Begin arranging your faux flowers, and seasonal elements like mini pumpkins, by pushing the stems in the floral foam. Create a foundation with a base of foliage, and then add flowers or seasonal accents to create a random design. Finish with wispy flowers as we did with the pops of pink flower buds.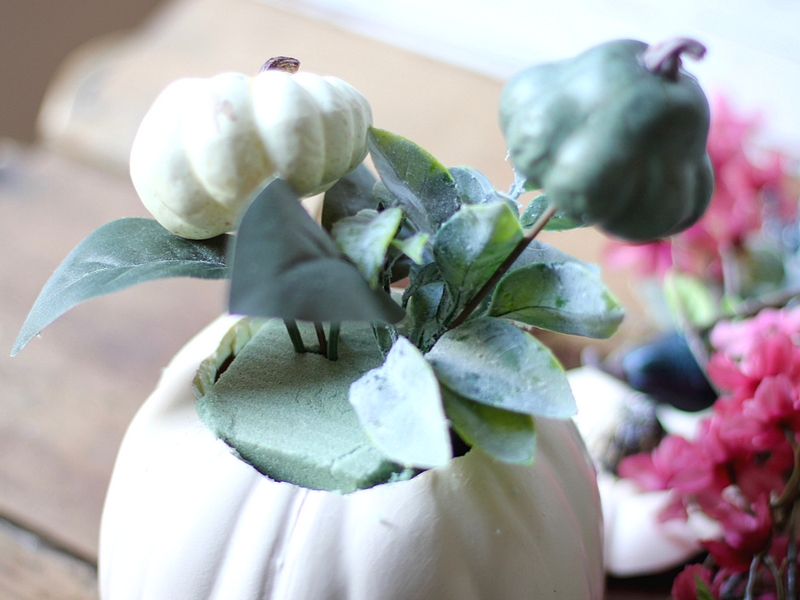 Now it's time to enjoy your inexpensive Thanksgiving table decorations all season long.
PRO TIP: Try incorporating your DIY centerpiece into your fall decor until it's time to move it to your tablescape and enjoy it all season long!
Here Are Several More DIY Thanksgiving Table Decorations
Printable Name Cards from Fabulosity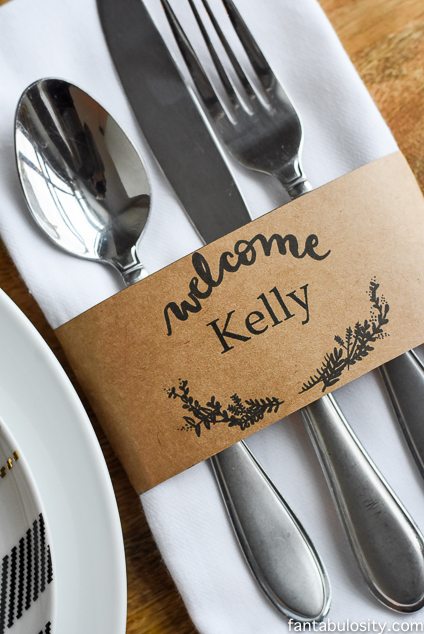 Mossy Pumpkin by Our Southern Home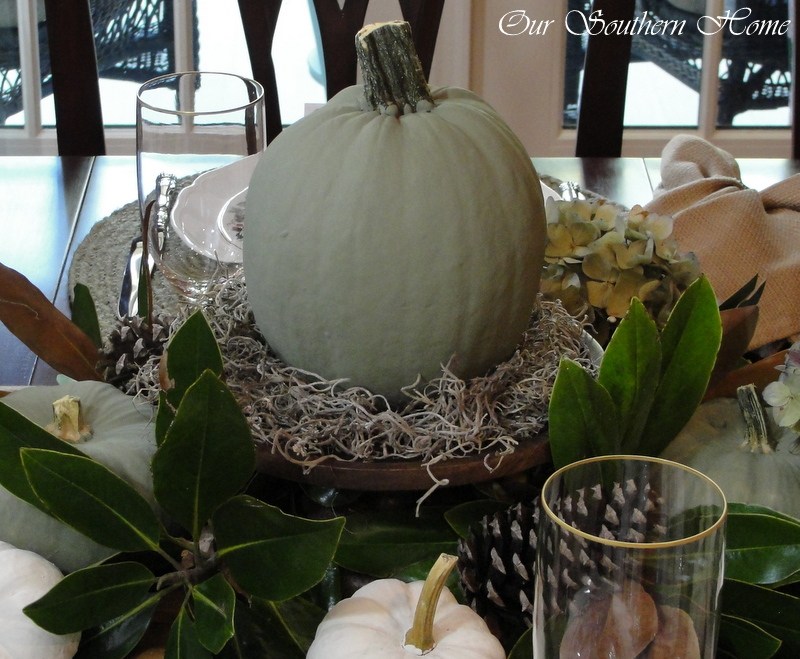 DIY Pottery Barn Inspired Centerpiece by Live Laugh Rowe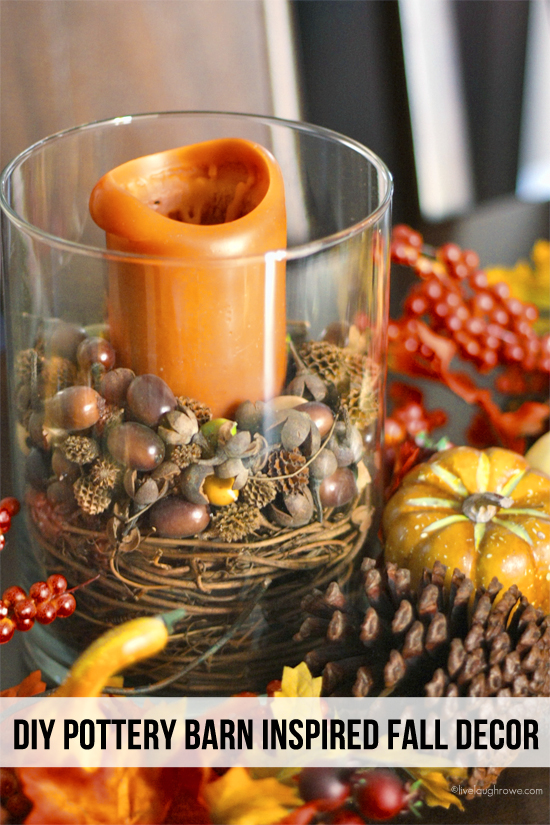 SaveSaveSaveSaveSaveSaveSaveSave