Save time in the kitchen this Independence Day and make these incredible 4th of July Slow Cooker Recipes. We've got easy main dishes and tasty side dish recipes to feed a crowd.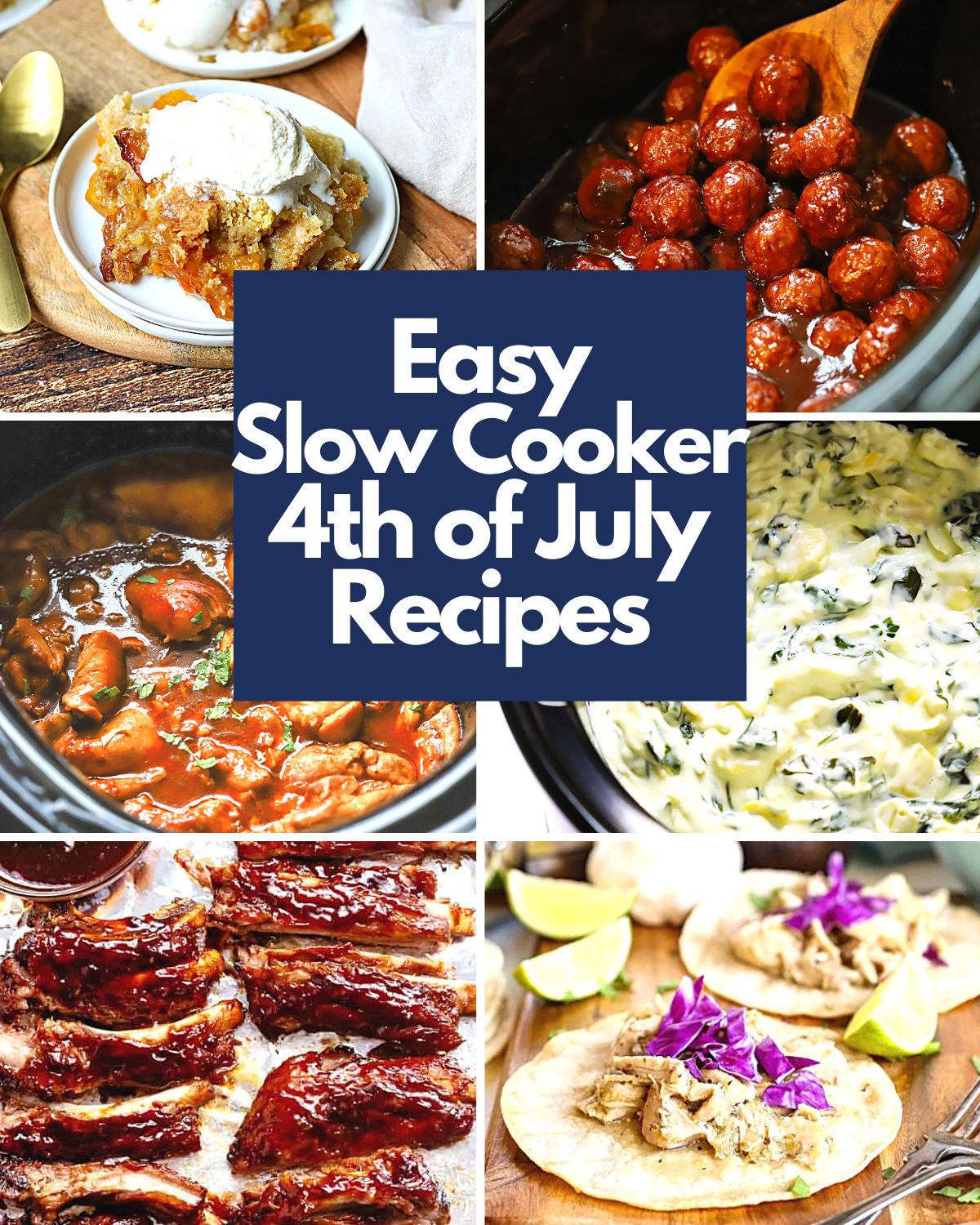 While grilling is a popular choice for Independence Day (cue the hot dogs), your slow cooker can be your secret weapon in creating mouthwatering dishes without the hassle or time in front of a hot stove or grill.
We can't wait to share some tantalizing summer slow cooker recipes that are perfect for your 4th of July gathering (or Memorial Day, for that matter). From pulled pork sliders to barbecue chicken, these recipes will delight guests while allowing you to spend less time in the kitchen and more time enjoying the festivities.
From American classics like BBQ Ribs to sweet treats like Peach Cobbler and Apple Cake with granny smith apples, you'll find something for your whole family with these great recipes. One of our favorites is slow-cooked baked beans. With a hint of brown sugar, they're an excellent side dish that never disappoints party guests.
So utilize your crock pot! You can get delicious mains, side dishes, and desserts without spending time in a hot kitchen.
Make one of these incredible Patriotic No-Bake Desserts to serve alongside your crock pot favorites!
Why You'll Love These July 4th Slow Cooker Recipes
BIG BATCH COOKING. These delicious recipes feed a crowd so well. Plenty of flavor and food to go around!
VARIETY. From 4th of July appetizers to your main course, these recipes have you covered.
BUDGET-FRIENDLY. Crock Pots are not only economical to use, but they're great for making the most of budget ingredients like cheaper cuts of meat. They cook low and slow, so they come out tender and flavorful.
Why Use Your Slow Cooker for 4th of July Cooking
TO SAVE TIME. Since your crock pot is a set-it-and-forget-it kitchen appliance, you can use your time to enjoy your guests at your backyard barbecue.
LESS MESS. You'll use fewer pots and pans and serving dishes when cooking with your crock pot.
THE WARM SETTING. Slow cookers can keep food at the correct temperature, so food safety isn't an issue while enjoying a fun day.
Make your 4th of July celebration easier and more delicious with these incredible slow cooker recipes! Happy Fourth of July!
Main Dish Ideas
Here are some of the best main dish Fourth of July recipes you can make in your slow cooker. They're hearty and perfect if you want to make sliders to serve right from your crock!
4th of July Slow Cooker Main Dish Recipes
Prepare to be amazed as your guests savor these irresistible slow cooker recipes at your 4th of July party. These slow-cooked favorites are tender and juicy and go well with summer celebrations!
4th of July Slow Cooker Side Dish Ideas
These slow cooker side dishes are not only delicious but also convenient for your 4th of July BBQ. The slow cooker allows you to prep in advance and frees up your time to enjoy the festivities while still delivering flavorful and crowd-pleasing dishes. Also, see our amazing Creamed Corn Recipe below!
4th of July Slow Cooker Side Dish Recipes
These incredible slow cooker dishes are delicious and convenient for 4th of July celebrations. Guests will enjoy these delightful side dishes made effortlessly in your slow cooker. These BBQ sides may even outshine the mains!
4th of July Slow Cooker Appetizers
4th of July celebrations call for tasty and convenient appetizers, and using a slow cooker can make the preparation a breeze. Here are some delicious slow cooker appetizer ideas to elevate your Independence Day gathering.
4th of July Slow Cooker Appetizer Recipes
These slow cooker appetizers are convenient and packed with flavor, allowing you to enjoy your 4th of July festivities while still serving delicious bites to your guests. Slow cooking ensures your appetizers stay warm throughout the gathering, making them perfect for snacking and sharing.
Photo Credit: www.gimmesomeoven.com
Serve a creamy and cheesy spinach and artichoke dip that will keep your 4th of July guests coming back for more. Mix chopped spinach, artichoke hearts, cream cheese, sour cream, grated Parmesan cheese, minced garlic, and spices in a slow cooker. Let the dip cook on low heat until the cheese is melted and the flavors are well combined. Grab some tortilla chips or fresh veggies like bell peppers and bread cubes, and make everyone happy with this classic party dip.
Photo Credit: lilluna.com
This Cheesy And Delicious Crock Pot Bean Dip Is made with barely any effort! So easy, convenient, and perfect for holiday celebrations! Grab those corn chips and get dippin'!
Photo Credit: www.themagicalslowcooker.com
Whip up a crowd-pleasing appetizer for your BBQ with tangy and saucy slow cooker BBQ meatballs. Combine frozen or homemade meatballs with a mixture of your favorite barbecue sauce and spices. Let the meatballs simmer in the slow cooker for a few hours until they are infused with the delicious flavors of the barbecue sauce. Yum!
Dessert Ideas
Here are some of the best sweet 4th of July recipes because they cook while you enjoy the festivities. Once it's time for dessert, they're ready to go!
4th of July Slow Cooker Dessert Recipes
These slow cooker dessert recipes offer convenience and deliciousness, allowing you to spend more time enjoying your 4th of July celebrations while still impressing your guests with delectable sweet treats.
HUNGRY FOR MORE? FOLLOW US on FACEBOOK, TWITTER, INSTAGRAM, and PINTEREST to see more delicious food and home tips!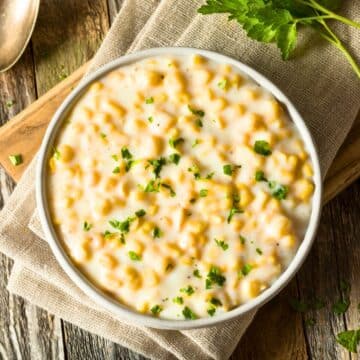 Slow Cooker Creamed Corn
Slow Cooker Creamed Corn is an easy-to-make side dish featuring tender corn kernels cooked to perfection with a creamy blend of ingredients—the ultimate comfort food for any occasion.
Print
Pin
Rate
Ingredients
32

ounces

frozen corn

8

ounces

cream cheese

(one block cut into 1-inch cubes)

⅓

cup

heavy cream

¼

cup

butter (½ stick)

(cut into small pieces)

2

tablespoons

white granulated sugar

½

teaspoon

freshly ground black pepper

(or more to your liking)

¼

teaspoon

kosher salt 

(be careful not to over salt)
Instructions
In a slow cooker, combine frozen corn, cubed cream cheese, heavy cream, butter pieces, and sugar in a slow cooker—season with salt and pepper to taste.

Cover with the lids and cook on LOW for 4 to 6 hours or HIGH for 2 to 4 hours. Stir and then let the corn stand for a few minutes, either with the heat off or on the "warm" setting, to give the sauce time to set.
Notes
You can double the recipe to feed a large crowd.
If you're around while this cooks, stir the corn once during the second half of cooking to prevent a crust from forming around the edge, and fold the partially melted cream cheese and butter into the corn.
STORAGE: Store in an airtight container for up to 5 days.
Nutritional information is approximate and was calculated using a recipe nutrition label generator and will vary based on cooking methods and brands of ingredients used.
Nutrition
Calories:
244
kcal
|
Carbohydrates:
32
g
|
Protein:
6
g
|
Fat:
12
g
|
Saturated Fat:
7
g
|
Polyunsaturated Fat:
1
g
|
Monounsaturated Fat:
3
g
|
Trans Fat:
0.2
g
|
Cholesterol:
34
mg
|
Sodium:
232
mg
|
Potassium:
420
mg
|
Fiber:
3
g
|
Sugar:
5
g
|
Vitamin A:
375
IU
|
Vitamin C:
8
mg
|
Calcium:
60
mg
|
Iron:
1
mg