If you're wondering How Long Does Brown Sugar Last, we have all the answers and helpful storage ideas to keep it fresh. Plus, hacks to bring it back to life if it gets hard lumps.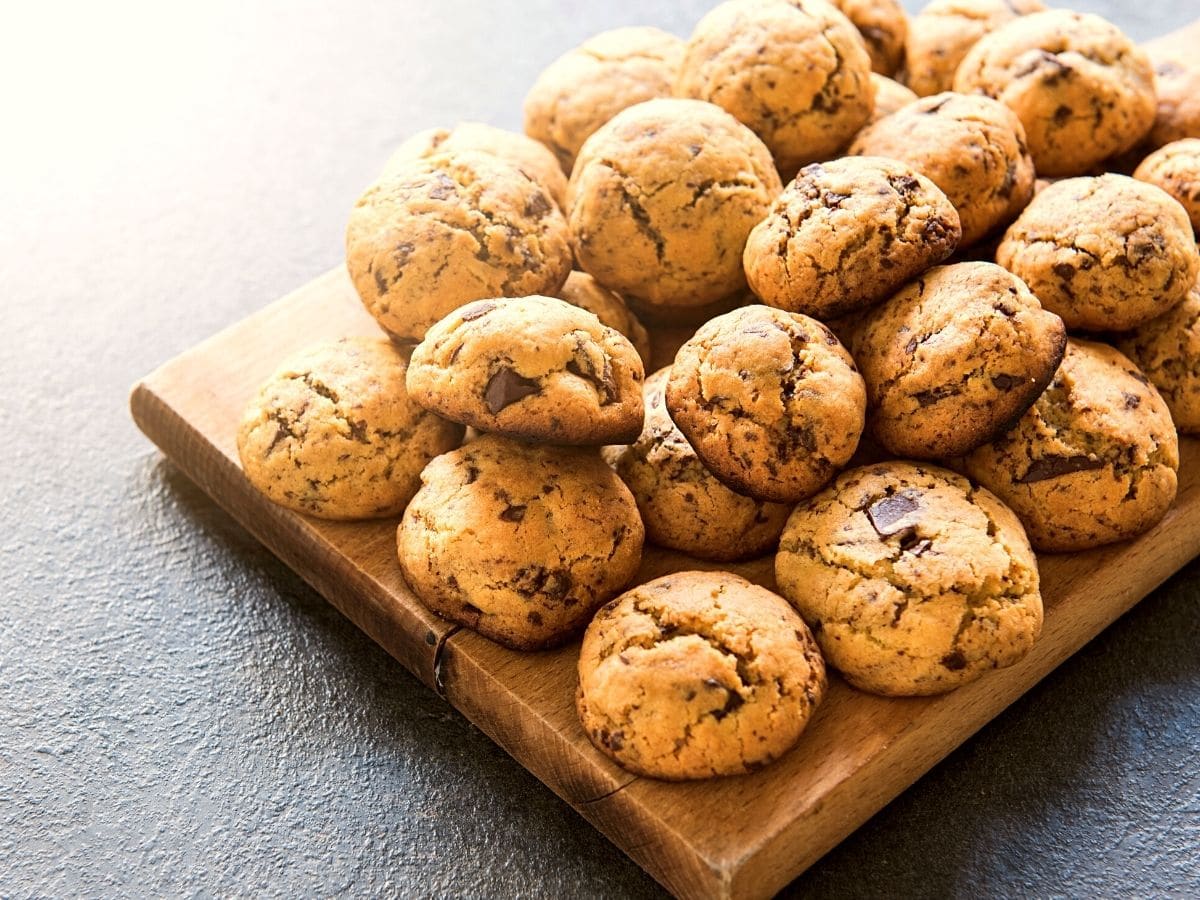 Ready to bake your favorite treats like Chocolate Chip Cookies? Many desserts like this call for brown sugar, but if it's been a long time since you used it, you may be wondering if brown sugar has an expiration date. 
The shelf life of brown sugar, fortunately, lasts a long time. Almost indefinite. As such, brown sugar doesn't go bad, just as with other types of sugar like white sugar and powdered sugar.
On the packaging, brown sugar usually lists a shelf life of up to 2 years, but it will last longer if you store it properly.
The date marked on the bag isn't for expiration but rather for the best quality of the food, so as long as it's in good condition, it can last long past that printed date. 
However, there are a few things to consider before baking with the brown sugar in your pantry that may warrant running to the store for a new bag. 
We have more tips to take your baking to the next level.
How to Tell If Brown Sugar is Bad
The first thing to do before you roll up your sleeves to start baking is to check the quality of your ingredients and see if there are any sign of spoilage.
When it comes to brown sugar, you will want to look for any signs of insects (you know, those pantry pests) in the original packaging.
This is far less likely if you have it in an airtight container, but it's still possible. 
If you find any type of bugs, dead or alive—throw out your brown sugar.
The same goes for mold or other growths. Sometimes, you may notice that your brown sugar is clumped. This is because it has more moisture than white sugar. This issue is completely natural, and your brown sugar will still be safe to use. 
You may also want to give your brown sugar a good sniff.
All sugar is capable of absorbing other smells.
If yours smells of other foods you have stored nearby your original package or storage container, it isn't sealed quite as well as it should be. When the aroma of something else is too strong in that sugar, it's time to get rid of it, or else it will impart this into whatever you bake. 
How to Soften Hard Brown Sugar
When brown sugar isn't contained in an air-tight container, it dries out and gets large clumps. It's not spoiled, though those hard lumps are difficult to use. In this case, you'll need to soften it up to bring it back to life.
It's pretty easy to soften hard brown sugar. One of the easiest ways is to break it down with a fork. You can also scoop out the clumps, put them into a bag, and give it a good smashing into your counter or wall. 
Pro Tip: For a faster way, simply use your blender, food processor, or an electric mixer. 
Can You Bake with Expired Brown Sugar?
As mentioned, brown sugar doesn't expire. It has a shelf life of roughly two years but can last longer if you store it properly. 
If you have kept your brown sugar in the pantry for several years, you can still use it as long as there is no bug contamination, bad smells, or mold growing. It just won't have the same quality as if it were newer. 
That said, you'll want to be sure you store it in a cool, dry, and dark place. It would help if you also sealed it tightly. You never want to keep it near heat or put it in the fridge. 
When you open it, you should transfer it to a container you can seal to keep out air, heat, cold, and pests. It's also OK to use a sealing clip to secure the bag, though that may not be enough to keep out pesky bugs.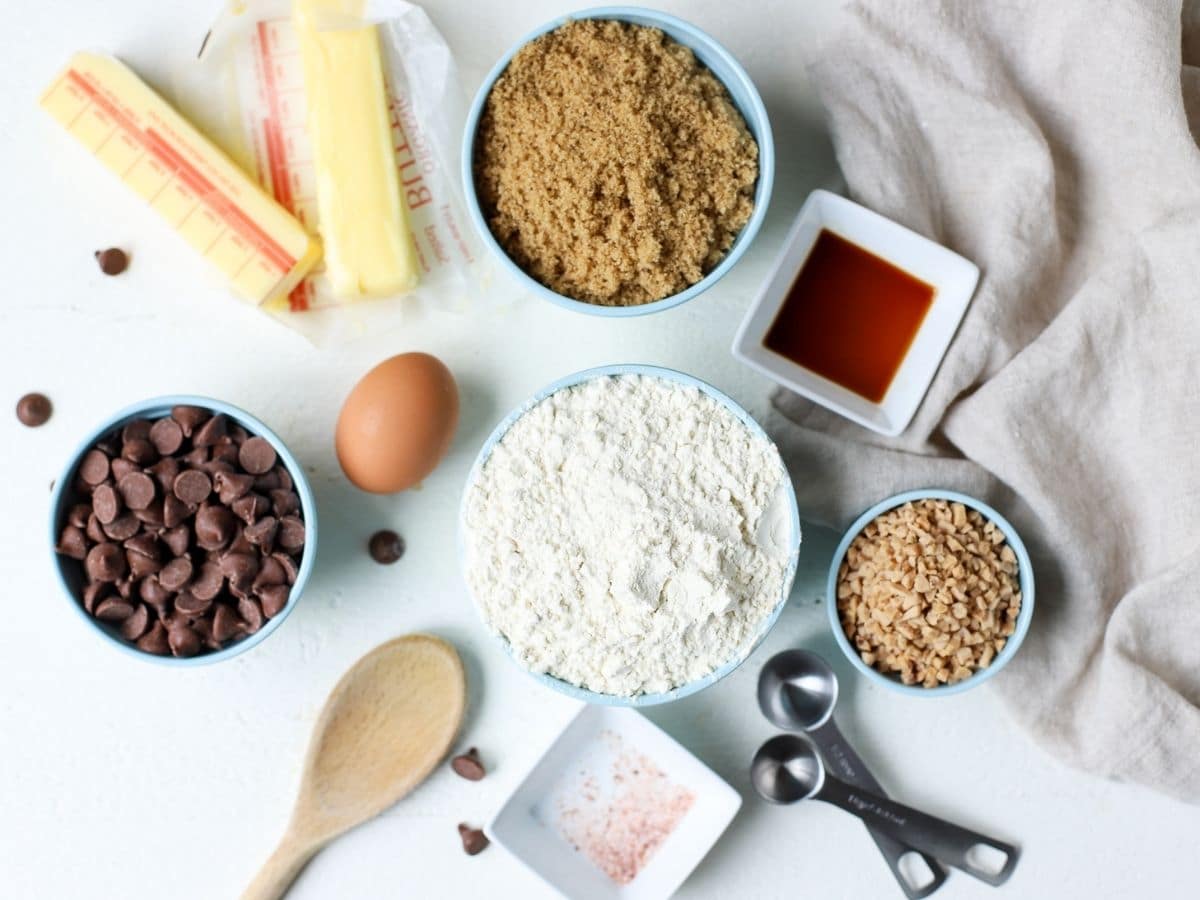 What to do if you're out of brown sugar
What do you do if you're in the middle of baking and realize your brown sugar needs to be tossed out?
You can mix a tablespoon of molasses with a cup of white sugar and save the day without running to the store. 
Printable Recipe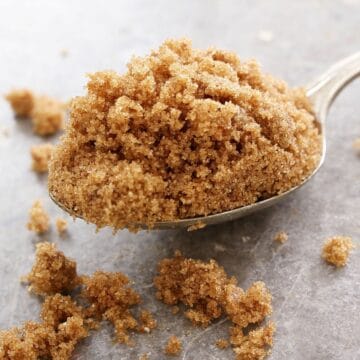 How To Make Brown Sugar
Step by step instructions for how to make brown sugar out of white sugar.
Print
Pin
Rate
Ingredients
1

cup

white granulated sugar

1-2

tablespoons

molasses
Instructions
For Light Brown Sugar
Add 1 cup of sugar and 1 tablespoon of molasses to a mixing bowl.

Either stir with a fork or rub in molasses with your fingertips until the molasses is completely incorporated and the sugar turns brown.
For Dark Brown Sugar
Add 1 cup of sugar and 2 tablespoons of molasses to a mixing bowl.

Either stir with a fork or rub in molasses with your fingertips until the molasses is completely incorporated and the sugar turns brown.
Notes
The only difference between light and dark brown sugar is the ratio of molasses to sugar.
Nutrition
Calories:
828
kcal
|
Carbohydrates:
214
g
|
Fat:
1
g
|
Polyunsaturated Fat:
1
g
|
Monounsaturated Fat:
1
g
|
Sodium:
9
mg
|
Potassium:
296
mg
|
Sugar:
215
g
|
Calcium:
43
mg
|
Iron:
1
mg
Here are a few more baking substitutions.
How to Restore Brown Sugar
If your only problem with your brown sugar is that it's too dry, you can moisten it back up again.
A piece of bread, marshmallows, an apple wedge, or orange peel added to the container can help add the moisture back to your brown sugar, softening it gradually.
However, you should know that this will take a few hours to revitalize your brown sugar. If you need it right away, grab a microwave-safe bowl, and cover it with a damp paper towel. Microwave it on high and check it at 30-second intervals.
This hack is a super quick fix that works when you need that brown sugar now.
Note: It will become hard again when it cools, so be sure to use it immediately.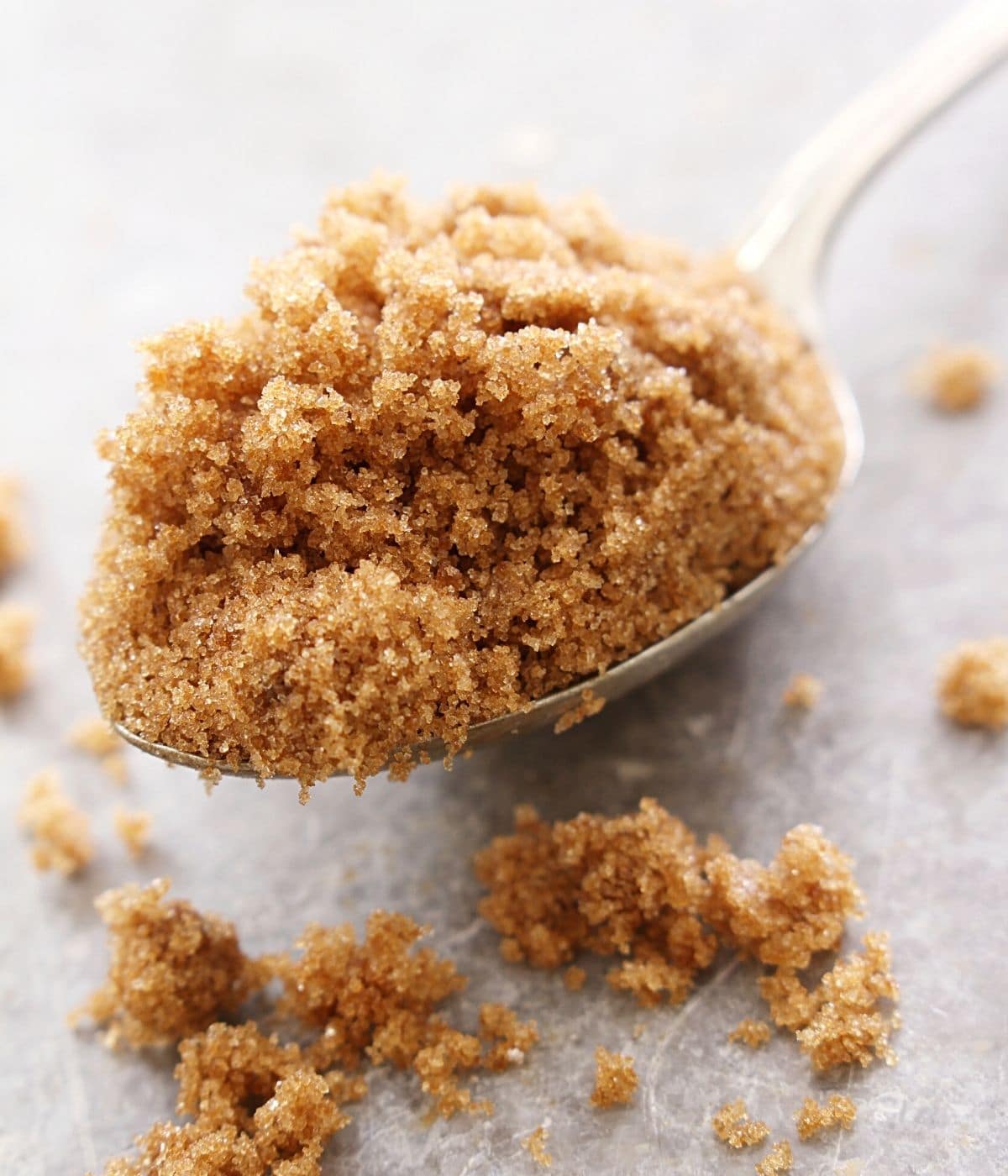 Is Hardened Brown Sugar Still Good?
Is brown sugar still good when hard? Yes, brown sugar is still good when it is hard.
All you need to do is reintroduce some moisture and the brown sugar will be good to use.
How to Stop Brown Sugar from Hardening
The best way to prevent problems with your brown sugar turning hard is to store it properly right after opening it.
If you have an unopened bag of brown sugar, you can keep it as-is until you're ready to use it. Otherwise, an airtight container is recommended. See below for ideas.
Proper storage once you open the package:
Choose a rustproof container with a tight-fitting lid to keep moisture out. A plastic container works well.
Store it in a dry place at room temperature.
You can also use a sealable plastic bag, though it is less foolproof than a container. While You shouldn't keep brown sugar in the fridge, you can freeze it if you live in a dry climate or plan to keep it for a long time. Freezing will definitely give it a long shelf life. 
This is our favorite tip.
You can add a brown sugar saver (usually a piece of terra cotta) to your container as an extra measure of protection to keep your brown sugar in perfect condition. You need to soak it in water before adding it to the sugar and repeat that process every 3 to 6 months when it dries out. 
This kitchen tip totally works!
Now that you know how long your brown sugar lasts, you can ensure that it's at the perfect taste and consistency the next time you're ready to bake up something wonderful!
When in doubt, it's always a good idea to follow food expiration guidelines from the FDA. 
Brown Sugar Storage Ideas