Fizzy Donut Bath Bombs are such a relaxing treat! They're easy and inexpensive to make for yourself to use in the bath or give as gifts!
Donut Bath Bombs
Bath Bombs are ahhhmazing! We love this easy bath bomb recipe, but these Donut Bath Bombs are also da bomb! And inexpensive too! A little fizzy fun for your bath that you can DIY at home.
We seriously can't believe how much you'll pay for bath bombs at stores like Lush. They're gorgeous, but let's be real!
It's a no-brainer when it's this easy and inexpensive to make them at home. You need a few basic supplies, and you're ready to go!

How to Make a Donut Bath Bomb DIY
Here are the ingredients you need to make DIY Donut Bath bombs.
Ingredients:
1 cup Baking Soda
⅓ cup Corn Starch
½ cup Citric Acid
½ cup Epsom salt
3 Tablespoons Olive Oil
3-6 drops Purple Gel Food Coloring (or natural food coloring)
6 drops Orange Essential Oil (optional)
4 drops Lemongrass Essential Oil (or Lavender)
Rubbing Alcohol in a spray bottle
Lavender Colored Nonpareil Candies (optional)
Other Supplies:
Directions:
Step 1
Add all dry ingredients into a bowl. Gently whisk until combined, and no more lumps remain.
Step 2
In a small bowl, place olive oil. To that, add essential oils and mix.
Step 3
Next, add the olive oil mixture to the dry ingredients. Add food coloring and mix until combined. Now, get in there and use your hands. Mix and squish.
Step 4
Spray alcohol (mist, not a stream) into the bowl a few sprays at a time, mixing and squishing with hands as you go.* At this point, the food coloring will more evenly disperse.
You should be at a good consistency when it still looks dry, but when you squish a handful, it stays together, and you can see imprints of your fingers.
Step 5
Add the desired amount of nonpareils to the bottom of each slot in a mini donut pan.
Press mixture into each cavity, firmly packing down.
If there is an overflow, slide it to the next slot, and so on. Allow it to sit for 1-2 hours.
Step 6
Place a dishtowel on the pan and invert it onto a flat surface.
Tip: If they don't come out right away, use a spoon to hit the back of each slot to loosen gently. (The towel will prevent bath bombs from cracking when hitting the hard surface.)
Finally, allow it to sit for another few hours or overnight until fully hardened.
Step 7
Drop into your warm, inviting bath and enjoy the fizz and lovely scent. When done, rinse the bathtub to remove oils and prevent color staining.
*It's hard to determine exactly how many squirts of alcohol you will need. It depends on your climate (humidity, etc.).
Tips for Making Bath Bombs
Don't mix the wet and dry ingredients too quickly. This will activate the mixture, and it will begin to fizz.
You can use whatever essential oil you prefer in this recipe. Lavender is one of my favorites.
For variety, you can change the color of your donut bath bombs by using a different food coloring.
Make sure you pack your bath bomb mold (almost overpack it) tightly with your mixture for best results.
Another tip, give your bath bomb plenty of time to harden. It may crumble if you take it out of the mold too soon.
Trouble Shooting: The most common reason bath bombs expand too much is the mixture is too wet, and the fizzing reaction is happening prematurely. In addition, bath bomb mixtures can fizz prematurely due to moisture in the air. For example, making bath fizzies on a moist and rainy day can cause the bath fizzies to excessively expand and come out of the mold.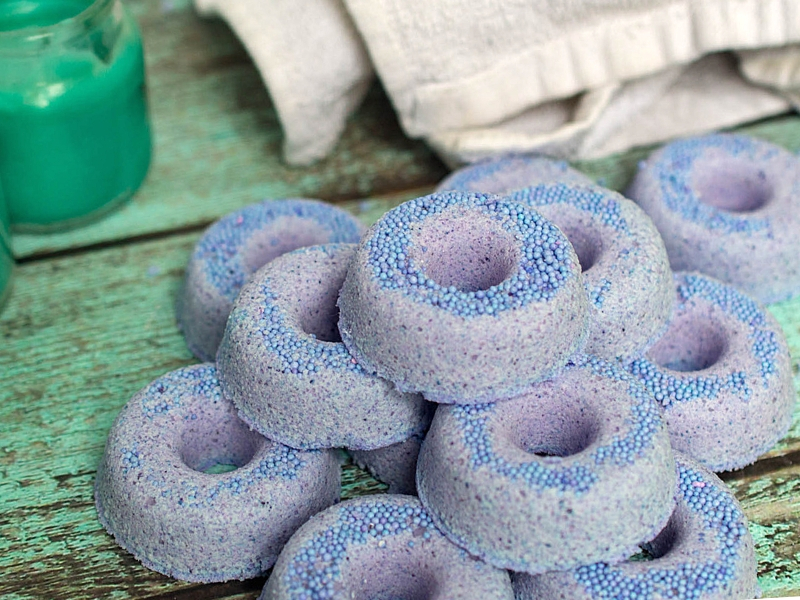 Donut Bath Bomb Molds
Here are some excellent options for Donut Bath Bomb Molds:
Silicone Donut Mold - easy to clean and perfect for baking or bath bomb making!
Traditional Donut Mold - 6 cavity pan that bakes up great donuts or turns out perfect Donut Bath Bombs
Can You Use Food Sprinkles in Your Bath Bombs?
Totally! You can use food sprinkles in your bath bombs and make them as delicious-looking as possible. Sprinkles are non-toxic and will dissolve or wash down the drain without any issue.
Donut Bath Bombs make great DIY Christmas gifts or party favors. And you know what's really fun? Have a girl's night and make them with friends! Enjoy!
How to Use A Bath Bomb
Fill your tub with warm water, drop a bath bomb into your tub and watch it start to fizzzzz! The show is fantastic.
Soak for about 20 – 30 minutes. Ahhhhh, heavenly!
You May Also Like These DIY Beauty Recipes: