Getting ready to host family and friends for football season? These Tips for Hosting a Game Day Party will keep it easy, fun and stress-free!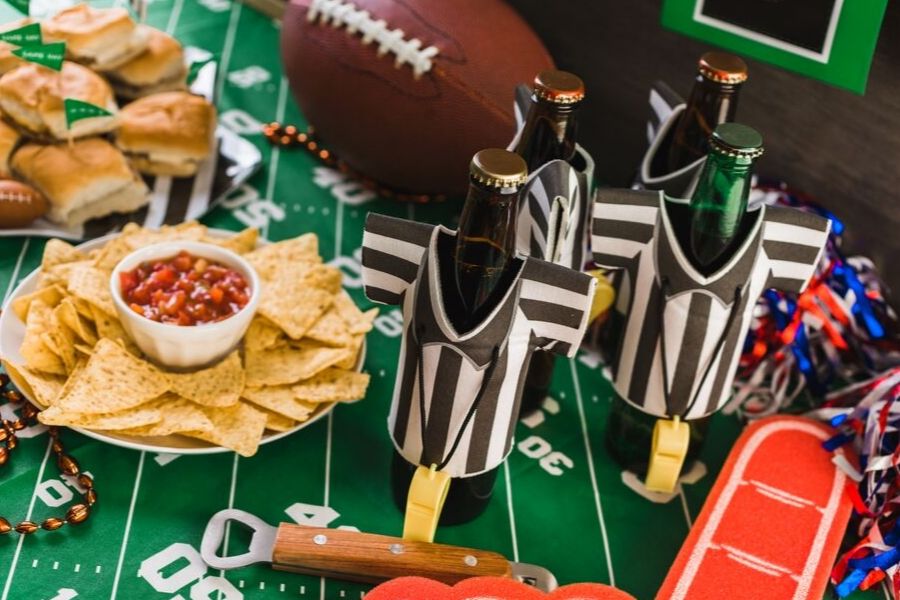 9 Best Tips for Hosting a Game Day Party
Football season is back, and we couldn't be more excited! There's no better excuse than a game day to get your friends and family together. If you have football fans (or any sports fans) in your home, these tips for hosting a game day party will help you make sure all have a good time.
But, be careful, once you know how to throw a great game day party, you'll have friends and family inviting themselves over more often!
Whether you're hosting a football party for Super Bowl or your favorite college team, these tips will make sure there are no fumbles!
1. Take a Seat
Not everyone wants to watch a big game standing up, so make sure you have plenty of seating space. Having enough seats may mean you have to limit the number of people at your party or you may want to borrow chairs if you don't have enough seats for everyone. Of course, you'll want to allow the adults to sit on couches and chairs, but you can put large comfy cushions on the floor for the kiddos.
2. It's All About the Food
Best advice—plan ahead when it comes to food.
Don't wait until the day of the game to decide what appetizers and munchies you'll have available. Make a list of the yummy food you want to serve, like fan favorite Grape Jelly Meatballs and bacon topped Loaded Tater Tot Nachos, so you can see how much it will cost and how much prep time you need.
You can also go healthy with options like Hummus and Roasted Red Pepper & Artichoke Dip.
If you have a large crowd coming and you think it getting too expensive, don't be afraid to ask friends and family to bring a finger food as their cost of "admission" to your party.
Related: Game Day Food Ideas
3. Plan Ahead
Make as much food ahead of time as you can. Doing this will help you to be sure you have everything you need as well as not getting stuck in the kitchen preparing food the day of the party. Who knows, you may even be able to enjoy yourself because you don't have to fret about making the game day eats.
Focus on finger foods and casual dining for the win!
4. Keep the Food Near the Action
Set up the party, so the food is easy to find and easy to reach.
No one wants to have an empty plate or glass and have to go into the other room away from the action to get a refill. They might miss something important! If you can, set up a cooler with drinks and food table in the same room so guests won't have to leave.
The options are endless. You can either set out the appetizers on a coffee table (if your coffee table is big enough), spread out the food on a kitchen table, or set up a buffet-style spread on the counter.
5. Prepare the Playing Field
Go for the extra points! You know, decorating! You can go all out and purchase decorations in your team's colors, or go simple and set out mason jars filled with brown craft paper to make them look like little footballs.
Amazon Pick: Game Day Decorations
Cute Idea: One easy idea is to grab a black marker and draw some plays onto the kraft paper you can use to cover your coffee table.
6. Get the Grill Going
If you plan on grilling for the party (because you know, meat!), be sure that you get that done in plenty of time before the game starts. While it might be okay to grill while watching the game at a tailgate party, having a party in your home means you'll want to have everything done ahead of time so you can enjoy the game, too.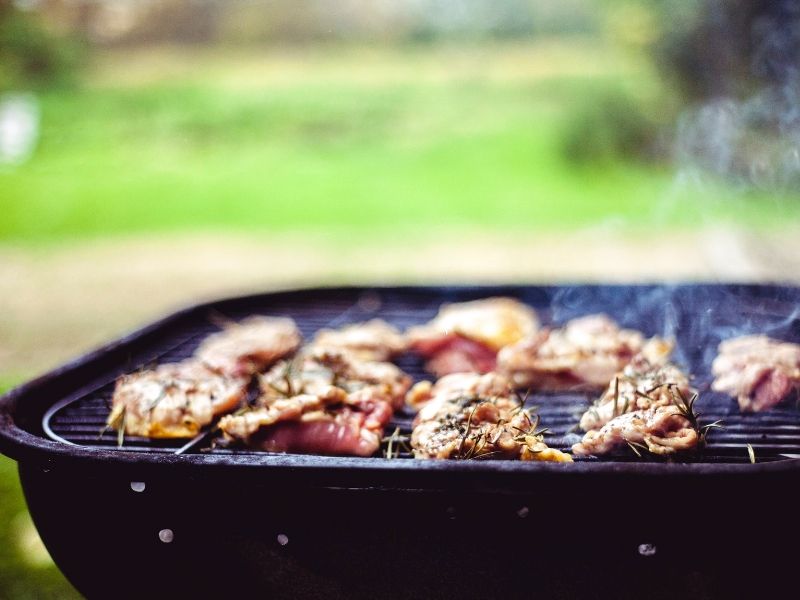 7. Hosting a Game Day Party with Drinks
Consider options besides alcoholic beverages. You may wish to friends or family to bring their drinks, but you may also want to forgo alcohol altogether—whatever works for you.
Remember, if the party is at your house, you can decide whether or not alcohol is part of the festivities. Lemonade, soft drinks, watermelon punch, and non-alcoholic choices will most likely be awesome Plus, you won't have to worry about friends drinking and driving after the game.
Tip: You can pick up a package of individual milk or juice boxes, place the drinks in a bucket filled with ice, and set it out so that the kiddos can grab a drink.
8. Keep 'em Entertained
Sometimes, football games get boring or—not everyone is as into it as you are. A football squares grid (with monetary or gift prizes) can keep your crew engaged in the score.
Related: How to Play Football Squares
9. Simple Clean Up
Even though it's nice to have 'real' plates and glasses, your guests certainly won't mind if you use paper on occasion and trust us, it's a good idea. Using disposables will make clean-up a breeze, and you won't have to spend hours cleaning up and washing all the dishes.
Tip: Keep a trash bag accessible, and guests will be able to throw away their trash, making clean up that much easier!
This list of tips for hosting a game day party is by no means exhaustive. However, using these tips will give you the confidence you need to plan and execute an AH. MAY. ZING. party as well as allow you to enjoy the food, friends, and family at the same time. Yay!
Read Next: Game Day Dessert Bar