Boxwood wreaths add such warmth and charm to any space. This easy tutorial will show you how to make a succulent and boxwood wreath for your home.
This post contains affiliate links. Disclosure policy here.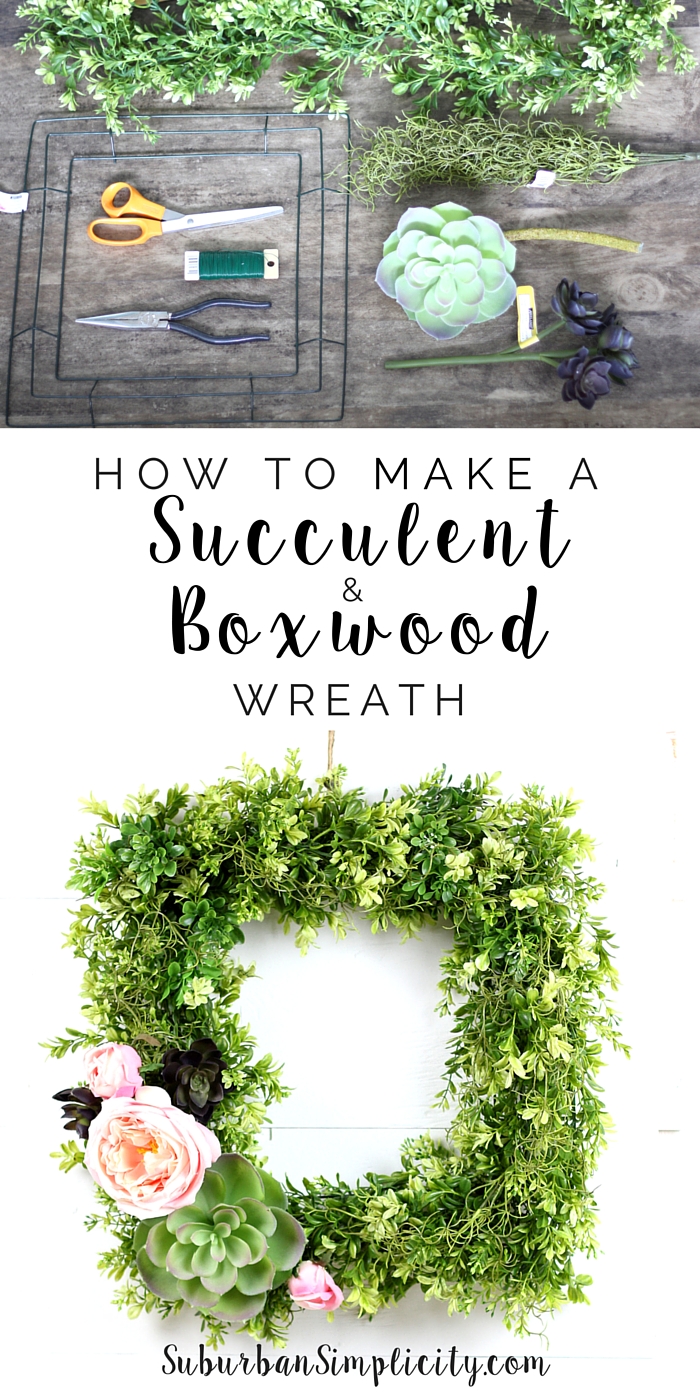 How to Make a Succulent and Boxwood Wreath
Boxwood wreaths are so simple, yet so pretty, we'd have one in every room, but they can be expensive. Not to mention if it's made from real boxwood, it doesn't last forever.
This faux boxwood wreath is a wonderful alternative. It's the perfect year-round wreath!
With the addition of succulents and floral embellishments, it makes a gorgeous addition to your spring and summer decor without any maintenance or watering.
You could change out the flowers for burlap and have a rustic look all year long. This wreath would make a lovely housewarming gift, too.
SUPPLIES NEEDED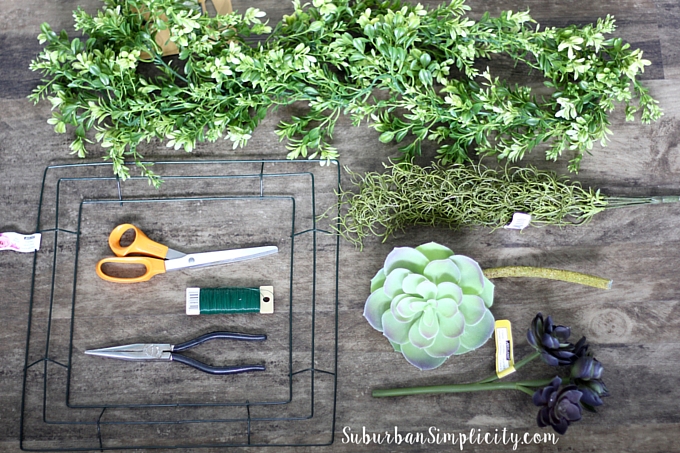 INSTRUCTIONS
Project Difficulty: EASY
Step 1
Gather your supplies. Cut several 4-inch pieces of floral wire off the spool with your wire cutters.
Step 2
Now, place the first strand of boxwood garland over the wreath frame and push it between the metal grooves. Twist the wire around the boxwood to attach it to the wire wreath. Continue around the wreath until the entire garland is attached completely to the wireframe. Repeat with the second boxwood garland.
Tip: Attach the boxwood garland with pre-cut wire about every 6" - 8" for a secure hold.
Step 3
Fluff out the boxwood garland so it hangs nicely and covers the metal wreath frame completely with no gaps or holes.
Step 4
Take scissors and cut apart the moss and tuck pieces around the boxwood garland. Attach the ends of moss strands with floral wire from the backside. Tuck some of the moss into the boxwood and let other pieces hang loosely.
Step 5
Cut long stems of succulents to fit into wreath without coming out of the backside. Place the large succulents and florals in one of the bottom corners of the wreath. Position the remaining succulents and flowers in a triangular shape around the larger ones, and attach to the wire wreath from the backside with floral wire.
Step 6
For hanging the wreath, tie a small loop of twine to the top, center of the wire wreath.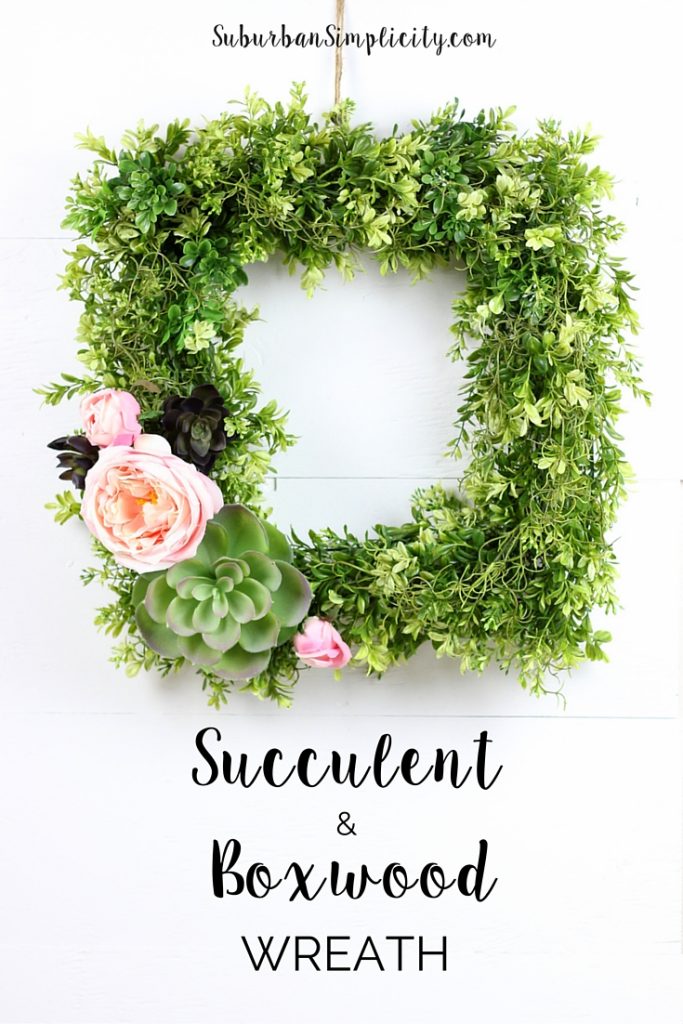 The project took about 15 minutes to assemble and could be customized with whatever succulents or flowers you'd like. I think it could easily be changed out with other flowers depending on the season.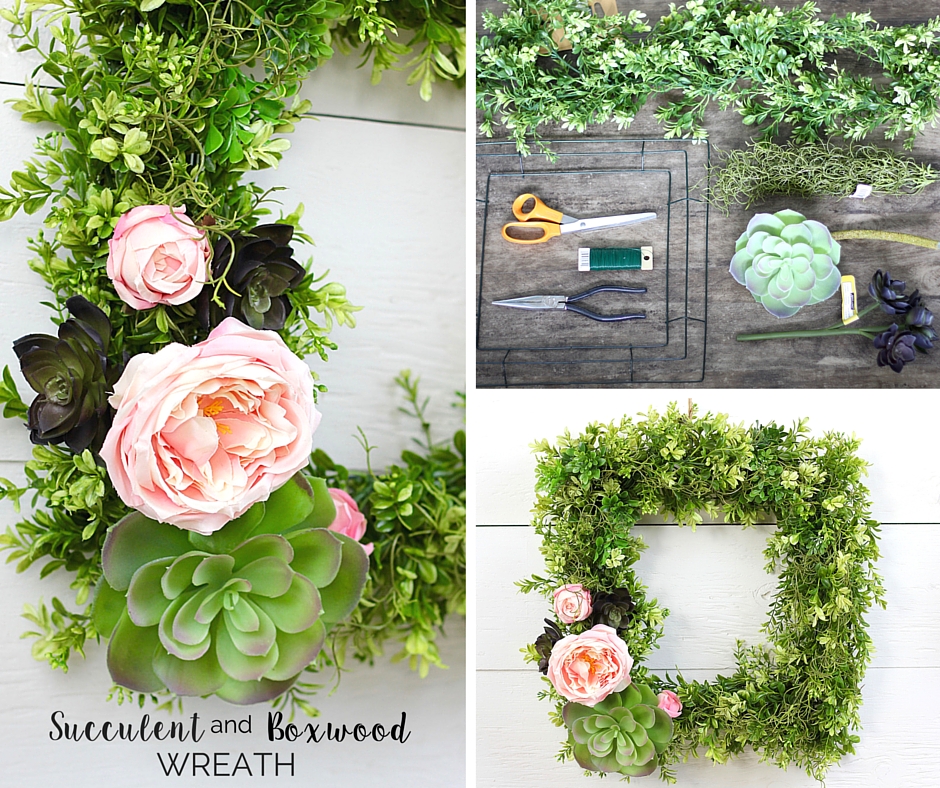 So, don't spend a small fortune buying a pre-made boxwood wreath, make your own! This succulent and boxwood wreath would look elegant, yet rustic above your fireplace, on an interior or exterior door, leaning on a shelf or over a window.
Enjoy!
You can also FOLLOW US FACEBOOK, TWITTER, INSTAGRAM, and PINTEREST to see more delicious food, fun crafts + DIYs!