How to Plan a 4th of July Party that rocks! Tips from start to finish for an easy, fun and memorable Independence Day celebration.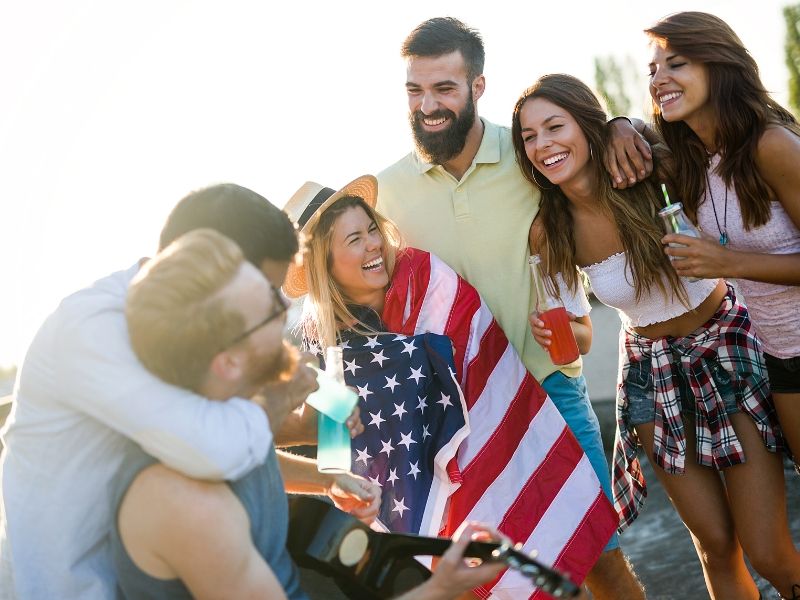 How to Plan a 4th of July Party
Celebrate America's birthday with a fabulous July 4th party! Organizing a get-together can seem like a lot of work for one afternoon or evening, but ya don't need to spend hours laboring over party planning to enjoy a super fun event. Use these simple ideas so you know How to Plan a 4th of July Party that rocks!
Related: Patriotic Desserts
Let's get started...
Determine the Deets for Your Party
Obviously Independence Day isn't always going to fall on a weekend. If the holiday falls on a weekday, plan for a different day if that suits your calendar better. Or, go with the weekend that is closest to the actual 4th.
You'll also want to decide if the party will be held at your home or another location. City parks work great and usually have a BBQ to grill dogs and burgers, plus a play area for the kids. You can usually reserve these venues at a very low cost.
Tip: Don't forget to set a specific time for the party so guests know when the festivities start.
Plan a Budget for the Shin Dig and Stick to It
Think about all of the things you'll need to throw your epic bash and include those in the budget.
For example:
decorations
food
beverages
plus any fireworks, games or table settings
Favorite Amazon Deals:
4th of July Plates and Napkins for Patriotic Party
Send Invitations
People rarely send formal written invitations, so send invites through email, text or an online invitation service. Using a Facebook event to invite your peeps is also a good idea.
Be sure to ask guests to respond if they are coming or not so you know how many plan to come to the event.
Create a Menu for the Event
Ask friends and family to help by bringing a dish to share. This is the season of potlucks! It's the best time to make a patriotic Strawberry Shortcake dessert because everyone loves shortcake!
Be sure to make a list of who's bringing what foods so you won't have everyone bringing deviled eggs or potato salad. If you notice that you need something specific, don't be afraid to ask someone to bring that item.
How about drinks? It's also the perfect time for Watermelon Punch. Add a few luscious blueberries floating on top and a festive straw for a pop of patriotic color. Or, you may want to ask each person or family to bring beverages they like to ensure everyone sips on something they enjoy.
Don't Forget the Ice!
It will likely be H-O-T, so don't forget to stock up on ice.
Not only will you need it for beverages, you can make an instant cooler. Just place ice in the bottom of a large bowl with a smaller bowl of food placed on top or inside it to keep it cool.
No need to spoil that party with food that's gone bad!
Favorite Amazon Deal:
Have Extra Propane or Charcoal If You're Cooking Out
No one wants to run out of propane or charcoal before the food is finished cooking. Take time to pick up an extra tank of propane or a couple of bags of charcoal to ensure there's plenty of hot food for everyone.
Make a List of What You Need
Some things to consider are:
plates
cups
napkins
eating utensils
table cloth(s)
matches
decorations
If you can't find exactly find what you want, go to a dollar store and purchase red, white and blue solids that can be mixed and matched to show plenty of patriotism.
Tip: Stock up on 4th of July decorations after the holiday so you'll be prepared for next year's party.
Clean up the party area and decorate the night before. This will enable you to enjoy the day of the event a little more. If you need extra seating, ask guests to bring some or check with a party supply company, local church or recreation center to see if you can rent or borrow extras.
Favorite Amazon Deals:
Prep Food Ahead
Don't wait until right before the party to begin buying and making making food.
Do what you can in the week leading up to the party and put the items in the refrigerator or freezer. This will make it possible for you to enjoy the party and not be crazy the day of the event.
After spending your time organizing a 4th of July party, don't forget to have fun. Guests won't remember if everything is perfect, but they'll remember if they were able to spend time with you.
Now you know How to Plan a 4th of July Party, so get out there and mingle and have a great time!
Extra Tip: Keep essential safety supplies nearby. If your party is during the heat of day, keep sunscreen + aloe nearby for easy application. Don't forget extra bottles of water and painkillers/bandages or accidents — just in case. And have a bucket of water close by for the fireworks.