Teens can be notoriously hard to shop for, but we've got several Christmas Gift Ideas for Teenagers that are sure to please nearly any teen on your list this year!!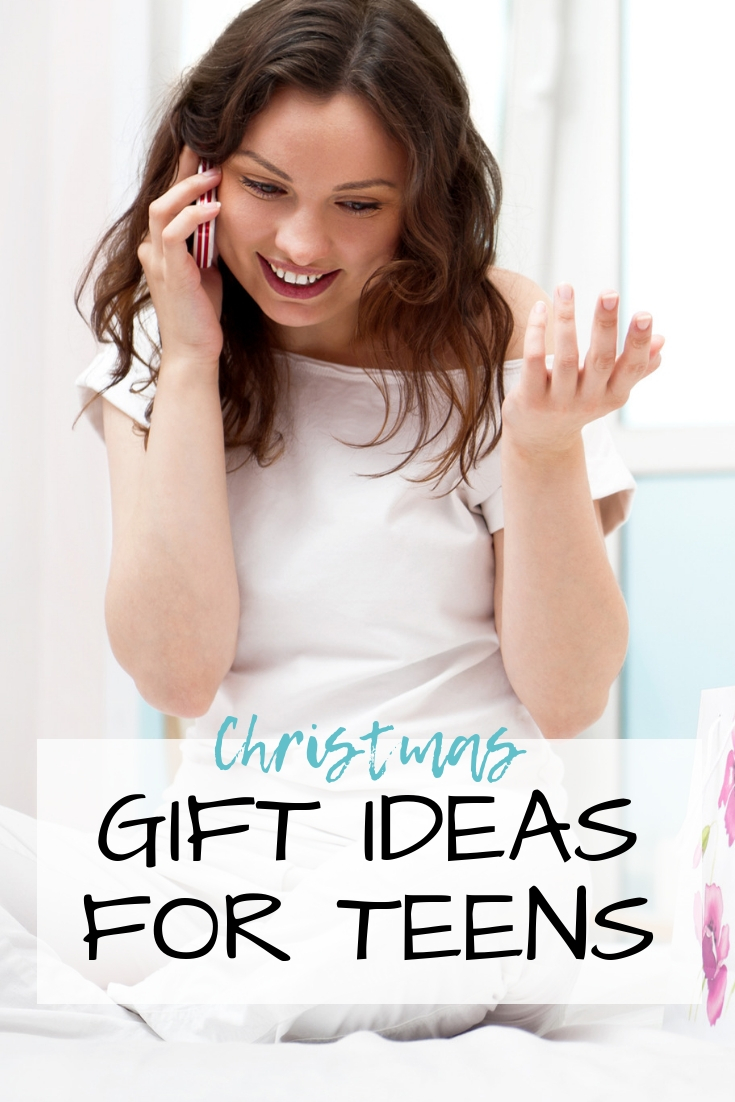 Creative Christmas Gift Ideas for Teenagers
Picking gifts for teens is no easy feat! But lucky for you, we've rounded up a few ideas for those hard to buy for, not-so-little kids!
Some of the items below contain affiliate links; I am a participant in the Amazon Services LLC Associates Program, an affiliate advertising program designed to provide a means for us to earn fees by linking to Amazon.com and affiliated sites. However, I only promote things that I love and think you will love, too.
Christmas Gift Ideas for Teenagers
As kids get older and become teens, it can be a bit difficult to come up with holiday gift ideas they'd actually like and not roll their eyes at. No longer do they want toys or play jewelry – they've formed their own interests and opinions.
All you need to know is one or two things they're into to come up with a gift that they are sure to love. To help you decide what to buy this year, here are some Christmas Gift ideas for teenagers below!
Themed Box/Basket
If you know something the teen is really into, theme the Christmas gift around that interest.
For example, say you have a niece or daughter who likes unicorns. Add a unicorn t-shirt, socks or even this fun unicorn mug that's perfect for hot cocoa or coffee! Wrap it all up in a cute box or basket (a plus for something reusable), and you are good to go!
Socks
Now, I'm not talking about boring white athletic socks or even solid-color socks. Many teenagers like funky socks that help them represent their personal style. Since socks are also a practical item, it's likely your gift will get some use - even if you don't know the teenager exceptionally well.
Think outside the box. There are so many fun designs you can find online or in stores…such as these musical socks for band or chorus members.
Journals and Fun Supplies
The teenage years can be filled with emotional events as well as self-exploration. Kids this age need a place to write down their thoughts so they can "unload" them and figure them out more efficiently.
A journal is a great place to do this - and you can create a wonderful Christmas gift by adding some fun pens and stickers with a cute book for a teen this Christmas.
For example, you can begin your teen Christmas gift with a prompt journal like Through My Eyes or a simpler blank lined journal. Pair the book with an assortment of colorful pens, stamps and other supplies for a holiday gift that many teens will enjoy.
Cell Phone Accessories
Smartphones are a teenager's life, so why not make them happy with fun and functional accessories! With so many options for cell phones, you can easily make one or two of them a great, useful holiday gift! Think battery backups or Popsockets – the hot stick-on phone accessory that makes taking selfies easier. Those things make great stocking stuffers too!
Instant Camera
Photography is very important to many teens these days (especially selfies :)). They want to capture memories with their friends and family. Help with this by gifting your favorite teenager with an instant camera this holiday. Go for a bundled instant camera gift pack that includes additional film and other accessories to really set the teen up for photographing events and special occasions!
Gift Card
If you've thought through all other ideas and just don't know what to buy for the teen on your list, don't rule out the power of a gift card (think Xbox, iTunes, or Fandango). Some may think it's an impersonal idea, but for teens that know what they like, a gift card can be their favorite gift under the tree!
Hopefully, these Christmas Gift Ideas for Teenagers will set you on the right track to buying for the teens on your holiday list.
Fun Christmas Posts You Might Like: