Plan the perfect holiday cookie exchange with these great tips! From the invites to the refreshments, you'll throw the best cookie swap in the neighborhood!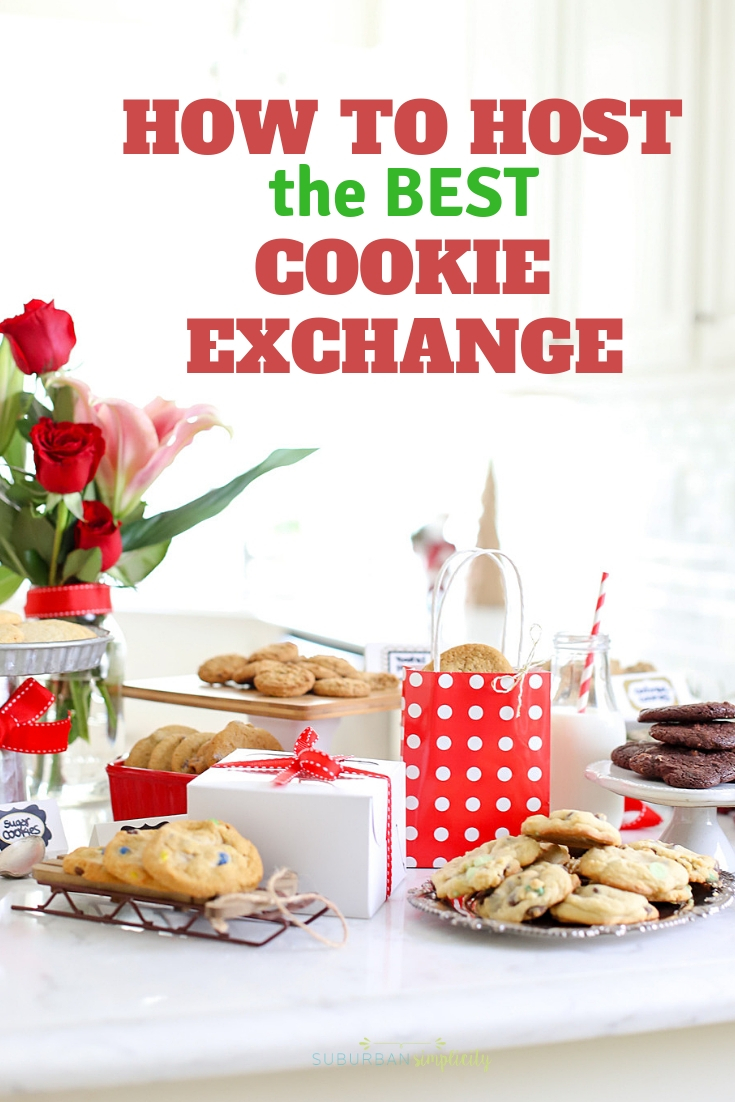 Here are the best cookies to bring to a cookie swap!
How to Host the Best Cookie Exchange
The holidays, baking, and entertaining go together like winter and warm sweaters. And what better way to do all three than hosting the best cookie exchange?!
It's the perfect party to bring friends, family, and neighbors together in a sweet way!
Everyone bakes their favorite cookie at a cookie exchange and shares it with everyone else at the party. Pretty fun, right?! Plus, you get to sample the holiday treats, then trade and package them in delicious assortments that make great gifts.
We find the best part of a cookie swap is connecting with friends I haven't seen in a while. We share a cup of coffee and catch up.
It's what the holidays are all about.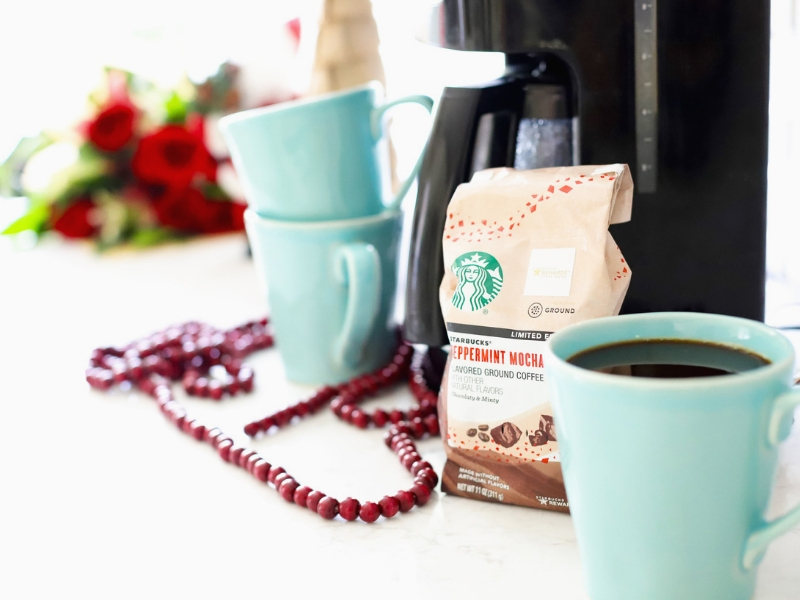 Here are the best tips and advice, so your cookie exchange is a success!
Send Out Invitations
Set a date & send invitations far enough in advance - three to four weeks is ideal. The holidays are busy, so you want to be sure your friends and family can make it! You can send out traditional invitations or use an Evite.
Seven or eight people make the party size manageable yet give you an excellent variety of cookies to take home.
Of course, you can always have more!
In your cookie exchange invitation, you can ask each person to bring copies of their recipe to share with the other guests and some supplies for pretty packaging, such as ribbons, tags, or boxes.
Choose Which Cookies to Bake
That's the big question! What to bake?
One of our favorites is these Mint Chocolate Chip Cookies that get rave reviews - because who doesn't like mint and chocolate?! There are many recipes, but here are some fantastic cookie exchange options everyone loves.
White Chocolate Oatmeal Cranberry Cookies and Christmas Crack are always on the list!
As a general guideline, everyone should bake a dozen cookies for each person attending. Then there is plenty for sharing, nibbling, and enjoying with your coffee!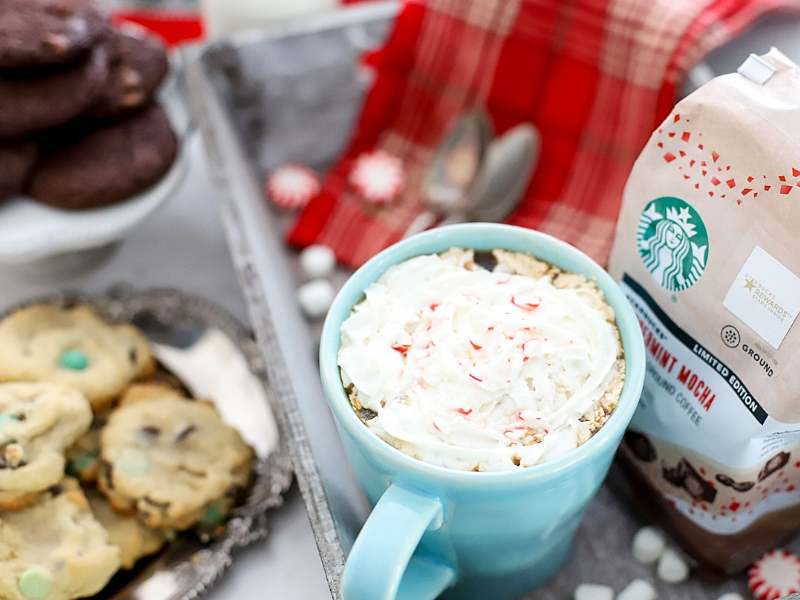 Create Cards for the Cookies
Since everyone is bringing different types of cookies, make cards with the treats' names, so people know what they are. It makes things as simple and easy as cookies when you're swapping cookies!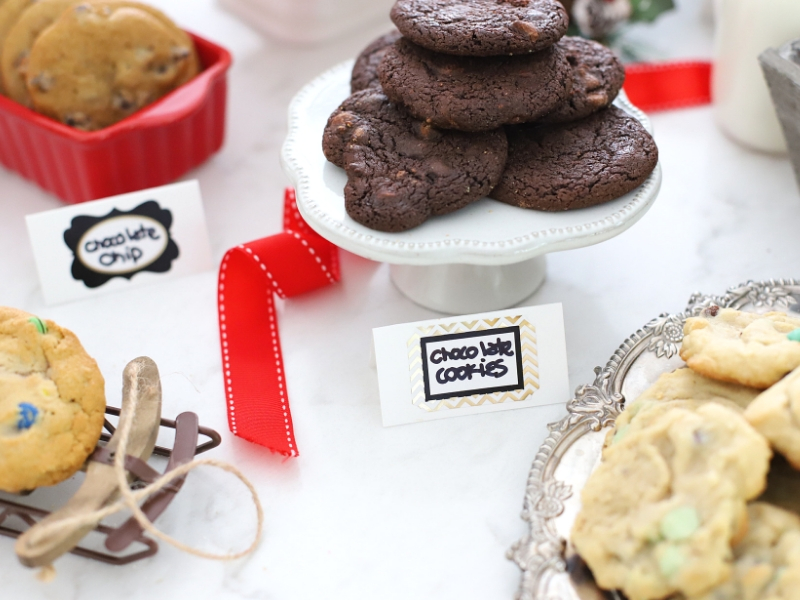 Serve Refreshments
What better way to bring friends together than coffee?! Serve a seasonal blend, or just go with a regular brew. Maybe have some add-ins like peppermint syrup or whipped cream.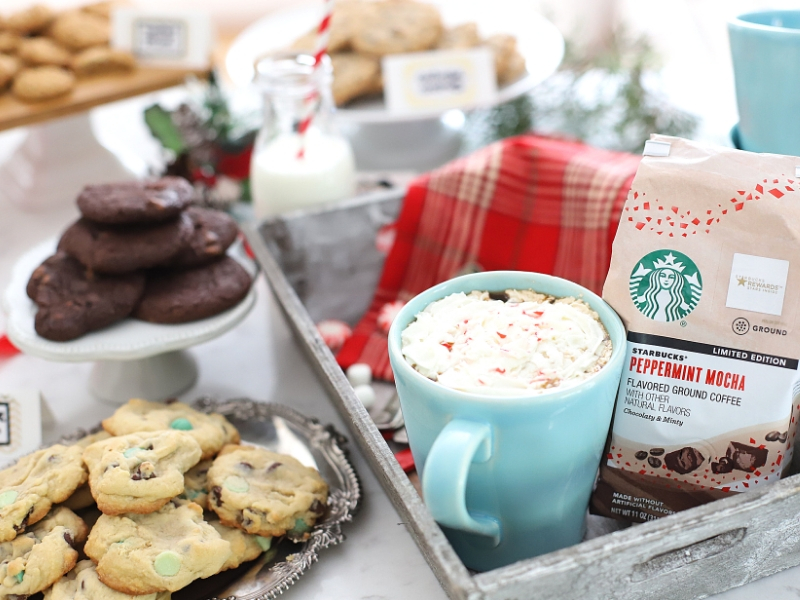 As for snacks, consider offering a few savory appetizers and a veggie tray to keep things balanced with all the sweets.
Make a Festive Playlist
Create the ambiance you want by finding or creating a playlist with all your favorite holiday tunes that keep the party upbeat and fun.
Have a Place to Package Cookies
Clear a large table or counter and create a cookie packaging station.
Whether you supply them all or have guests bring packing materials, have all the supplies they'll need to take their treats home, or gift them to others in one location. 
Think bags, boxes, plates, and bows!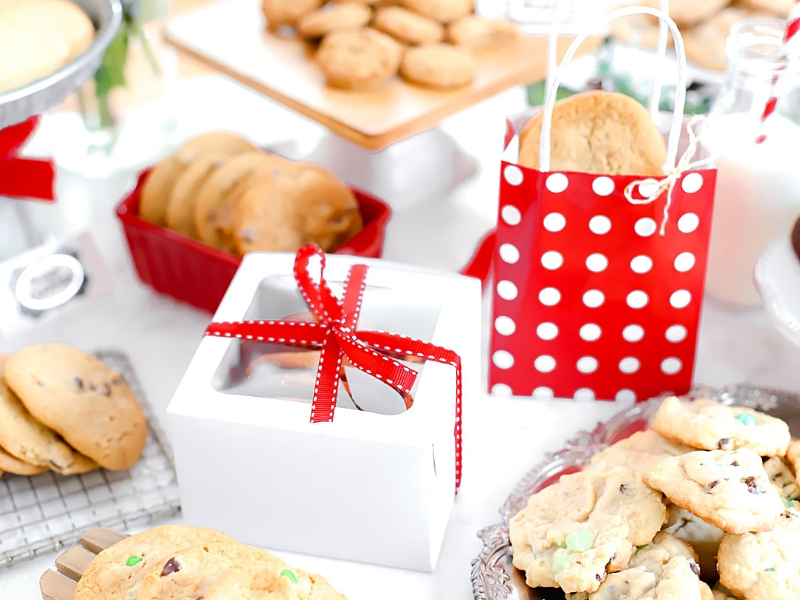 Let's get baking and Host the Best Cookie Exchange!
And on the day of the party, brew a pot of coffee or a big pot of hot chocolate and clear a few tables for sampling, swapping, and packaging your fresh-baked cookies!