Make this year the best yet with this Easy 5 Step Process for Goal Setting. Learn the important steps for SMART goal setting that actually works!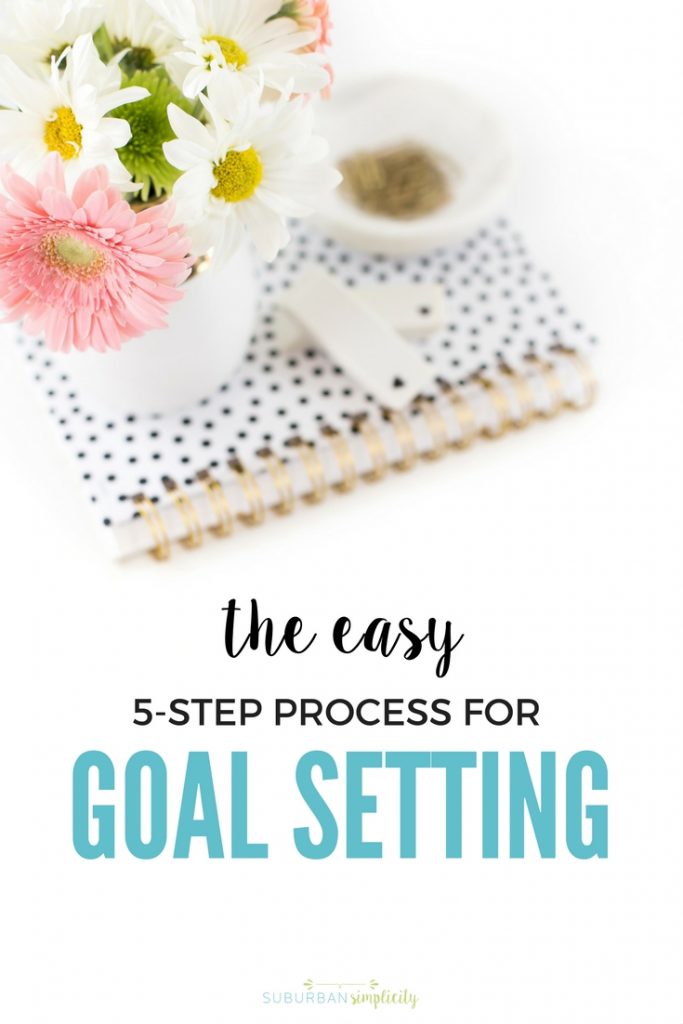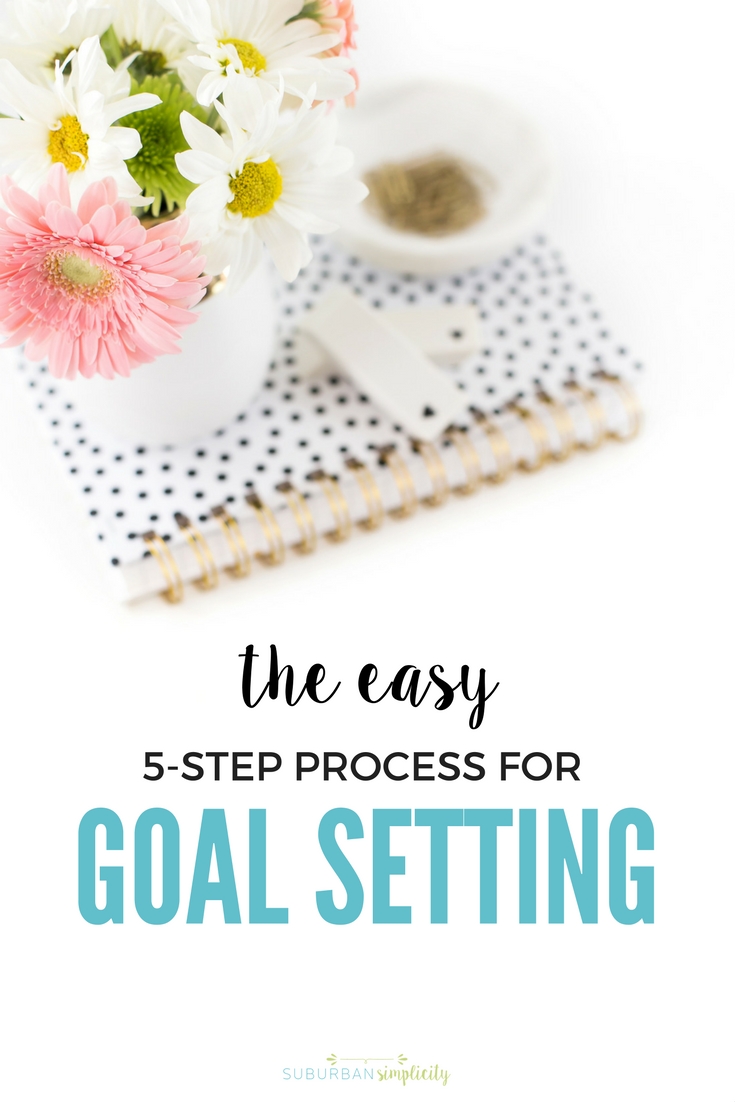 The Basics Steps of Goal Setting
SMART Goal setting is critical for achieving what you want in life.
We genuinely believe this.
From the simple to the big, following the steps to goal setting can help you reach or exceed your dreams. Whether starting your own business or creating a family budget so you can save for your family vacation, goals drive the engine to make it happen.
Raise your hand if you set goals?
Most of you probably have your hand up. But the key is the next step to setting goals and actually achieving them, and probably the most critical to making them a reality.
Write them down on paper or a chalkboard.
We're a personal fan of the chalkboard method. It's almost magic how it brings goals to life!
Hmmm, which path will you take?
If you're up for it, let's walk through the easy 5-step Process for Goal Setting.
You'll also want to check out the Secret to Setting Goals and Achieving Them.

Easy 5 Step Process for Goal Setting
It's best to determine your priorities and then start setting goals that align with those priorities.
For example, if your priority is more family time, your goal might be "working no more than 20 hours a week".
What are the goal-setting steps that produce actual results? The following roadmap will walk you through the steps to goal setting.
1. Set goals that motivate you
Your goals need to mean something to you. Not your husband or kids, you. They need to be something that you're motivated to accomplish. Don't go overboard. 5-7 goals are plenty to focus on and a manageable number to track.
2. Set Smart goals
Maybe you've heard of SMART goals. Perhaps not, but they're the best criteria you can start with when setting your goals. The acronym means: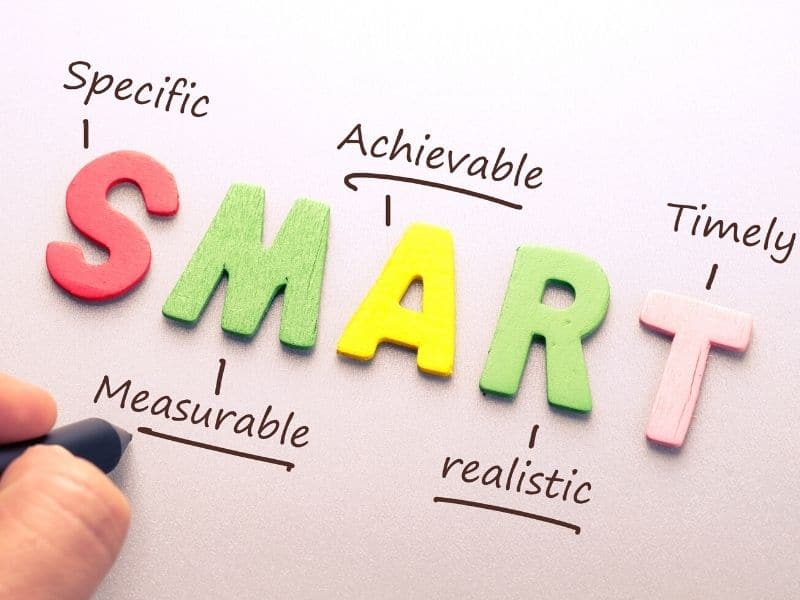 Specific - Set goals that identify exactly what you want to accomplish. Don't be too broad.
Bad example - Write an eBook.
Good example - I will write an eBook for moms by the end of January that helps them organize their homes.
Measurable - How can you measure your progress? How will you know if you're on track? Numbers are important here.
Bad example - Save for our family vacation.
Good example - Save $2000 for our family vacation by June.
Actionable (or achievable) - It's best to start with an action verb and not be wishy-washy.
Bad example - Be more consistent with meal planning.
Good example - Plan a week's worth of meals every Sunday.
Realistic - Can your goal actually be achieved? You want to stretch yourself and make it something you can actually do. We like to set the bar high, but not so high that we can never achieve it.
Bad example - Be on dancing with the stars.
Good example - Learn to ballroom dance by Christmas.
Time-Bound (or timely) - A goal without a date is just a dream. If you want to accomplish your goals, you need to give yourself a deadline.
Bad example - Lose 10 pounds.
Good example - Lose 10 pounds by March 15.
3. Put Goals in Writing
Just make sure you write them down!
Research proves that people who write down their goals accomplish significantly more than those who don't. So grab a cute journal or use the chalkboard method to visualize your goals as I do.
4. Make an action plan
A plan can help you focus on the steps it'll take to reach your goal. This will help you feel more in control and less all over the place.
5. Stick to it!
This step can be the hard part.
Life can often get in the way, and your goals fall to the wayside.
Don't let that happen!
Check-in with yourself, either weekly or monthly. Are you staying on track? Is there something you could be doing differently so that you're more successful? Put the check-in on your task list or your phone, so you are more likely actually to do it!
Related: How to Stick to Your Budget
Grab Your FREE Goal Setting Worksheets
So you can set and achieve SMART Goals!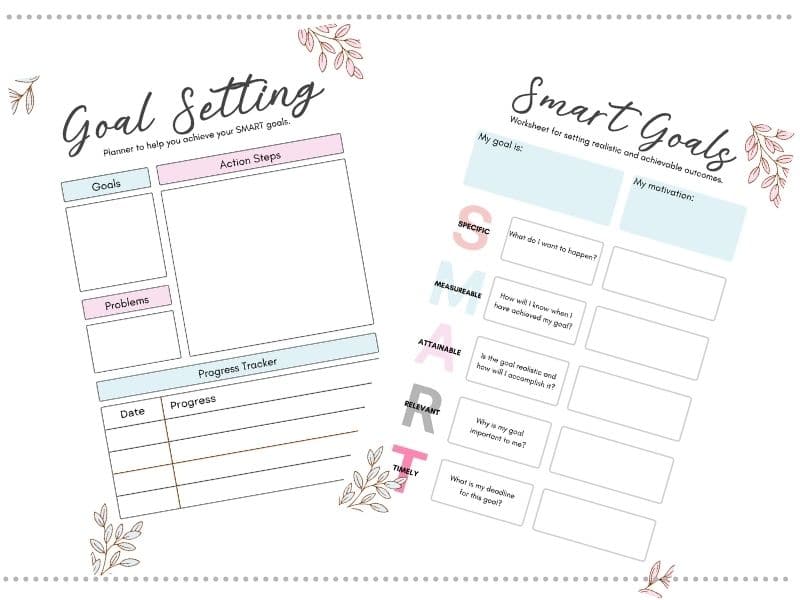 To Recap
This 5-Step goal-setting process is not just helpful; it's the best way to bring more happiness and simplicity into your life.
So, grab your free goal-setting worksheets above and start brainstorming your goals, and don't forget to write them down or use the Chalkboard Method (it's like a vision board) so you can actually achieve them!
You've got this! Let us know your goals and how you plan to achieve them!
This post contains affiliate links. Disclosure policy here.
You can FOLLOW US on FACEBOOK, TWITTER, INSTAGRAM, and PINTEREST to see more delicious food, fun crafts, parenting tips, + DIYs!