Celebrate this childhood milestone and use one of these adorable First Day of School Photo Ideas to capture the moment and treasure it for a lifetime!
First Day of School Photo Ideas
When back to school time rolls around and store aisles are stocked with bright colored crayons, pencils, and binders, social media tends to be packed with adorable Back to School photos. Now is the time to plan out how you're going to capture the moment with your kiddos. 
There are plenty of fun First Day of School Photo Ideas you can do with a little bit of preparation. The photos will be memories you'll want to hang on to for a lifetime. If you're a parent, you totally get this!
Related: Back to School Organizing Tips
Here are some of the best ideas for back-to-school photos!
Small Chalkboard Sign
If you love the little sign saying what grade your child is going into, do it with a chalkboard. The blackboard with white text on it not only lends itself to a retro school feel, but it also comes out better in photographs.
Tip: If you want your sign to look great, clean the board off completely in-between years or in between taking pictures of your other children. This way, you won't have any eraser marks that show up in photos.
Chalkboard Sign Picture from Mimi's Dollhouse
First and Last Day Comparison
Why settle for just a first day of school photo when you can do one on the first and last day? This way, you can look back and see how much your little ones have grown in a school year and how much they've grown over the summer. 
This is especially fun when puberty starts, and there can be a lot of changes in just 3 short months! This photoshoot can be done in your yard, in a favorite park, or anywhere with great light.
First and Last Day of School in same outfit photo from The Suburban Mom
At School
Head over to the school before school is in session for some great backgrounds, playground equipment, or other props. If you know which classroom will be your child's and the school is open, take a photo of your child in front of their classroom door or in front of their school bus. 
If they have a favorite piece of playground equipment, incorporate that. These contextual things make the photos more personal and offer the opportunity to tell a story.
Photo from Chelle Cates Photography.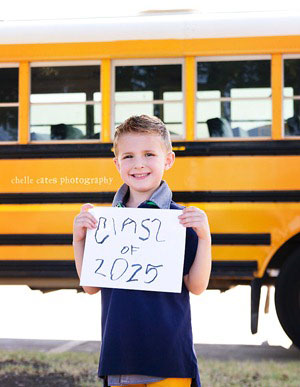 Shopping for School Supplies
When you go out shopping for school supplies, bring your kids and bring your camera or just use your phone. Catch them browsing binders or standing behind a shopping cart full of their supplies for the year.
Most stores have fantastic lighting for photography, and the bright colors featured in the school supplies will p-o-p!
First Day of School Outfit
Most of us know well in advance what the first outfit of the school year will be, so why not have your kids put them on the week before school and do a photoshoot?! This also allows you to catch any issues there might be with the outfit on the first day. 
Grab some props like an old school desk from a thrift store or an easel to show that this shoot is all about school. Or, if you can, head to where the big yellow school buses are kept and get some photos in front of them. Perfect!
A Photo in a Photo
Start the first year with just a normal, posed photo with no props. The following year take a photo in the same spot but with the child holding the picture from last year framed. Repeat year after year, so you have a photo inside of a photo inside of a photo.
Photo-in a-Photo Picture from She's Making Cards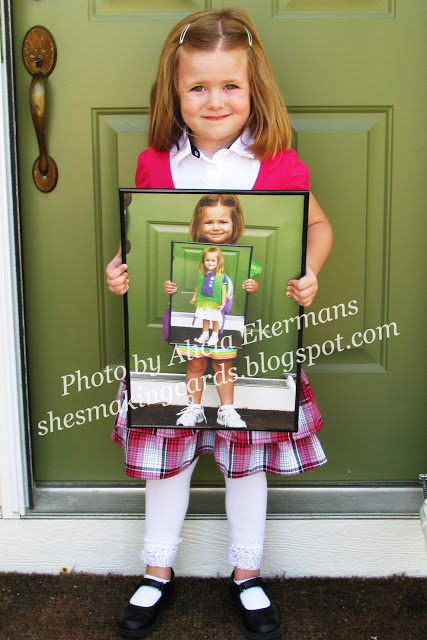 White Space with Text
Do you have a light-colored wall or know where to find one? Instead of having your kids hold a sign, have them stand next to a light-colored background and put them on one side of the photo. This leaves space next to them for you to put text. You'll be able to put in whatever you like and make it easy to read.
You can include grade, their teacher's name, some of their favorite things, and what they did over the summer, just as a few ideas.
Text on Photo from The Suburban Mom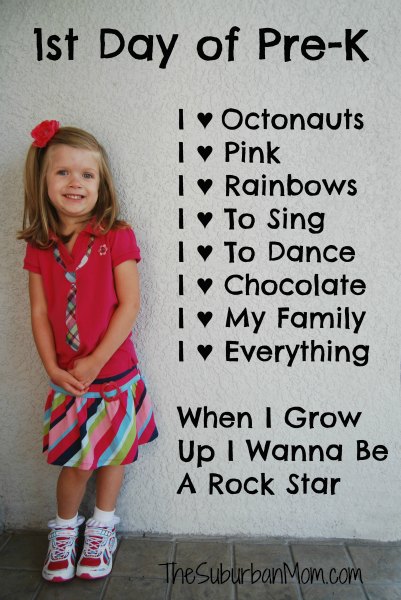 Mugshot Style
If you want a playful take on the holding a sign concept, turn it into a mugshot. Because let's be honest, a school can feel like a prison to kids after a fun-filled summer! Get three different shoulders-up shots holding the sign from each side. 
If you want to go an extra step, make the photos black and white. But, if you are doing this, we recommend keeping a copy of the color versions too, so that you can remember if the dress was green or blue in years to come.
Use a Letter Board
A letter board is the perfect social media accessory! Make it say whatever you want and reuse it at the start of the school year and the end. Have your child hold it, or place it next to them, either work.
Letter Board Photo from Lilies and Lambs
Shop Etsy
Etsy has some of the best custom first day of school photo props that can even include customized information about your child. Include their age, the date, what they want to be when they grow up or whatever information captures that moment in time.
Goodbye Kisses
If you're not in to sign and printable, why not snap a shot of the goodbye kisses you'll get as you leave the school on the first day.
These tend to be adorable and really capture the emotions you feel as you send your son or daughter off to school—especially for the first time.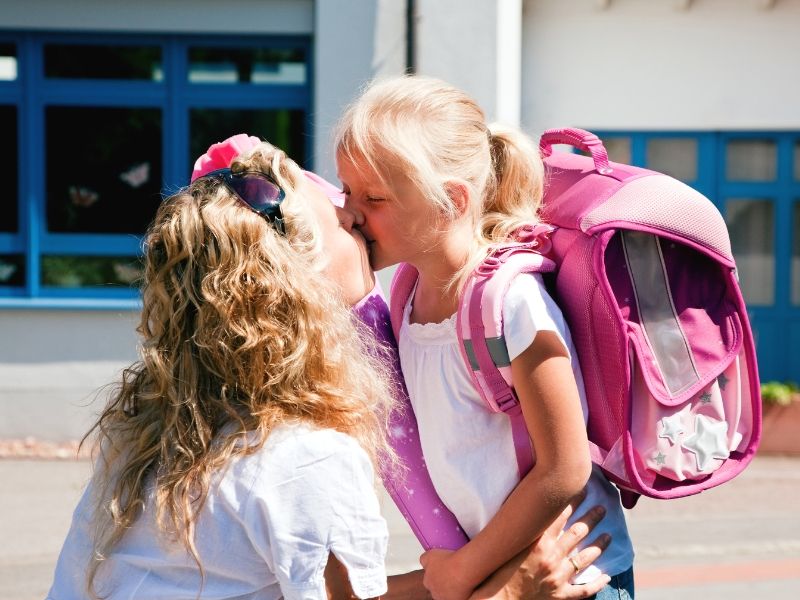 Sidewalk Chalk
If you have kids, then you probably have sidewalk chalk! Why not use it to make a cute graphic to go alongside your little one to create the first day of school photo ideas with tons of visual interest.
Plus, you can make the chalk colors to your child's outfit or social media color scheme!
DIY Your Own Creation
There really is no right or wrong answer to your first day of school photo ideas, so use your imagination and DIY your own creation. Make it bold. Make it muted in color. The possibilities are endless. Plus, you can make it match your social profile if you want.
DIY Grade Idea from Childhood Beckons
Print DIY Photo Booth Props
A fun way to celebrate the day is Photo Booth Props. Kristen from Capturing Joy has some really good printable ones. Just download and print!
Hashtag Printables
If you have older kids, use printable hashtag signs. Printables and photos from Tatertots and Jello.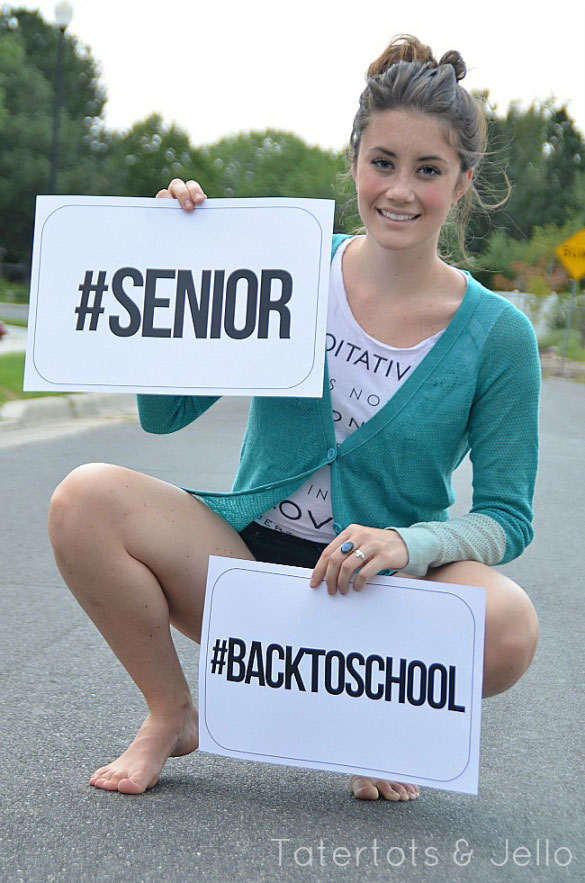 Dress Up
This is a clever idea, especially if you want to go retro. Find some old glasses, a letterman jacket, or an old school uniform and create a retro feel. If you have an old desk or see one at a second-hand store, all the better!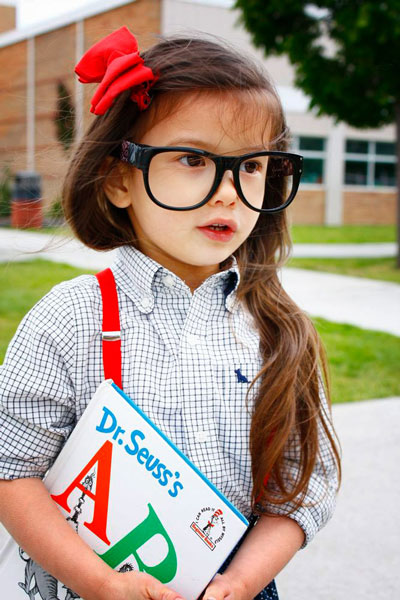 Decorate Balloons for First Day of School Photo Idea
Take some balloons and write the school year, date, and any other pertinent information on them and then have your child hold them. Not only will it make them happy, but the pictures will also come out aaaadorable!
Tip: Go the extra step and tie some ribbon or bows around the string for more detail in your photo!
Other ideas are to create a balloon arch or have the year made in balloons.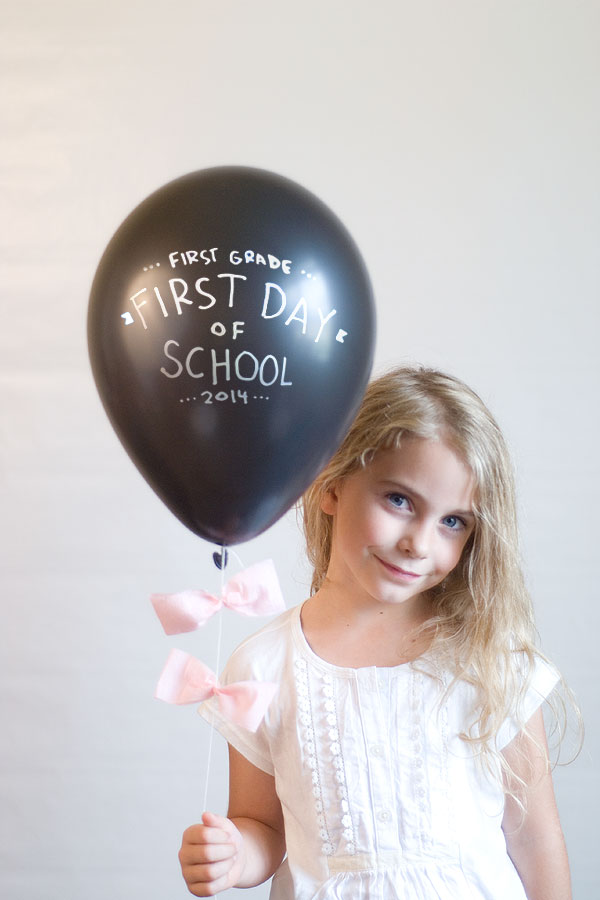 Get Up Close
If your kid's school allows you in, you can get some great up-close shots of things like your child hanging up their backpack, sitting at their desk, or putting school supplies in their locker.
First Day of School Photo Tips
For nine simple pro secrets to making this year's back-to-school photos your best pics yet, check out Clickin Moms photo tips!
So, do 1 or 9 of these First Day of School Photo Ideas and get posting!
Other Photo Tips
10 Tips for What to Wear in Family Photos