You can totally do a Backyard Patio Makeover in One Afternoon! Update and refresh for a fabulous new outdoor living space.
Thank you to Fred Meyer for sponsoring this post. All thoughts and opinions are entirely my own.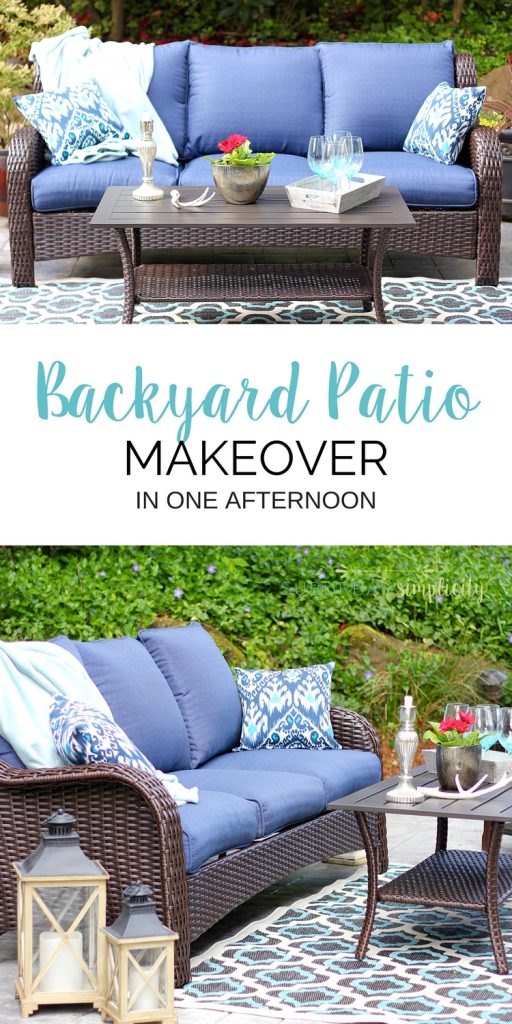 Backyard Patio Makeover in One Afternoon
After the dreary, record-breaking wet winter we've endured, I can't wait to get outside and enjoy some outdoor living! We put a new stamped concrete patio in last year, but never got around to doing much with it. That's why we decided this year we could totally do a Backyard Patio Makeover in One Afternoon so we could be ready for the first glimpse of the sun! With the help of Fred Meyer, we did just that!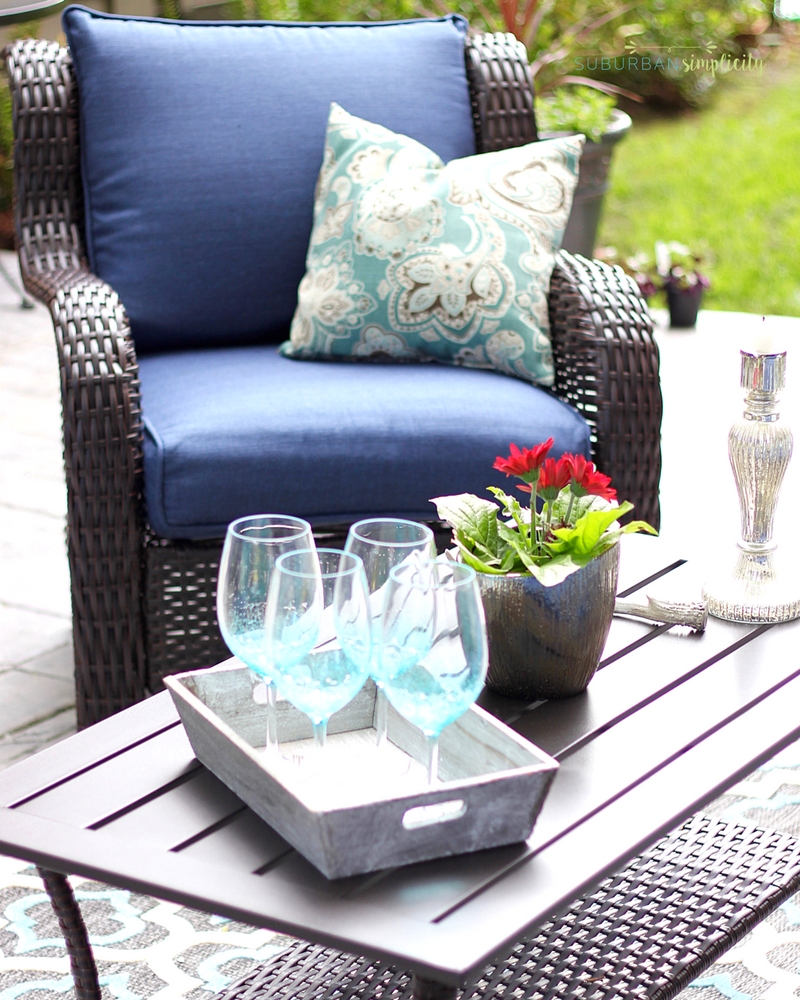 Fred Meyer has a great selection of furniture sets to choose from. The patio set we selected is the 4-piece HD Designs Outdoors® Palisades Wicker Sofa Set in blue. It looks wonderful right outside our family room and coordinates well with our color scheme.
The customer service at our local store was awesome. The model we selected wasn't in stock, so they quickly called another store and had it ready to load in our car upon our arrival. Both stores had very attentive and helpful salespeople.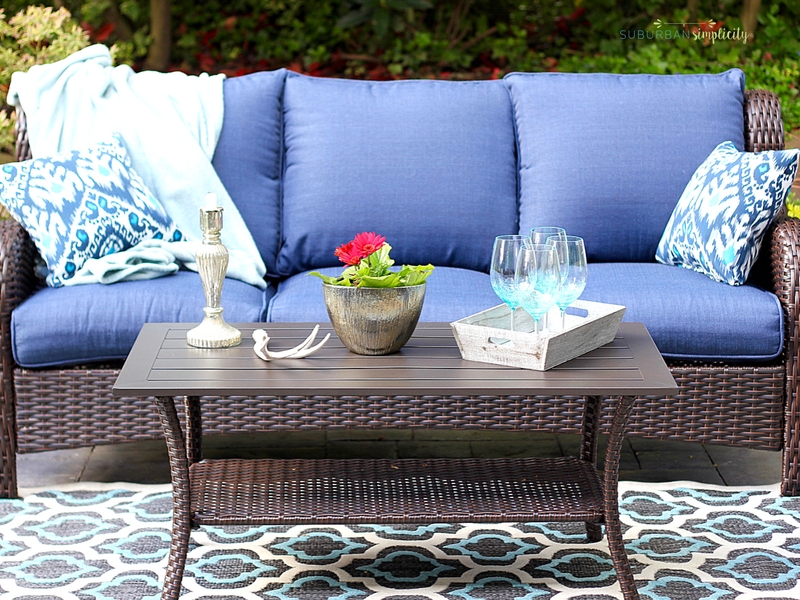 Here's the before of the patio, so you can see how badly we needed to makeover the space. 🙂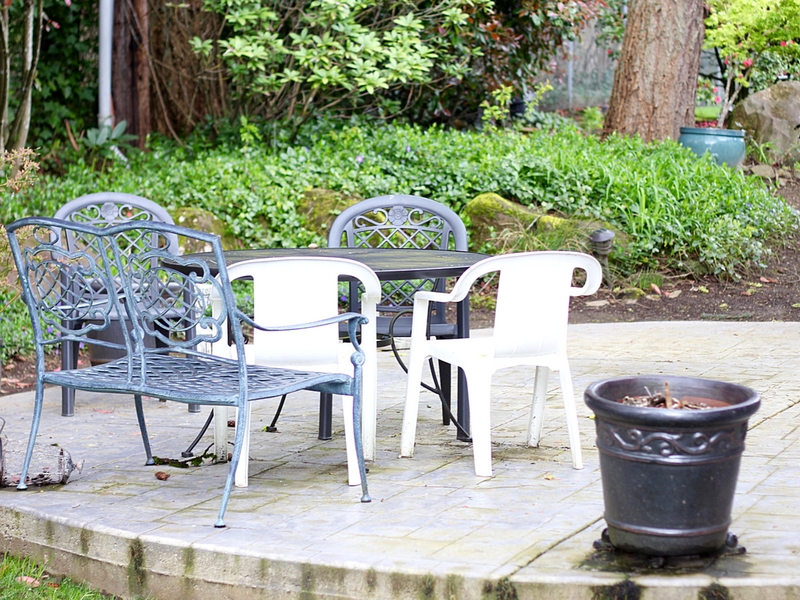 The first step was power washing the patio to get all the winter gunk and grime off. Then it was time to select some furniture and accessories as well as plant some flowers to make it come to life!
How To Decide On Patio Furniture
Investing in a patio set is a long term decision, so here are my tips for making the right choice:
How will you use it? Do you want to entertain and have room lots of people or just a few? Would a dining set be better than a seating set if you're short on space and need to use it for double duty?
Maintenance & versatility. Is the patio furniture easy enough to incorporate into your existing color scheme? Is the fabric easy to clean? Is it comfortable to lounge or take a nap on? (You can see below our pup thinks so 🙂 )
Scale of your area. If your backyard is large, you'll need to think about larger scale furniture or more pieces to fill the space. If small, then you need to think about your furniture having multiple uses. (Think ottomans that double as chairs, etc.)
What pieces do you have? If you already own some outdoor furniture, choose pieces that'll complement or contrast with the existing to add some interest. If you're making your first purchase, buy a patio set that includes all the seating you'll need and a coffee table so that you have the basics from the start and you can add on from there.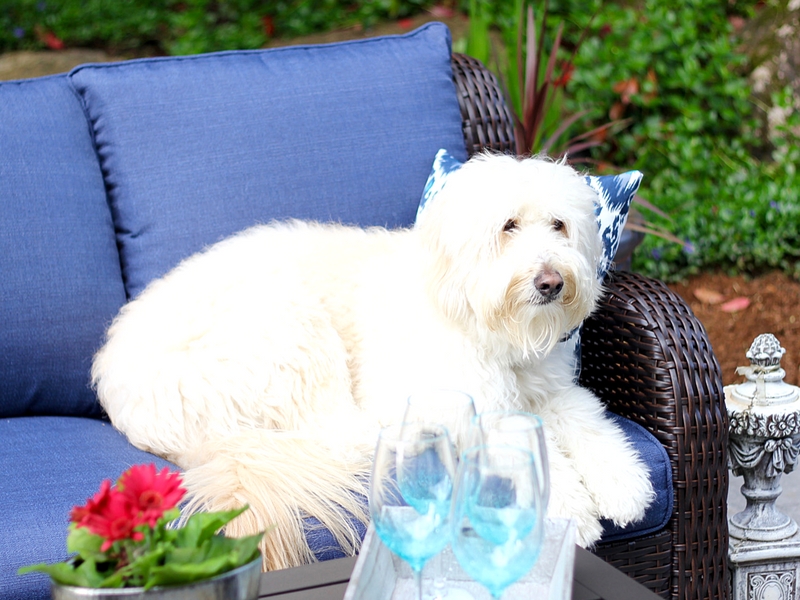 Backyard Finishing Touches
Add greenery. Incorporating various plants and foliage makes your area come to life. There's nothing better than flowers in bloom! Fred Meyer has tons of sun and shade loving varieties to transform your yard or garden.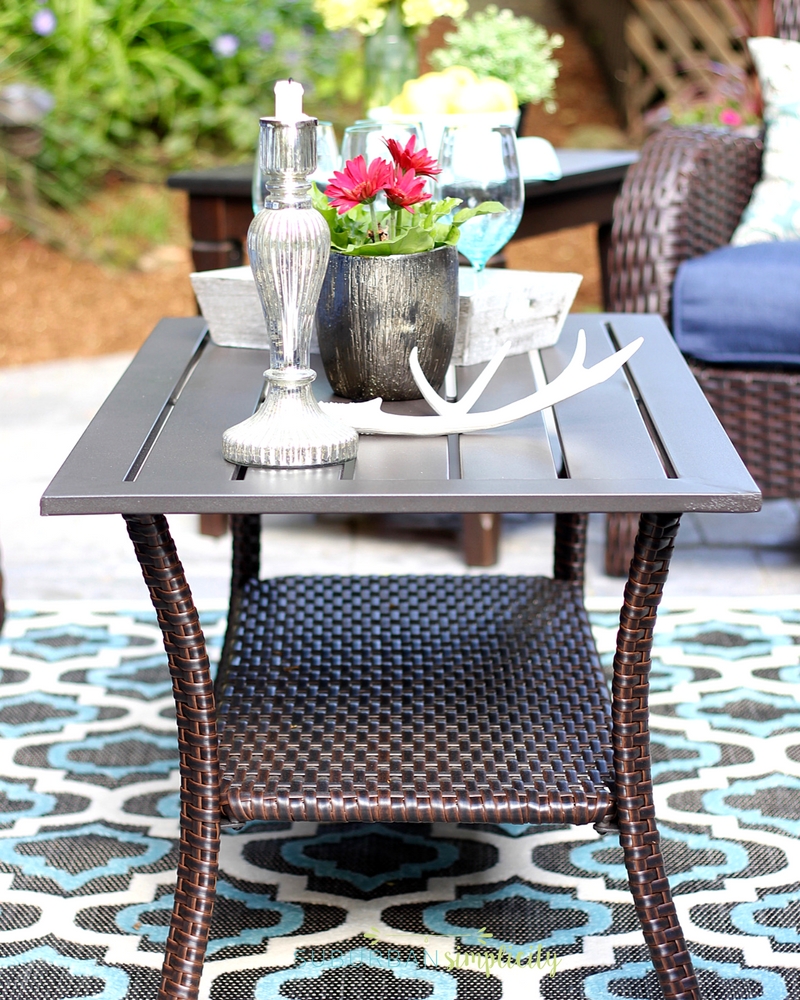 Accessorize. What really brings an outdoor space together is the accessories. Lanterns, flameless candles, citronella candles, pillows, and outdoor plates and glasses all make your space your own. These also add additional splashes of color, texture, and ambiance.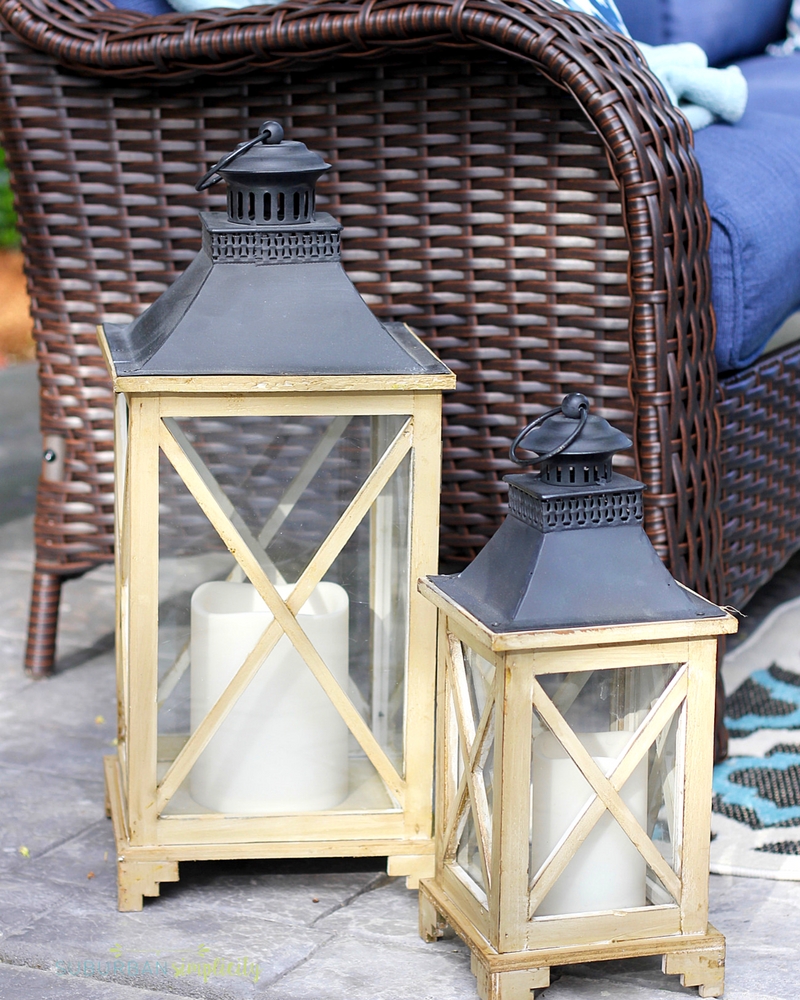 Select a rug. A rug grounds the space and ties everything together. I love how this fabulous rug from Fred Meyer has a modern pattern and complements the colors of our outdoor furniture set.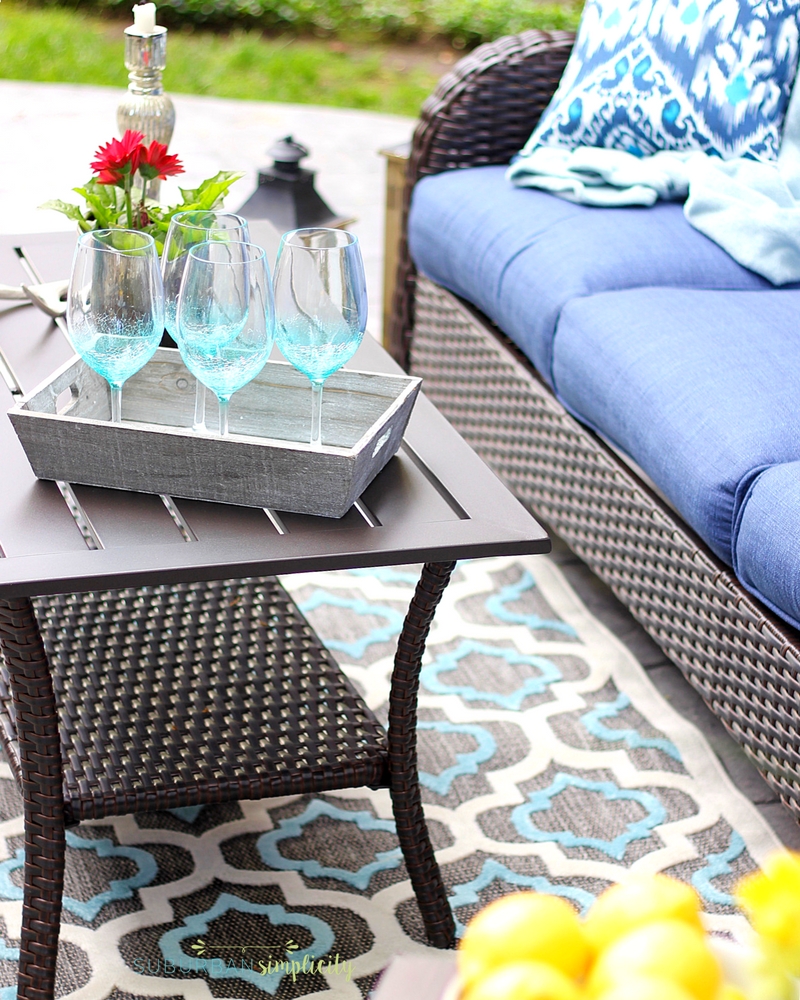 Browse around Fred Meyer's outdoor living department for everything you need for your patio, yard or garden. After our Backyard Patio Makeover in One Afternoon, we feel like we got a whole new living space to use all summer...and if I have my way, all fall!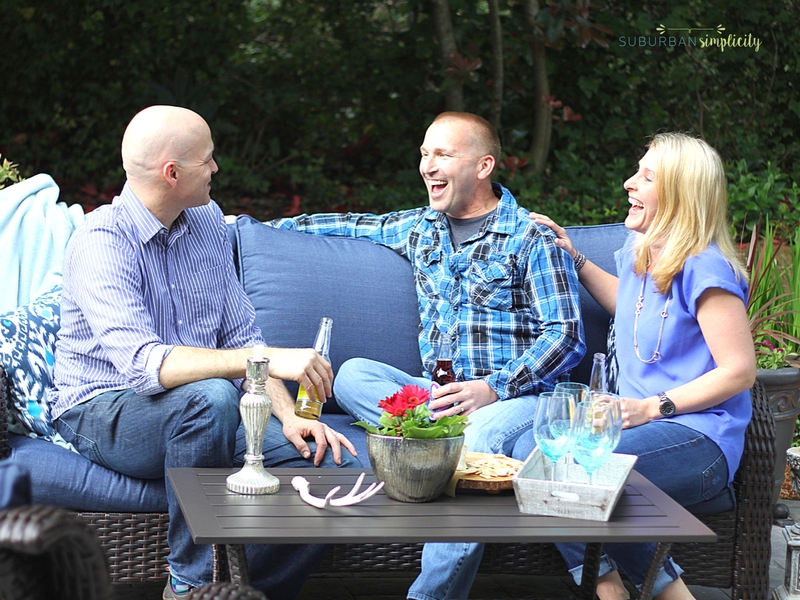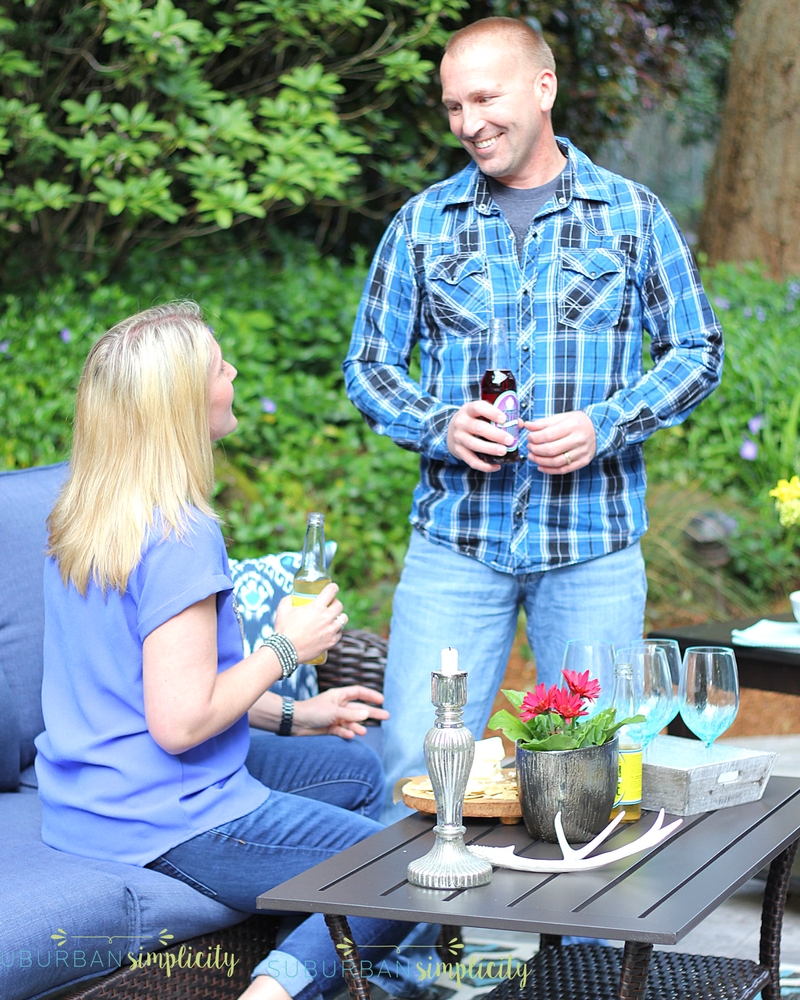 Seriously, the best part of summer is your own backyard! So invite some friends over and enjoy!
This is a sponsored conversation written by me on behalf of Fred Meyer. The opinions and text are all mine.