Making your own DIY Book Page Ornament is simple and fun. Use an old book to create a one-of-a-kind Christmas decoration your family will cherish year after year.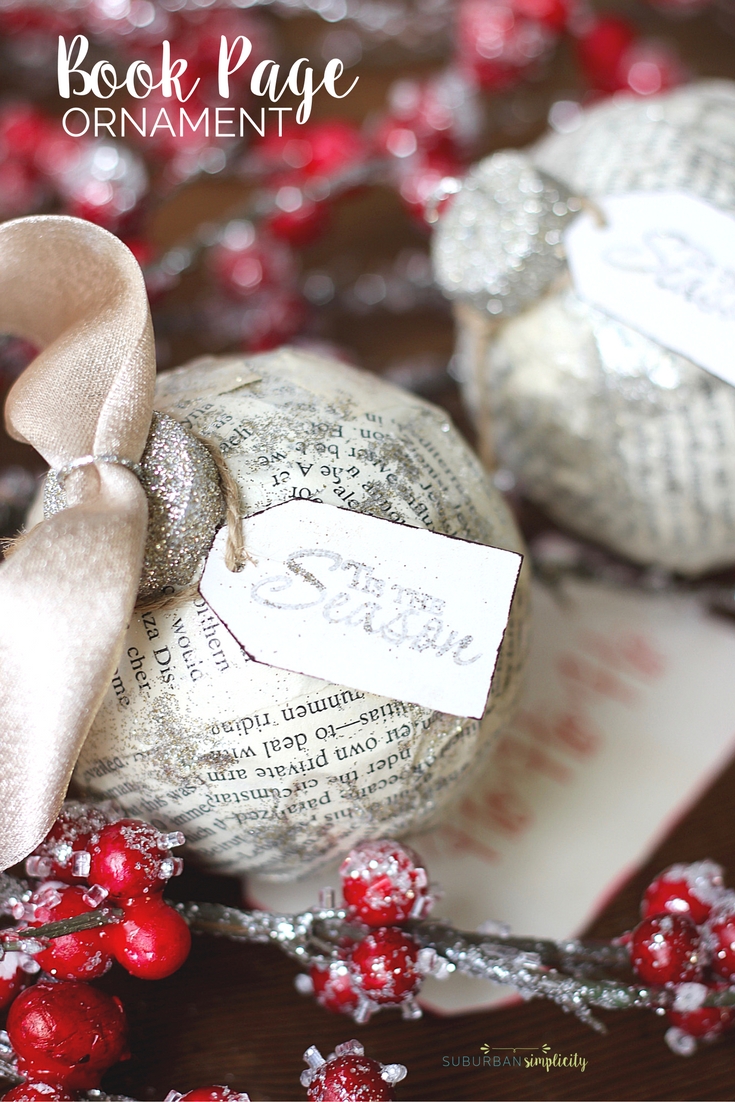 Take a minute this holiday season to make some heartfelt memories - create some homemade Christmas ornaments as gifts or for your tree! Ready for some inspiration? This Book Page Ornament is lovey and has a sparkly, vintage feel.
This project is suited for beginner to advanced crafters.
How to Make a Mod Podge DIY Book Page Ornament
Ho! Ho! Ho! Happy Holidays!
This time of year is wonderful since it's about giving! We like giving handmade gifts, and these ornaments made from book pages are perfect with just the right amount of modern vintage charm.
Plus, who doesn't love a little sparkle! They're simple to make and go with most holiday decor.
But wouldn't these DIY Book Page Ornaments be perfect for gifting these to your book club?!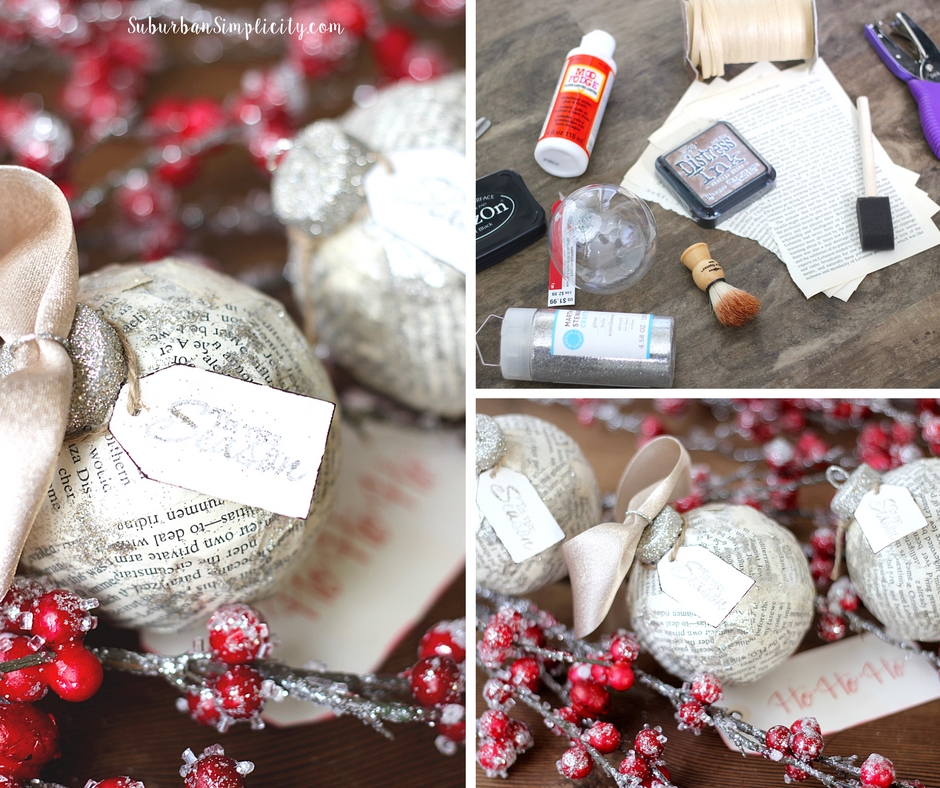 Supplies Needed for Make DIY Book Page Ornaments
This post contains affiliate links. Disclosure policy here.
You can make as many Book Ornaments as you like. Just get enough paper and ornaments!
For the Tag
Scissors, paper cutter, or tag punch
Cardstock paper
Inkpad
Brown or Tea-Darkened ink pad
Raffia, twine, or ribbon
This project looks great with the pages from a vintage book (they are cheap at thrift stores or garage sales). If you don't want to tear up an old book, you could easily substitute scrapbook paper or newspaper.
Tip: I used plastic ornaments because they are less delicate, but you can use either plastic or glass with beautiful results.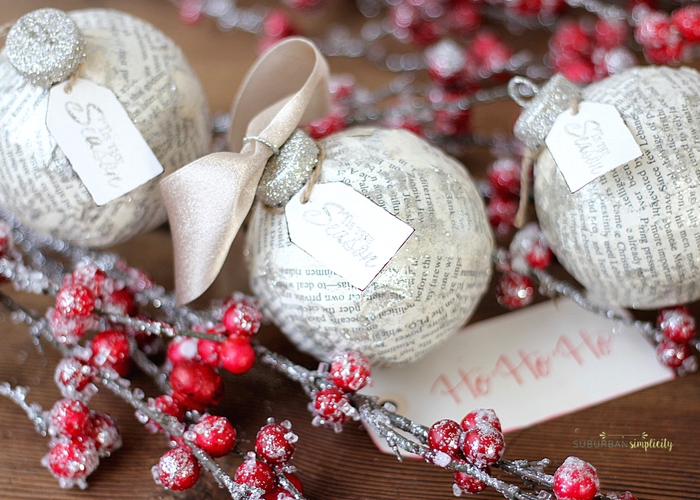 STEP 1: Glitterize the Hanger
Take your hanger out of the ornament. Place it on a work surface covered in newspaper or another protective surface. Paint it with Mod Podge and then sprinkle glitter over it, making sure the surface is covered. Let dry.
STEP 2: Create Paper Strips
To start, tear several pieces out of your vintage book (or scrapbooking paper. Then, tear them into strips. The pieces should be about 1 - 1.5 inches wide.
Depending on the size of your ornament and strips, you will need approximately 7- 10 strips per ornament.
You can also tear them into smaller pieces if that's easier to work with.
STEP 3: Attach Paper Strips
Next, apply the torn strips to the ornament using the Mod Podge and your foam paintbrush. Continue working around the ornament until it's totally covered with the book paper. Smooth out any wrinkles.
STEP 4: Apply Glitter
Before the Mod Podge on your ornament is completely dry, gently sprinkle glitter around the surface. Apply as much or as little as you like.
This tray is super helpful in catching all the excess glitter and then transferring it back to the bottle for reuse.
Brillant!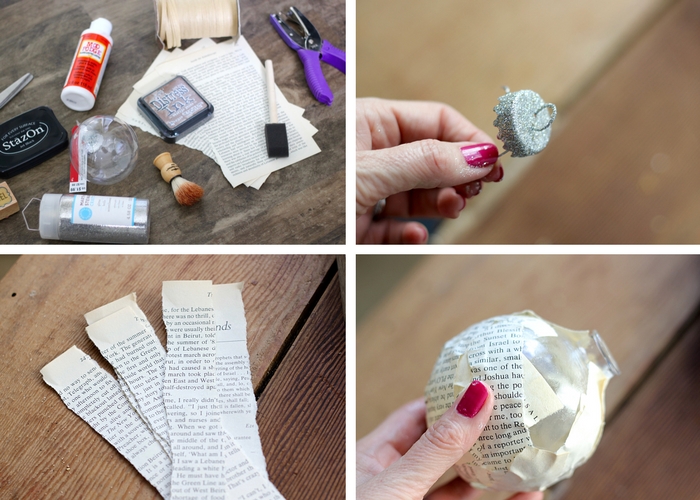 Step 5: Make the Tag
Stamp your holiday-themed image on the cardstock in the ink color of your choice (we used champagne). Cut out or use your punch to create a tag.
For an added vintage touch, use your brown ink pad to go around the edges of the tag to give it a vintage feel we're going for.
Punch a small hole in the top to attach the tag to the ornament with your ribbon or twine.
Insert the hanger back in, and voila! You're done!
Hang your DIY Book Page Ornament on your tree, or wrap it up in a pretty box as a cheerful gift!
How to Decorate for Christmas with Book Page Ornaments
There are more places than your Christmas tree to place your Book Page Ornaments.
How about displaying your DIY Ornaments in a bread bowl or other decorative vessel on your dining or entryway table! They would definitely make a statement.
Try topping a candlestick with your homemade ornament and see it become a focal point of a winter vignette.
Another idea, place them on your mantel for added holiday charm.
The possibilities are endless! Let me know how you decide to decorate with yours!
Enjoy the holiday season!
---
FIND MORE BEAUTIFUL HANDMADE ORNAMENT TUTORIALS BELOW!

Subscribe for FREE Printable Gift Tags!!