Before you head out on your epic outdoor adventure, grab your Family Camping Checklist, so you have everything you need for stress-free fun! FREE printable checklist!
Don't forget to check out our Summer Bucket List for more family fun ideas!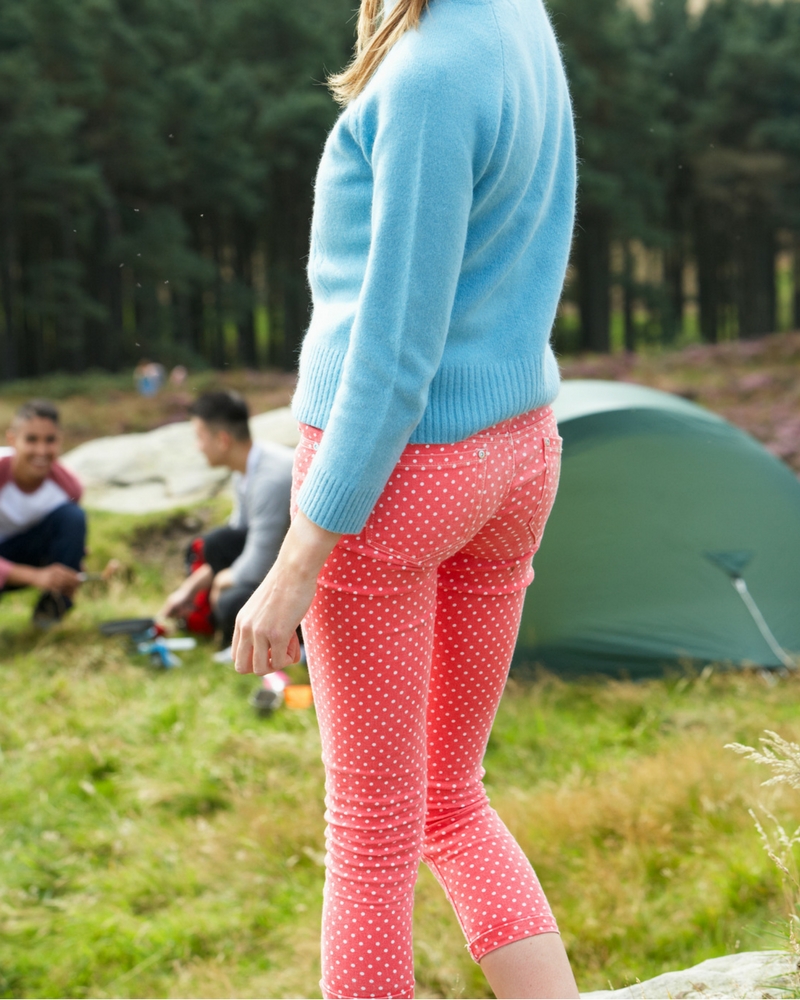 The Ultimate List of What You Need to Camp with Kids
Spring has sprung, and now it's time to start thinking about summertime activities. Yay! Memorial Day Weekend kicks off the camping season. If you're planning a camping trip, then you absolutely need this Family Camping Essentials Checklist so you've got everything for a super fun, stress-free trip!
Kids love camping. They enjoy the freedom of being outdoors and "roughing it." Well, that and the ooey, gooey s'mores! As for us parents, being prepared with all the supplies we need while away from home makes it an enjoyable experience.
Forgetting one thing can throw your whole trip off. That's why it's important to have a printable camping checklist!
You can use it year after year!
Related: Budget Family Travel Ideas
Planning for A Family Camping Trip
There are a couple of things that make planning for your trip that much easier:
Plan ahead. Don't start planning and organizing for your trip the day before you go. As with most things in life, if you plan and organize, you'll get to enjoy the adventure that much more! If you have time, do a dry run in the backyard! Kids will love it!
Make a list. If I don't have a list, there is a good chance something is forgotten. That's why this checklist is so helpful. The work is done for you! I don't know about you, but remembering everything is just too much! Lists are a lifesaver!
Meal plan. It's so important to have food that everyone will love but is easy to prepare. Make a list of all the food you need, so nothing is forgotten.
One-stop shopping. Who has time to drive all over town to grab this, that, and the other thing? Shopping at a large store that has everything you need in one place is a dream. One trip = less stress. From the camping gear and games to the food and bug spray, they have it all and make gathering all our supplies so easy and affordable. Or, there's always Amazon!
Tip: If you don't have all the items you need, you can always borrow from friends.
Do you know what makes a trip even more fun? Getting everyone involved in planning and shopping for your adventure. This will amp up your kids' excitement and make the trip that much more special!
Car Camping Essentials
Car camping is great because you can pack your vehicle to the brim with everything you use at your campsite and then some! Let's start with the most obvious camping-specific equipment:
Tent – You'll need something to sleep in while you're away. Your tent protects you and your family while out in the elements. Tents come in various sizes and a variety of types, so make sure you get one that works well for your family AND is easy to put together.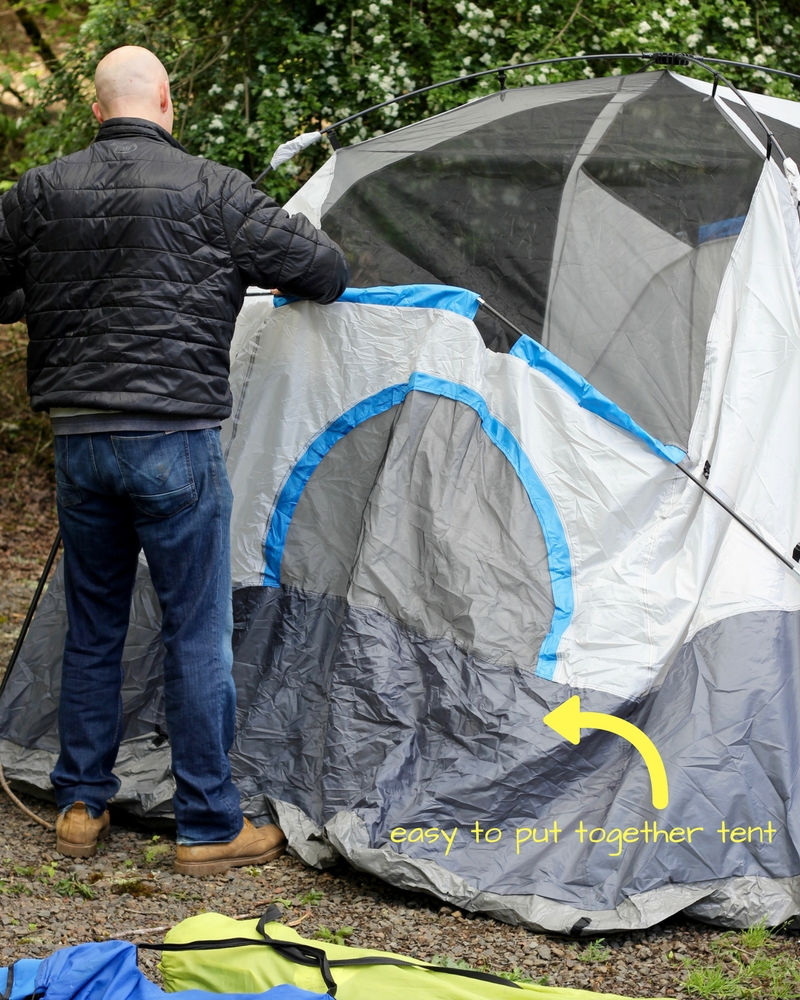 Coolers – When you're car camping, you can bring your favorite fresh and frozen foods packed on ice in a big cooler. Don't forget to bring plenty of water bottles and jugs!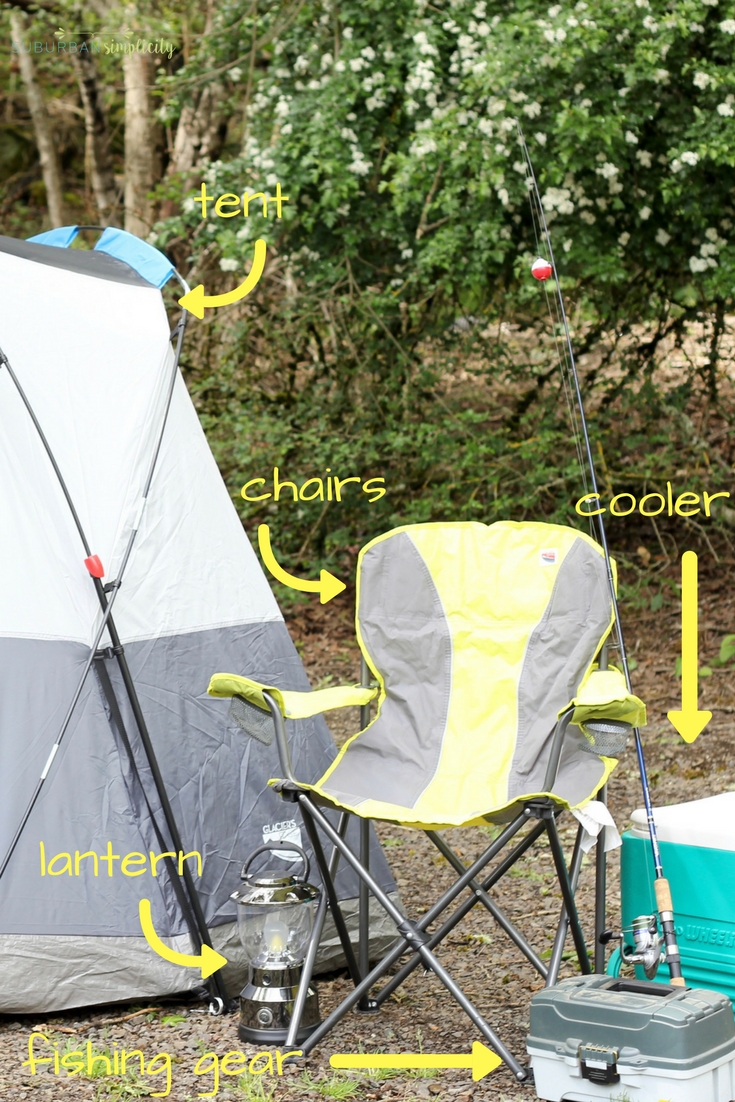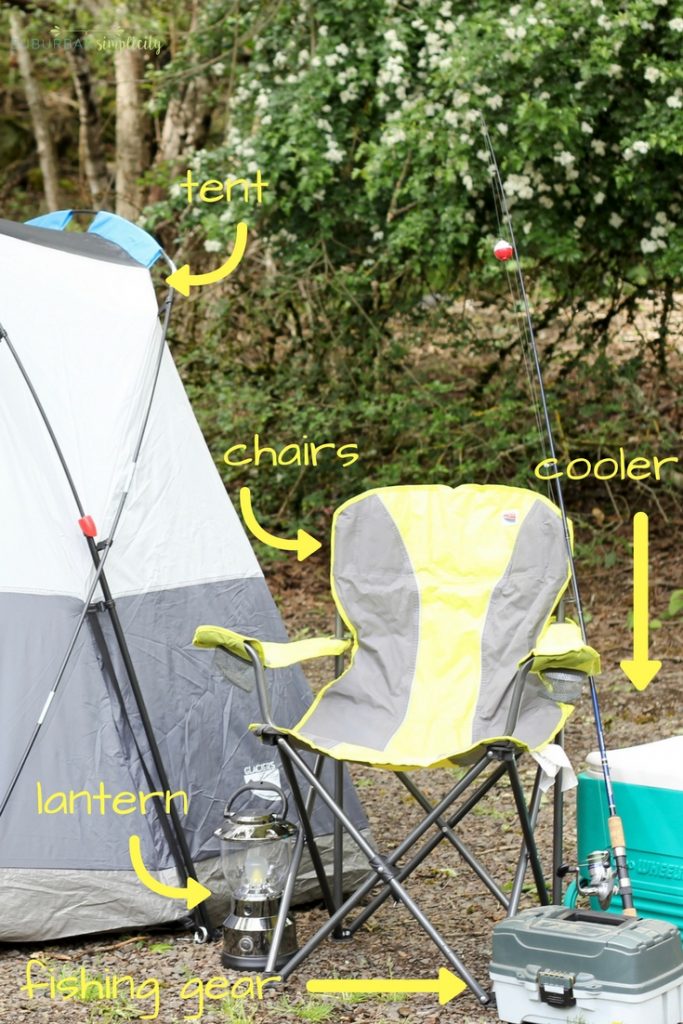 Chairs – You need some folding chairs to sit around the campfire as well as for eating meals and playing games!
Sleeping bags – Like tents, sleeping bags come in different weights and are made for different temperatures, so you have to do some research to find the one best suited for you and your needs.
Other essentials include:
extra water
bug spray
games and activities
flashlight
Grab your Family Camping Checklist to find out what else is essential for a stress-free getaway!
Camping Essentials for Kids
Every kid from 2-year old toddlers up to 8 or 9-years old should have a Safety Whistle and their own Camping Flashlight for safety.
Amazon Deals:
Camping Food Tips
Plan for every meal (and how many are eating) and bring just the food you need. Freeze everything possible and pack it carefully in your coolers.
Tip: Place the items you'll use first on top.
Also, make sure you have enough cooking pan and utensils to put out the meals you plan. Big crowds require several pots!
For convenience, make as many one-pot/one-dish meals as possible – Chili, stews, or breakfast scrambles fall into this category. It makes clean up a breeze, too!
Here are some yummy Camping Recipes using 5 ingredients or less.
Printable Camping Checklist

So before you venture out on that epic family camping trip, and tick it off your summer bucket list, make sure you grab your Family Camping Checklist.
Here Are Some Clever Camping Hacks You Need to Know!
Other Helpful Camping Resources
How to Get the Kids to Sleep While Camping
Tips for Finding Campsites Anywhere
This post contains affiliate links. Disclosure Policy here.
We updated this article with more resources on 6/3/19.