This tasty Turkish Pide Pizza is made with a wholesome, wholewheat crust and bursting with gooey cheese, chicken, red onion, and red peppers. A great appetizer or dinner idea!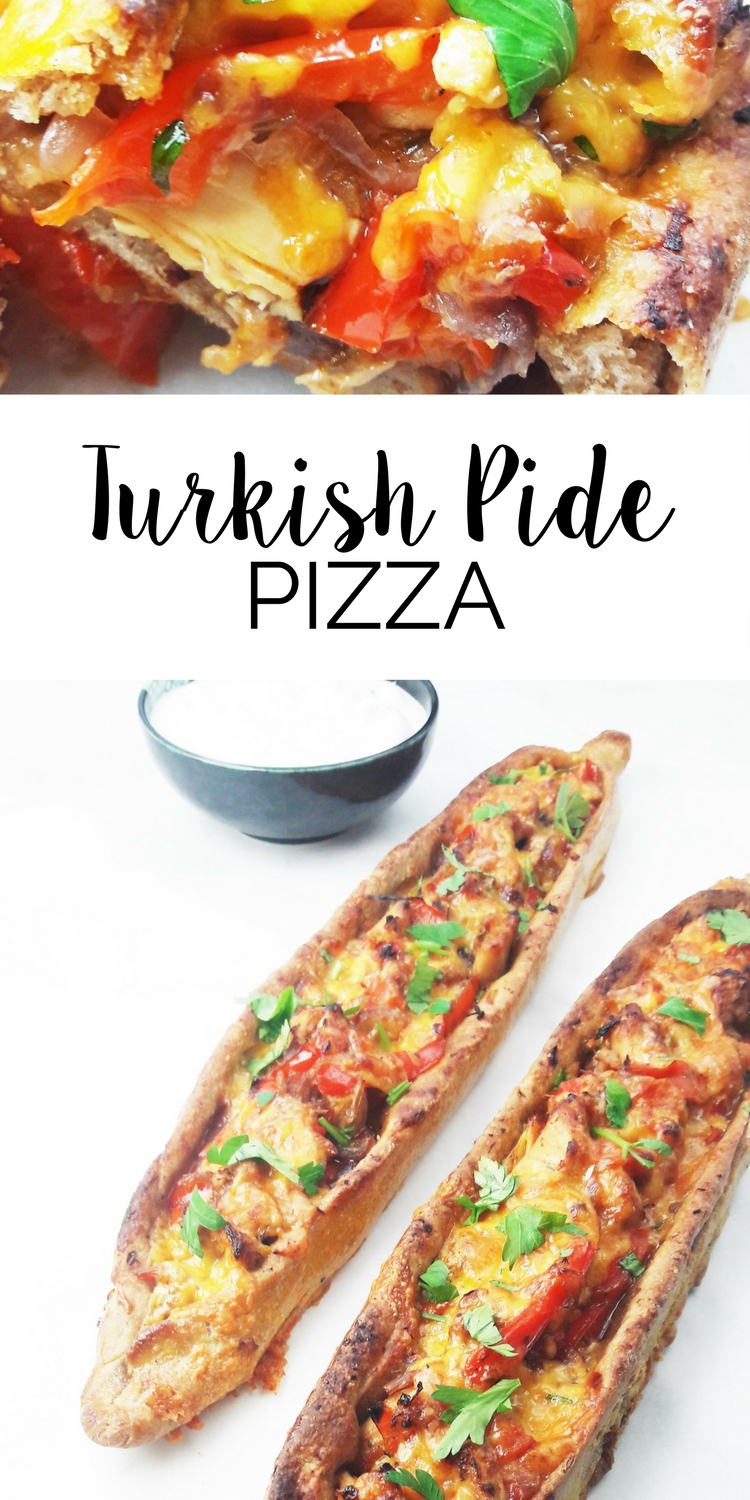 It's the beginning of a fabulous new year, and everyone's goals are similar. We all want to eat better, more wholesome, home-cooked food and share delicious food with friends and family. Luckily, we don't have to choose one or the other. We can stick to our health goals and enjoy yummy food with our friends and family.
We developed this recipe with you guys in mind so that you can stick to your New Year's health resolutions while also enjoying game-day treats.
This Turkish Pide Pizza With Chicken, Cheddar, and Red Peppers is made with a wholesome, wholewheat crust and bursting with gooey cheese, chicken, red onion, and red peppers. The outside of the pide is perfectly crunchy.
We included a yummy dipping sauce that adds some extra calories to this treat, which is, in our opinion, totally worth it. This is one of our absolute favorite appetizer recipes.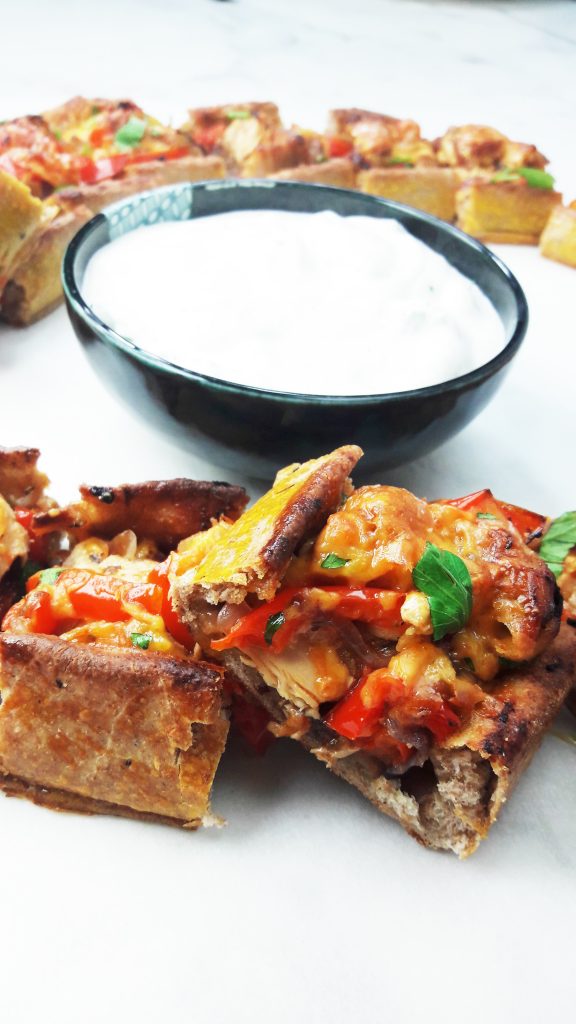 An American in Paris
Hugo is French, and I am American (originally from NYC), and we live in Paris. We create all of our recipes together. I love sharing my American culture with Hugo and our friends here, and that definitely includes inviting friends over to watch sports.
Here in Paris, soccer is a very popular sport! We often invite friends over to watch the games, and one of our favorite appetizers to serve is this Turkish Pide Pizza with Chicken, Cheddar, and Red Peppers.
If you're looking to serve a selection of delicious game day appetizers, you can serve the pide with our mini Boeuf Bourguignon Burgers and our Ratatouille Pizza cut into small slices. Both of these recipes are traditional French recipes with an American twist!
The Perfect Appetizer
Different people look for different qualities in the perfect appetizer to share. How do you choose the perfect appetizer to share with friends while the game is on?
Criteria for the Perfect Appetizer
We've narrowed it down to some top criteria for the perfect appetizer:
It can easily be shared: the whole point of making tasty appetizers is to share them. We suggest you slice the pide thickly so that your pide can be picked up easily and shared.
It has cheese in it: so this may be because we live in Paris. We love cheese so much, and we think it should be a part of every recipe (especially healthy, wholesome ones!).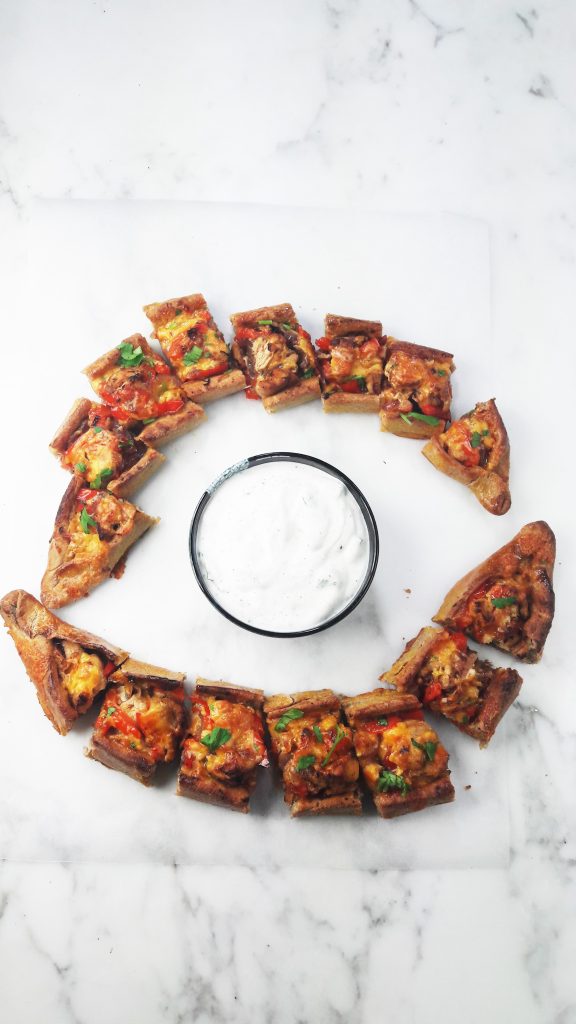 It has whole wheat flour in it: we love cooking with wholewheat flour and use it as a white flour substitute every chance we get, for pretty much every recipe. Wholewheat flour is delicious and packed with nutrients and will help keep you on track for your healthy eating goals.
It uses real ingredients and no processed foods: this recipe takes a little more time to prepare than buying prepared foods to serve as an appetizer, but you will be so happy you take the time to create this yummy dish made entirely with real food ingredients.
It adds a new culture to the fun: this Turkish Pide Pizza has its origins in Turkish cooking culture. We think that when cooking at home, you get bonus points for trying food from different countries.
Your friends will want the recipe: whenever we make a pide, everyone always wants the recipe. No one can resist these yummy, boat-shaped, homemade Turkish Pide Pizzas!
You are sure to surprise your guests with this unique Turkish Pide Pizza. It's perfect for sharing with a cocktail or glass of wine or as an appetizer when sitting down for dinner!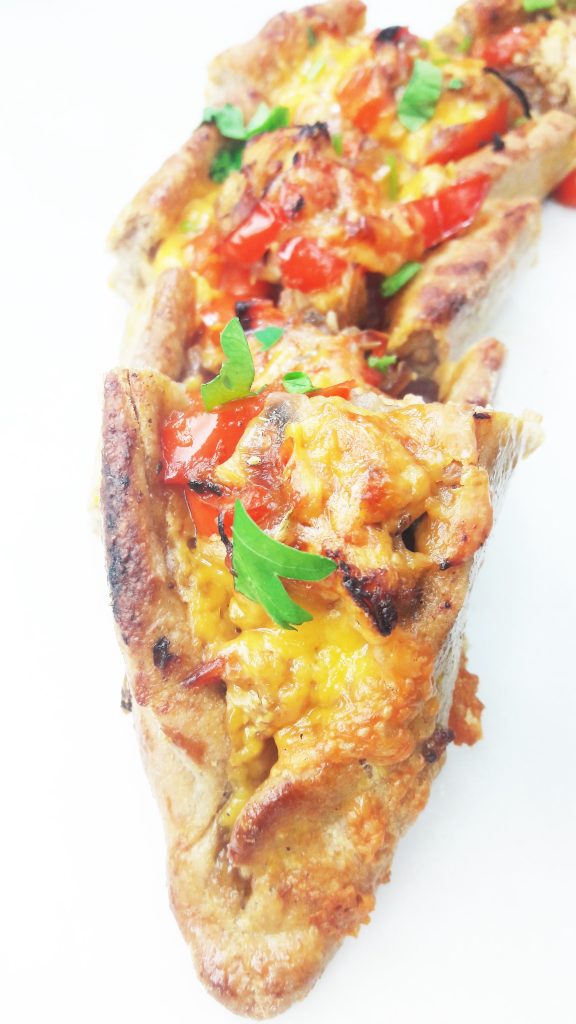 Pide Turkish Pizza Recipe
For 4-6 people / Preparation time : 2 hours / Cook time : 45 minutes
Ingredients
For the Pide dough:
1 ¼ cup of whole wheat flour
1 teaspoon of dried yeast
1 teaspoon of superfine sugar
½ teaspoon of salt
2 tablespoon of olive oil
4 oz of lukewarm water
For the Pide stuffing:
1 red onion (peeled and finely sliced)
2 boneless chicken breasts
1 red pepper
1 cup of cheddar (grated)
2 cloves of garlic (peeled and chopped)
1 teaspoon of paprika
¼ teaspoon of hot chili powder
Salt and pepper
Olive oil
For the dipping sauce:
1 teaspoon of Sumac (Turkish spice)
½ cup of heavy cream
2 tablespoon of parsley
Additional ingredients:
1 egg yolk
1 tablespoon of olive oil
Instructions
To prepare the leaven
Pour the yeast, sugar, ¼ cup of flour, and 2 oz of water in a bowl and combine the ingredients.
Leave the mixture to sit for 10-15 minutes. (The mixture is ready when it forms a brown dough with bubbles.)
To prepare the dough.
Mix 1 cup of flour and salt in the bowl of your Kitchen Aid (or other stand mixer).
Pour the leaven into the bowl and mix slowly.
Pour 2 oz of water into the bowl, little by little, and continue to mix slowly.
The dough must be smooth and springy. If the dough is too dry, add more water. If the dough is too wet, add more flour. (If adding water, make sure to add it little by little.)
Pour 1 tablespoon of olive oil into a bowl and add the dough.
Cover the bowl and leave to sit for at least an hour in a warm place. The dough should rise double in size.
To prepare the stuffing
Cut into thin slices.
Put in a bowl with the garlic,1 tablespoon of olive oil, and 1 teaspoon of paprika.
Cover and put in the fridge for 30 minutes.
Remove the seeds of the red pepper, cut in half, and slice.
Heat olive oil in a frying pan on medium heat.
Add the chicken and cook for 5 minutes.
Add onion, red pepper, salt, pepper, and hot chili, and cook for 15-20 minutes on low heat. Remove from heat.
To prepare the pide
Preheat oven to 465°F (240°C).
Remove the dough from the bowl and cut it into 2 equal pieces.
Roll the dough to create strips that measure 15cm x 40cm (6 inches x 16 inches), each with a rolling pin.
Put half of the chicken mixture and ½ cup cheddar into the middle of each pide.
Be careful to leave 1.5-inch spaces of dough on each side around the filling.
Fold the sides of the dough up on each side without covering your toppings to create a gondola-like shape.
Mix yolk and 1 tablespoon of olive oil in a bowl.
Brush the yolk mixture on the dough with a pastry brush.
Bake in the oven for 10-15 minutes.
To prepare the dipping sauce
Pour the cream into the bowl of your stand mixer.
Use the whisk to stir.
Begin on low speed (1) and increase speed every 20 seconds until you reach the maximum speed (10 on our Kitchen Aid).
Add sumac and parsley and mix 10 more seconds.
To serve
Serve the pide with the dipping sauce.
Recipe Notes
You can make your own sugar-fine sugar by grinding it in a coffee grinder or using your food processor.
If you don't have access to the spice, sumac, you can substitute lemon zest or lemon pepper.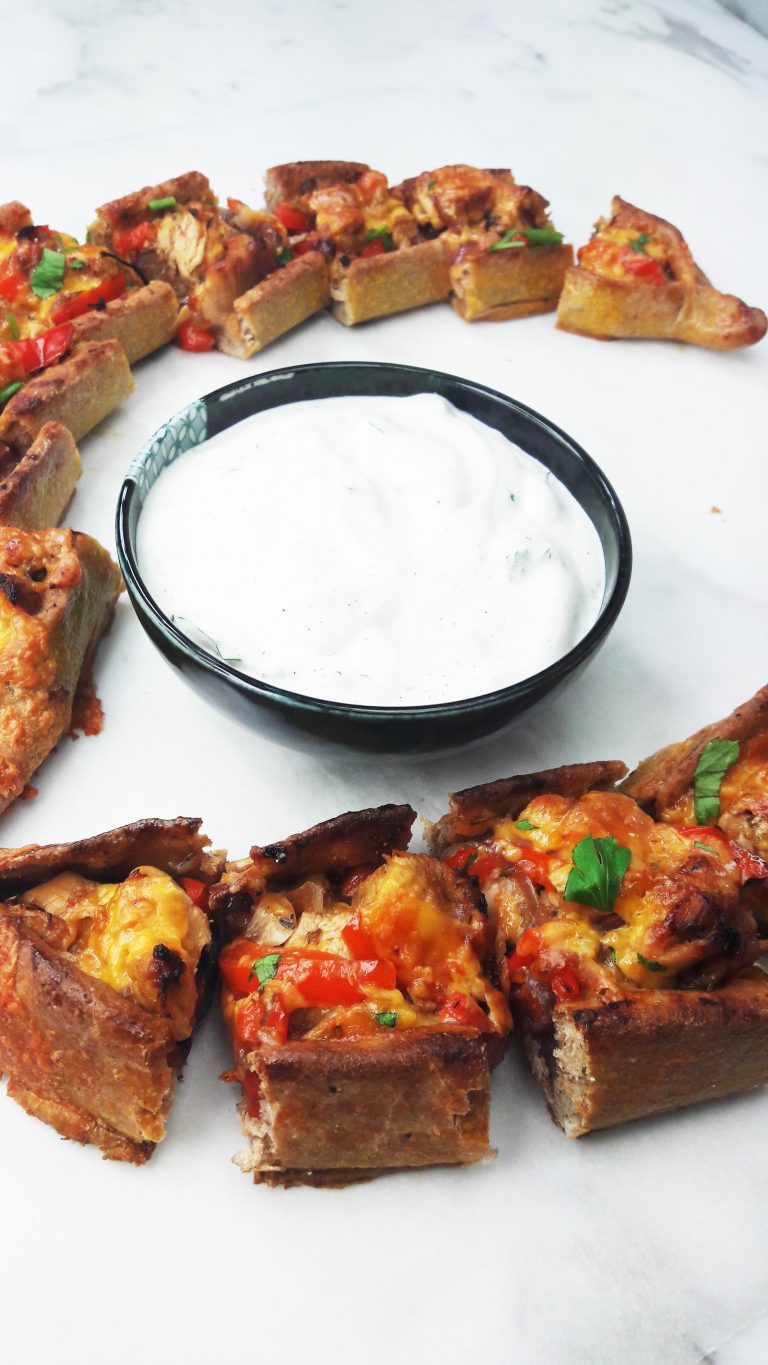 Alex + Hugo
Alix and Hugo develop their healthy, wholesome recipes with a French flair in their Parisian home. They share their creations on their food blog, A Hedgehog in the Kitchen.