Disciplining your toddler is no easy task. Come learn the 5 Important Steps to Stop Your Child From Hitting (kicking or biting), other kids. Parenting advice from an RIE expert.
We also have resources for How to Get Your Toddler to Stop Saying No and How to Get Toddlers to Stay in Bed.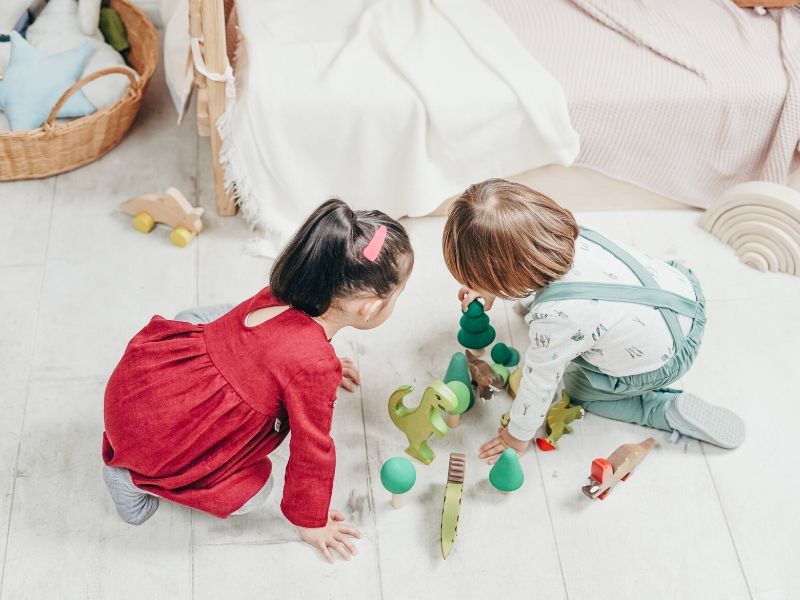 How to Stop Your Child From Hitting
You are mortified. Your toddler just hit another child in front of all the other moms at the playground. What do you do? Let's take a look at the 5 Important Steps to Stop Your Child from Hitting.
To start, keep a cool head and listen to the advice of RIE method specialist and best-selling author, Janet Lansbury, of the book No Bad Kids – Toddler Discipline Without Shame.
To be ready for the next time this aggressive behavior occurs, you need to do some "pre-event thinking" to be in the right headspace---that's steps 1 and 2 below.
Action steps 3-5 cover what to do in the heat of the moment, but don't skip the "pre-event" steps, or your child will pick up on your anxiety.
The toddler years can be challenging, so we're here to help with resources like How to Get Your Toddler to Stay in Bed.
Step 1 - Pre-Event Thinking: Why is My Child Hitting? (or Pulling Hair, Shoving, etc.)
"It's all very unconscious. It's not thought-out, deliberate behavior," explains Janet Lansbury, host of the popular parenting podcast, Unruffled. "[Children] don't have the skills or the self-control to be able to stop themselves. They really don't."
The toddler may be hitting as a response, "…to a no, or there's some other emotion in them that isn't getting released, another way that we're not acknowledging [them]," says Lansbury. Or, the child may be adjusting to a significant change, like a new preschool.
Step 2, Pre-Event Thinking: What Mindset Does the Parent Need to Have?
It's important to be in the right mindset.
"I need to help my child, protect my child and protect other children, in a way that lets my child know this is something I can handle, and I'm going to help them," advises Lansbury, "When they're showing me that they can't stop themselves and they're acting impulsively, I'm going to be there to help."
Step 3 - Event Action: How Parent Should React to Hitting
Your reaction in these key moments is important to getting the outcome your desire.
"Oops. Nope, [I'm] not going to let you do that.' Then we physically move their hand away," notes Lansbury.
"We are modeling gentleness right there," says Lansbury. If we are too stern, or if we make a big deal, the child will sense our emotion and know this is a button to push in the future.
Step 4 - Event Action: Buddy-Guarding
Buddy-Guard: Being right next to your child so you can see what they're up to and when it might be time to intervene.
"To be a buddy-guard,…I'm close enough so that I can easily stop anything my child might do with her hands," explains Lansbury, "and I'm having that safe, deescalated vibe next to my child so that I'm not contributing to that possibility of the impulse….I'm thinking, 'My child needs help. She can't stop herself."
"Then, when my child does reach out [to strike another child], I would say 'Oh, I can't let you do that,' and I would open her hand immediately and take it off," explains Lansbury.
Another option, you could also have a doll at the ready and say, 'I can't let you pull [your friend's] hair, but you can pull your doll's hair.' quotes Lansbury.
Step 5 - Event Action: Realize That Your Child May Not Be Able to Do This Today
Whether you're at a play date, a restaurant, or the mall, you must be willing to leave if things aren't working.
If your child is hitting and acting out…" I might say, 'You know, I think you're letting me know that you're tired or you can't do this today,'" Lansbury suggests.
Try to choose situations where your child has the best chance of success, meaning she's well-rested, and her new baby brother wasn't born one week ago, for example. "Children feeling safe in our relationship is the key to them succeeding in any situation," summarizes Lansbury.
Summing Up How to Stop Your Child from Hitting
In short, when your child hits, understand that this is developmentally normal for toddlers. Do not overreact.
Without making a big issue, let your child know that you can't let them do that, and physically stop them. This way your playdates and park time will be much more enjoyable.
Stay in Touch
You can also FOLLOW US FACEBOOK, TWITTER, INSTAGRAM, and PINTEREST to see more delicious food, fun crafts + DIYs!