Easy ways for you to save money for the holidays this year. Make this the best and most memorable holiday yet without breaking the bank!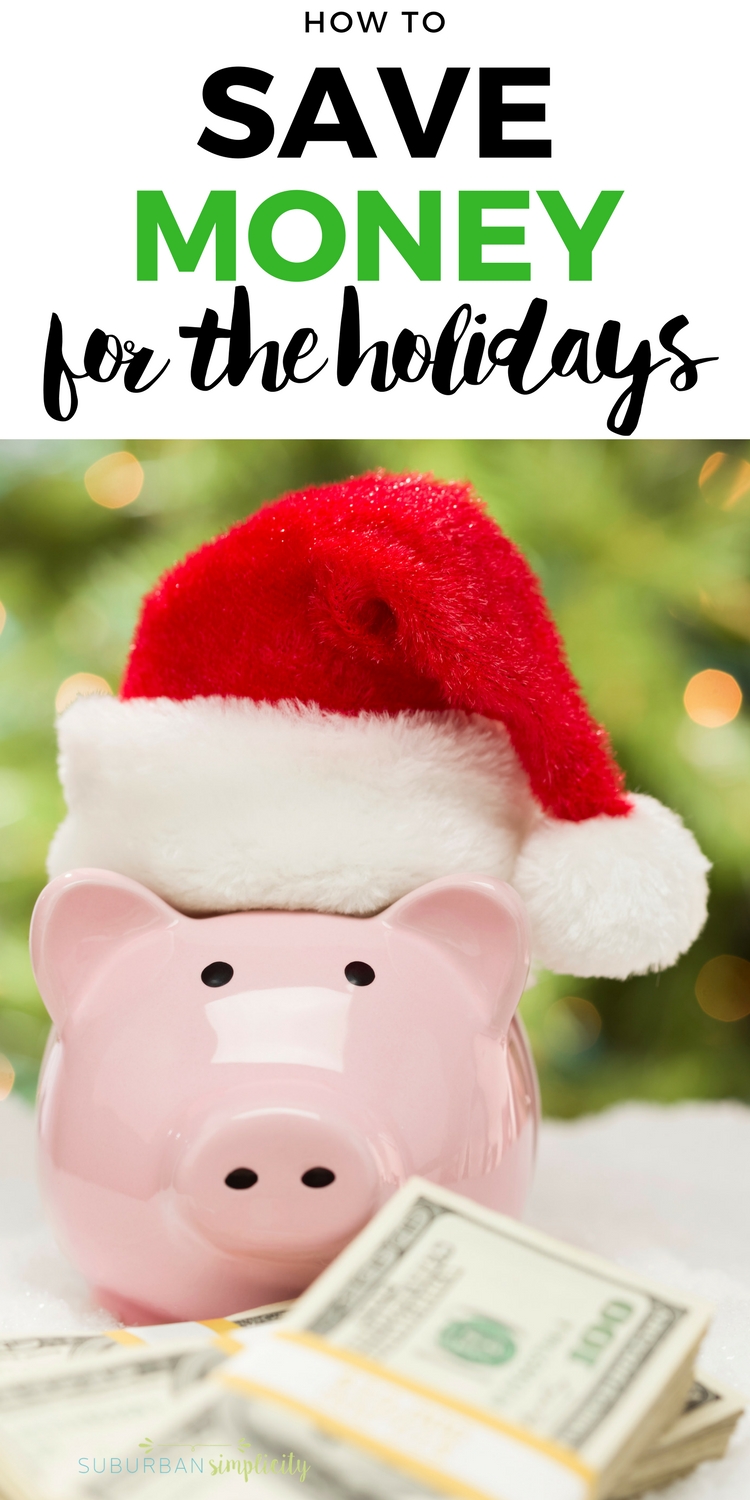 How to Save Money for the Holidays
Saving Money for the Holidays can seem daunting. But if you think about it and how much money most people fritter away, it's not hard to save over the course of time.
In addition, it's important to remember why you celebrate the holidays realizing that gifts are just icing on the cake. They don't need to be expensive or fancy to show your loved ones you care.
We know it can be hard, but when you save for the holidays it's important to have a budget in mind, and then stick to your guns about it once it's time to shop. You can do this!
Here's how to save money for the holidays:
Set a Goal – Write a list of everyone you're planning to buy for this year. Then set a budget for how much you will spend on each person depending on their age and your ability to save. In most cases outside of your children, 10 to 15 dollars is more than enough for each person if you plan ahead. Here's How to Create a Family Budget.
Go on a Money Diet – Most of us have far too much stuff in our homes anyway, including food. Look in your pantry, look in your freezer. There is probably the food that you bought and planned to use but haven't. Plan your grocery list around what you already have, and let the pantry empty itself over a couple of months only buying what you must to create the recipes from your pantry and freezer. Then, stop eating out, going to the movies, or spending any money whatsoever that isn't a necessity. Make it a game to spend nothing extra for at least two months. You will be shocked at how much you can save in just a couple of months. Here are 30 ways to save money every month.
Talk to Your Bank – Many banks have holiday savings clubs or Christmas Club accounts. You set aside a small amount of money, either through a rounding up program where every purchase you make is rounded up and the difference is saved, or a specific amount is automatically saved from your main account each month. Then at a time you specific they send you a check for the balance to use during your holiday.
Sell Stuff – Every day is a good time to start cleaning your home of old stuff. You can sell electronics for cash and points at places like Maxback.com, second-hand stores, Craig's List, consignment stores, and via local Facebook selling groups. Any money you earn put aside for the holidays.
Don't Be Creative – Outside of putting money away, there are other ways to save. Giving the same gift to everyone can be a great way to save money because depending on how many people you are buying for you can often get a discount for buying in bulk if you ask. Look for "wholesale gift catalogs" online and you'll find catalogs like LTDCommodities.com and EastWindGifts.com, where you can buy gifts in bulk inexpensively. You can also make the save gift for people on your list like these DIY Ornaments or Cookies in a Jar.
Save Reward Points – If you have a credit card with reward points that you can trade-in for cash, use that card for everything you need such as gas, milk, bread, utilities, and so forth. Then each month turn in your points for cash. Deposit it directly into your holiday savings account and if you pay your card off each month you'll be earning money from spending money.
Buy Well in Advance – Don't wait until November to start buying for the holidays. The best time to buy is right after the holidays. If you start planning, way in advance, like an entire year in advance for most of the things you will need to buy such as wrapping paper, cards, tape, and even TVs will be cheaper. If you have a place to store the items out of the way this can work wonderfully.
Hint: if you do purchase in advance make sure to open the packages to ensure electronics work or items aren't broken. This way there are no surprises next year on the holiday. Plus, make a list of what you bought so you don't forget auntie's necklace in the attic!
How to Save for a Holiday on a Budget
Don't forget that your family and friends may also like gifts of time or skills instead of a physical gift. Know the person and give accordingly sticking to your budget. After all, you worked hard to save money for the holidays, make every dollar count!
SaveSave
SaveSave
SaveSave