Looking for easy Football Party food ideas? Then you have to try a Football Party Dessert Bar! You'll score a touchdown with everyone when you serve these treats!
We're B-I-G football fans.
There's something about the gridiron pastime that brings family and friends together. I have to admit; I was a little sad when our son decided not to play on the freshman football team this year. However, that won't stop us from gathering around the flat screen, putting out an awesome spread of food, and watching a ton of football! A fun way to celebrate during the game is with a Football Party Dessert Bar featuring a Carvel® Ice Cream Cookie Cake - our favorite!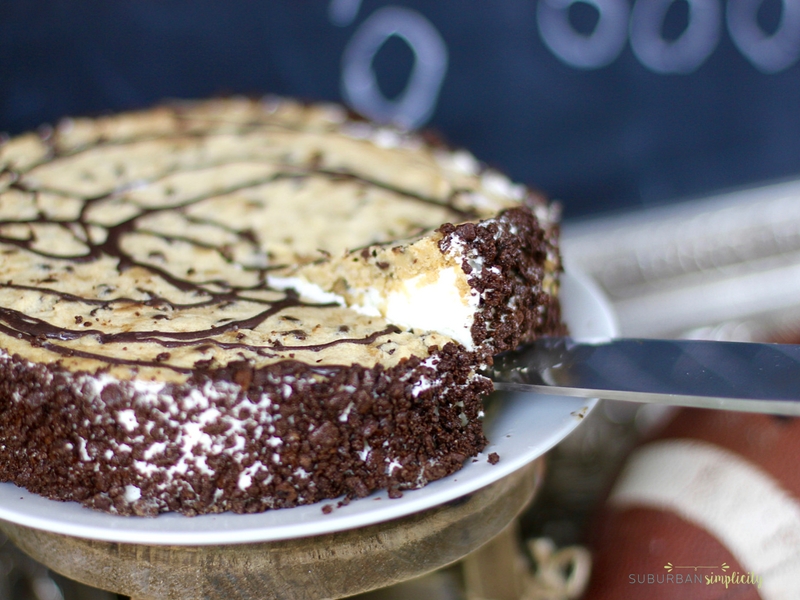 This new Ice Cream Cookie Cake treat combines two classic, American favorite desserts – vanilla ice cream sandwiches and chocolate chip cookie cakes – to create the ultimate, sharable indulgence for families and friends. Complete with Carvel®'s famous crunchies around the outside, the new cake resembles a giant cookie ice cream sandwich made to serve a group and perfect for your Football Party Dessert Bar!
Did you know I Love Ice Cream Cakes offers delicious frozen ice cream cakes for all occasions? They come in tons of styles and sizes and are available in the bakery or freezer aisles in grocery stores nationwide. We conveniently found ours in the freezer section at Walmart, along with all of our other football party dessert bar supplies. You can find where they're sold in your area here.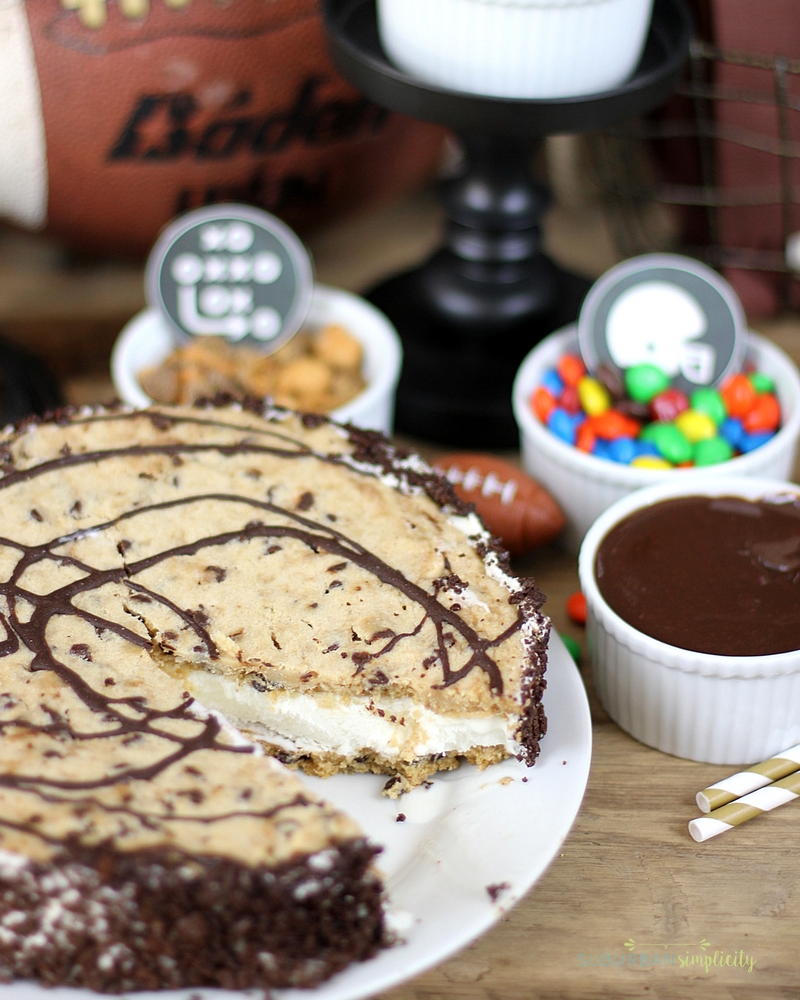 How to Create a Football Party Dessert Bar
The beauty of a game day dessert bar - where the toppings of your choice accompany a delicious ice cream cake - is that you get exactly what you want and more!
The idea for this Football Dessert Bar is simple. Purchase a Carvel® Ice Cream Cookie Cake and grab the toppings you like. Whipped cream, hot fudge, sprinkles, candy bits, and caramel would all do the trick - the possibilities are endless.
Are you drooling yet?
Putting the Game Day Dessert Bar Together
Pick a spot where people have easy access to the dessert bar and all the toppings. A buffet or tabletop works well.
You can easily put together a festive tabletop using football-themed party supplies. Think confetti, green turf, whistles, and mini footballs.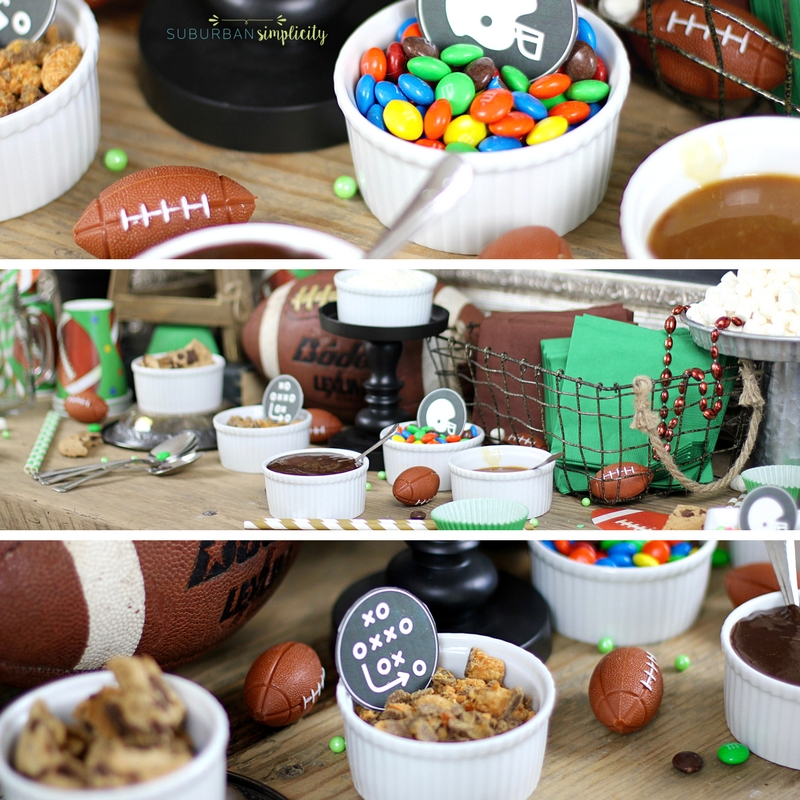 Visually, the best spreads consist of a few different decorations spread throughout, varying heights and a variety of choices, including:
Football-themed party supplies - turf, signs, mini footballs, etc.
Cups
Spoons/forks
Straws
Napkins
Bowls
Printable sign
And of course, all your delicious toppings (Tip: Use candy as part of your decorations. It makes your display mouth-watering!)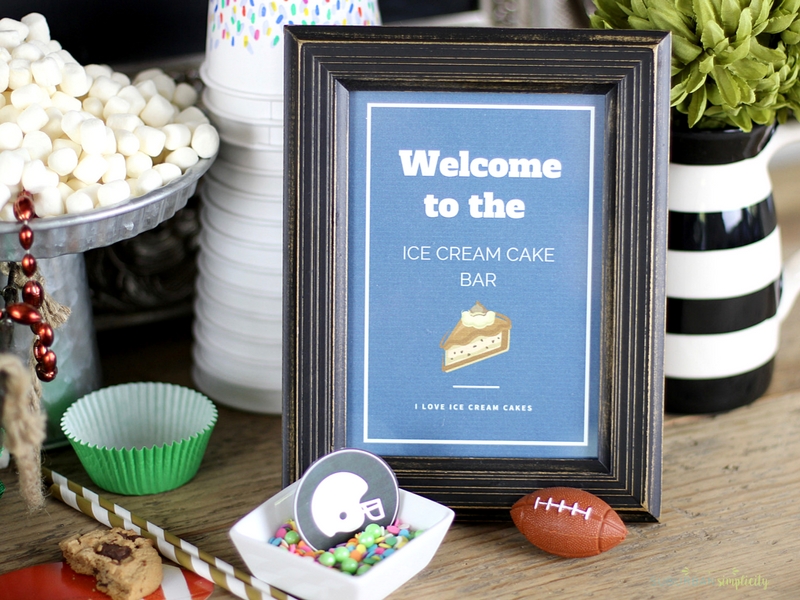 Want to be in-the-know about all things Ice Cream Cakes? Then join I Love Ice Cream Cakes Crunchie Club, where you'll get product news, coupons, and other valuable info! Plus, you get a $5 coupon just for signing up!
You really have to try the Carvel® Ice Cream Cookie Cake. It's a combination of nostalgic favorites and a crowd-pleaser, so grab your pompoms and cheer on your football team, and score a touchdown with friends and family with the help of a convenient ice cream cake, and fun toppings picked up on your next grocery store run! Do you know many football fans who wouldn't love this delicious treat? I don't!!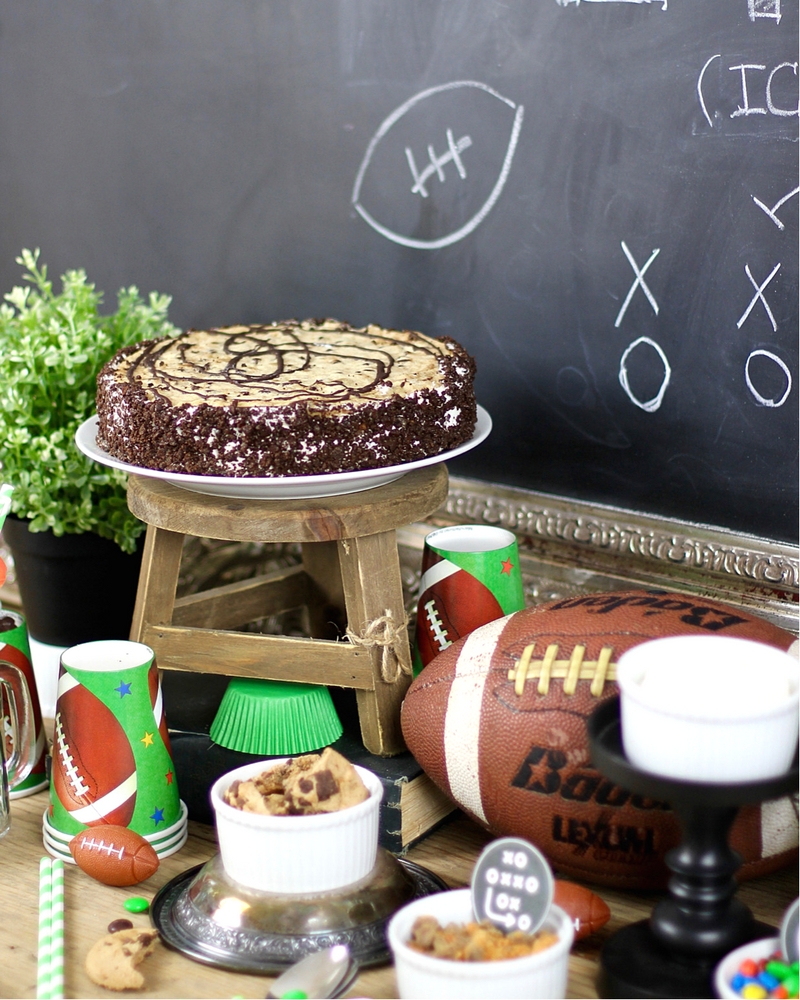 From family celebrations to football parties and just everyday deliciousness, there's always a great reason to make people smile with an ice cream cake. We really do heart Ice Cream Cakes around here!
Another Great Game Day Dish Everyone Loves:
Super Easy 3-ingredient Crockpot Meatballs
SaveSave
SaveSave