Make a homemade DIY Sugar and Honey Lip Scrub in minutes! With a few simple natural ingredients you can get rid of dry, flakey lips!
DIY Sugar and Honey Lip Scrub
There are so many reasons a DIY Sugar and Honey Lip Scrub is the perfect homemade beauty product to make.
First, it helps to slough off dead, chapped skin AND helps your lip balm penetrate deeper into the skin. Hello, natural exfoliation! The result? Supple, rosier and healthier lips!
Second, this is a totally natural product. No chemicals, additives, preservatives or artificial colors.
And finally, it's so darn easy. Literally, your scrub is ready to use in just minutes! This is an evergreen recipe for a simple DIY Sugar Scrub for Lips that are great year-round.
Homemade Lip Scrub Ingredients
For your convenience, I've included shop-able ad links to products used to make this DIY lip scrub recipe; disclosure policy here [1]
4 tablespoons sugar
1/2 tablespoon oil (coconut [2], avocado [3] or almond oil [4])
1 tablespoon honey
1/4 teaspoon pure vanilla extract
How do You Make a Sugar Honey Lip Scrub?
This lip scrub couldn't be easier!
Gather your ingredients and mix them together in a small bowl with a spoon. If you're using coconut oil and it needs to soften, place oil in the microwave for a few seconds.
Ta da! Your homemade lip scrub is done and ready for use!
Depending on your preference, you can add more or less oil. If you like a thicker paste, add less. For a thinner scrub, add more.
Tip: If your ingredients aren't mixing together easily, add a tiny bit of water.

[5]
How to Use a DIY Lip Scrub
Apply to lips with fingertips and massage into your lips to gently slough off dry, dead skin cells, using small, circular finger motions for about 30 seconds. Use short, light strokes if applying with a brush or sponge.
Rinse off with lukewarm water.
Apply Lip balm to moisturize.
You'll be tempted to eat the mixture – it tastes pretty darn good! YUM!
What Does Honey Sugar Lip Scrub Do?
This natural beauty DIY helps exfoliate and makes your lips soft and supple.
How Often to Use a Lip Scrub
To not over-exfoliate and cause irritation, using your lip scrub once or twice a week will be good.
Tips for Using Lip Scrubs
BE GENTLE- Don't exfoliate lips too hard.
DO NOT OVER EXFOLIATE –Limit your lip exfoliation routine to once or twice a week.
MOISTURIZE AFTER EXFOLIATING – Apply a natural, rich lip balm to help keep your lips plump and healthy.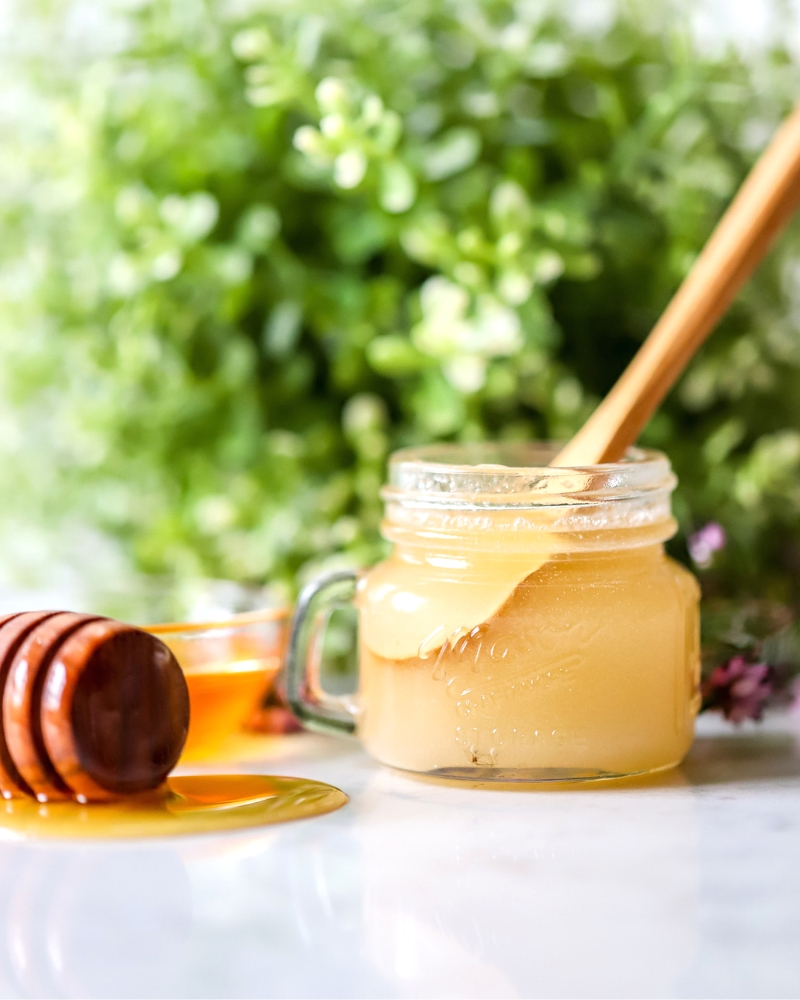 How Long will Lip Scrub Last?
If stored in a cool, dry place, it will last a month or so. If stored in the refrigerator, it will last up to two months. However, in the refrigerator, the oil will cause the scrub to harden a bit, but it still works just fine.
Here are some great containers [6] to store your lip scrub. Perfect for gifts, too!
How to Wrap a Sugar Scrub as a Gift
The best way to make your DIY lip scrub a gift or party favor is by tying a pretty ribbon or twine around the jar and attaching a tag.
Other DIY Sugar Scrubs
Join for a FREE 5 Day Series to Simplify Your Life
Plus DIYs, crafts, recipes and helpful home tips delivered directly to your inbox!