5 Tips for Easy Summer Entertaining. Take the stress out of inviting people over. These ideas work for all your warm-weather get-togethers!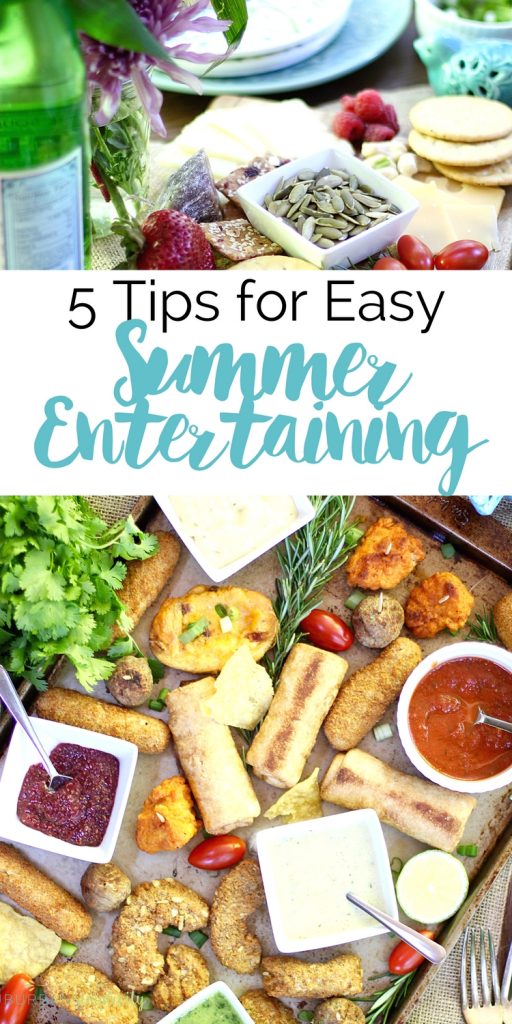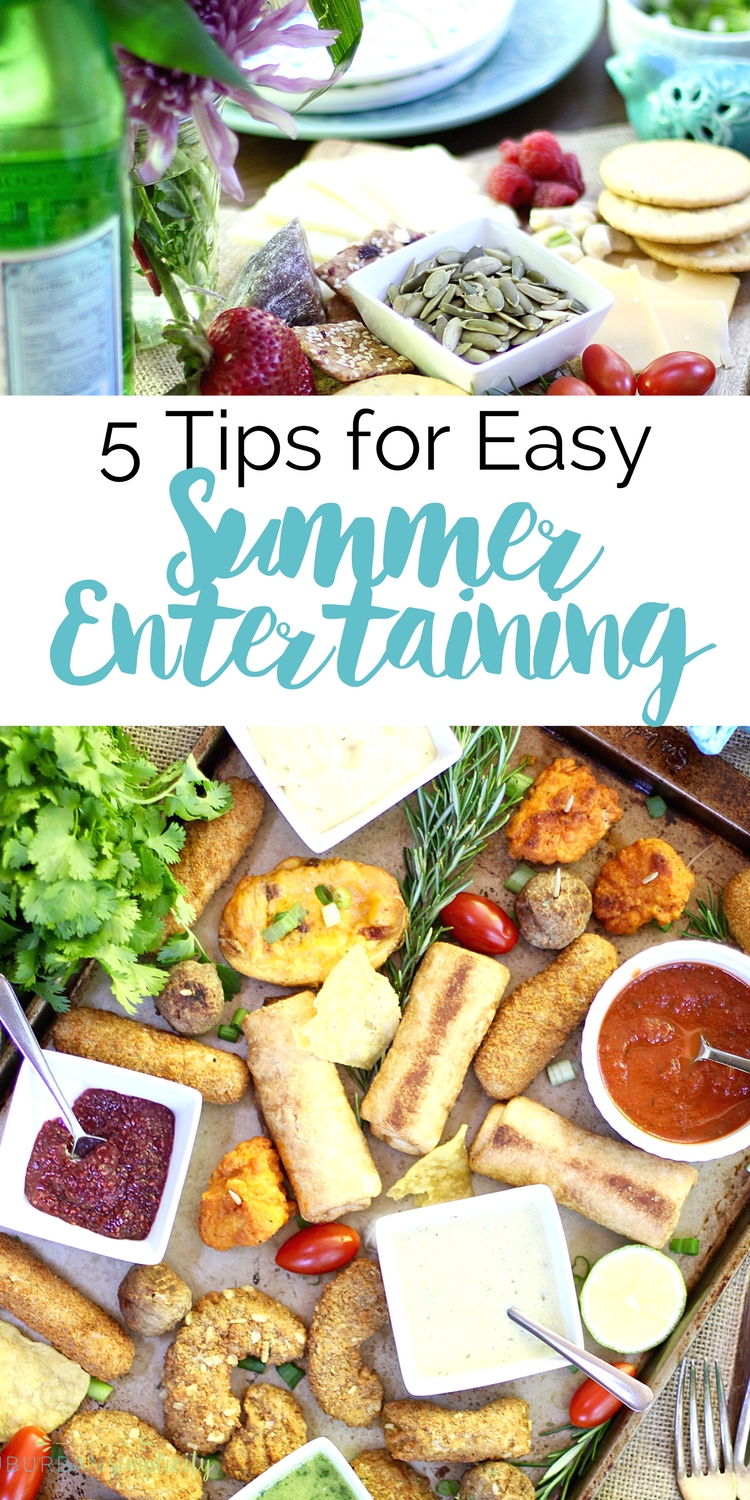 Summer's meant for entertaining, not spending hours cooking away in a hot kitchen. We love spending time in our backyard, which recently got a makeover, any chance we get. These 5 Tips for Easy Summer Entertaining show you how to create beautiful outdoor stress-free get-togethers for friends and family that everyone will enjoy! Simplicity is the key!
There are 5 easy and inexpensive things you can do to set the mood for easy outdoor entertaining:
1. FRESH FLOWERS.
When hosting outdoors, you can easily incorporate flowers into your decorations. Flowers will take your party to the next level and can enhance any color scheme or table setting without spending a ton.
Instead of buying new vases for your table, use washed bottles and cans of varying sizes to hold different flowers. I think it's nice to use mason jars to add a little casual ambiance.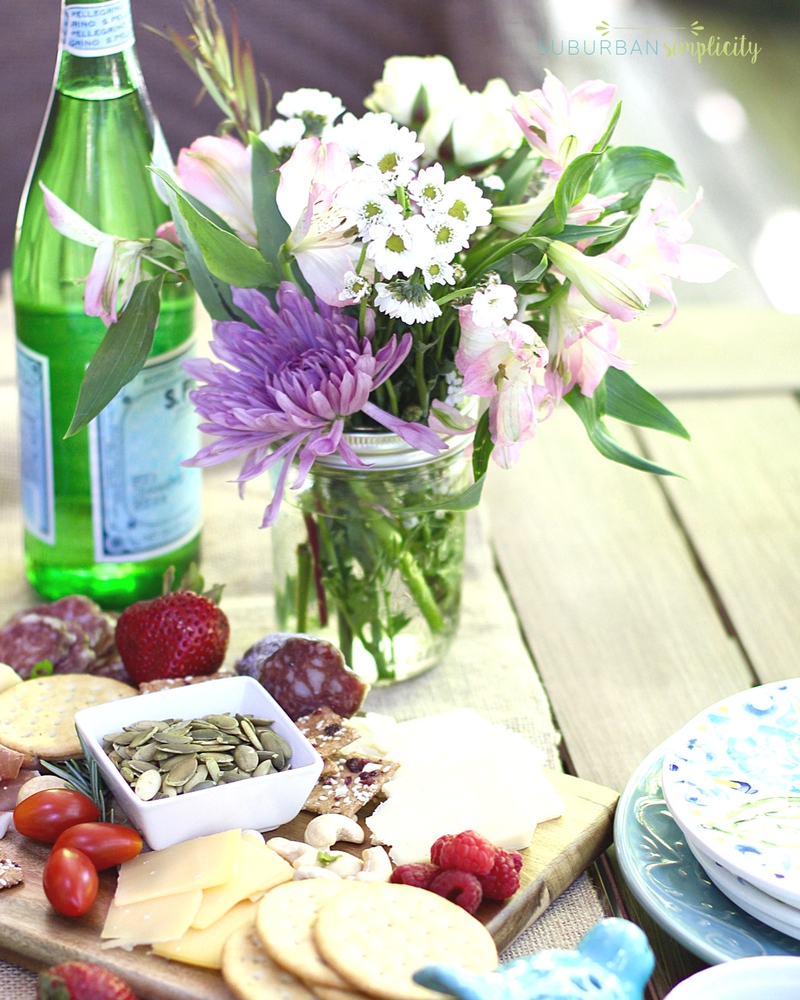 2. FINGER FOODS.
Get your party started with easy and delicious finger foods!
We say finger foods are a necessity for every great party. 🙂 (Maybe that's because our family loves eating them!) And, if you make enough of these bite-sized snacks, that's really all the food you need. A bonus, it's a lot less clean up too!
See, easy!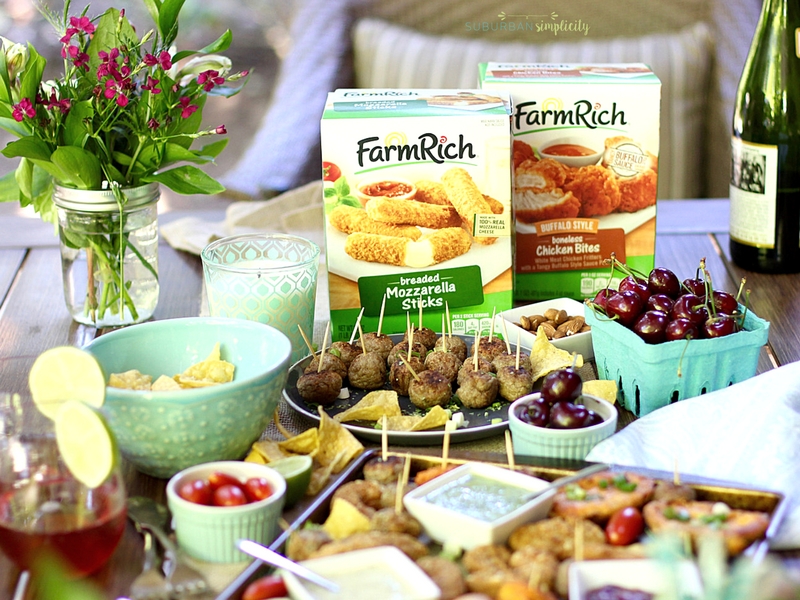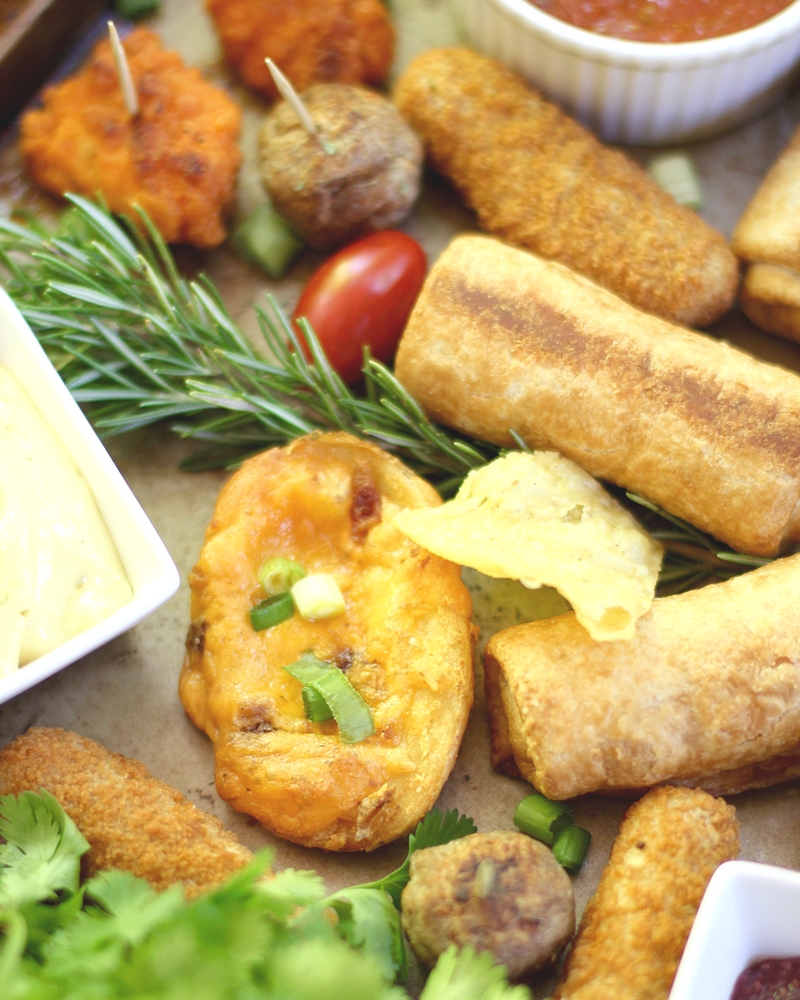 3. SMALL PLATES.
Often referred to as Tapas, which originated in Spain, are tantalizing bites — assorted snacks and nibbles — typically enjoyed while drinking with friends. Doesn't that sound fun?
This takes the place of your main meal and is much easier to pull together. To create your own small plate party, try various tastes and textures: salty, savory dishes, warm and chilled foods, and an assortment of crisp, chewy, and soft, succulent textures.
Think, meat and cheese, nuts, hot and cold dishes, or fruit on a stick. The great-tasting Farm Rich finger foods mentioned above, including their Meatballs, add great taste and texture to your small plates.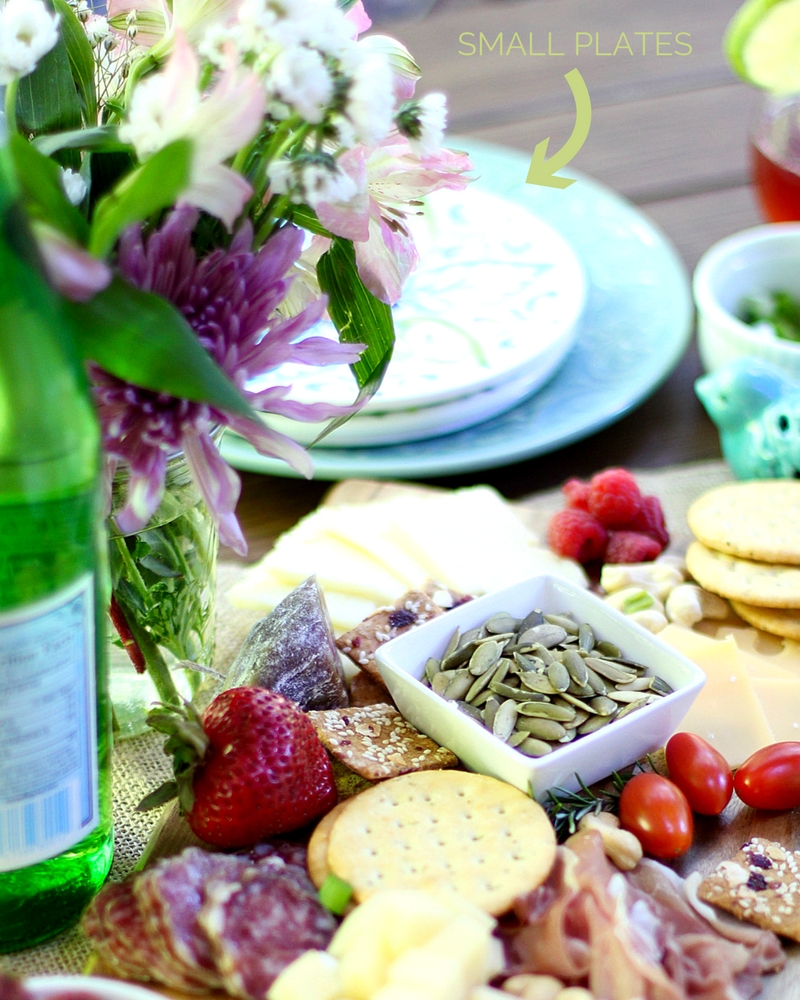 Easy recipes. You name it! It all works. The best part? You can be eclectic - not all your plates have to match! Casual entertaining is about mixing and matching for a comfortable, lived-in feel. No matter how mismatched your stuff may be, there's always a way to make it work!
4. DIPPING SAUCES.
Sit back, relax, and let guests dip into flavorful and fun sauces. Having multiple sauces for dipping your finger foods and other snacks allows guests to take it up a notch and choose their own flavors and level of spice. Your sauces can be adventuresome or play it safe, but offering a variety adds a little something extra to your party.
Dipping sauces are usually easy and quick to make, so dip in!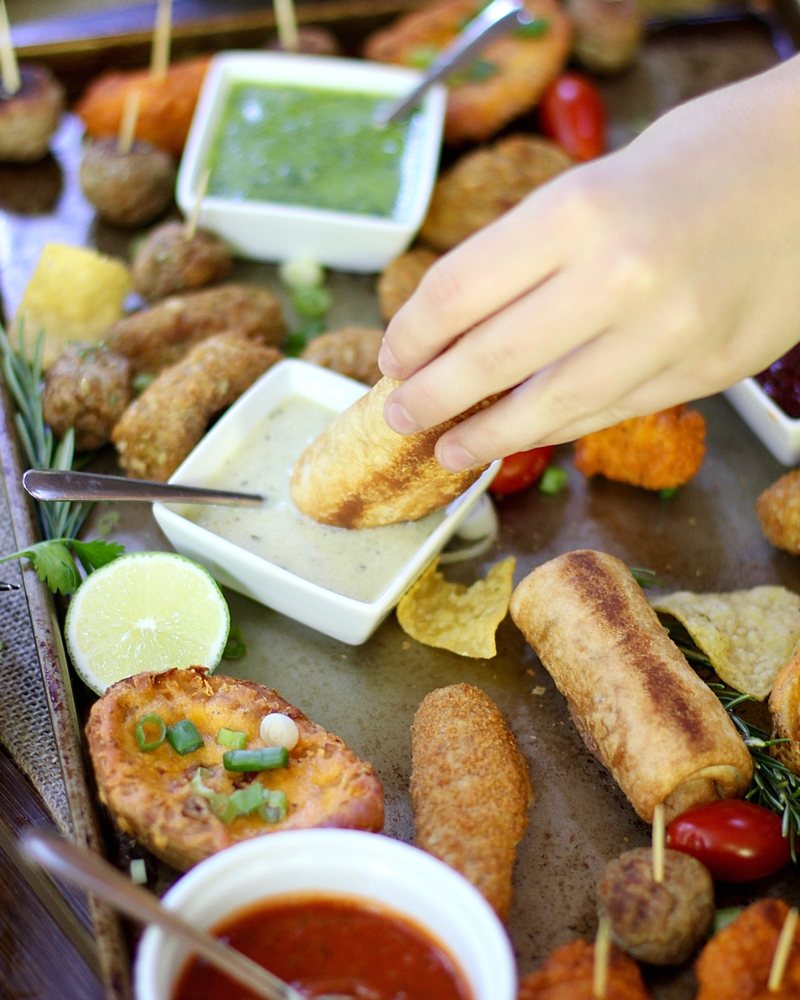 5. VARIETY.
Tasty small bites, dips, and fresh summer starters are what make a great party! All this adds up to having a variety so all your guests have something they enjoy and can munch on during the get-together. Variety doesn't have to be challenging or chaotic.
Here are some of our favorite summer bites and dips:
Roasted Red Pepper and Artichoke Dip
Overall, make things simple.
Seve your guests plenty of tasty, easy, feel-good foods with wholesome ingredients so your busy family can spend time with guests.
More Tips for Easy Summer Entertaining
Comfy Cushions. Let guests linger on something comfortable. Grab and few pillows and mix and match them for added style and coziness.
Get Shady. Shade umbrellas protect from the sun but also help define your space. Patio curtains are also great to add pretty pops of color to your outdoor space.
Master Your Music. Provide guests with extra ambiance and make sure you have some background music. Go heavy on classics: the Rolling Stones, the Beatles, Stevie Wonder, Michael Jackson—songs that people recognize. Keep it upbeat, and mix in some newer tunes here and there to round it out.
Think Easy Solutions. Brown craft paper for table covers, a bar cart for effortless access to drinks, and extra supplies and candles for ambiance and bug bite protection are all simple solutions for easy entertaining.
Life is about spending time with those you love and enjoy, so grab a few packages of your favorite Farm Rich products in the frozen food section and enjoy some easy summer entertaining on your deck, patio, or grassy lawn, especially this month for National Picnic Month!