10 Things Every Blog Needs. How to create a user-friendly blog that makes people want to visit and stay a while!
This post contains affiliate links. Disclosure policy here [1].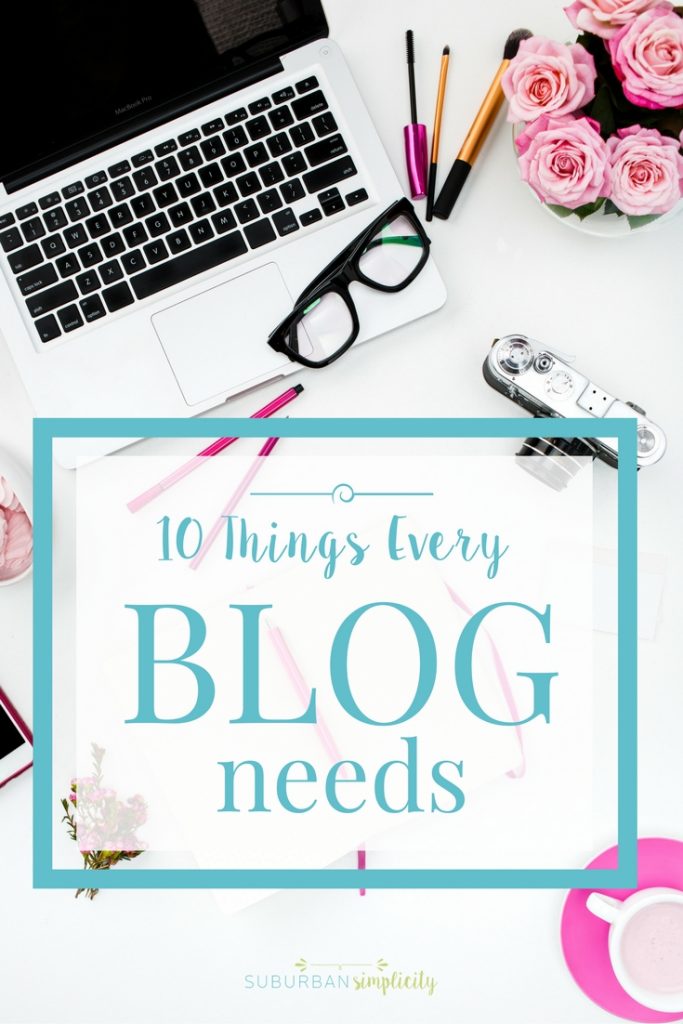 10 Things Every Blog Needs
Starting a blog [2] is exciting! I remember the day mine went live and the thrill of having people read it was exhilarating. But also a little scary. Well, maybe a lot. So many questions swirled through my head. Let me take some of the guesswork out of it for you and share The Top 10 Things Every Blog Needs.
These things are best done in the setup process, but can be added anytime. Trust me, visitors will be happier if your website is user-friendly. So, what are the necessities?
Easy Menu and Navigation
Readers want to move around a blog quickly and easily to find what they're looking for. You have just a few seconds to capture their attention. There should be no frustration when trying to find an old post, or a different page on your blog – any negative or challenging experience can cause the reader to go elsewhere. That would be awful!
An optimal setup involves core pages on the top of the navigation bar (about me, categories or blog posts, contact), and more archival information on the side bar. By labeling each blog post with a category, readers can find the information they are looking for when they visit your blog.
What will Make a Difference
If you want to have an unbiased user test the usability of your blog, try PEEK User Testing [3]. It's free. You will get a video of a real person using your blog. This can be very insightful to your user experience! Invaluable really.
About Me Page
People want to know who writes the posts they read and who's creating all the clever DIYs! They want to know you and connect with you. Being familiar with the author makes your blog more personal, and more believable.
If the blog is about recipes to make for family dinners, readers want to know why the author's opinion matters – what experience does the blogger have as a wife and mom that makes what they are saying true. Let readers see the face behind the webpage so they can feel a connection with you.
Here is my about page [4]. A while back I changed it to "New? Start Here", so it directs people where I want them to go. Here is another great about page by Dashing Dish [5].
This is also a great opportunity for you to showcase your best work. List your best or most popular posts. Or at the very beginning, a couple posts that give a good example of what you write about.
Many suggest creating a video introduction. Maybe someday I'll get to that 🙂
A Picture of You
People connect with people. If they can put a face with the website, they know there's actually a real person behind the blog. It's best if it's a clear pictures where they can see your eyes. Feel free to share a picture that shows your personality as long as it goes with the niche of your blog.
Option to Subscribe
Email marketing is important. It can be very lucrative for you once your blog is established. Don't rely on social media to drive all your traffic.
Rather than hoping readers come back for more or stumble upon the blog once again (which is likely not to happen) let readers sign up for an email list. There are many free options like MailChimp and Aweber. There are also paid services like ConvertKit and MadMimi.
If this option is placed at the top of the blog, all the better.
Contact Page
Many times, readers will want to contact you to ask questions, make suggestions, or express hopes of future posts! Or better yet, what if a brand wants to get in touch to work with you. Most basic blogging sites have a simple method for creating a contact page. Once the reader fills out the contact form, the messages goes right to your email inbox. This allows simple, speedy contact between writer and reader. Easy, peasy.
Sharing Options
Ok, you've written all this amazing content. Now what? Providing readers the option to share your posts to social media means creating more exposure for your blog! Readers are more likely to share with their friends and family if you make it easy for them. This brings more traffic to your blog. This also provides readers with a simple way to follow the blog through the social media of their choice.
I like to use SumoMe and have seen an uptick in shares once I installed it on my site. The big buttons make sharing simple and easy.
Social Media Links
By connecting your social media to the blog, you're making it easy for readers to follow you and stay connected. Additional exposure is always beneficial. You're extending the relationship, so they can come see the helpful content you create in the future.
Search Bar
Provide readers with a way to search for the information they desire. If a reader is looking for a particular topic, they can easily search for the terms they hope to find. If someone really wants to search your site for something, you definitely want to give them the option!
Responsive Design
This is no longer optional. Creating your website with a mobile responsive design helps readers interact with your site from their mobile devices. Almost 3 times as many people access my site through a mobile device than a desktop.
Recently, Google made it clear that sites that aren't mobile friendly will be dinged in search results. Fortunately, most designs nowadays are automatically mobile responsive, but it's definitely something you'll want to check first before purchasing.
Google Analytics
You may not need this right away, but trust me, you will need a way to collect data on who is using your site and how they are using your site soon enough. Installing Google Analytics, the industry standard is the best way to do that. Here's a great tutorial on How To Install Google Analytics [6].
Bonus Tip Every Blog Needs
This is a basic design principle. Use minimal fonts and colors when creating your blog. Too many can be distracting for your readers…you'd rather they focus on your amazing content, right? My blog has one main font – Halant, but two would be okay. And three main colors – aqua, light blue and celery green. You can use other color in graphics and images, but try to stick to a minimum with your overall design.
Additional Resources
If you are still thinking about starting your awesome blog, you can read what it takes To Start A Profitable Blog [2].
Already have a blog? Then you're ready to start learning all about the ins and outs of blogging. I recommend Building a Framework [7]by Abby Lawson. This book was the shortcut I needed to get me on my way. It's got checklists, helpful tips and even talks about social media.
And finally, the biggest thing that helped me get more page views and grow my blog was Pinterest. How I learned to utilize it's power was talking the Pinning Perfect course from Blog Clarity. Seriously good use of money! This class helped me grow my Pinterest following 400%
Each blog is unique because it's a representation of you. Leave a comment below with your blog URL so I can check it out!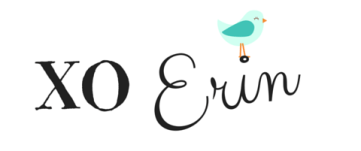 Join for a FREE 5 Day Series to Simplify Your Life
Plus DIYs, crafts, recipes and helpful home tips delivered directly to your inbox!